| Scorecards | Recap | Video |
It was less than one year ago when Dwight McFadden Diorio, also known as Mac, was closing out Ryan O'Donnell to capture Rolling Green Golf Club's Men's Club Championship.
Today, Diorio, along with O'Donnell and six other Rolling Green members, teed it up on their home golf course in the GAP Middle-Amateur Championship.
For Diorio, last year's club championship victory came at the perfect time, earning him an automatic spot in this year's Middle-Amateur field.
"That was the first exemption for me in a while," Diorio said. "It was nice to not have to qualify and just knowing I was going to show up and see what happens this week."
Diorio certainly made the most of his opportunity. Despite a pair of double bogeys to go along with a triple, Diorio picked up three birdies on the day to post a 5-over round of 75 and to advance to the championship's second day.
"I'm happy with how I played for the most part," Diorio, of Media, Pa., said. "I had three tough holes that kind of made my round what it was. [It] could have been pretty special but all in all I can't complain too much. It beats a day in the office for sure."
The 29-year-old recognized the added level of comfort he had playing tournament golf on a course that is so familiar to him.
"Knowing my lines, knowing my clubs, knowing the greens pretty well is definitely an advantage," Diorio said. "It helps ease the mind out there."
As someone who has seen just how treacherous Rolling Green's firm and fast putting surfaces can play, Diorio found today's setup very reasonable.
"Being a member and knowing the greens, I think we got some easy pin positions today, which was a break," Diorio said. "I think it will be a lot tougher [tomorrow]."
Diorio, along with Ashley Brasfield and Rich Owsik, make up the list of the three host club members to make the Day 1 cut of 79 (+9).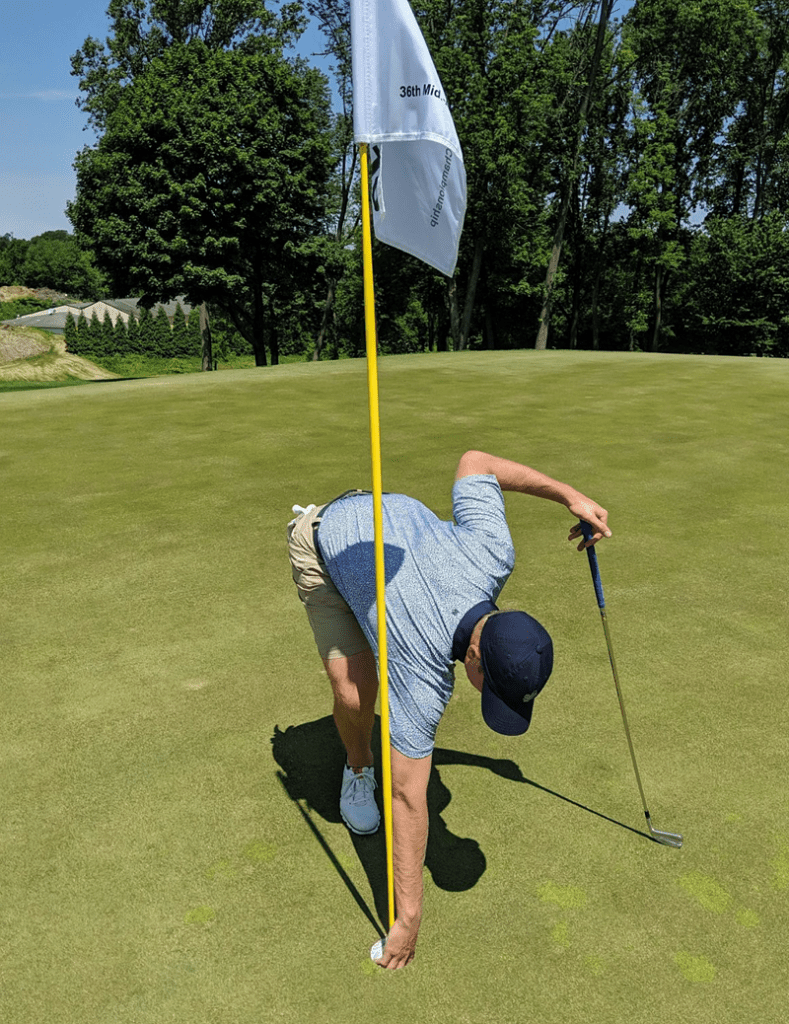 Beittel begins #GAPMidAm with ace
First shot of the day. Second career ace.
Andy Beittel of Manufacturers' Golf & Country Club couldn't have drawn it up much better than that. Stepping up to the par-3, 237-yard 10th hole, his opening of the day, Beittel fired a 3-iron into the green. Drained it.
"I didn't really hit it pure. It was a good line, kind of short of the bunker and took a bounce left. But I didn't see it go in," said Beittel, 34, of Oreland, Pa.
Lucky for him, a former GAP Middle-Amateur Champion did. Ben Feld, the 2017 winner at Overbrook Golf Club, was walking in from the parking lot when he saw Beittel's ball dunk.
"[Ben] came up to me and said, 'That ball is in the hole!' and I honestly thought he was joking around. When I went up and realized it really did go in, I didn't even know what to think," he said. "After all, we had another 17 holes to play."
Beittel's only other career ace arrived at Bala Golf Club, where he jarred one on the uphill par-3 9th. Today's helped propel Beittel to a 1-over 71, meaning he'll enter Thursday's action tied-for-seventh.
"Obviously starting 2 under gave me a little cushion. The golf course was playing very difficult today, and knowing I was going to make a few bogeys here and there, the ace definitely helped [the 71] out," he said.
Independent of Beittel's finish tomorrow, he'll leave Rolling Green with an unforgettable keepsake.
"I took that golf ball out of play immediately," said Beittel. "That one's going somewhere special."
Former Champion Daniels continues #GAPMidAm journey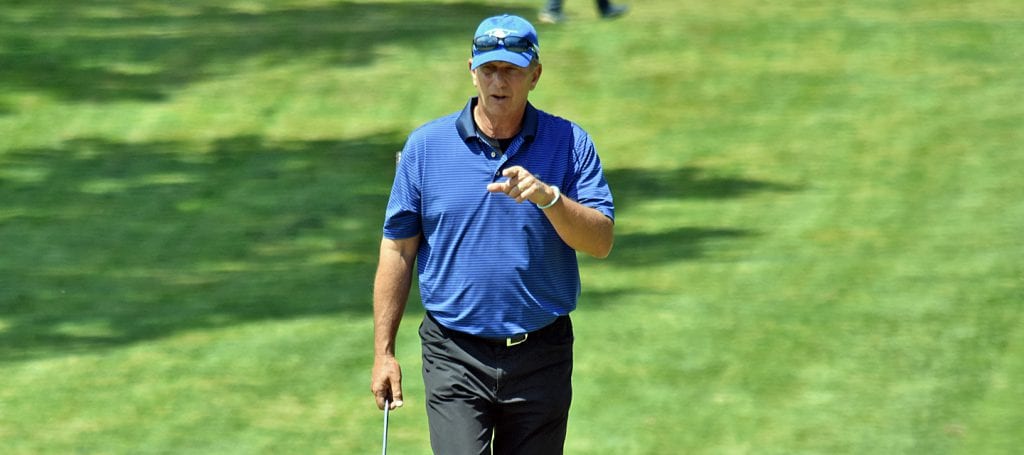 The GAP Middle-Amateur may have a minimum age requirement of 25, but for Gary Daniels of Applebrook Golf Club, this threshold is of no concern. Daniels, currently 65 years of age, earned a lifetime exemption into the tournament when he won the event back in 1985 at Torresdale-Frankford Country Club. Now, Daniels participates in the Mid-Am when it is played at a course he is particularly fond of.
"I love this place," Daniels said of Rolling Green. "This is one of the great clubs in the country I think."
Of the 128 golfers to play in Wednesday's opening round, Daniels was the oldest of them all. Richard Umani, the 66-year old of Honeybrook Golf Club, was the oldest player entered in the Middle-Amateur field but withdrawal conferred the honor to Daniels.
On the year, Daniels has already posted several notable results on the Super-Senior circuit, including a victory in the Pennsylvania Golf Association's Dressler Memorial Championship as well as a second place finish in the Francis B. Warner Cup (Gross). Today, Daniels put his game to the test against a much younger fielder, carding a 10-over par round of 80, placing him just one shot off the cutline.
"I'd give myself a B-minus," Daniels, of Newtown Square, Pa., said. "It's a challenge as a Super Senior, but I can still hit it far enough to reach all the holes. I enjoy it."
GAP
Celebrating Amateur Golf since 1897, GAP, also known as the Golf Association of Philadelphia, is the oldest regional or state golf association in the United States. It serves as the principal ruling body of amateur golf in its region. The Association's 274 Full Member Clubs and 75,000 individual members are spread across the Eastern half of Pennsylvania and parts of New Jersey and Delaware. The GAP's mission is to promote, preserve and protect the game of golf.