Conaway crowned 73rd #GAPJrJr Champion at Moorestown
| Scoring portal | Day One recap | Day Two recap | History |
MOORESTOWN, N.J. – It took a few extra holes, but Davis Conaway got exactly what he was striving for all week long. The playoffs, the extra post-round practice in his backyard… it was all worth it.
Conaway, a Fieldstone Golf Club Junior golfer, came out victorious in the 73rd Junior-Junior Boys' Championship at Moorestown Field Club (par 72, 5,458 yards). The 13-year-old's win was cemented on the 20th hole — the second playoff hole — in the 18-hole Final versus Merion Golf Club's Sean Curran.
In a meeting of the bracket's top-two seeds, Wednesday's stage was set for a highly-anticipated Final showdown, which teed off at 8 a.m. Conaway earned his spot in the championship match with a win on the first playoff hole in Tuesday's Semifinal vs. Honeybrook Golf Club's Ian Larsen. Curran secured his with a 3&2 Semifinal victory vs. Hidden Creek Golf Club's Paul Reilly.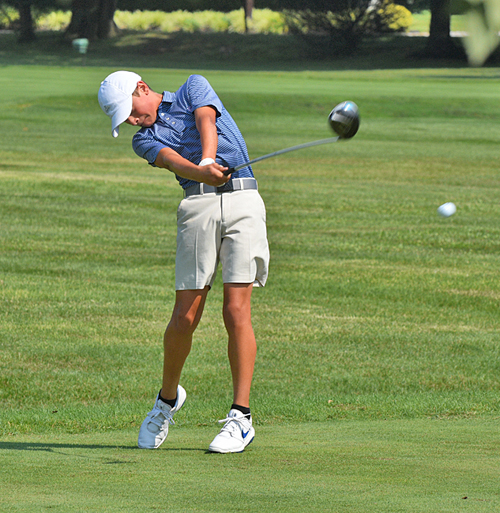 The first nine didn't feature either player's best game — Conaway carded a 2-over 38, while Curran finished at 4-over 40. However, by winning the last three holes before making the turn, Conaway took a 1-up advantage onto the second loop around Moorestown's loveable layout.
"Those last three, they gave me momentum heading to the back nine," said Conaway, the Stroke-Play Qualifying medalist. "I was missing left on a lot of my drives, so I was really hoping to get that fixed. But it all worked out in the end."
That it did. However, not with a battle with Curran's powerful game. The deficit wouldn't linger long, as Curran came back with a birdie-fueled win on No. 10 (par 4, 313 yards), followed by par wins on both Nos. 12 (par 4, 310 yards) and 13 (par 3, 138 yards). Advantage Curran, 2 up, heading to the 16th tee.
"I knew I needed to win that hole. I didn't want to go to 17 down two," said Conaway, 13, of West Chester, Pa.
After a nice drive, Conaway's second came up short, but a 58-degree chip came to rest four feet from the cup. He'd make that for birdie and the hole win. 1 up, Curran. Next on the par-3 17th, Curran found the greenside bunker while Conaway placed his tee ball safely on the green. He'd go on to two putt for par, but Curran's 20-foot par save, followed by a fist pump, would tie the hole. Headed to the 18th (par 4, 327 yards) still 1 down, Conaway placed his drive left-center in the fairway. Curran bombed his drive, leaving both players with short irons in. Conaway's approach came to rest 15 feet while Curran flew the green and failed to get up-and-down for par. Conaway two putted for the hole win, sending it to extras.
On the first playoff hole, Conaway and Curran both made bogey 5s leading to the second — the site of Conaway's triumph. Both players blasted drivers in the fairway and had 80 yards in. Curran went first, leaving his on the front of the green, while Conaway placed his 10 feet above the hole. Curran two putted for par, leading to Conaway's 10-foot downhill birdie make, crowning him the 73rd #GAPJrJr Champion.
"It feels amazing. Sean is a great player and I knew him pretty well before this. He got a little unlucky with some shots," said Conaway, a rising eighth-grader at Malvern Preparatory School who shares a coach — John Dunigan — with Curran. "I'm proud to represent [my home club] Fieldstone. It feels really great."
For Curran, who also finished runner-up in the 2019 edition at Flourtown Country Club, it was still a successful week. Although he couldn't get the title he was chasing, the experience alone will set the big-swinger up for big things to come.
"I thought I played pretty well, especially with the match going into extra holes. I left a lot out there including some putts I wished I took my time on but it was a great learning experience," said Curran, 13, of Newtown Square, Pa., and a rising eighth-grader at The Haverford School. "Going forward I'll continue playing at Applebrook, Aronimink, and Merion, and prepare for playing with my school team this fall."
The Junior-Junior Boys' Championship is open to members of a GAP Member Club who are 10 to 13 years of age.
GAP
Celebrating Amateur Golf since 1897, GAP, also known as the Golf Association of Philadelphia, is the oldest regional or state golf association in the United States. It serves as the principal ruling body of amateur golf in its region. The Association's 300 Member Clubs and 80,000 individual members are spread across the Eastern half of Pennsylvania and parts of Delaware, Maryland and New Jersey. The GAP's mission is to promote, preserve and protect the game of golf.
Final Match
1. Davis Conaway, Fieldstone, d. 2. Sean Curran, Merion, 20 holes.