McCall's Hoban hoists 72nd #GAPJrJr trophy
WEST CHESTER, Pa. – McCall Golf Club's J.P. Hoban trailed Merion Golf Club`s Sean Curran by one stroke entering the 9th hole of Tuesday's Round-of-16 matchup. He came back and won two straight holes to advance to the quarterfinals. Ever since, he's been on fire.
| Scoring portal | Day One recap | Day Two recap | Day Three recap | Photo gallery | History |
The hot streak culminated with a trophy Thursday at West Chester Golf & Country Club (par 72, 5,482 yards), as Hoban defeated Jax Puskar of Kennett Square Golf and Country Club, 3&2, to win the 72nd GAP Junior-Junior Boys` Championship.
"I mentioned yesterday that these tournament games don't even feel real to me because of the different [COVID-19] restrictions," the 13-year old Havertown, Pa. resident said. "I'm thrilled to win but it will take a couple of days to settle in."
Hoban's mind may be playing tricks on him, but the scorecards are not. Since surviving that scare in the Round of 16, he only lost five holes compared to 13 won. He credits a change in mindset as the main reason he was able to smoothly sail through the rest of the field.
"Normally I aim to attack every flag," Hoban said. "I shifted my focus to being less aggressive, by aiming for the center of the greens and fairways."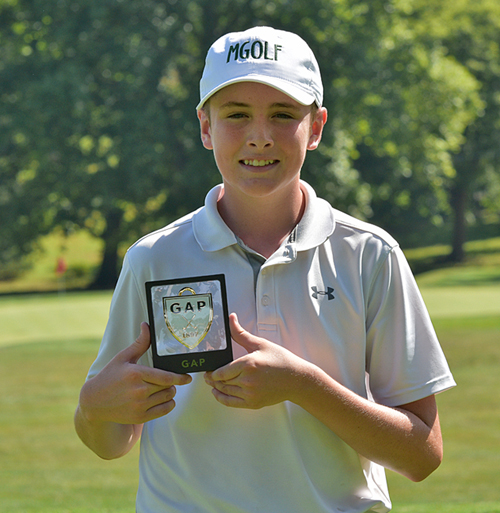 The new mindset paid dividends for Hoban, as he hit six fairways and seven greens in regulation through 16 holes of championship action. His first green in regulation came on No. 1 (par 5, 446 yards), where he and Puskar both landed roughly 15 feet away from the flagstick after their third shots. They exchanged two-putts and halved the hole, possibly foreshadowing an upcoming barn burner.
The competitors halved the next hole before Puskar took his first lead of the day on No. 3 (par 3, 125 yards). Puskar missed the green whereas Hoban landed left of the hole location. Puskar set himself up for a two-foot look and converted for par, taking a 1-up lead.
"My game plan doesn't change despite the lead," Puskar, 13, of Kennett Square, Pa. said. "There's a whole lot of golf left to play, and I'm up against a tough opponent who won't roll over."
Puskar was correct on his assessment, as Hoban quickly answered back on No. 5 (par 4, 315 yards). Another fairway and green in regulation led to Hoban's first win of the day.
Puskar took No. 6 (par 4, 325 yards), gaining control of the match for the second and final time all day. A Hoban birdie on No. 7 (par 3, 150 yards) was the beginning of a winning streak that lasted five holes.
"I hit the best shot of my life off of the tee. It sounded crisp and looked amazing," Hoban said. "The ball landed about five feet away from the hole, which is great, but I found myself getting nervous on easy putts throughout the tournament."
There were no nerves in the championship. Hoban was cool, calm and collected as he sunk the five-foot putt.
"It was very rewarding to make the putt because I practiced for three to five-foot putts before the match started and converted 90 percent of them," Hoban said.
Hoban was now firing on all cylinders with sharp driving, iron play and putting. He hit the fairway and green in regulation again on No. 8 (par 5, 450 yards). He used a 9-iron to knock it 20 feet away from the hole location and used two putts to notch a second-straight victory.
After a streak of five straight pars, Hoban held a 4-up edge through 13 holes of play. However, his opponent wouldn't go down without a fight of his own.
Puskar won in 11 holes during Tuesday's quarterfinals thanks to a walk-off bunker blast for eagle. He followed that up with a victory versus medalist and reigning champion Jack Homer, despite trailing by two through for four holes. He was now facing his most difficult challenge yet, as he trailed Hoban by four with only five holes remaining.
Puskar flexed his clutch gene yet again on No. 14 (par 4, 315 yards) with a masterful uphill chip, leading to a five-foot putt for par, and victory that cut Hoban's lead to just 3-up.
"Jax is tough so I knew he would give his full effort on a comeback opportunity," said Hoban. "I had a poor selection of clubs on that hole as well, but I didn't sweat the loss. I knew I just had to tie the next couple holes and the championship would be mine."
Once again, Hoban was successful in efficiently converting his game plan. He and Puskar halved No. 15 (par 4, 325 yards) and No. 16 (par 3, 150 yards), therefore crowning Hoban as the 72nd GAP Junior-Junior Boys' Champion.
"I want to thank my coach of seven years, Stu Ingraham, for everything he's done for me, including lessons in the pouring rain," Hoban said. "I also want to thank MGOLF for the countless times they left the gate open for me to get some early morning work in."
These tournament wins may not feel all too real for Hoban this year, but the hard work he has put in for years is real, and that showed as he grinded his way into the GAP history books.
GAP
Celebrating Amateur Golf since 1897, GAP, also known as the Golf Association of Philadelphia, is the oldest regional or state golf association in the United States. It serves as the principal ruling body of amateur golf in its region. The Association's 288 Member Clubs and 75,000 individual members are spread across the Eastern half of Pennsylvania and parts of New Jersey and Delaware. The GAP's mission is to promote, preserve and protect the game of golf.
Finals
7. J.P. Hoban, McCall, d. 13. Jackson Puskar, Kennett Square, 3&2.
Semifinals
13. Puskar d. 1. Jack Homer, Wilmington, 1-up.
7. Hoban d. 6. Paul Reilly, Hidden Creek, 3&2.
Quarterfinals
1.Homer d. 8. Nick Linkchorst, Glen Mills, 3&2.
13. Puskar d. 12. Ian Larsen, Honeybrook, 11 holes.
7. Hoban d. 15. Liam McFadden, Overbrook, 2&1.
6. Reilly d. 3. Fletcher Jones, Wilmington, 4&2.
Round of 16
1. Homer d. 16. Evan Hawkes, Yardley, 3&1.
8. Linkchorst d. 9. Zach Moua, St. Davids, 1-up.
13. Puskar d. 4. Mark Heinz, Huntingdon Valley, 3&2.
12. Larsen d. 5. Brady Crow, Moorestown, 3&2.
15. McFadden d. 2. Nick Werner, Wyoming Valley, 2-up.
7. Hoban d. 10. Sean Curran, Merion 10 holes.
3. Jones d. 14. Devin Carpenter, GAP Youth on Course, 10 holes.
6. Reilly d. 11. Evan Gross, Applecross, 1-up.