| Scoring Portal| History| Day One Recap | Day One Photo Gallery |
FLOURTOWN, Pa. – Two days of golf complete, two competitors remaining.
Notching two match-play victories apiece Tuesday at Flourtown Country Club (par 34, 2,500 yards), Merion Golf Club's Sean Curran, Jr. and Wilmington Country Club's Jack Homer advanced to the Final of the 71st GAP Junior-Junior Championship, part of the GAP Junior Series presented by Citadel.
For Homer, who won the Junior-Junior Division of this year's Jock Mackenzie Memorial, the day began with a 1-up victory over Talamore Country Club's Kyle Spirit. This preceded a 4&2 dismissal of the tournament's top seed, Kasim Narinesingh-Smith of Radley Run Country Club.
"I was just chipping and putting really well," the 12-year-old Homer said. "That's probably what I've been doing best this week."
Homer, a lefty long-baller from Wilmington, Del., earned the fifth seed in match play after firing a 41 in Monday's stroke-play qualifier. He needed a furious comeback in his quarterfinal match just to earn the opportunity to play for a spot in the Final.
"In the morning, it didn't seem like I was going to be here this afternoon," Homer said.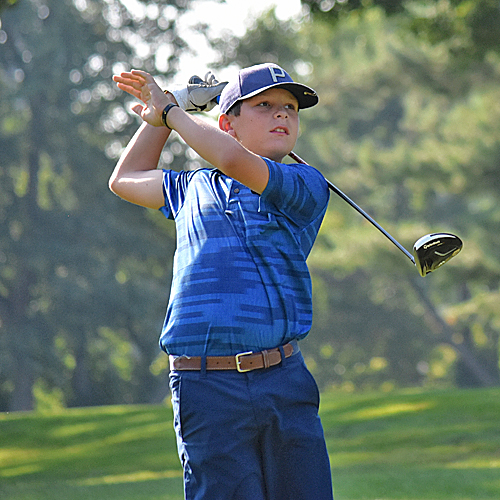 Sitting at 2-down as he headed to No. 7 tee (par 4, 235 yards), the seventh-grader-to-be at The Tatnall School won the match's final three holes to capture the win.
Homer continued his fiery play in his afternoon match, convincingly topping the tournament's medalist.
On the bracket's opposite side, the six seeded Curran earned his spot in the Final with a 3&2 triumph over J.P. Hoban of McCall Golf Club as well as an extra-hole win against the week's short game standout, Jack Dare of Riverton Country Club.
The latter match was decided by Curran's clutch four-foot par putt on the first playoff hole (No. 1, 375 yards), after Dare fought to bring the match to extra holes with consecutive up-and-downs on Nos. 8 (par 3, 90 yards) and 9 (par 4, 323 yards).
In the playoff, Dare was unable to convert a third successful scramble as his par putt from 40 feet stopped inches from the cup.
Curran took advantage of the opportunity, hitting the green in regulation and rolling just two putts in order to hole the ball. The 11-year-old student at the Haverford School is making his first appearance in the GAP Junior-Junior this week. He has quickly adopted an effective approach.
"I just haven't been trying to do too much," Curran, a resident of Newtown Square, Pa., said. "I haven't been trying to kill the ball. I've really been keeping it in play."
After a long day of golf in the stifling heat, both finalists left the property with thoughts of jumping in the pool.
Cannonballs come first, but Homer and Curran Jr. will jump into the 18-hole Final before long. Wednesday's match is scheduled for 7:30 a.m.
GAP
Celebrating Amateur Golf since 1897, GAP, also known as the Golf Association of Philadelphia, is the oldest regional or state golf association in the United States. It serves as the principal ruling body of amateur golf in its region. The Association's 274 Full Member Clubs and 75,000 individual members are spread across the Eastern half of Pennsylvania and parts of New Jersey and Delaware. The GAP's mission is to promote, preserve and protect the game of golf.
Citadel
Citadel is a credit union that has provided banking, investments, and insurance services to the Greater Philadelphia community for more than 80 years. At over $3 billion in assets, Citadel is one of the area's largest locally owned, not-for-profit financial institutions, proudly serving residents of Bucks, Chester, Delaware, Lancaster, Montgomery, and Philadelphia counties. Citadel has been ranked number one among all credit unions in Pennsylvania for providing value to customers by Callahan & Associates, and was named one of the best performing credit unions in the nation by SNL Financial. To explore products and services, visit www.CitadelBanking.com.
Semifinals
5. Jack Homer, Wilmington CC, d. 1. Kasim Narinesingh-Smith, Radley Run CC, 4&2.
6. Sean Curran, Jr., Merion GC, d. 10. Jack Dare, Riverton CC, 10 holes.
Quarterfinals
1. Kasim Narinesingh-Smith, Radley Run CC, d. 9. Paul Reilly, Hidden Creek GC, 3&2.
5. Jack Homer, Wilmington CC, d. 4. Kyle Spirt, Talamore CC, 1-up.
10. Jack Dare, Riverton CC, d. 15. Liam McFadden, Overbrook GC, 3&1.
6. Sean Curran, Jr., Merion GC, d. 3. J.P. Hoban, McCall GC, 3&2.