Conaway clinches #GAPJrJr Stroke-Play Qualifying medal, top seed
| Scoring portal | History |
MOORESTOWN, N.J.- Not too shabby for a Junior-Junior-Boys' debut.
Davis Conaway crafted a bogey-free 2-under-par 34 Monday in the 73rd Junior-Junior-Boys' Championship Stroke-Play Qualifying at Moorestown Field Club (par 36, 2,462 yards). The Fieldstone Golf Club member earned the championship's No. 1 seed and took home the day's Qualifying medal.
"It feels great to be a medalist, especially at a course like Moorestown," Conaway, 13, of West Chester, Pa., said. "I still feel like I need to work just as hard. Just because I'm in the lead [after Stroke-Play Qualifying], it doesn't mean I'm going to win."
Conaway's laser-focused approach allowed him to separate from the rest of the 15-player field. He bettered Merion Golf Club's Sean Curran, the 2019 Junior-Junior Boys' runner-up, by two strokes.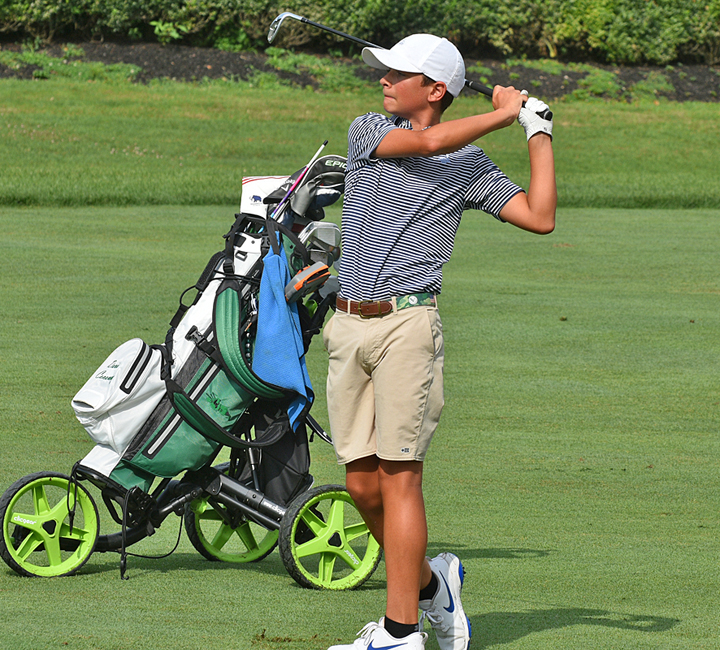 Conaway carded two birdies on the day. His first arrived on No. 1 (par 4, 263 yards) thanks to a 58-degree wedge chip to two feet. Conaway's next birdie came on No. 5 (par 5, 343 yards) as he hit a sand wedge from 100 yards to two feet.
However, Conaway's most impactful shot of the day wasn't a birdie. It arrived on Moorestown's closer, the par-4, 286-yard 9th. The up-and-down par save ultimately sealed the medal deal for Conaway.
"I had an amazing up-and-down on the hole," Conaway, a rising eighth-grader at Malvern Preparatory School, said. "It wasn't the best 58-degree wedge I could've hit, but I was glad I was able to make the putt."
Due to a last-minute no show, the field for the tournament went from 16 to 15 players, giving Conaway an unexpected first-round bye by default.
"This extra time off will give me some time to figure some things out with my putting because I wasn't used to the speed of the greens, which is why I left a couple of putts short today," Conaway said. "Other than that, there's nothing else to complain about, and I want to continue my play from today."
As the tournament format goes from stroke-play to match play, this will be the first time Conaway plays in a match-play tournament.
"Match play is going to be very different because you're just going up against one person and not really have to pay attention to the leaderboard," Conaway added. "It's also important to not let my opponent's shot impact how I play. I'm excited to get out there and compete."
Conaway will face Thomas Ploszay of Chester Valley Golf Club when the Quarterfinals begin Tuesday at 8 a.m.
The Junior-Junior Boys' Championship is open to members of a GAP Member Club who are 10 to 13 years of age.
GAP
Celebrating Amateur Golf since 1897, GAP, also known as the Golf Association of Philadelphia, is the oldest regional or state golf association in the United States. It serves as the principal ruling body of amateur golf in its region. The Association's 300 Member Clubs and 80,000 individual members are spread across the Eastern half of Pennsylvania and parts of Delaware, Maryland and New Jersey. The GAP's mission is to promote, preserve and protect the game of golf.
| | |
| --- | --- |
| Stroke-Play Qualifying | |
| Name, club | Score |
| Davis Conaway, Fieldstone Golf Club | 34 |
| Sean Curran, Merion Golf Club | 36 |
| Quin Zuegner, Lookaway Golf Club | 38 |
| Ian Larsen, Honeybrook Golf Club | 39 |
| Liam McFadden, Overbrook Golf Club | 40 |
| Paul Reilly, Hidden Creek Golf Club | 40 |
| Seiji Sako, McCall Golf Club | 41 |
| Benjamin Moorhouse, Talamore Country Club | 42 |
| Thomas Ploszay, Chester Valley Golf Club | 44 |
| Cole Berry, Overbrook Golf Club | 48 |
| Colin Curvan, Aronimink Golf Club | 48 |
| WIll Cranmer, Riverton Country Club | 49 |
| Joseph Gangemi, Jr., GAP Youth on Course | 49 |
| Ethan Clouser, Merion Golf Club | 52 |
| Malachi Davis, GAP Youth on Course | 56 |
| Logan Nye, The 1912 Club | NS |
| NS – no show | |
Round of 16
1. Conaway d. 16. Nye, Default.
9, Ploszay d. 8. Moorhouse, 3&2.
4. Larsen d. 13. Gangemi, 5&4.    
5. McFadden d. 12. Cranmer, 5&3.
2. Curran d. 15. Davis, Default.
10. Berry d. 7. Sako, 2&1.
3. Zuegner d. 14. Clouser, 5&3.
6. Reilly d. 11. Curvan, 5&3.