Cedarbrook's LaRosas win Father & Son (Younger)
| Scoring portal | History | Photo gallery |
WEST CHESTER, Pa. — David LaRosa's participation in GAP Father & Son tournaments traces back to his childhood. For the first time ever Thursday, the 48-year-old completed 18 holes without scoring higher than a bogey.
As a result, he and son Chris notched a collective career-first: a GAP victory. The Cedarbrook Country Club members carded a 6-over-par 77 to capture the Junior Division title in 63rd Father & Son (Younger) at a challenging Hershey's Mill Golf Club (par 71, 6,187 yards). The LaRosa team prevailed by a stroke.
The event's format is selective drive/alternate shot.
"The course was very challenging. The greens were fast and firm, probably the fastest we've played on this year," David said. "It was very difficult to get the ball in place. We were playing scared golf in the beginning."
The apprehension appeared apparent early. The LaRosa team, which started on the back nine, bogeyed two of its first three holes before settling in with a string of pars. A clutch save on the inviting yet uninviting par 4, 408-yard 18th hole allowed the Lansdale, Pa. residents to make the turn in a modest 3 over. David pulled an 8-iron from 145 yards to greenside left. Chris then faced a delicate chip to a back-left hole location on a two-tiered green. Too aggressive and it descends to the lower shelf. Too conservative and it stays behind bars. Chris executed a chip that landed with promise and stopped eight feet from the jar. David watched the right-to-left breaker tumble in on its last revolution.
"That was huge. That could have gone bad," Chris, 15, a rising sophomore at North Penn High School, said.
Huge when the margin of victory is one. A birdie on the par 5, 486-yard No. 4 also proved instrumental. Chris punched a 3-wood from 180 yards into the right greenside bunker. David's sand shot stopped six feet from the jar. Chris cleaned up the birdie putt.
"Tiger Woods would always say, 'It was the worst round I could have shot.' A 77 was the probably worst round we could have shot," David said. "Twice here, we were 30 feet away from the flagstick and made 5."
Such a score may appear on the card come August, but the LaRosas won't mind then. The two will embark on a father-son golf trip to Pebble Beach, site of this year's U.S. Open.
Aside from golf, the LaRosas share an interest in basketball. Both are Philadelphia 76ers season ticketholders.
"We go to 12-15 games a year. We were at four playoff games this past season," Chris said.
"We're rabid 76ers fans," David added.
David is the son of Leon LaRosa, who served two stints (1900-96, 1999-2015) as treasurer of the J. Wood Platt Caddie Scholarship Trust. Leon died in 2016 at the age of 69.
"We want to dedicate the round to pop-pop," David said.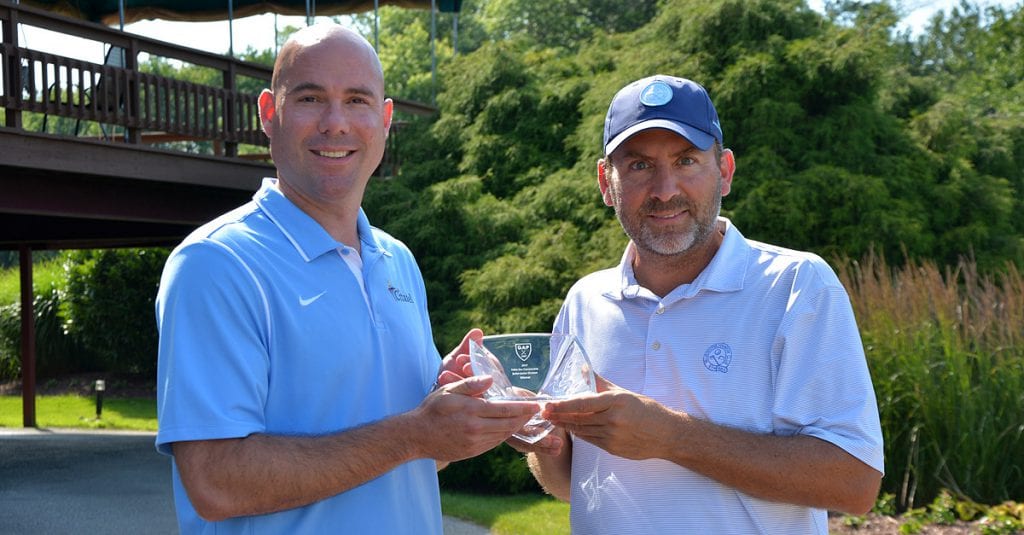 Junior-Junior
Jeffrey Ciconte played 36 holes of golf Thursday. The first 18 ultimately resulted in hardware.
Ciconte, 42, and his son Joseph claimed the event's Junior-Junior (par 71, 5,692 yards) title. The Wilmington Country Club members carded a 6-over-par 77.
Jeff and his son Anthony won the Junior-Junior Division in 2017. They played alongside one another in the afternoon Thursday.
"It was a great experience. Joe played awesome," Jeff said. "This course is a little bit tight, and we just kept the ball in front of us and gave ourselves plenty of birdie looks. We managed to make a bunch of pars, which was great."
The Wilmington, Del. residents pointed to No. 9 (par 4, 362 yards) as the highlight hole of the day. After Joseph's drive landed in the right rough, Jeff punched a 5-iron from 150 yards to two feet. Joseph, 12, an incoming seventh grader at The Tatnall School, tapped in for birdie.
GAP
Celebrating Amateur Golf since 1897, GAP, also known as the Golf Association of Philadelphia, is the oldest regional or state golf association in the United States. It serves as the principal ruling body of amateur golf in its region. The Association's 274 Full Member Clubs and 75,000 individual members are spread across the Eastern half of Pennsylvania and parts of New Jersey and Delaware. The GAP's mission is to promote, preserve and protect the game of golf.
Gross results
Junior Division
Name, club, score
David LaRosa/Chris LaRosa, Cedarbrook Country Club
77
Christopher Greer/Hayden Greer, Laurel Creek Country Club
78
William Pabst, Sr./Billy Pabst, Jr., Elmhurst Country Club
78
Joseph Garvey/Ryan Garvey, Rolling Green Golf Club
79
Andrew Isztwan/Patrick Isztwan, Huntingdon Valley Country Club
80
Darren Nolan/Brendan Nolan, Talamore Country Club
80
Jason Homer/Matthew Homer, Wilmington Country Club
80
Anthony Ciconte/Jeff Ciconte, Wilmington Country Club
80
Mark Lafond/Matthew Lafond, Blue Bell Country Club
81
Kevin Lafond/Mark Lafond, Blue Bell Country Club
81
Kenneth Matt/Christian Matt, Talamore Country Club
82
William Keane, Jr./Will Keane, Philadelphia Country Club
82
Andrew Damico/Philip Damico, McCall Golf Club
82
Patrick Sullivan/Patrick Sullivan, Jr., Philadelphia Publinks GA
82
Brian Block/Michael Block, Overbrook Golf Club
83
Michael Bednar/Michael Bednar, Rolling Green Golf Club
84
George Griffaton/Ben Griffaton, Bellewood Country Club
86
Owen Mulhern/Keller Mulhern, Whitford Country Club
86
Jeff Fialko/Jack Fialko, Aronimink Golf Club
87
Frank Gregor/Frankie Gregor, Huntingdon Valley Country Club
88
Ken Resuta/Kyle Resuta, Spring Ford Country Club
90
Alex Hanna/Gregory Hanna, Overbrook Golf Club
90
Patrick Buckley/Matt Buckley, Rolling Green Golf Club
90
David Pfeiffer/Scott Pfeiffer, Whitemarsh Valley Country Club
96
Matt Johnson/Ric Johnson, White Clay Creek Country Club
98
Gregory Hurchalla/Matthew Hurchalla, Stonewall/The Springhaven Club
99
Mark Maurer, II/Josh Maurer, Bent Creek Country Club
103
Junior-Junior Division
Name, club, score
Jeffrey Ciconte/Joseph Ciconte, Wilmington Country Club
77
Marc Shaffer/Reilly Shaffer, Llanerch Country Club
79
Greg O'Connor/Jack O'Connor, Bellewood Country Club/RiverCrest Golf Club & Preserve
80
Mark Peterson/D.J. Peterson, Waynesborough Country Club
82
Bruce Robertson, Jr./Travis Robertson, Sunnybrook Golf Club
83
Larry Benedetto/Jack Benedetto, Concord Country Club
85
Andrew Clayton/Brady Clayton, Philadelphia Cricket Club
86
Robert Powelson/Shane Powelson, Bidermann Golf Club
86
Brad McFadden/Liam McFadden, Overbrook Golf Club
86
Chong Moua/Zach Moua, St. Davids Golf Club
87
Jason Homer/Jack Homer, Wilmington Country Club
87
Greg Smith/Kasim Narinesingh-Smith, Radley Run Country Club
88
John Puskar/Jackson Puskar, Kennett Square Golf & Country Club
88
Larry Benedetto/Cameron Benedetto, Concord Country Club
89
Rich Linkchorst/Nick Linkchorst, Golf Course at Glen Mills/Philadelphia Junior Tour
93
Michael Mannon/Walker Mannon, Phoenixville Country Club/GAP Youth on Course
93
Ted Raven/Charlie Raven, Philadelphia Cricket Club
95
Charles Meadows/Hayden Meadows, Whitford Country Club
96
Bradd Forstein/Jack Forstein, Laurel Creek Country Club
97
Tim Yenawine/Zachary Yenawine, Lehigh Country Club
100
Net results
Junior Division
Name, club, score
Brian Block/Michael Block, Overbrook Golf Club
71
Joseph Garvey/Ryan Garvey, Rolling Green Golf Club
71
David LaRosa/Chris LaRosa, Cedarbrook Country Club
72
Kevin Lafond/Mark Lafond, Blue Bell Country Club
73
Andrew Isztwan/Patrick Isztwan, Huntingdon Valley Country Club
74
Christopher Greer/Hayden Greer, Laurel Creek Country Club
74
Michael Bednar/Michael Bednar, Rolling Green Golf Club
74
Darren Nolan/Brendan Nolan, Talamore Country Club
75
Patrick Buckley/Matt Buckley, Rolling Green Golf Club
75
Andrew Damico/Philip Damico, McCall Golf Club
76
Jason Homer/Matthew Homer, Wilmington Country Club
76
William Pabst, Sr./Billy Pabst, Jr., Elmhurst Country Club
77
Patrick Sullivan/Patrick Sullivan, Jr., Philadelphia Publinks GA
77
Ken Resuta/Kyle Resuta, Spring Ford Country Club
78
Mark Lafond/Matthew Lafond, Blue Bell Country Club
78
Alex Hanna/Gregory Hanna, Overbrook Golf Club
78
Anthony Ciconte/Jeff Ciconte, Wilmington Country Club
78
William Keane, Jr./Will Keane, Philadelphia Country Club
80
George Griffaton/Ben Griffaton, Bellewood Country Club
80
Kenneth Matt/Christian Matt, Talamore Country Club
82
Frank Gregor/Frankie Gregor, Huntingdon Valley Country Club
83
Jeff Fialko/Jack Fialko, Aronimink Golf Club
83
Owen Mulhern/Keller Mulhern, Whitford Country Club
83
David Pfeiffer/Scott Pfeiffer, Whitemarsh Valley Country Club
84
Matt Johnson/Ric Johnson, White Clay Creek Country Club
87
Junior-Junior Division
Name, club, score
Mark Peterson/D.J. Peterson, Waynesborough Country Club
65
Michael Mannon/Walker Mannon, Phoenixville Country Club/GAP Youth on Course
69
Larry Benedetto/Jack Benedetto, Concord Country Club
69
Jeffrey Ciconte/Joseph Ciconte, Wilmington Country Club
71
Marc Shaffer/Reilly Shaffer, Llanerch Country Club
71
Larry Benedetto/Cameron Benedetto, Concord Country Club
75
Brad McFadden/Liam McFadden, Overbrook Golf Club
75
Greg Smith/Kasim Narinesingh-Smith, Radley Run Country Club
75
John Puskar/Jackson Puskar, Kennett Square Golf & Country Club
76
Rich Linkchorst/Nick Linkchorst, Golf Course at Glen Mills/Philadelphia Junior Tour
78
Jason Homer/Jack Homer, Wilmington Country Club
81