Matt Homer takes #DelawareJunior at Chesapeake Bay
| Scorecards | Round One recap | Photo gallery |
RISING SUN, Md. — There's winning a golf tournament, and then there's jarring four birdies in the last four holes to win a golf tournament while battling head-to-head versus your twin brother.
Wilmington Country Club's Matt Homer chose the more adventurous trophy route Thursday in the 71st Delaware Junior Boys' Championship at Chesapeake Bay Golf Club Rising Sun (par 71, 6,593 yards), truly going out and taking the trophy under his own terms. Matt fired matching rounds of 3-under 68 to finish at 6-under overall for the win.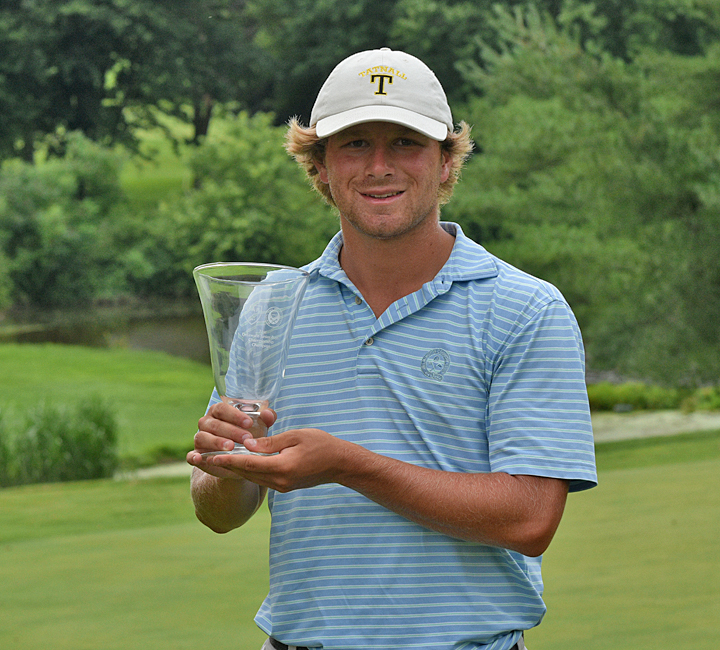 After Wednesday, that same leaderboard told a story of a hard-fought Round One. Matt's twin brother Jeff held the overnight lead at 4-under par, with Matt at -3, Evan Barbin of the home club at -2, and Jack Homer, the youngest Homer brothers in the field, at 1-under par.
An overnight downpour left the conditions primed for attacking flagsticks, but the leaders seemed to play it safe while settling in early. The Liberty University-bound Barbin began his final round 3 over through three holes, giving the Homer brothers some room to breathe after both brothers carded front-side scores of even-par 35. But Barbin, with plenty of course knowledge to boot, calmly collected birdies on Nos. 4 (par 4, 378 yards), 7 (par 4, 439 yards) and 11 (par 4, 395 yards) to pull within two shots of the lead through 12 holes.
Once the final group reached the par-5, 507-yard 14th, things took a drastic turn. Jeff, who was leading throughout the day, made par there while his brother walked in a seven-foot birdie putt to tie things up. Next, on No. 15 (par 3, 180 yards), Matt placed a 7-iron to 30 feet and rolled in that birdie bomb to move into first while Jeff parred.
"Those ones on 14 and 15 really got things going for me. I hadn't really made any putts before that. Then I had that look from 30 feet and then, bang, I dropped it in," said Homer, 17, of Wilmington, Del. "That was when it all turned."
The red-number train didn't stop there. On No. 16 (par 4, 478 yards), Matt found the center of the fairway and clipped a crisp 8-iron from 170 yards, landing it to 10 feet. After Jeff rolled in a crucial 25-foot par putt, the eventual champ tossed in his birdie putt on top of that. Another birdie for Matt arrived on No. 17 (par 4, 351 yards) after an 8-iron landed softly four feet from the cup. Matt would go on to play Chesapeake's closer (par 5, 545 yards) "safely", finding the green in regulation by three putting from 30 feet.
"Once I got the three-shot lead [on 16], I knew what I needed to do," said Matt, the reigning Jock MacKenzie Memorial champion.
After finishing runner-up in the #DelawareJunior the last three years, this was one Matt has had circled on his tournament schedule for awhile. To sweeten the winnings, today's victory gives Matt the state's two individual Junior titles. While representing the Tatnall School in early June, Matt took home the DIAA Boys' Individual title at Odessa National Golf Club.
"I grew up in Delaware. I love Delaware. To win the junior titles in this state, it means everything to me," said Matt. "To finally win the Delaware Junior Boys' is amazing for me, to finally get over the hump. And then to have both of these titles at the same time, that's the best accomplishment ever for me."
The other accomplishment he's proud of? Beating two of his favorite fellow competitors — Barbin and his twin brother.
"Jeff, he's such a tough competitor. And Evan, to beat him at his home course, it's special. But these guys make me bring my all," said Matt. "It's just fun, man. It's just fun to compete here with players like this. That's the best part for me."
Lifting the trophy in the Girls' Championship was 14-year-old Meredith Finger of DuPont Country Club. Finger fired her career low score of 1-over 73 in the second round to win the Girls' trophy. With a 5-over total score she bested the rest of the field by six shots, with reigning champion Reagan Garnsey (+11) of Wild Quail Golf & Country Club finishing as runner-up.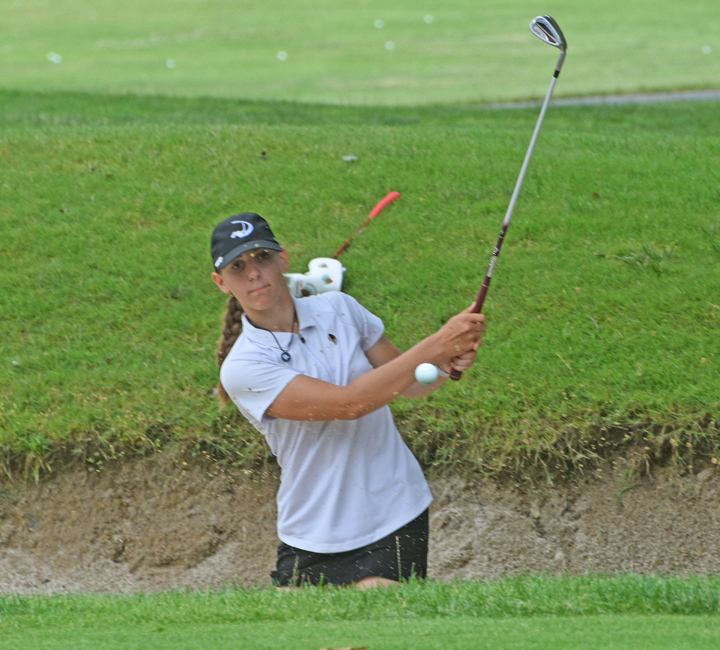 After carding a 5-over 76 yesterday, Finger held a two-shot lead heading into today's round. Her four birdies on Thursday kept her up top. Throughout the round, she was scoreboard watching — and also draining putts all over Chesapeake Bay.
"I'm the kind of person that likes to keep an eye on the leaderboard. I kind of knew going into the back nine that I had a lead, but then Reagan turned it on and [made eagle and birdie] to get within three shots," said Finger, of Wilmington, Del. "That's when I turned it on, making birdie on the 14th. That's when I made a push."
Walking alongside his daughter was Matt Finger, an assistant pro at DuPont and former GAP Major stalwart. In addition to other family members, Matt, who turned professional last season, provided a calming presence for Meredith as she worked her way toward the winner's circle.
"I'm so happy he came out today. He's been my number one supporter from the start. He's always there," said the champion. "So I credit 90 percent of this win to him. And then 100 percent to my game."
The Delaware Junior Championships are open to both junior girls and boys who have a GHIN Number hosted through a GAP/DSGA member club and are 13-19 years of age, as long as they have not started their college career.
GAP
Celebrating Amateur Golf since 1897, GAP, also known as the Golf Association of Philadelphia, is the oldest regional or state golf association in the United States. It serves as the principal ruling body of amateur golf in its region. The Association's 300 Member Clubs and 80,000 individual members are spread across the Eastern half of Pennsylvania and parts of Delaware, Maryland and New Jersey. The GAP's mission is to promote, preserve and protect the game of golf.