| Scorecards| History |
STEVENS, Pa. – Melissa Landis got in a golf cart alongside Kinley Lingenfelter, her friend, fellow caddie, and teammate, and headed to the first tee as they've done many times before. But this time was a tad different.
Fast forward four hours later, and the smile on Landis' face had grown to its fullest potential. A career round will do that for just about anyone.
Landis, a rising junior for the Jefferson Rams, fired a 2-over 74 Monday at an overcast Foxchase Golf Club to earn a share of the Caddie Tournament's low round. Also in with 74s were Noah Sim, a 16-year-old caddie at Commonwealth National Golf Club, and Brandon Cassidy, a 20-year-old looper at Doylestown Country Club.
Back-to-back birdies were the key to Landis' low round. On No. 12 (par 4, 270 yards), Landis smacked driver before a pured 54-degree came to a halt 10 feet from the cup. She stepped up and drained it. A pitching wedge to three feet on the 105-yard, par-3 13th led to the second red number in a row.
"Normally, my driver is the strength of my game. I like that club a lot, and since we play longer courses during our [collegiate] season, I had a lot of wedges in," said Landis, 20, of Philadelphia, Pa.
Previously, Landis has only matched 74 while playing for Nazareth Academy High School. In her first two collegiate seasons, Landis has yet to break 80 in a competitive round. Today's trophy-clinching 74 was a step in the right direction.
"Shooting even on the front today was really, really nice," said Landis, in her second season as a caddie at The ACE Club. "It's a shame that I had to finish bogey-bogey to shoot 2-over, but I can't be mad with that number."
Although the Caddie Tournament is an individual event by nature, being paired with Lingenfelter, her Jefferson teammate, helped take some of the competitive pressure of Landis' shoulders.
"We always have a good time. Half the time we play together, I can barely focus because we're having so much fun," said Landis. "She's great to play with."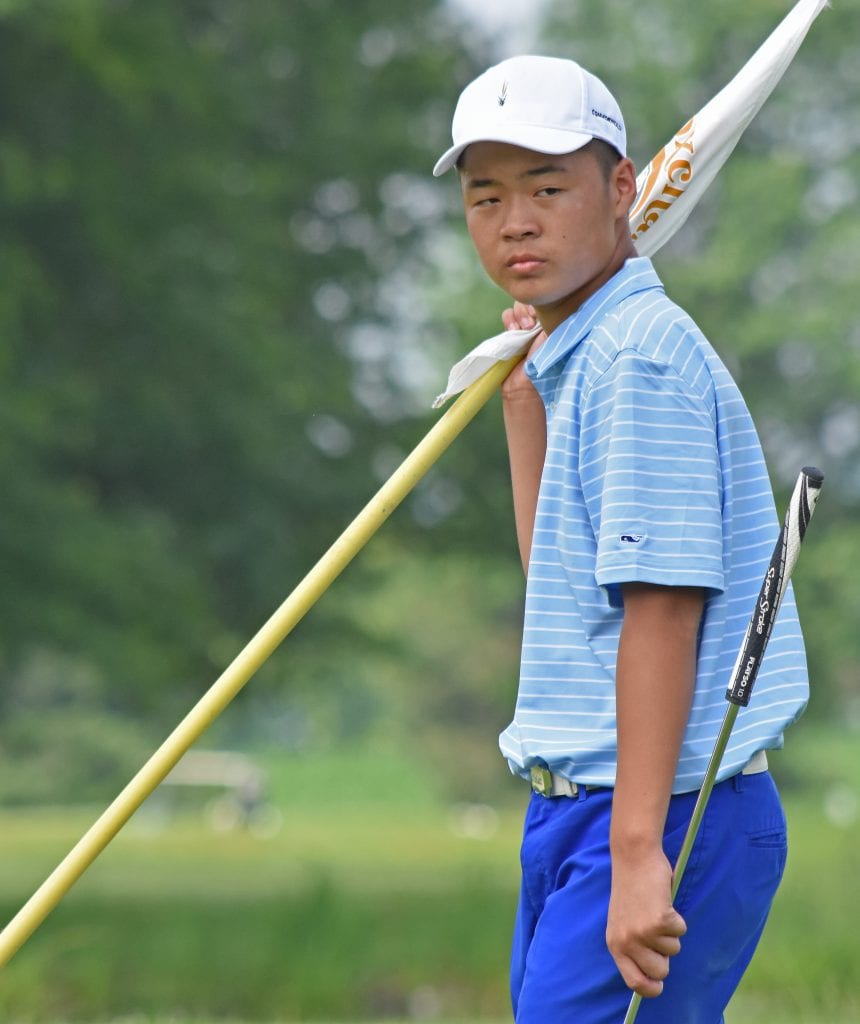 The talented Sim used three birdies en route to the 18 and under crown. His highlight on the day came in result of a punch 4-iron from 155 yards out that led to a 10-foot birdie on No. 5 (par 4, 337 yards).
"I was basically looking to just par every hole I played," said Sim, of Ambler, Pa. "To play against all of these other caddies, and to win a trophy, it is a big win."
Being a looper is more than just a job for the young talent. It's an opportunity to study. He uses his time out on the course "picking up tips and techniques from different styles of players."
"This is my second season [as a caddie], and I really enjoy it. I try to get out two or three times a week," he said. "I try and use my time as a caddie to my advantage. It's a good time to learn or pick up a few things for my game."
The Caddie Tournament had four flights based on age groups, in addition to the two-player Women's flight. There isn't an overall champion.
Taking home the 19 to 20 Flight was Brandon Cassidy of Doylestown Country Club, who fired a 2-under 35 on Foxchase's back side en route to the day's third 74. Pat Donaldson (4-over 76) of Tavistock Country Club took the top spot in the 21 to 52 Flight, while Paul Bilous of Lehigh Country Club won the 55 and over Flight with an 11-over 83.C
Originating in 1928, the Caddie Tournament is open to all caddies who have been regularly employed at Member Clubs for at least 30 days prior to the event. Tournament eligibility is restricted to Amateur players who do not have membership privileges at any Member Club.
GAP
Celebrating Amateur Golf since 1897, GAP, also known as the Golf Association of Philadelphia, is the oldest regional or state golf association in the United States. It serves as the principal ruling body of amateur golf in its region. The Association's 274 Full Member Clubs and 75,000 individual members are spread across the Eastern half of Pennsylvania and parts of New Jersey and Delaware. The GAP's mission is to promote, preserve and protect the game of golf.
Name, club, score
Women's Flight
Melissa Landis, The ACE Club
74
Kinley Lingenfelter, The ACE Club
83
18 and under
Noah Sim, Commonwealth National Golf Club
74
Michael Larkin, Llanerch Country Club
79
Thomas Larkin, Llanerch Country Club
79
Andrew Kiddie, Applebrook Golf Club
84
Blake Barklage, Commonwealth National Golf Club
86
Ryan Jackson, Chester Valley Golf Club
88
James Casper, Huntingdon Valley Country Club
92
Coleman Gillespie, Llanerch Country Club
94
Jack Jablonoski, Tavistock Country Club
97
Reese Dalzell, Huntingdon Valley Country Club
103
19 to 20
Brandon Cassidy, Doylestown Country Club
74
Philip James, Bluestone Country Club
76
Christopher Knox, French Creek Golf Club
77
Jack LaRosa, Union League Golf Club at Torresdale
77
Marcus Janinek, Talamore Country Club
80
Vincent Lucchesi, Llanerch Country Club
80
Mark Amadio, French Creek Golf Club
85
Austin Farinella, Llanerch Country Club
85
Peter Sagona, French Creek Golf Club
91
Patrick McDermott, St. Davids Golf Club
92
Theodore Jablonoski, Tavistock Country Club
97
John Gavin, Jr., Chester Valley Golf Club
100
Keaton Pickard, Chester Valley Golf Club
102
21 to 52
Pat Donaldson, Tavistock Country Club
76
Nicolas McCook, Chester Valley Golf Club
77
Mike Petruccelli, Union League Golf Club at Torresdale
77
Tom Crawford, Jr., Philadelphia Cricket Club
78
Kyle Hutnik, Lehigh Country Club
78
Joe Rochelle, Lookaway Golf Club
79
Jon Hersey, Philadelphia Cricket Club
81
Josh Keyser, Saucon Valley Country Club
81
Rudy Peralta, Philadelphia Cricket Club
82
Mike Siddall, Tavistock Country Club
83
Brennan O'Neill, Philadelphia Cricket Club
85
Bobby Ramsey, Union League Golf Club at Torresdale
87
Thomas Wolf, French Creek Golf Club
87
Matthew Beck, Huntingdon Valley Country Club
88
Kyle Fiorelli, The Springhaven Club
89
Lucas Moran, Philadelphia Cricket Club
91
Lee Thomas, Tavistock Country Club
92
C.J. Hunt, White Manor Country Club
94
Austin Wilk, Chester Valley Golf Club
99
Michael Austin, Tavistock Country Club
101
Josh Hoopes, Applebrook Golf Club
WD
Rob Pastorino, Applebrook Golf Club
WD
55 and over
Paul Bilous, Lehigh Country Club
83
Mark Patterson, Union League Golf Club at Torresdale
87
Bill Kindt, Saucon Valley Country Club
88
Bob Quigley, The ACE Club
89
David Taylor, Llanerch Country Club
95
WD – withdrawal