Rickenbach leads field in #BMWPhillyAm Qual. at Radley Run
Radley Run Country Club (par 72, 6687 yards) tested the field of 141 players during the #BMWPhillyAm Qualifying event on Monday. The tournament leader set the tone for the remaining competitors by carding a 2-under-par 70.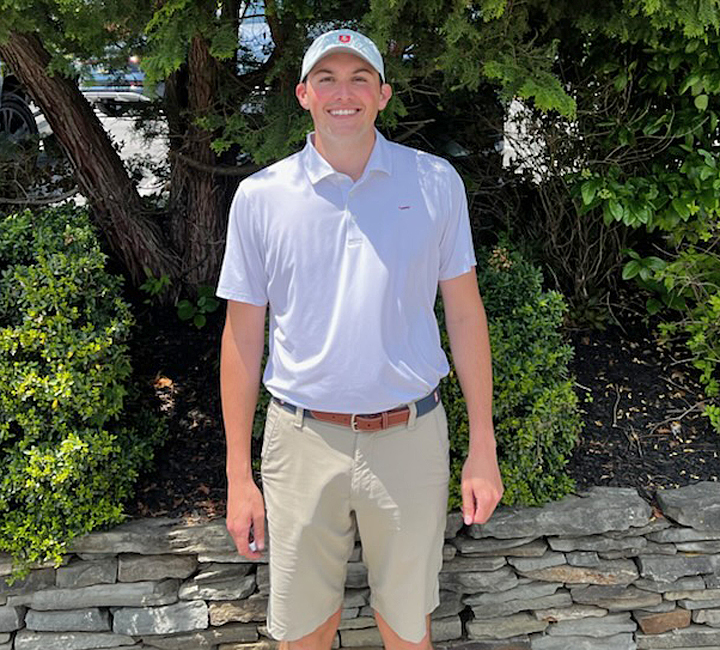 The fourth and final BMW Philadelphia Amateur Championship Qualifier occurred on Monday with tee times beginning at 7:30 a.m. Thirty players finished ahead of the cut line, which was 4-over-par 76, and have secured invitations to the championship proper.
The 122nd BMW Philadelphia Amateur Championship will take place June 13-15 and 18 at Philadelphia Country Club and Union League National Golf Club – Liberty Hill (Stroke-Play Qualifying only).
Leading the field was 27-year-old Stewart Rickenbach of Huntingdon Valley Country Club who bested the field with his 2-under-par 70. Rickenbach, who won the Francis X. Hussey Memorial in 2013 alongside his partner Andrew Carber, got his first birdie to arrive on his seventh hole before he carded three others on Nos. 9, 12 and 14. Bogeys on holes Nos. 2 and 18 were also captured during his round.
Closely following Rickenbach was Fieldstone Golf Club's Joseph Tigani who finished with a 1-under-par 71. Three birdies on Nos. 5, 7, and 8 coupled with bogeys on Nos. 1 and 6 allowed him to shoot 1-under par on the front nine and card a back-nine score of even-par 36. Tigani will join Rickenbach as an #BMWPhillyAm invitee.
The BMW Philadelphia Amateur Championship is GAP's premier individual championship. Participants must first advance through a one day, 36-hole stroke-play qualifier to gain one of 32 available match play positions. Those who qualify for match play must advance through four matches in two days to reach the BMW Philadelphia Amateur Final, which is typically held on the Saturday of Father's Day weekend. The winner receives the J. Wood Platt Trophy; its namesake holds a record-seven BMW Philadelphia Amateur Championship titles.
GAP
Celebrating Amateur Golf since 1897, GAP, also known as the Golf Association of Philadelphia, is the oldest regional or state golf association in the United States. It serves as the principal ruling body of amateur golf in its region. The Association's 330 Member Clubs and 90,000 individual members are spread across Pennsylvania, Delaware, New Jersey and Maryland. The GAP's mission is to promote, preserve and protect the game of golf.
| | |
| --- | --- |
| Qualifiers | |
| Name, club | Score |
| Stewart Rickenbach, Huntingdon Valley Country Club | 70 |
| Joseph Tigani, Fieldstone Golf Club | 71 |
| Michael Zieg, Kennett Square Golf & Country Club | 72 |
| Jake Maddaloni, Aronimink Golf Club | 73 |
| John Samaha, Old York Road Country Club | 73 |
| Christopher Warner, Makefield Highlands Golf Club | 73 |
| Mark Benevento, Philadelphia Cricket Club | 74 |
| Christopher Dorey, Makefield Highlands Golf Club | 74 |
| Shane Lawler, Chester Valley Golf Club | 74 |
| Brian Lipps, Tavistock Country Club | 74 |
| Nikita Romanov, Philadelphia Publinks Golf Association | 74 |
| Caleb Ryan, The 1912 Club | 74 |
| Austin Schreffler, Armitage Golf Club | 74 |
| Jackson Tappen, Cedarbrook Country Club | 74 |
| Jack Carrigan, Hartefeld National | 75 |
| Andrew Curran, Philadelphia Cricket Club | 75 |
| Jack Hamilton, Merion Golf Club | 75 |
| Will Holt, Kennett Square Golf & Country Club | 75 |
| John Meyers, Golden Pheasant Golf Course | 75 |
| Rij Patel, Country Club of York | 75 |
| Alex Pillar, Woodloch Springs | 75 |
| Benjamin Saggers, Applecross Country Club | 75 |
| Dawson Anders, Indian Valley Country Club | 76 |
| Andrew Carnevale, North Hills Country Club | 76 |
| Jeff Gardiner, Hartefeld National | 76 |
| Nick Hano, LuLu Country Club | 76 |
| Matthew Krass, Radley Run Country Club | 76 |
| Max Muller, Manufacturers' Golf & Country Club | 76 |
| Matthew Shevlin, Philadelphia Publinks Golf Association | 76 |
| Jacob Sokalsky, Penn Oaks Golf Club | 76 |
| Campbell Wolf, Carlisle Country Club | 76 |
| Failed to qualify | |
| Ashley Brasfield, Rolling Green Golf Club | 77 |
| Stuart Carrihill, Conestoga Country Club | 77 |
| Conner Charlebois, Bala Golf Club | 77 |
| Zach Dilcher, Hartefeld National | 77 |
| Greg Howson, St. Davids Golf Club | 77 |
| Hayden Moffat, Philadelphia Publinks Golf Association | 77 |
| Max Siegfried, Aronimink Golf Club | 77 |
| Grant Skyllas, LedgeRock Golf Club | 77 |
| Brendan Borst, Philadelphia Cricket Club | 78 |
| Erik Brubaker, Ocean City Golf Club | 78 |
| Greg DeLuca, Trenton Country Club | 78 |
| Daniel Galbreath, Huntingdon Valley Country Club | 78 |
| Matt Lafond, Blue Bell Country Club | 78 |
| Shawn Lavin, Rolling Green Golf Club | 78 |
| Stephen Lorenzo, Manufacturers' Golf & Country Club | 78 |
| Richard Marabella, Jeffersonville Golf Club | 78 |
| Shane Nocito, Yardley Country Club | 78 |
| Dicky Rhoads, Huntingdon Valley Country Club | 78 |
| Todd Baron, Philadelphia Publinks Golf Association | 79 |
| Dan Bernard, Aronimink Golf Club | 79 |
| Brock Fassnacht, Meadia Heights Golf Club | 79 |
| Jimmy Finnerty, Radley Run Country Club | 79 |
| Joshua Gallagher, Hartefeld National | 79 |
| Christian Matt, Cedarbrook Country Club | 79 |
| Ryan McDonald, Merion Golf Club | 79 |
| Kasim Narinesingh-Smith, Radley Run Country Club | 79 |
| Kevin O'Brien, Cedarbrook Country Club | 79 |
| Scott Orsini, Gilbertsville Golf Club | 79 |
| Regan Papariello, St. Davids Golf Club | 79 |
| Mark Wachter, DuPont Country Club | 79 |
| Eric Williams, Honesdale Golf Club | 79 |
| Parker Wine, Radley Run Country Club | 79 |
| Joe Arrante, Newark Country Club | 80 |
| Geoffrey Cooper, North Hills Country Club | 80 |
| Sal Cucinotti, Talamore Country Club | 80 |
| Scott Dobak, Regents' Glen Country Club | 80 |
| Ted Hospodar, Overbrook Golf Club | 80 |
| David Kim, LuLu Country Club | 80 |
| Cooper Kronenberger, Little Mill Country Club | 80 |
| Ian Masenheimer, Lehigh Country Club | 80 |
| Joey Morganti, Llanerch Country Club | 80 |
| Eric Palumbo, Rolling Green Golf Club | 80 |
| Greg Sadowski, Philadelphia Publinks Golf Association | 80 |
| Ryan Barrett, Doylestown Country Club | 81 |
| Robert Bechtold, Fieldstone Golf Club | 81 |
| James Gradisek, Philadelphia Country Club | 81 |
| Alex Hosier, Briarwood Golf Club | 81 |
| Steve Kollias, Concord Country Club | 81 |
| Gwinyai Murahwa, North Hills Country Club | 81 |
| Johnny Murphy, The Shore Club | 81 |
| Tony Nocito, USGA/GAP GC | 81 |
| Connor Sharp, Union League Golf Club at Torresdale | 81 |
| John Simone, Philmont Country Club | 81 |
| Justin Spaeth, Cedarbrook Country Club | 81 |
| Kyle Williams, Glen Oak Country Club | 81 |
| Jack Davis, Aronimink Golf Club | 82 |
| Jackson Debusschere, The Springhaven Club | 82 |
| Corey Haydu, Spring Mill Country Club | 82 |
| Will Huntley, Blue Bell Country Club | 82 |
| Will Keane, Philadelphia Country Club | 82 |
| Frankie McVeigh, Llanerch Country Club | 82 |
| Alex Mulrooney, DuPont Country Club | 82 |
| Michael Rogers, Overbrook Golf Club | 82 |
| Justin Schorr, Talamore Country Club | 82 |
| Christopher Thude, Union League Golf Club at Torresdale | 82 |
| Brian Fischer, Philadelphia Cricket Club | 83 |
| Marty Hayden, Jr., Overbrook Golf Club | 83 |
| Greg Sutton, Mercer Oaks Golf Course | 83 |
| Teddy Villanueva, Llanerch Country Club | 83 |
| Tripp Durham, Chester Valley Golf Club | 84 |
| Jim Finegan, Philadelphia Country Club | 84 |
| Brian Keane, Mercer Oaks Golf Course | 84 |
| Robert Bangs, McCall Golf Club | 85 |
| Justin Gohn, Concord Country Club | 85 |
| Steve Levchenco, Philmont Country Club | 85 |
| Tommy McGuane, Radley Run Country Club | 85 |
| Chris Waldmann, French Creek Golf Club | 85 |
| Matt Worrall, DuPont Country Club | 85 |
| Chris Benvenuto, Middletown Country Club | 86 |
| Jeffrey Juric, Play Golf Delaware | 86 |
| Jimmy O'Connor, Penn Oaks Golf Club | 86 |
| Ryan Rigby, Doylestown Country Club | 86 |
| Zachary Weiss, Avalon Golf Club | 86 |
| Bill Kane, Old York Road Country Club | 87 |
| Matt Milligan, Bluestone Country Club | 87 |
| Jon Dutcher, Broad Run Golfer's Club | 88 |
| Greg Hanna, Applebrook Golf Club | 88 |
| Brendan Harrington, Applebrook Golf Club | 88 |
| Joe Petrino, Makefield Highlands Golf Club | 88 |
| Brian Walsh, Galloway National Golf Club | 88 |
| Brandon Christopher, DuPont Country Club | 89 |
| Lars Beck, Bala Golf Club | 91 |
| Stephen McIntyre, French Creek Golf Club | 91 |
| Stephen Marshalek, Philadelphia Publinks Golf Association | 96 |
| Rob Albanese, Manufacturers' Golf & Country Club | NS |
| Greg Fischer, Llanerch Country Club | WD |
| Ben Gehrt, Hartefeld National | NS |
| Christian Haldeman, Saucon Valley Country Club | WD |
| Brad McFadden, Merion Golf Club | NS |
| Jeff Palmer, Manufacturers' Golf & Country Club | WD |
| NS – no show; WD – withdrawal | |