BLUE BELL, Pa. – It's been a long time since Matt Dolinsky has played competitive golf.
After a 10-year hiatus from the game, Dolinsky made his rightful return to GAP in the 121st BMW Philadelphia Amateur Championship Stroke-Play Qualifying Monday at Cedarbrook Country Club (par 72, 7,037 yards) and The 1912 Club (par 70, 6,836 yards).
"My clubs were collecting dust in my garage for the past eight years," Dolinsky, 47, of Sinking Spring, Pa., said. "It wasn't until last June when my son told me, 'Come on old man, let's play a few rounds together,' and that's when I started playing again."
The last GAP event Dolinsky competed in was the 2011 #BMWPhillyAm held at Manufacturers' Golf & Country Club. Previously, he qualified in 2009 for match play but was defeated by Bill McGuinness of Tavistock Country Club. In 2010, Dolinsky was exempt into the Amateur Championship Stroke-Play Qualifying but didn't make the cut for match play.
"Golf had always been the center of my life, but I got tired of it," Dolinsky, a member of Honeybrook Golf Club, said. "I had children, and it was time to focus on them."
Alongside raising a family and taking some time away from golf, Dolinsky enters his 18th year as a real estate agent at RE/MAX of Reading.
"After going out and playing with my son at Reading Country Club, it was fun to get the competitive juices flowing again," Dolinsky added. "I concluded that I wasn't young anymore, and it made me realize that I only have a short period to compete."
This realization allowed Dolinsky to get back into playing shape and play competitive golf once again.
"I worked on my game, and everything came together," Dolinsky said. "I've honestly felt like I've gotten more mature since I played 10 years ago."
Dolinsky's maturity and time away from the game allowed a smooth return as he finished the day with a 3-over par 145 total.
Starting the day at The 1912 Club, Dolinsky carded a birdie on No. 9 (par 4, 407 yards) after hitting an 8-iron approach from 182 yards to 15 feet. On No. 11 (par 4, 412 yards), Dolinsky birdied after a 3-wood, gap wedge combination, leading to a putt from 18 feet. On No. 13 (par 4, 294 yards), Dolinsky hit a wedge to 20 feet and rolled it in for birdie. On No. 17 (par 4, 476 yards), his approach shot from 182 yards made way for a jarred birdie from six feet.
"I thought I was a lot better with my shot selections, especially in the first round," Dolinsky said.
In the second round at Cedarbrook, Dolinsky carded his lone birdies on Nos. 3 (par 4, 415 yards) and 11 (par 4, 386 yards). Dolinsky had his caddie, Mike Rossi of Applebrook Golf Club, talk him through each shot he took throughout the day — one he'll look to build on in tomorrow's Round-of-32 as the No. 17 seed, where he'll square off versus Philadelphia Cricket Club's J.T. Spina.
"I rolled the ball nice today, practiced a lot, and trusted the work I was putting in," Dolinsky said. "I saw what I was capable of, and it put me in a position to compete."
5-for-1 playoff gets down to two, and then halts
A 5-for-1 playoff teed off Monday evening at Cedarbrook, and it wouldn't finish. Lightning struck during the third playoff hole, putting that showdown on pause.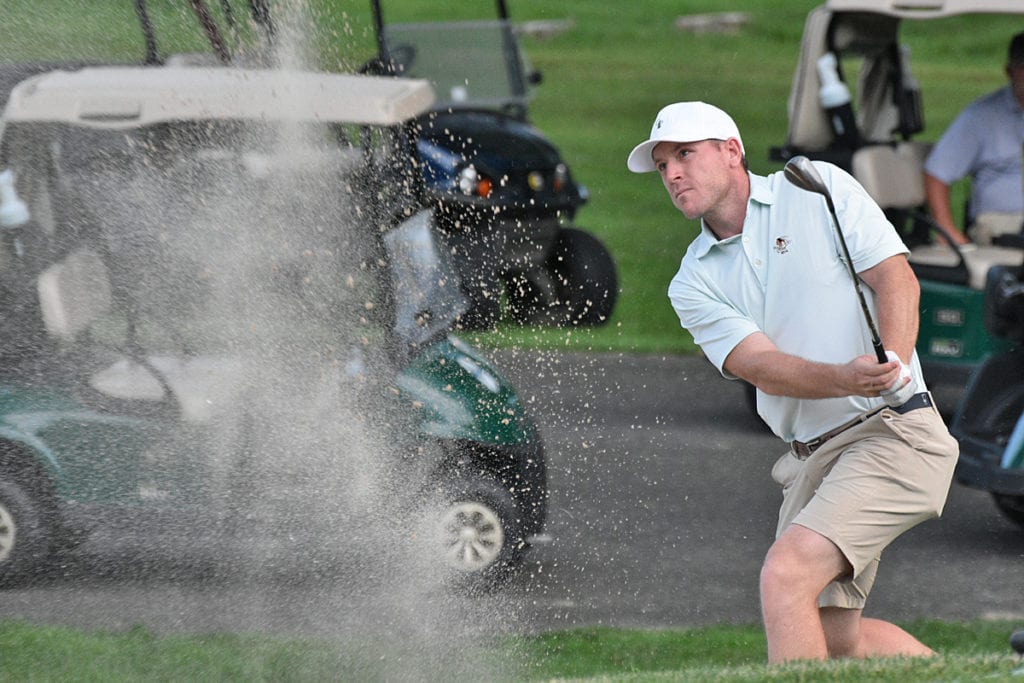 To begin, it was Philadelphia Cricket Club's Mark Miller and Marty McGuckin, plus two-time #BMWPhillyAm winner Jeremy Wall of Manasquan River Golf Club, Galloway National Golf Club's Peter Barron, III and Spring Ford Country Club's Ryan Tall. On the first playoff hole, McGuckin and Miller advanced with the lone birdies on the par-5, 536-yarder.
On the second playoff hole, No. 16 (par 3, 168 yards), McGuckin pured an 8-iron that landed right of the hole, spun back to seven feet and appeared to stop. However, the ball picked up momentum and ran off the front of the green, where Miller also lied. Both players failed to get up-and-down, making bogeys.
The third playoff hole is where play would pause. Off the tee, Miller found the right fairway bunker, and proceeded to find the left greenside bunker with his second. He blasted out of there, but his ball didn't stop, running past the hole and onto the fringe. McGuckin, with his tee ball in the left rough, placed his approach shot to 20 feet, center of the green.
Then the horn sounded. Play was halted immediately, and a monsoon arrived shortly after.
Play resumes Tuesday morning at 7 a.m.