McGrath defeats Irons, 3&2, for 121st #BMWPhillyAm title
BLUE BELL, Pa.– Conor McGrath and Brian Quinn, his Temple University coach, had a heart-to-heart about a year ago. McGrath had asked for a lesson and was planning on heading to the shore soon after. Quinn wasn't pleased. He knew McGrath's talents wouldn't flourish without a change. Since then, a more dedicated pupil emerged. On Saturday at Cedarbook Country Club (par 72, 7,015 yards) before a large gathering of friends and family, McGrath, with trusted caddie Matt Beck on the bag, put his skills on full display to defeat Jack Irons of Little Mill Country Club, 3&2, for the 121st BMW Philadelphia Amateur Championship title.
| Scoring portal | History | Medalist History | Day Four Notebook |
| Day One recap | Day Two recap |
"It took me a little while to understand what needed to be done practicing and the time spent on your game," said McGrath, a rising senior. "As I got older, growing through Temple, and seeing all the good players around me I knew I had to step it up. I've definitely ramped things up [beginning] last summer. It's been 1,000-percent better with the amount of time I'm putting in and I would say my focus as well. You have to be willing to put in the time." McGrath says he puts approximately five to six hours of work in daily.
All that added time proved historic. McGrath's victory gained him access to the most exclusive brotherhood in Philadelphia golf – Amateur champions who call Huntingdon Valley Country Club home.
He is the 16th HVCC member (25 titles) to hoist the championship trophy. McGrath joins legendary figures O. Gordon Brewer, Jr. (1967, 1976), William Hyndman, III (1958, 1965), Harold McFarland (1904, 1907, 1912-13), Lincoln Roden, III (1949-50) and William P. Smith (1898, 1901-02), amongst others. The club's last victor was Jeff Osberg in 2014. Huntingdon Valley's 25 Amateur Champions are more than double that of the next closest club, Whitemarsh Valley at 12.
"It's special. I'm at a loss for words," said McGrath, 21, of Huntingdon Valley, Pa. "It's really cool to join that list and kind of make my mark on Huntingdon Valley history and get my name on [the J. Wood Platt Amateur Championship Trophy]."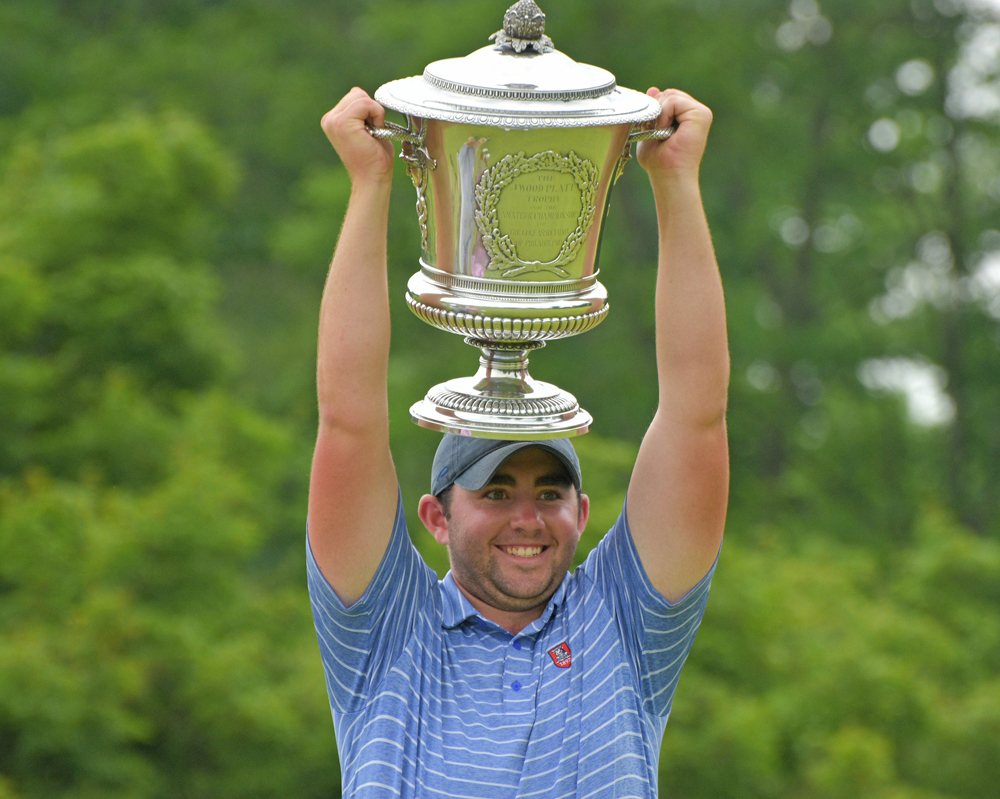 It's been a whirlwind last 12 months for McGrath, who has become a steady face on leaderboards. Late last July in the Pennsylvania Golf Association Amateur Championship, he set a Lookaway Golf Club course record in the second round with an 8-under 64. He finished tied for seventh. A few weeks later, McGrath tied for third in GAP's Stroke-Play Championship, the Joseph H. Patterson Cup, with a 2-under 68 at The 1912 Club. COVID slowed the fall collegiate season, but in the spring McGrath was the American Athletic Conference Men's Golf Player of the Week that ended April 13 courtesy of co-medal honors at the Temple Spring Invite, followed by an even-par 140 (71-69) performance at the Wildcat Spring Invitational (April 11-12). He tied for second overall in the Wildcat. In late May, he was named to the 2021 Division I PING All-Northeast Region team.
Saturday, McGrath led from start-to-finish in the scheduled 36-hole Final, though there were some bumps along the way.
He took the lead on No. 4 (par 4, 380 yards) when he stopped a 60-degree wedge from 91 yards five feet from the hole and made the birdie putt. McGrath drove the green on No. 8 (par 4, 275 yards) and two putted for a 3 to move 2-up. He then won No. 9 (par 3, 213 yards) with a par to move 3-up. Irons took No. 10 (par 5, 538 yards) with a bogey, before McGrath responded with victories on Nos. 12 (par 5, 557 yards) and 16 (par 3, 170 yards). McGrath lipped out a par effort on No. 18 (par 4, 410 yards) and Irons made a 4 to conclude the opening 18 holes with a 3-up lead.
McGrath held that advantage through 27 holes, though there was an exchange of hole victories four times.
The quiet, reserved Irons found a spark on the back nine and closed the gap to a one-hole disadvantage after Nos. 28 and 29 (Nos. 10 and 11 (par 4, 388 yards). He did so with a birdie and par.
The biggest shot of the match then came from McGrath. On No. 30 (No. 12), he ripped a 5-iron from 230 yards to 20 feet. Irons found trouble off the tee, chipped out and saw his approach kick right off the green. McGrath two-putted for 4 to move back to 2-up.
"I was pretty amped up and could feel it," said McGrath about his approach on the match's 30th hole. "[Matt, my caddie] was like 'I got a club in mind.' I looked at him and said '5-iron.' He said 'I love it.' It was probably the most free swing I could have made. It was one of my best swings of the day. I trusted it. We were able to trust that shot and pull it off."
A par on No. 31 (No. 13, par 3, 220 yards), courtesy of a delicate four-footer and an Irons bogey returned McGrath to 3-up. Two pars followed before McGrath ripped a 7-iron on the 34th hole (No. 16) to 22 feet. Irons watched his tee ball roll off the front and into the fringe. A poor chip resulted in second attempt for Irons with his third shot stopping a few feet from the cup. McGrath, needing two putts to secure the win, eased his birdie putt toward the hole before it ran out of speed inches from the cup.
"It's disappointing right now but I still had a good week," said Irons, 19, who resides in Naples, Fla., but summers with family in Medford Lakes, N.J. He took online classes and graduated from high school. "I would have loved to have won but I gave it 100-percent. That's all I can ask for."
Both players were competing in their first Amateur Final. It was the second time both players advanced from Stroke-Play Qualifying, the first for the duo coming last year. Both players fell in the first round last year at Lancaster Country Club.
McGrath is the first Temple golfer to win the Amateur since Jim Sullivan, Jr. in 1999.
For an emotional Quinn, McGrath's performance is a validation on many levels. The family focused atmosphere he's created at Temple over the last 17 years – the entire team and a few alums attended the match. His ability to identify talent. And, most importantly, the opportunity to watch adolescents develop into mature adults.
"I've known and coached Conor since he was in seventh grade," said Quinn, 53, of Wynnewood, Pa. "He's incredibly talented. We had that conversation and I think he got it. He is so talented and so good but if you don't work at it you aren't going to be able to enjoy the fruits [of your labor] like this kind of stuff. My goal for him before he leaves Temple University is to be an All America. I think he's capable of that."
Final
20. Conor McGrath, Huntingdon Valley CC, d. 15. Jack Irons, Little Mill CC, 3&2.
BMW Philadelphia Amateur Championship
Originating in 1897, the Amateur Championship is GAP's premiere individual event. Philadelphia Cricket Club's Albert H. Smith captured the first Amateur Championship by defeating J.D. Winsor of Merion Cricket Club in 37 holes at Bala Golf Club. The event's format switched to medal play in 1938. J. Wood Platt went on to win two consecutive Amateurs under that format. His brother William "Zimmer" Platt earned the 1940 title at Philadelphia Cricket Club by being the only competitor to finish all 72 holes. The event's format reverted back to match play in 1941. The Amateur Championship wasn't contested from 1943- 45 because of World War II. Overall, 37 courses have hosted the Amateur.
GAP
Celebrating Amateur Golf since 1897, GAP, also known as the Golf Association of Philadelphia, is the oldest regional or state golf association in the United States. It serves as the principal ruling body of amateur golf in its region. The Association's 300 Member Clubs and 80,000 individual members are spread across the Eastern half of Pennsylvania and parts of Delaware, Maryland and New Jersey. The GAP's mission is to promote, preserve and protect the game of golf.