A toast to 100 years at Berwick
By Tony Regina
The Berwick Golf Club Centennial Lager.
A specialty brew created by Berwick Brewing Company to commemorate a special birthday. Here's a toast to those who helped Berwick Golf Club through the sands of time. The members and their unwavering volunteerism. The true spirit behind this spirt.
"All of us love this place and try to make it the best," Guy Miller, Berwick's clubhouse manager, said. "I think most of our members really care about the place. They will volunteer their time to help. I know other golf courses don't have the volunteer spirit that we have."
"Member contribution and member loyalty made the club," Tom Gray, Berwick's president, added. "It's a very hands-on membership here, which you don't see. You have a couple of guys who would like to help, but not like what we have with the members here. Even the ones who can't help choose to donate. They'll try to put together a tournament to raise money. 'Hey, I'll pay for a tree to be put there.' We've had things like that. 'I'll buy the tree. You guys plant it.'"
On May 24, 1920, Berwick figuratively planted its tree among the golf landscape. An official meeting at the Berwick YMCA revealed that 64 individuals agreed to purchase five shares of stock each in order to finance construction of a golf course. The site? The C.C. Evans farm, a 99-acre property located on Martzville Road that included a farmhouse, barn and sheds. Berwick hired Franklin Meehan to design a nine-hole golf course.
Founding and financing intertwined. Meehan actually laid out an 18-hole blueprint for Berwick, but the newborn club needed to use the other half of its acreage for income. Revenue came from the sale of hay, wheat, corn, potatoes and the boarding of cows at a rate of $5 per month per head. Hay — yes, hay — produced income of $3,529 from 1920-24.
Berwick set a greens fee of $1, caddie fee of 25 cents (20 cents to the caddie, 5 cents to the club) in 1921. Membership cost $25 ($50 for families). Berwick transformed the property's existing farmhouse into a clubhouse and hired Jack Campbell as head golf professional.
"Member contribution and member loyalty made the club."

Tom Gray
President
Nearly four decades passed before the course expanded from nine to 18 holes. Sure, tweaks occurred here and there: the installation of an artificial lake (1923); the planting of more trees (1927-28); the addition of tee-boxes (1947) and the creation of a new practice green (1954). According to club minutes, Berwick officials "recognized a need for more holes" in February 1955.
Enter David Fahringer, a landscape architect and brother of Berwick member and former club president Paul Fahringer. In a letter dated June 21, 1955, David applauded the club's forefathers and their long-term vision.
"Fortunately, because of a wise selection of land by the originators [of Berwick], the topography is of the character that is interesting and can be used efficiently," Fahringer wrote. "Because of this fact, it was possible to design ample fairways where the average 'landing area' is 60 yards or more wide, and in many instances 70 yards wide. By using the existing topography and natural features to dictate the design of the holes, it was possible to develop a design without having two holes with similar character."
Mike Madara, as Director of Operations and Superintendent, is charged with maintaining those 18 holes today.
"This gentleman has provided the best course we've had in a decade. A lot of members say that we've ever had," Gray, 61, of Berwick, Pa., said. "We have a course that you never get tired of playing. You can move the tee-boxes around here and there. Over the winter, we had a lot of trees that were landmarks of the club finally come down. It made the course more playable and also aesthetic with the views."
Upon his Berwick arrival five years ago, Madara requested help in the form of two new positions: assistant superintendent (Keith Morgan) and mechanic (Ralph Johnson). Apart from that trio, course maintenance fell on the shoulders of Berwick's membership.
"It was to the point where we only had a certain budget, and we had volunteers step up and say, 'I'll mow rough on Tuesdays' or 'I'll help mow the greens on this day.' The first couple of years, that got us going and helped us get the course in the condition that it's in now," Madara, 39, of Danville, Pa., said. "Most of our volunteerism isn't day-to-day anymore. Members do come out throughout the season and pick up stones or do the flowerbeds."
Approximately 40 Berwick members continue to give back to the grounds. The club's annual spring cleanup exemplifies its volunteer spirit.
"[Members] bring out their trailers and their Gator [carts]. They just go around, pick up all of the trees [that Keith and I cut down over the winter] and haul them off," Madara said.
Berwick's adopt-a-tee program is another intersection of course care and member volunteerism. Set foot on any of Berwick's 18 holes, and you'll notice decorative landscaping: stones, flowerbeds, etc.
Today, the Berwick family includes more than 300 members — nearly a third of which joined in 2020 alone, Gray said. "Adapting to today's golf environment" is significant here.
Members could get set-ups from the ice cream and soda shop on the porch of the superintendent's house. A popular drink at that time for most players after their round was called a "Black Cow" — root beer and ice cream in a tall glass.
"I think that's been the struggle for private country clubs that have closed. They refuse to adapt or change," Gray said. "We offered a diverse type of membership to fit everyone's budget and time. We took in two leagues from a public course that we had on Tuesday and Wednesday nights. A lot of those people even joined. My thing was always, 'We need to cultivate membership.'"
In "Berwick Golf Club History: 1920-1988," the aforementioned Paul Fahringer conserves membership memories, a few of which warrant mention when chronicling the club's centennial.
"In the days of caddies and caddiemasters, the caddiemaster would mark the members' names on their golf balls, and lost balls that were found would be put into a box in the pro shop and returned to owner. Our out of bounds along No. 2, No. 6 and No. 15 were popular for young boys on weekends. They would recover errant balls, and the player would give them a nickel for the return."
Before the Berwick Golf Club Centennial Lager came the Black Cow.
"The men's locker room had small, private liquor lockers. Members could get set-ups from the ice cream and soda shop on the porch of the superintendent's house. A popular drink at that time for most players after their round was called a 'Black Cow' — root beer and ice cream in a tall glass."
Finally, a factoid germane to the golf course and its development.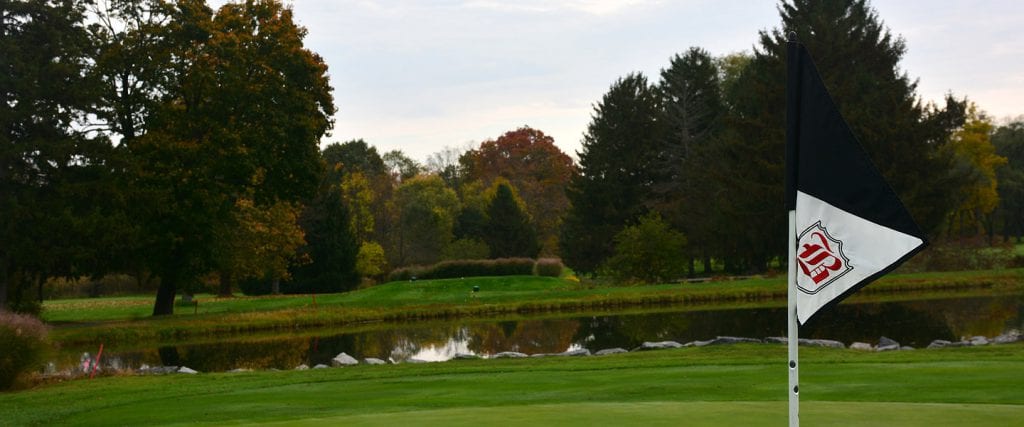 "For those members who have been with us for only 29 years or less and therefore have only played the full 18, we can tell them that after our original nine greens were firmly established, alternate tees were built for four holes, which made for a variation between nines but did not relieve course congestion. Three of the original holes were not included in the present 18, but we lost only one green: a 90-yard par 3 played from upper tee No. 5 to the other side of the quarry, past the equipment shed."
Speaking of Berwick's fifth hole, it, to this day, stands out as a signature.
"The tee-box is suppressed so you need to elevate your drive over a quarry," Gray said. "I'd love to see those maples on the right go. They'll never go because that's what makes the hole."
"No. 5 is something you'd see on the PGA TOUR," Madara added. "t's a longer par 4 with a switchback fairway with a redan green. It's more than 400 yards, so even if you hit a good drive, you're hitting a long second shot, and if you're not in the right spot, then you have to come down along a bunch of maple trees. It's by far the most difficult. Most people who come here remember that hole."
Coincidentally, Berwick did gain notoriety on the PGA TOUR — sort of. Mike Souchak, a 15-time PGA TOUR winner and two-time Ryder Cup (1959, 1961) participant, grew up at Berwick. The brother of former caddiemaster John Souchak (1929-36), he earned club permeance on July 25, 1959. "Mike Souchak Day" marked the official opening of Berwick's 18-hole layout. Souchak, Sal Shomsky (former golf professional), John Rudy (1959 men's champion) and George Uram (10-time men's champion) represented the opening foursome.
The Rudy name, 60 years later, remains affixed to the tee sheets. Steve Rudy, John's great grandson, spearheads the Rudy group — a collection of usual Berwick suspects, if you will — on Fridays, Saturdays and Sundays.
George Masich, a Berwick member of 70 years, represents another example of familial longevity. Look at Berwick's men's championship board alone: John Masich, Jack Masich, Barry Masich, Ed Masich, to name a few.
"It was just natural. You didn't think about it. You just loved the place and you went there."

George Masich
Member
"My family grew up in a section of Berwick that was the closest housing to Berwick Golf Club. In the 1930s, 1940s and 1950s, when they were exclusively using caddies, all of the kids from our neighborhood … that was their source of extra income," George Masich, 78, of Berwick, Pa., said. "It was just natural. You didn't think about it. You just loved the place and you went there. All of our parents, whether they continued to play golf or not, had worked at Berwick at one time or another."
Family and friends alike will get a chance to celebrate Berwick's birthday together during a centennial dinner. Date TBD due to the ongoing COVID-19 pandemic. The club also plans on conducting a centennial golf tournament throughout Memorial Day weekend in 2021. For now, a centennial logo — a composite of past Berwick renderings — and dining décor (placements, menus, etc.) acknowledge the occasion.
Raise a glass of Berwick Golf Club Centennial Lager and hear this Masich message before taking a figurative sip.
"I have a strong respect for the past, a respect for the people who were members of Berwick Golf Club and the history of the place. The real essence and importance of that golf club to the careers of so many people is unbelievable," Masich said. "What I know, I learned at Berwick basically. It was a tremendous influence on my personal life, along with my golf life.
"I'll tell you more about my connection to the club. I bought this farm five and a half years ago. This farm, part of it was sold off to make part of the 9th, 16th and 17th holes at Berwick when the club expanded to 18 holes. I sort of had to own this farm. I love it. I can just look across the street and see the club now. There's no question that my affection for Berwick was one of the major contributing factors [in buying this farm]."
Berwick bytes
The lake adjacent to No. 18 served as an ice-skating rink during the winters. The snow would be kept cleaned, and non-members were charged a fee. But then came the advent of insurance liability, and the necessity for full supervision, so this practice of ice skating was discontinued.
In July 1945, Berwick added slot machines to the clubhouse. They were outlawed in December 1952.
Berwick hired Felix Serafin, a two-time Pennsylvania Golf Association Open Champion (1931, 1936), for a two-week period in September 1928. Serafin was to give $1 lessons. He gave 112 lessons; one week was stormy.
Berwick allowed private carts starting in 1960, so long as the owner possessed a doctor's certificate.
Berwick joined the Anthracite Golf Association (now AGA/GAP) in May 1957. It entered a team in the AGA/GAP Men's Coal Scuttle Championship in September 1958.