PHILADELPHIA, Pa.–A pair of former Champions remain alive while the reigning J. Wood Platt Trophy titleholder fell in startling fashion at the 106th Philadelphia Amateur Championship on Wednesday at Torresdale-Frankford CC. Brian Gillespie of St. Davids GC and Brian Rothaus of Philmont CC, each in search of a second Amateur Championship title, respectively, advanced into tomorrow's quarterfinals. Defending Amateur Champion Clint Deibert of Doylestown CC wasn't as fortunate, however, falling to the 32nd seed Brandon Detweiler of Lancaster CC in the first round in 19 holes.
*Day One results | *Match play bracket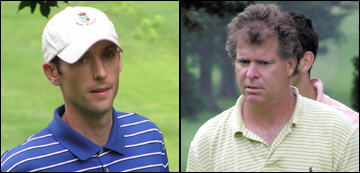 The Amateur Championship quarterfinals begin at 8 a.m. on Thursday with the semifinals to follow. The 36-hole final is set for Saturday, June 17 at 8 a.m.
Gillespie, Rothaus and six others kept their championship dreams alive with a pair of victories on Day Two.
Gillespie, 31, of Wayne, Pa., the 2001 champion, upended Detweiler, 5&4, in the second round after defeating Robin McCool, the 16th seed, 4&3, in the morning. Gillespie jumped out to a 3-up lead after five holes on Detweiler before closing him out on No. 14 (par 3, 213 yards) with a par. Gillespie was 3-under par through five holes on the back nine.
Before Detweiler's upset, the bracket was shaping up as a rematch of last year's Amateur semifinal between Gillespie-Deibert.
"Shocked," said Gillespie of finding out Deibert's result. "Of course Clint [had] to be the odds on favorite as the defending champion. He was playing so well. He was 6-under par in stroke play qualifying and you have to figure he's the favorite in a match against really anybody at that point. It would have been nice to get him and have a rematch from last year but Brandon's a solid player tee to green."
Gillespie, seeded 17th, faces Mike Danner of Lu Lu CC, the 25th seed tomorrow at 8 a.m.
Rothaus, too, proved his game's in top shape as well, posting the widest margin of victory in the tournament by stopping Roc Irey of Cedarbrook CC, 8&7, in the second round. Rothaus, the 27th seed, was 3-under par through 11 holes.
In his morning match, Rothaus, 50, of Huntingdon Valley, Pa., seized the lead on the eighth hole (par 3, 189 yards) and never relinquished it to long-hitting Stephen Arnold of Yardley CC, seeded sixth. Rothaus won the 1988 Amateur Championship and advanced to the quarterfinals in 1991 and 1992, but hasn't been this far in an Amateur since.
"My expectations weren't that high," said Rothaus. "I was happy to qualify and get through this morning's match. That was a real bonus. Then I felt very comfortable playing Roc [Irey] because he I knew was feeling the same way I was feeling." Irey, the 22nd seed, is over 50 years of age as well, he is 53 years old.
Rothaus faces Kyle Davis of Fieldstone GC, the 14th seed, at 8:30 a.m.
Detweiler recorded the shocker of the day with his victory over Deibert in the opening round.
The 19-year-old resident of Lancaster, Pa. pulled off a magnificent and unexpected shot on No. 18 (par 4, 374 yards) after his drive landed near a tree and the fence line on the right side. He punched a 5-iron through a little opening and it rolled up to four feet for a birdie and a win to force the match into extra time. Then on the 19th hole (par 4, 353 yards), Detweiler launched his Lob Wedge from 87 yards to 12 feet behind the hole and he drained the tricky, right-to-left breaker for the win.
"[I tried to look at Deibert as just] another player in the field. There are a ton of guys out here who can win this tournament," said Detweiler, who is heading to Old Dominion University in the fall. "He's a great player, he's the medalist, but I'm out here trying to beat everyone. When you start thinking about individual matches you fail."
Detweiler graduated from Veritas Academy in Leola, Pa. earlier this spring.
Below is a list of the results from Wednesday's matches.
Round of 16
17. Brian Gillespie, St. Davids GC, d. 32. Brandon Detweiler, Lancaster CC, 5&4
25. Mike Danner, Lu Lu CC, d. 24. Thomas Gramigna, Tavistock CC, 3&2
4. Conrad Von Borsig, Concord CC, d. 13. Robert Bechtold, Fieldstone GC, 3&2
12. Paul Rogowicz, Yardley CC, d. 28. Douglas Gregor, Huntingdon Valley CC, 5&4
2. Dan Walters, Meadia Heights GC, d. 18. Jamie Slonis, Tavistock CC, 19 holes
7. Chris Ault, Yardley CC, d. 23. Chris Gallagher, Penn Oaks GC, 1-up
14. Kyle Davis, Fieldstone GC, d. 3. Billy Stewart, Llanerch CC, 3&2
27. Brian Rothaus, Philmont CC, d. 22. Roc Irey, Cedarbrook CC, 8&7
Round of 32
32. Detweiler d. 1. Clint Deibert, Doylestown CC, 19 holes
17. Gillespie d. 16. Robin McCool, Saucon Valley CC, 4&3
25. Danner d. 8. Robert Galbreath, Jr., Huntingdon Valley CC, 3&2
24. Gramigna d. 9. Glenn Smeraglio, Yardley CC, 1-up
4. Von Borsig d. 28. Michael Moffat, Commonwealth National GC, 21 holes
13. Bechtold d. 20. James Kania, Jr., Overbrook GC, 3&2
28. Gregor d. 5. Gregory Pieczynski, Glenmaura National GC, 2&1
12. Rogowicz d. 21. Thomas Finn, Cavaliers CC, 20 holes
2. Walters d. 31. Ted Harris, Makefield Highlands GC, 6&4
18. Slonis d. 15. Michael Tash, Tavistock CC, 3&2
7. Ault d. 26. Joshua Krumholz, Berkleigh CC, 6&5
3. Stewart d. 30. John Michael Pelet, Wyncote GC, 1-up
14. Davis d. 19. Steve Owens, Commonwealth National GC, 2-up
27. Rothaus d. 6. Stephen Arnold, Yardley CC, 2&1
22. Irey d. 11. Ryan Gelrod, Commonwealth National GC, 5&3