Olde Homestead's Hudson wins Warner Cup
Bernville, Pa. — As CEO of North American Operations for HB Leisure, a company that operates games of skill in more than 100 major theme parks and entertainment attractions worldwide, Jeff Hudson travels. A lot.
| Scoring portal | History | Senior POY standings | Photo gallery |
The company's recent growth — from 16 to 28 amusement properties, including 12 Six Flags locations — puts Hudson on the road 2-3 weeks a month. Hudson's golf game, like his professional skillset, can travel. A lot.

The Olde Homestead Golf Club member carded a 2-under-par 68 to win the 89th Francis B. Warner Cup at a chilly Heidelberg Country Club (par 70, 6,254 yards) Thursday. Lancaster Country Club's John Barry, the 2021 Brewer Cup runner-up, and White Manor Country Club's Don Donatoni, an eight-time GAP Super-Senior Player of the Year (2013-20), tied for second at even-par 70.
It marks Hudson's third Senior title, in his third Pennsylvania county no less. Hudson won the 2020 Frank H. Chapman Cup at Yardley Country Club in Bucks County and the 2021 Chapman at Lehigh Country Club in Lehigh County.
Add Berks County to the list.
"I'd like to think I travel well," Hudson, 58, of Center Valley, Pa., said. "Today was still a surprise. I didn't know what to expect. I got out last night and hit some balls. I can't say I'm striking it great. But I'm hitting it in the right place, and I putted well today. I made several five-footers to save par. You had to be putting up the hill. For me, the golf course played long. We're not getting much roll, and it's still 50 degrees."
Hudson saw Heidelberg for the first time Thursday. It almost became a greet-and-go situation. His drive on No. 1 (par 4, 321 yards) screamed toward the right tree line. Provisional. Another prayer as the provisional follows the same route.
Fortunately for Hudson, his initial drive clipped a tree and remained visible/playable. He hit an 8-iron 138 yards to 15 feet for birdie.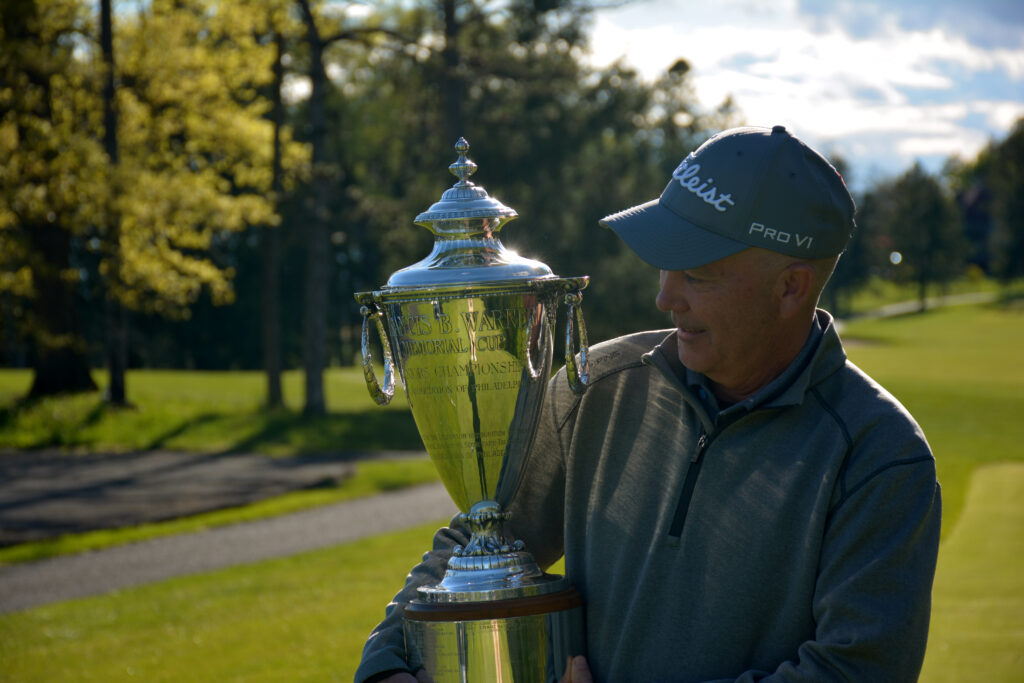 "I'm thinking I may be in the car. Never do that," Hudson, who won the Senior Silver Cross Award in 2021, said. "I got away with [that birdie] obviously. That puts you in a good frame of mind."
From near scare to nearly unstoppable. Hudson added a pair of birdies to turn in 3 under. On No. 3 (par 4, 325 yards), he knocked a gap wedge 110 yards to eight feet. Hudson's hybrid from 185 yards on No. 6 (par 4, 414 yards) fell short of the green complex. A chip-in birdie followed.
Six holes, 3 under. "Try to get some more birdies" became the mindset. Leaving the Heidelberg property became a distant memory.
"That's something I've gotten better with as I've got older. In my younger days, it was, 'You get a couple under par. Oh my gosh. Hold on.' Today it was, 'Let's see if we can make another birdie,'" Hudson said.
He did just that on No. 13 (par 4, 400 yards). After a textbook drive, Hudson drilled a 9-iron 130 yards to 15 feet and drained the downhiller. A pair of bogeys threatened to spoil an otherwise sweet Heidelberg orientation. Hudson missed an eight-foot comebacker on No. 14 (par 4, 357 yards). A "bad hybrid" from 203 yards on No. 15 (par 4, 435 yards) resulted in a missed green. Flop it on, leave with a 5. Accomplished. Pars therein stopped the bleeding.
Hudson posted the day's lone subpar score. The field scoring average crested to 80.8.
Incorporate a meaningful Warner victory into a busy yet exciting time in Hudson's life. In addition to his HB Leisure responsibilities (Hudson is heading to Kennywood in West Mifflin, Pa. tomorrow morning), Hudson's son Lucas will graduate from Lehigh University in two weeks.
"Lots of reasons I'm happy for him," a smiling Hudson said. "He's going to go work for Bank of America in global equities and research. He interned this past summer for them. He worked hard to do this."
With his performance Thursday, Hudson crosses a 2023 goal off his list: win a GAP event. There's more.
"I want to contend for Senior Player of the Year. I want to try and win another Senior Silver Cross. I want to qualify for the U.S. Senior Amateur," Hudson said.
The last one may be complicated. Tim Batstone, Chairman of HB Leisure, is expected to meet and travel with Hudson from July 20-31. GAP will administer U.S. Senior Amateur Qualifying on July 31 at Kennett Square Golf & Country Club in Kennett Square, Pa.
So Hudson may need to travel (Connecticut, Virginia and West Virginia all possibilities) for qualifying. Go figure.
Francis B. Warner of Philadelphia Cricket Club served as GAP secretary-treasurer for 18 years. After his death in 1933, the Association started the Francis B. Warner Cup as an ongoing tribute in his memory. It is the first Senior Major of the GAP tournament season.
To meet the needs of its members, GAP, in 2022, separated a Super-Senior Division from its traditional Warner Cup counterpart. The Warner Cup – Super Senior, set for May 31 at Medford Lakes Country Club, will feature two divisions: 65 years of age or older (Super Senior) and 70 years of age or older (Legends). It will be limited to 78 individuals.
GAP
Celebrating Amateur Golf since 1897, GAP, also known as the Golf Association of Philadelphia, is the oldest regional or state golf association in the United States. It serves as the principal ruling body of amateur golf in its region. The organization's 340 Member Clubs and 100,000 individual members are spread across Pennsylvania, Delaware, New Jersey and Maryland. The GAP's mission is to promote, preserve and protect the game of golf.
| | |
| --- | --- |
| Results | |
| Name, club | Score |
| Jeff Hudson, Olde Homestead Golf Club | 68 |
| John Barry, Lancaster Country Club | 70 |
| Don Donatoni, White Manor Country Club | 70 |
| Rich Pruchnik, Downingtown Country Club | 72 |
| Steve Walczak, Wilmington Country Club | 72 |
| Joe Roeder, Merion Golf Club | 72 |
| Gregory Buliga, Yardley Country Club | 73 |
| Paul Rogowicz, Yardley Country Club | 73 |
| Michael Anderson, Philadelphia Cricket Club | 73 |
| Neil Gordon, Doylestown Country Club | 73 |
| Christopher Clauson, LuLu Country Club | 73 |
| Chris Storck, LedgeRock Golf Club | 73 |
| Brad Jankowski, Little Mill Country Club | 74 |
| Jeff Frazier, Carlisle Country Club | 74 |
| Byron Whitman, Berkshire Country Club | 74 |
| Don Uhrig, LedgeRock Golf Club | 74 |
| Ronan Culligan, Saucon Valley Country Club | 74 |
| Oscar Mestre, Overbrook Golf Club | 75 |
| Brian Corbett, Country Club of Scranton | 75 |
| Tom Soares, Lehigh Country Club | 75 |
| Edward Kelly, Old York Road Country Club | 75 |
| Roc Irey, LuLu Country Club | 75 |
| Michael Tash, Little Mill Country Club | 75 |
| Drew Eddy, Manufacturers' Golf & Country Club | 76 |
| Robert Amen, Philadelphia Publinks Golf Association | 76 |
| Joseph Russo, Wedgwood Country Club | 76 |
| Bill Burke, Galloway National Golf Club | 76 |
| Doug Fedoryshyn, Concord Country Club | 76 |
| Mark Walkush, Sunnybrook Golf Club | 76 |
| Andrew Sterge, Applebrook Golf Club | 77 |
| P. Chet Walsh, Philadelphia Country Club | 77 |
| Fred Lening, Green Pond Country Club | 77 |
| Dave Olexson, Steel Club | 77 |
| Gary Daniels, Applebrook Golf Club | 77 |
| Rick James, Doylestown Country Club | 78 |
| Jim Prendergast, Philadelphia Publinks Golf Association | 78 |
| Jeff Moyher, Merion Golf Club | 78 |
| Joe Coulson, Wedgewood Golf Course | 78 |
| Bill McGuinness, Tavistock Country Club | 78 |
| Michael Quinn, Philadelphia Publinks Golf Association | 78 |
| David Blichar, Olde Homestead Golf Club | 78 |
| Tom DiCinti, Philadelphia Publinks Golf Association | 78 |
| Mike Moffat, LuLu Country Club | 79 |
| John Robinson, LuLu Country Club | 79 |
| Perry Landis, Moselem Springs Golf Club | 79 |
| Tom Borsello, DuPont Country Club | 79 |
| Mark Choi, Saucon Valley Country Club | 79 |
| David West, Philadelphia Publinks Golf Association | 79 |
| George Steinmetz, Spring Ford Country Club | 79 |
| Mark Doughty, Fieldstone Golf Club | 80 |
| Matthew Smith, Regents' Glen Country Club | 80 |
| Mike Walker, Hartefeld National | 80 |
| Buck Jones, Philadelphia Publinks Golf Association | 80 |
| Michael Kandravi, Llanerch Country Club | 80 |
| Joe Duhack, LuLu Country Club | 80 |
| Jason Barkley, Moselem Springs Golf Club | 80 |
| Michael Vassil, Country Club of Scranton | 80 |
| Michael Stanley, Aronimink Golf Club | 81 |
| Jeffrey Gingerich, Conestoga Country Club | 81 |
| John Conway, Little Mill Country Club | 81 |
| Frank Corrado, LuLu Country Club | 81 |
| Alex Campbell, Cedarbrook Country Club | 81 |
| Chris Ortman, Woodstone Country Club | 81 |
| Bob Beck, Lehigh Country Club | 81 |
| Tom Bartolacci, LuLu Country Club | 81 |
| Christopher Vinci, Five Ponds Golf Club | 81 |
| Craig Kliewer, Lebanon Country Club | 81 |
| Drew Panebianco, Five Ponds Golf Club | 81 |
| Anthony Fioretti, Riverview Country Club | 82 |
| Adam Armagost, Little Mill Country Club | 82 |
| Scott McIntosh, LuLu Country Club | 82 |
| Tom White, Buck Hill Falls Golf Club | 82 |
| Patrick O'Brien, North Hills Country Club | 82 |
| Jim Gavaghan, Commonwealth National Golf Club | 82 |
| Norman Charlesworth, Wedgwood Country Club | 82 |
| Mike Moser, Kennett Square Golf & Country Club | 82 |
| Alan Wagenschnur, Newark Country Club | 83 |
| Michael Lewers, Aronimink Golf Club | 83 |
| Larry Martone, Stonewall | 83 |
| Chris Smedley, Hartefeld National | 83 |
| Jay DesJardins, Stonewall | 83 |
| Robert Harrington, Merion Golf Club | 84 |
| Carlos Ochoa, Little Mill Country Club | 84 |
| Scott Young, Overbrook Golf Club | 84 |
| Ed Kahn, Little Mill Country Club | 84 |
| David Strohl, Olde Homestead Golf Club | 84 |
| Dominic Carr, Olde Homestead Golf Club | 85 |
| Mike Farlling, Carlisle Country Club | 85 |
| Thomas Egolf, Southmoore Golf Center | 85 |
| Paul Dansbury, Yardley Country Club | 85 |
| Larry Pritchard, Olde Homestead Golf Club | 85 |
| John Nottage, USGA/GAP GC | 86 |
| Fred Greene, Lehigh Country Club | 86 |
| Eric Meyer, Whitford Country Club | 86 |
| John Gosselin, Kennett Square Golf & Country Club | 87 |
| Jeffrey Amrhein, Briarwood Golf Club | 87 |
| John Alterman, Commonwealth National Golf Club | 87 |
| Rich Thon, The Springhaven Club | 88 |
| Tom Finn, DuPont Country Club | 88 |
| Thomas Lusto, USGA/GAP GC | 88 |
| Jules Quinones, Blue Bell Country Club | 88 |
| Jeff Denbigh, Kennett Square Golf & Country Club | 89 |
| John Luca, Philadelphia Publinks Golf Association | 89 |
| Mark Walker, Laurel Creek Country Club | 90 |
| Gregory Day, Old York Road Country Club | 91 |
| Andy McCormick, Rolling Green Golf Club | 91 |
| Joe Arrante, Newark Country Club | 91 |
| Matthew Mingione, The 1912 Club | 91 |
| Keith Wilson, Ed Oliver Golf Club | 93 |
| Andy Lykon, Wedgewood Golf Course | 94 |
| Elliot Sheftel, Lehigh Country Club | 97 |
| Kevin Wall, Old York Road Country Club | 98 |
| John Puskar, Kennett Square Golf & Country Club | 102 |
| Glenn Smeraglio, LuLu Country Club | NC |
| Scott Hendry, Moselem Springs Golf Club | WD |
| Robert Dietrich, Philadelphia Publinks Golf Association | WD |
| James Gross, Glenmaura National Golf Club | WD |
| Bob Wurtz, Philadelphia Cricket Club | WD |
| Glenn Prokopik, LedgeRock Golf Club | WD |
| Mike Fagan, Whitemarsh Valley Country Club | WD |
| NC – no card; WD – withdrawal | |