Armagost finds GAP winner's circle at Warner (Gross)
| Scorecards | History| Photo Gallery |
NORTH HILLS, Pa. — Adam Armagost has a burning passion for the game of golf, especially in a competitive setting, as evidenced by his well-documented journey playing — and winning — as a mini-tour pro. He took a step back into the winner's circle Thursday.
Armagost enjoyed his first GAP victory at North Hills Country Club (par 71, 6,362 yards), raising the Senior trophy in the 86th Francis B. Warner Cup (Gross). His 1-under round of 70 bested a full field of 55 Senior players.
Using the USGA recommended scorecard tiebreaking method, which is the low gross on the second nine, Armagost (even) bettered Michael Tash (1 over) of Stone Harbor Golf Club on the back side for the win.
An influx of wind made things interesting from the get go. Gusts touched 20 miles per hour throughout the day, impacting the field's performance. It didn't phase the newly-minted Little Mill Country Club member. Armagost battled the wind, clawing his way to a round featuring two birdies and just one bogey blemish.
His first red figure arrived on the par-3, 184-yard 3rd hole. A 4-iron off the tee left just seven feet in for birdie, which was jarred. The lone bogey came on No. 5 (par 4, 363 yards) after a tee shot found the right rough, followed by an approach that clipped a tree. A seven-foot look for par slid by. On No. 8 (par 4, 419 yards), he'd get that one back with a driver-wedge combination that resulted in a four-foot birdie conversation.
On the back nine, Armagost missed only one green but couldn't get anything to fall in terms of birdies. Nonetheless, nine consecutive pars sealed the deal.
"Overall, it was a good round. There were some missed opportunities, but anyone can wish for more birdies."
"Every look I had coming in, they were all 15 feet or so. I didn't get a single one to fall," said Armagost, 57, of National Park, N.J. "Overall, it was a good round. There were some missed opportunities, but anyone can wish for more birdies."
Armagost has competed all over the country, both as a professional and amateur. In 1987, after graduating from the University of Florida, Armagost turned pro. He went on to enjoy a successful mini-tour career, taking home 16 victories on the Gold Coast Pro Golf Tour and five wins on the Minor League Golf Tour. Nowadays, Armagost has settled in as a Pine Valley Golf Club caddie, in addition to working offseasons at Seminole Golf Club.
He gained his amateur status back three seasons ago and hit the ground running. Armagost qualified and played in both the 2018 and 2019 U.S. Senior Amateurs, showing the nation his game is back. He's been near the top of GAP leaderboards ever since — he finished runner-up in last week's Chapman Cup at Yardley Country Club — but hasn't been able to breakthrough with a trophy.
Until now.
"All season long, really besides the Philadelphia Amateur, I've been playing consistently well. It's always nice to see it pay off," said Armagost.
The Senior Silver Cross Award competition features Armagost up top. His second consecutive round of 70 has left him at 3 under par through 36 holes. He holds a four-stroke edge over Olde Homestead Golf Club's Jeff Hudson (1 over). The Senior Amateur Championship, set for Sept. 9 and 10 at Old York Road Country Club, will host the final two rounds of the Silver Cross race.
Dowds dominates for Super-Senior title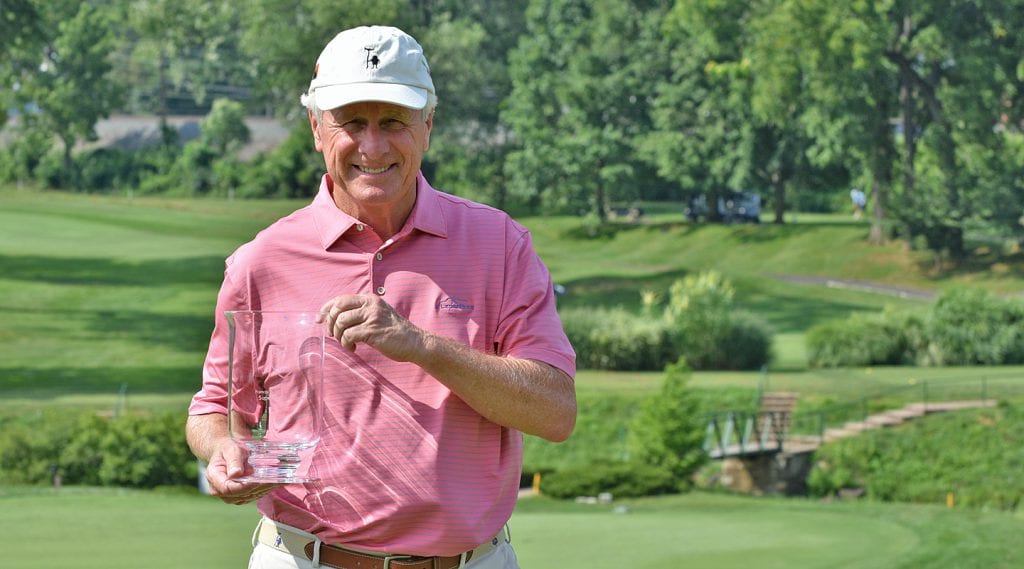 Chuck Dowds' North Hills (par 71, 5,989 yards) homecoming wasn't just a fun day out on the course. It was victoriously unforgettable.
A former North Hills member of 35 years, Dowds returned to his old stomping grounds Thursday, taking the Super-Senior title with a 2-under 69. Dowds bettered a field of 22 Super Seniors to earn the Warner Cup's top honor.
Dowds, of Glenside, Pa., lives directly across the street from the club. It's a course he's played countless times and one he holds close to his heart. Dowds took the short, familiar journey Thursday morning, teed it up and proceeded to post five birdies for the win.
The first arrived on No. 1 (par 4, 330 yards). A perfect drive left Dowds with just 60 yards in, leading to a 10-foot birdie conversion. A missed two-foot par putt lipped out on No. 2 (par 5, 485 yards), but he'd get one back on No. 6 (par 4, 366 yards) with a pured 9-iron approach and 20-foot birdie make.
Back-to-back red numbers fell to begin the back nine. On the par-3, 131-yard 11th, Dowds' trusty 9-iron left him with a 15-foot look that was drained. A four-foot birdie putt dropped on No. 12 (par 5, 509 yards), getting Dowds to 3-under par. A major blemish surfaced on No. 14 (par 3, 210 yards) when Dowds three putted from six feet, carding a double bogey. However, an eight-foot birdie on No. 17 (par 4, 380 yards) would take away some of that damage. A two-putt par on North Hills' closer (par 4, 294 yards) sealed the victory for Dowds.
"It was an all around solid round, but definitely could have been two shots better if it weren't for the double bogey," said Dowds. "I know this place really well.
Today's performance marks represents his second GAP Senior Major win of the season; the first being a Brewer Cup victory. Dowds won the 1989 BMW Philadelphia Amateur Championship while playing out of North Hills. It's always been a special place for the 66-year-old. But today's reunion took his relationship with the course to another level.
"Obviously, to win here, it's a little more special than anywhere else."
"This place, it means a lot to me. This is where I kind of grew to love the game, and got involved in all of the GAP stuff," said Dowds. "Obviously, to win here, it's a little more special than anywhere else."
The Super-Senior Silver Cross Award race has picked up after today's action. Tied at the top is Rolling Green Golf Club's Bob Billings (1-over 72) and Whitemarsh Valley Country Club's Frank Polizzi (5-over 76), who both sit 7-over overall after 36 holes of action.
Francis B. Warner of Philadelphia Cricket Club served as the Golf Association of Philadelphia's secretary-treasurer for 18 years. After his death in 1933, the Association started the Francis B. Warner Cup as an ongoing tribute in his memory. It is the first Senior Major of the Golf Association of Philadelphia's tournament season.
GAP
Celebrating Amateur Golf since 1897, GAP, also known as the Golf Association of Philadelphia, is the oldest regional or state golf association in the United States. It serves as the principal ruling body of amateur golf in its region. The Association's 288 Member Clubs and 75,000 individual members are spread across the Eastern half of Pennsylvania and parts of New Jersey and Delaware. The GAP's mission is to promote, preserve and protect the game of golf.
| | |
| --- | --- |
| Senior Division | |
| Name, club | Score |
| *Adam Armagost, Little Mill Country Club | 70 |
| *Michael Tash, Stone Harbor Golf Club | 70 |
| David Blichar, Olde Homestead Golf Club | 72 |
| Oscar Mestre, Overbrook Golf Club | 72 |
| Doug Fedoryshyn, Concord Country Club | 73 |
| James Gavaghan, Commonwealth National Golf Club | 73 |
| P. Chet Walsh, Philadelphia Country Club | 74 |
| Brian Corbett, Country Club of Scranton | 75 |
| Joe Coulson, Wedgewood Golf Club | 75 |
| Jeff Frazier, Carlisle Country Club | 75 |
| Jeff Hudson, Olde Homestead Golf Club | 75 |
| George Steinmetz, Spring Ford Country Club | 75 |
| Bob Beck, Lehigh Country Club | 76 |
| Michael Decker, Old York CC at Chesterfield | 76 |
| Patrick O'Brien, North Hills Country Club | 76 |
| Brian Rothaus, Philmont Country Club | 76 |
| Byron Whitman, Berkshire Country Club | 76 |
| Jeffrey Allen, Loch Nairn Golf Club | 77 |
| Paul Berg, The Springhaven Club | 77 |
| Christopher Clauson, LuLu Country Club | 77 |
| Ronan Culligan, Saucon Valley Country Club | 77 |
| Mark Kosko, Greate Bay Country Club | 77 |
| Joseph Russo, Running Deer Golf Club | 77 |
| Ken Silverwood, Chester Valley Golf Club | 77 |
| Glenn Smeraglio, LuLu Country Club | 77 |
| Michael Vassil, Country Club of Scranton | 77 |
| Frank Corrado, LuLu Country Club | 78 |
| Mark Cubberley , Mercer Oaks Golf Course | 78 |
| Gregory Day, Old York Road Country Club | 78 |
| John Gosselin, Aronimink Golf Club | 78 |
| Greg Guyer, Philadelphia Cricket Club | 78 |
| Michael Lewers, Aronimink Golf Club | 78 |
| John Nottage, Commonwealth National Golf Club | 78 |
| Joe Roeder, Little Mill Country Club | 78 |
| Bill Charpek, Merion Golf Club | 79 |
| Brad Jankowski, Little Mill Country Club | 79 |
| Paul Rogowicz, Yardley Country Club | 79 |
| Tom Soares, Lehigh Country Club | 79 |
| David West, Wyncote Golf Club | 79 |
| Gregory Buliga, Yardley Country Club | 80 |
| Edward Kelly, Old York Road Country Club | 80 |
| Andy Lykon, Wedgewood Golf Club | 80 |
| Michael Quinn, Philadelphia Publinks Golf Association | 80 |
| Stephen Hill, Hershey Country Club | 81 |
| Carlos Ochoa, Little Mill Country Club | 81 |
| Steve Walczak, Wilmington Country Club | 82 |
| Andy Dietz, Laurel Creek Country Club | 82 |
| John Conway, Little Mill Country Club | 83 |
| Bob Wurtz, Philadelphia Cricket Club | 84 |
| John Alterman, Commonwealth National Golf Club | 85 |
| Joe Lebender, Northampton Valley Country Club | 85 |
| Andrew Sterge, Applebrook Golf Club | 85 |
| Scott McIntosh, LuLu Country Club | 85 |
| Rob Tredinnick, Commonwealth National Golf Club | 88 |
| Ed Kahn, Little Mill Country Club | 91 |
| Super-Senior Division | |
| Chuck Dowds, Applebrook Golf Club | 69 |
| Bob Billings, Rolling Green Golf Club | 72 |
| Drew Panebianco, Five Ponds Golf Club | 73 |
| Wayne Bartolacci, LuLu Country Club | 75 |
| Tom DiCinti, Philadelphia Publinks Golf Association | 75 |
| Vince Scarpetta, Jr., Nittany Country Club | 75 |
| Tom Humphrey, Wilmington Country Club | 76 |
| Jimmy Muller, Manufacturers' G&CC | 76 |
| Frank Polizzi, Whitemarsh Valley Country Club | 76 |
| Dan Burton, Lancaster Country Club | 78 |
| Don Donatoni, White Manor Country Club | 78 |
| Buck Jones, Philadelphia Publinks Golf Association | 79 |
| Tom Bartolacci, LuLu Country Club | 80 |
| Tom Borsello, Hartefeld National | 80 |
| John Gonsior, The Bucks Club | 80 |
| Robin McCool, Saucon Valley Country Club | 80 |
| Rich Thon, The Springhaven Club | 80 |
| Gary Daniels, Applebrook Golf Club | 81 |
| Bob Majczan, Lookaway Golf Club | 81 |
| Jim Prendergast, Philadelphia Publinks Golf Association | 81 |
| David Jacobson, Medford Village Country Club | 84 |
| Robert Dietrich, Loch Nairn Golf Club | 86 |
| Howard Press, Little Mill Country Club | 86 |
| * – decided in scorecard playoff (back-nine gross) | |