Rosal reels in Delaware Senior Amateur trophy at Wild Quail
WYOMING, Del. – Pen a win in for Pem.
Rufino "Pem" Rosal sizzled on Tuesday, closing out the 71st Delaware Senior Amateur Championship at Wild Quail Golf & Country Club (par 72, 6,136 yards). After holding the overnight lead at 3-under par, Rosal fired a 4-under 68 in Round Two to take his first Senior Amateur trophy, finishing the week at 7-under total.
| Scorecards | History | Round One recap |
Entering the second 18, Rosal found his name in the final grouping alongside good friend and Wild Quail standout Jeff Allen, in addition to reigning Senior Amateur champion Ron Jamarowicz, who is Rosal's new clubmate at DuPont Country Club. Rosal wouldn't give his competitors much of a chance at the crown.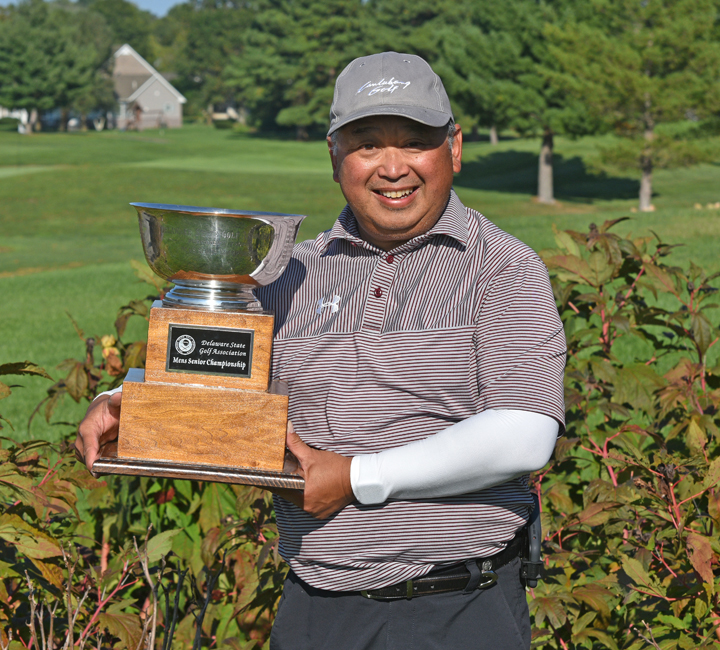 Five pars eased the nervous Rosal into things to begin the day. Soon after, he caught fire that erased all doubts. Rosal would go on to birdie five of the next nine holes to distance himself from the rest of the field.
On No. 6 (par 4, 388 yards), he began the birdie barrage with a 20-foot make. Rosal followed that up with a tap-in birdie on No. 7 (par 4, 270 yards) after a 60-yard wedge nestled up next to the cup. The next red number would be jotted down on the scorecard after a 10-foot birdie conversion on No. 10 (par 4, 310 yards). On the par-4, 315 yard 12th hole, Rosal rolled one in from the fringe, 20 feet out. The flatstick was working all week, and it showed again Tuesday.
"I was making some long putts, but settled me. I was nervous out there. I was excited but nervous," said Rosal.
The champ's final birdie of the day came on No. 14 (par 410 yards). His 3-wood approach rolled up to 30 feet, and he drained the curling putt. From there on in, it was all about avoiding bogeys for Rosal. Ultimately, he would drop a shot on Wild Quail's closer, the par-5, 508 yard 18th, but he was still three clear of the field.
"I really grinded out there. I just really did not want to bogey any hole. But then I got excited at the end there. I saw all of my buddies standing around the green, and my wife too, so I just got a little too excited."
Excited to lift his first Delaware trophy, that is.
For Rosal, who called a house near the club's 5th hole home for 20 years before moving north to Smyrna, this win becomes extra special due to his allegiance to these grounds.
"It means the world to [have won here] at Wild Quail. I mean, my kids grew up here. I have the best friends in the world here," said Rosal, 59, of Smyrna, Del. "It's just very special for me."
While he will celebrate the monumental win with his family tonight, and later his friends, Rosal is ready for the next thing. After all, it doesn't appear his game needs work anytime soon.
"This was the biggest win of my life. Listen, these guys here, they always beat me out here like a drum, and I'm okay with that. But to [win like this], it means the world," said Rosal, an internal medicine doctor. "Now I have to go back to real work. I've got patients to see."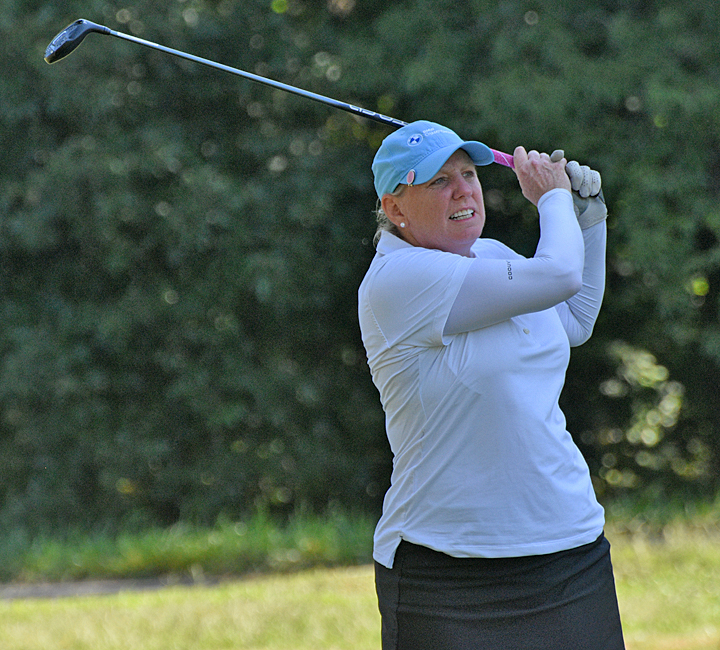 In the Women's Division, Wilmington Country Club's Nicoll Keeney took the top prize. After an 8-over card of 80 in Round One, the champ turned in a 5-over 77 to finish up Tuesday.
"This was probably one of my best weeks. I just tried to keep my tempo steady and really stay in the moment. I didn't think about the past, and just keep thinking about [the next shot]," said Keeney, 51, of Wilmington, Del. "I'm very happy that I finished with the 77 after shooting 80 yesterday. I definitely improved."
Keeney, a former two-sport standout (lacrosse and field hockey) during her career at Bridgewater College, picked up golf after college. She says her Handicap Index hadn't fluctuated too much — until this year. Hard work has been paying off in not only a lower Index, but now a Senior Amateur trophy.
"I really tried to work on my game this year. I qualified for the [U.S. Senior Women's Amateur], and that's when I told myself I wanted to keep improving. I'm down to a 5.8 now," said Keeney. "And this week was a great week."
GAP
Celebrating Amateur Golf since 1897, GAP, also known as the Golf Association of Philadelphia, is the oldest regional or state golf association in the United States. It serves as the principal ruling body of amateur golf in its region. The Association's 330 Member Clubs and 90,000 individual members are spread across Pennsylvania, Delaware, New Jersey and Maryland. The GAP's mission is to promote, preserve and protect the game of golf.