Allen, Rosal lead Delaware Senior Amateur after Round One
WYOMING, Del. – Seven standouts separated themselves from a talented pack of players Monday in Round One of the 71st Delaware Senior Amateur Championship at Wild Quail Golf & Country Club (par 72, 6,171 yards).
The home club's Jeff Allen, the 2016 Senior Amateur champion, fired a 3-under 69 to grab a share of the Round One lead. Joining him at that 3-under number was Allen's friend and clubmate Rufino (Pem) Rosal of DuPont Country Club and Wild Quail. Five players sit one back at 2-under par including the event's reigning champion Ron Jamarowicz, also of DuPont. Wilmington Country Club's Steve Walczak, Little Mill Country Club's Adam Armagost and Jack Conway, and Bryan Taylor of Ocean City Golf Club round out the pack at 2 under.
For Allen, who lives on Wild Quail's 10th hole, it was just another day on a track he knows better than almost anyone. He utilized his trusty flatstick en route to a share of the lead, jarring five birdies along the way.
"It was a very good iron day. A very good putting day," said Allen, 65, of Wyoming, Del. "The driver was a little bit eratic today, but you can do that here at Wild Quail."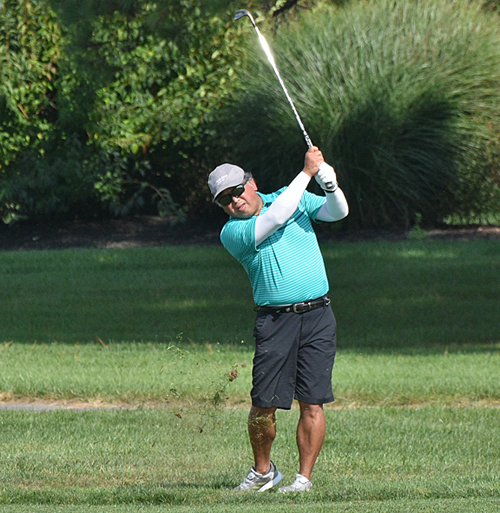 For Rosal, who called a house near the club's 5th hole home for 20 years before moving north, it was a day to remember at a place he so dearly cares for.
"I've been playing here for the past 20 years. My kids play here all the time," said Rosal, 59, of Smyrna, Del. "We moved up to Smyrna and joined DuPont in 2017. But this place, I love it here and know it very well."
Like his co-leading friend, Rosal also got five birdies to drop overall. It made for a round he won't soon forget — even if he is less optimistic about his chances tomorrow.
"They call me Dr. Choke out here. I'm probably going to lose it tomorrow," said Rosal. "But I'm really just having fun out there."
Allen, who is no stranger to success, will look to close out another Senior Amateur title run Tuesday. This time, however, he gets to tee it up with one of his good friends. Joining the final group will be DuPont's Jamarowicz, who took home last year's trophy at Heritage Shores.
"I'm just looking to playing with Pem. He's one of my good golfing friends. We're actually going on a trip later this week," said Allen. "Hopefully I can back up today's round with another one tomorrow, somewhere in the same range. The Senior Amateur has generally been a very good tournament for me."
In the Women's Division, holding the lead after 18 holes is Wilmington Country Club's Nicoll Keeney. An 8-over card of 80, including a birdie on the par 4, 235-yard 7th hole, gave Keeney an eight-shot lead heading into tomorrow.
Tuesday's second and final round begins at 8 a.m.
GAP
Celebrating Amateur Golf since 1897, GAP, also known as the Golf Association of Philadelphia, is the oldest regional or state golf association in the United States. It serves as the principal ruling body of amateur golf in its region. The Association's 330 Member Clubs and 90,000 individual members are spread across Pennsylvania, Delaware, New Jersey and Maryland. The GAP's mission is to promote, preserve and protect the game of golf.