Monday marks busiest event day in GAP history
July 17, 2023 marks a significant milestone in GAP's event operations. It becomes the busiest day in GAP's history.
Monday's schedule features an action-packed lineup of 10 events, accommodating close to 700 golfers spread across the entire region. This unprecedented day offers a valuable opportunity to showcase the extensive range of playing options available to our 100,000+ Members. From U.S. Amateur Qualifying and junior events to Member Play Days, there is something for everyone.
We invite you to join us behind the scenes as we navigate the all-hands-on-deck process of managing 10 events in a single day. Our dedicated GAP staff, volunteers, and the enthusiastic participation of hundreds of golfers exemplify the collaborative effort involved. Follow us on GAP's social media channels (@GAofPhilly) to catch a glimpse of each step along this historic day.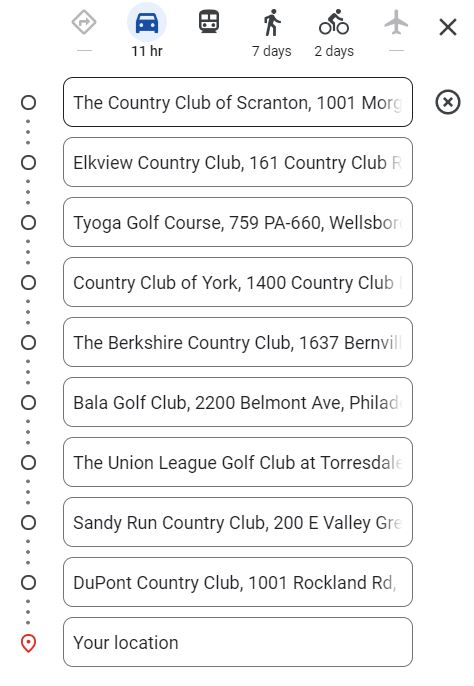 Post on social media from one of the 10 events, tag @GAofPhilly and be entered into the sweepstakes for a number of GAP prizes throughout the day!
Full schedule and scoring:
U.S. Amateur Qualifying – Union League GC at Torresdale
Jock MacKenzie Memorial – Sandy Run Country Club
Frank H. Chapman Cup – Berkshire Country Club
Anthracite Stroke-Play Championship – CC of Scranton
Lawler Junior Series Tour (Division 1) – Elkview CC
Lawler Junior Series Tour (Division 2) – Elkview CC
GAP Central Junior Series – Tyoga Country Club
Architect Series event- CC of York
Member Play Day – Bala Golf Club
Member Play Day – DuPont Country Club
GAP
Celebrating Amateur Golf since 1897, GAP, also known as the Golf Association of Philadelphia, is the oldest regional or state golf association in the United States. It serves as the principal ruling body of amateur golf in its region. The organization's 340 Member Clubs and 100,000 individual members are spread across Pennsylvania, Delaware, New Jersey and Maryland. The GAP's mission is to promote, preserve and protect the game of golf.