Matts repeat as Father/Son winners at LuLu
GLENSIDE, Pa. — Kenneth Matt watched his son Christian compete in the Pennsylvania Golf Association's Junior Boys' Championship the past two days. His observations succinct yet substantial.
| History | Scoring portal | Photo gallery |
"He's playing well. He's getting close to shooting some really good scores," Kenneth said.
On Thursday at LuLu Country Club (par 71, 6,196 yards), he and Christian combined to shoot a score good enough for a successful — and desired — title defense. The Spring House, Pa. residents carded an even-par 71 to capture the 65th Parent/Child Younger (formerly Father & Son (Younger)) to win the event's Junior Father/Son Division.
The Matts also prevailed a year ago at Bent Creek Country Club. In doing so, they tied a Father & Son scoring record, in relation to par, with a 5-under-par 66. The Matts became the first team to repeat as winners of the Younger crown since Randy and Davis Mitchell did so in 2013-14.
The event's format is greensomes (selective drive/alternate shot).
After spending 90 minutes and change on the drive home from Hershey Country Club, the Matts relaxed at home before retiring for a good night's sleep. Somewhat refreshed, they arrived at LuLu with a somewhat singular mindset.
"Win again. Defend the title," Christian, 18, said.
"And just have a good time," Kenneth, 50, added. "It's fun to play golf with your son."
A title defense appeared all but certain from the outset. The Matts inked a clean 3 under on LuLu's front nine. On No. 1 (par 5, 474 yards), Kenneth found the front-right bunker with a hybrid from 186 yards. Christian splashed out to six feet, and dad cleaned up the birdie putt. After another pulverized drive courtesy of Christian on No. 3 (par 4, 405 yards), Kenneth lifted a wedge from 100 yards out of the left rough to six feet below the front hole location. His son cleaned up the birdie putt. Kenneth knocked a wedge 115 yards to 15 feet on No. 8 (par 4, 407 yards). Christian's putt dripped in from the right edge.
"We were relaxed very early," he said.
"We were 3 under through eight. Christian made some good putts. We were having a good time and then a little fat shot into No. 9," Kenneth, a Philadelphia Publinks GA member, added. "Everything went downhill from there. Christian killed a drive. I had 30 yards into the green and I kind of chunked it a little bit to 15 feet. We two putted that. We should have gotten up-and-down for birdie. That was my thinking."
A nod from Christian. That swing on No. 9 (par 4, 310 yards) seemingly uncorked a string of struggles. Kenneth thinned a hybrid on No. 10 (par 5, 500 yards). Christian then sailed the green with a 9-iron, and the team failed to get up-and-down for par. On the downhill par 3, 175-yard 12th hole, Christian hit a crisp 8-iron to six feet right of the hole location. Kenneth's right-to-left slider, however, needed a higher aimpoint. Christian missed a four-foot comebacker for par. A pair of missed greens on Nos. 13 (par 4, 420 yards) and 14 (par 4, 359 yards) also led to bogeys.
The Matts, like a glitchy video game, needed a reset. They found one on No. 15 (par 3, 140 yards), where both safely landed some 15 feet from the flagstick. A seven-footer for par reassured. Kenneth brought his team back to even by burying a nine-footer for birdie on No. 17 (par 5, 506 yards).
"The one thing that popped up today more than last year … he's become a really good putter. He made a couple of good putts today," he said.
"I've just gotten confident with my putting. I've gotten better," Christian, a Cedarbrook Country Club member, said.
Christian, for the record, tied for 11th in the Pennsylvania Junior Boys' Championship. The recent Wissahickon High School graduate will attend Saint Joseph's University in the fall. He will major in finance.
Kenneth will watch his son's golf. Not to mention grades. And like any invested parent, he'll gladly support a title defense.
---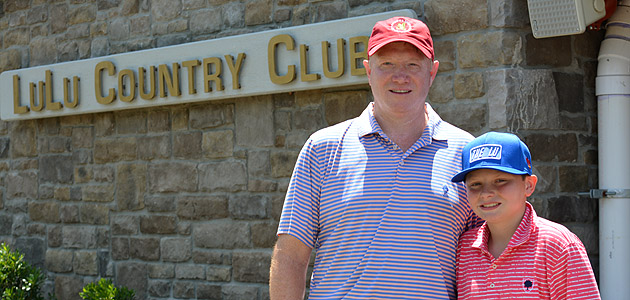 Max Bradshaw competed in the U.S. Kids Golf New Jersey State Invitational June 26-27 at Hopewell Valley Golf & Country Club. He didn't return to his Virginia Beach, Va. home afterward. Instead, he and his father Robert made a golf trip out of it.
They stopped at LuLu Wednesday. Yes, it proved worthwhile. The Bradshaws carded a 1-under-par 70 to take the event's Junior-Junior Father/Son Division (par 71, 5,640 yards).
"The Golf Association of Philadelphia, I know it's a wonderful organization. I played in the Mason-Dixon Matches a few years back," Robert, 50, said. "I told Max when we joined Hidden Creek (Golf Club) that, 'We need to get you to play a few events in GAP. The golf courses are just awesome.' And that's what we did."
"It was challenging and fun. The green really fast, but it was very enjoyable. The course was in great condition," Max, 13, added.
Max didn't miss a fairway Wednesday. His steadiness allowed Robert to maneuver the team into optimal scoring positions.
"We were never in jeopardy of any big numbers at all," Robert said. "Max was solid all day."
The Bradshaws moved to 3 under after back-to-back birdies on Nos. 10 (par 5, 422 yards) and 11 (par 4, 313 yards). On the former, Max launched a hybrid 185 yards to the front of the green. Two putts for a 4. On No. 11, Max lifted a wedge 50 yards to four feet.
Radley Run Country Club's Nancy and Jason Jones won the event's Junior Mother/Son Division with a score of 8-over-par 79. Lookaway Golf Club's John Schaefer and his daughter Jewel of North Hills Country Club won the Junior Father/Daughter Division with a score of 2-over-par 73. St. Davids Golf Club's Chong and Zoey Moua won the Junior-Junior Father/Daughter Division with a score of 7-over-par 78.
Formerly known as the Father & Son (Younger), GAP renamed the event Parent/Child Younger to reflect today's modern family. Divisions include Father-Son; Mother-Son; Father-Daughter and Mother-Daughter.
GAP
Celebrating Amateur Golf since 1897, GAP, also known as the Golf Association of Philadelphia, is the oldest regional or state golf association in the United States. It serves as the principal ruling body of amateur golf in its region. The Association's 330 Member Clubs and 90,000 individual members are spread across Pennsylvania, Delaware, New Jersey and Maryland. The GAP's mission is to promote, preserve and protect the game of golf.
| | |
| --- | --- |
| Gross results | |
| Junior Father/Son Division | |
| Name, club | Score |
| Kenneth Matt/Christian Matt, Philadelphia Publinks Golf Association/Cedarbrook Country Club | 71 |
| James Curran/John Curran, Chester Valley Golf Club | 74 |
| Benjamin Saggers/Nicholas Saggers, Applecross Country Club | 74 |
| John Wiseman/Nate Wiseman, Talamore Country Club | 75 |
| Brad McFadden/Liam McFadden, Merion Golf Club/Overbrook Golf Club | 76 |
| Michael McDermott/Brad McDermott, Merion Golf Club | 77 |
| David Woods/Nicklaus Woods, Concord Country Club | 78 |
| Travis Robertson/Bruce Robertson, Sunnybrook Golf Club | 78 |
| Marc Shaffer/Reilly Shaffer, Llanerch Country Club | 78 |
| Darren Nolan/Brendan Nolan, Cedarbrook Country Club | 78 |
| Fletcher Jones/Adrian Jones, Wilmington Country Club | 78 |
| Scott Hughes/Ed Hughes, Cedarbrook Country Club/Talamore Country Club | 78 |
| Brady Crow/Kevin Crow, Moorestown Field Club | 79 |
| Jim Sullivan/Cade Sullivan, LuLu Country Club | 80 |
| Greg Smith/Kasim Narinesingh-Smith, Radley Run Country Club | 80 |
| P.Chet Walsh/Will Walsh, Philadelphia Country Club | 83 |
| Scott Gibson/Ryan Gibson, Riverton Country Club | 83 |
| John Puskar/Jackson Puskar, Kennett Square Golf & Country Club | 83 |
| Shane Powelson/Robert Powelson, Bidermann Golf Course | 83 |
| Matthew Hurchalla/Greg Hurchalla, The Springhaven Club | 84 |
| Chong Moua/Zach Moua, St. Davids Golf Club | 84 |
| Greg O'Connor/Jack O'Connor, Bellewood Country Club | 84 |
| Sachin Blake/Simon Blake, White Manor Country Club | 85 |
| Wyatt Martin/Kirby Martin, Commonwealth National Golf Club | 86 |
| David Fatula/Gabriel Fatula, Valley Country Club | 87 |
| Gary Roberts/Kevin Roberts, LuLu Country Club | 87 |
| Aubrey Dirkes/Gavin Dirkes, White Manor Country Club | 88 |
| Stephen DiGiulio/Thomas DiGiulio, Wedgwood Country Club | 88 |
| Kevin Freeman/Jackson Freeman, Jericho National Golf Club | 89 |
| Anthony Villari/Nick Villari, Riverton Country Club | 90 |
| Joseph Morrison/Charlie Morrison, Jeffersonville Golf Club | 93 |
| Ian McEwen/Iain McEwen, North Hills Country Club | 96 |
| Mark O'Neill/Dermot O'Neill, Sandy Run Country Club | 97 |
| Andrew Hertzog/Aidan Hertzog, Jeffersonville Golf Club | 102 |
| Tim Riviere/Beau Riviere, Rolling Green Golf Club | 109 |
| William Armstrong/Charlie Armstrong, Tavistock Country Club | 110 |
| Junior-Junior Father/Son Division | |
| Name, club | Score |
| Robert Bradshaw/Max Bradshaw, Hidden Creek Golf Club | 70 |
| Geoffrey Cooper/Grant Cooper, North Hills Country Club | 73 |
| Jeremy Butt/Julian Butt, North Hills Country Club | 79 |
| Ryan McDermott/Michael McDermott, Merion Golf Club | 82 |
| Michael Mannon/Walker Mannon, Phoenixville Country Club | 82 |
| Ethan Clouser/Randall Clouser, Merion Golf Club | 85 |
| Daniel Rudershausen/Parker Rudershausen, Bidermann Golf Course | 88 |
| Ari Flaisher/Jonah Flaisher, Llanerch Country Club | 89 |
| Bob Karas/Sammy Karas, North Hills Country Club | 89 |
| Jim Delfidio/Justin Delfidio, Manufacturers' Golf & Country Club | 90 |
| Bill Golderer/Deacon Golderer, White Manor Country Club | 91 |
| Charles Meadows/Hayden Meadows, Whitford Country Club | 92 |
| Drew Garis/Will Garis, North Hills Country Club | 92 |
| Joe Croll/Connor Croll, North Hills Country Club | 105 |
| Jeffrey Vail/Cooper Vail, Stonewall | 107 |
| Aaron Nye/Logan Nye, Whitemarsh Valley Country Club | WD |
| Junior Father/Daughter Division | |
| Name, club | Score |
| John Schaefer/Jewel Schaefer, Lookaway Golf Club/North Hills Country Club | 73 |
| Michael Courtney/Gabrielle Courtney, Sunnybrook Golf Club | 85 |
| Jason Barkley/Emilee Barkley, Moselem Springs Golf Club | 85 |
| Junior-Junior Father/Daughter Division | Score |
| Zoey Moua/Chong Moua, St. Davids Golf Club | 78 |
| Junior Mother/Son Division | |
| Name, club | Score |
| Jason Jones/Nancy Jones, Radley Run Country Club | 79 |
| Denise Lynam/Max Riviere, Rolling Green Golf Club | 100 |
| Net results | |
| Junior Father/Son Division | |
| Name, club | Score |
| Michael McDermott/Brad McDermott, Merion Golf Club | 69 |
| James Curran/John Curran, Chester Valley Golf Club | 70 |
| David Fatula/Gabriel Fatula, Valley Country Club | 71 |
| Greg Smith/Kasim Narinesingh-Smith, Radley Run Country Club | 71 |
| Fletcher Jones/Adrian Jones, Wilmington Country Club | 71 |
| Scott Gibson/Ryan Gibson, Riverton Country Club | 72 |
| Brady Crow/Kevin Crow, Moorestown Field Club | 73 |
| Kenneth Matt/Christian Matt, Philadelphia Publinks Golf Association/Cedarbrook Country Club | 73 |
| Marc Shaffer/Reilly Shaffer, Llanerch Country Club | 74 |
| Sachin Blake/Simon Blake, White Manor Country Club | 74 |
| Brad McFadden/Liam McFadden, Merion Golf Club/Overbrook Golf Club | 75 |
| John Wiseman/Nate Wiseman, Talamore Country Club | 75 |
| Travis Robertson/Bruce Robertson, Sunnybrook Golf Club | 76 |
| David Woods/Nicklaus Woods, Concord Country Club | 77 |
| Shane Powelson/Robert Powelson, Bidermann Golf Course | 77 |
| Chong Moua/Zach Moua, St. Davids Golf Club | 77 |
| Mark O'Neill/Dermot O'Neill, Sandy Run Country Club | 78 |
| Benjamin Saggers/Nicholas Saggers, Applecross Country Club | 78 |
| Anthony Villari/Nick Villari, Riverton Country Club | 78 |
| Greg O'Connor/Jack O'Connor, Bellewood Country Club | 78 |
| Scott Hughes/Ed Hughes, Cedarbrook Country Club/Talamore Country Club | 78 |
| Matthew Hurchalla/Greg Hurchalla, The Springhaven Club | 79 |
| P.Chet Walsh/Will Walsh, Philadelphia Country Club | 80 |
| Darren Nolan/Brendan Nolan, Cedarbrook Country Club | 80 |
| John Puskar/Jackson Puskar, Kennett Square Golf & Country Club | 80 |
| Stephen DiGiulio/Thomas DiGiulio, Wedgwood Country Club | 80 |
| Kevin Freeman/Jackson Freeman, Jericho National Golf Club | 81 |
| Aubrey Dirkes/Gavin Dirkes, White Manor Country Club | 81 |
| Andrew Hertzog/Aidan Hertzog, Jeffersonville Golf Club | 81 |
| Jim Sullivan/Cade Sullivan, LuLu Country Club | 82 |
| Ian McEwen/Iain McEwen, North Hills Country Club | 82 |
| Gary Roberts/Kevin Roberts, LuLu Country Club | 83 |
| Wyatt Martin/Kirby Martin, Commonwealth National Golf Club | 84 |
| William Armstrong/Charlie Armstrong, Tavistock Country Club | 85 |
| Joseph Morrison/Charlie Morrison, Jeffersonville Golf Club | 90 |
| Tim Riviere/Beau Riviere, Rolling Green Golf Club | 106 |
| Junior-Junior Father/Son Division | |
| Name, club | Score |
| Jeremy Butt/Julian Butt, North Hills Country Club | 69 |
| Michael Mannon/Walker Mannon, Phoenixville Country Club | 69 |
| Robert Bradshaw/Max Bradshaw, Hidden Creek Golf Club | 69 |
| Ethan Clouser/Randall Clouser, Merion Golf Club | 71 |
| Geoffrey Cooper/Grant Cooper, North Hills Country Club | 74 |
| Ari Flaisher/Jonah Flaisher, Llanerch Country Club | 75 |
| Bill Golderer/Deacon Golderer, White Manor Country Club | 79 |
| Jim Delfidio/Justin Delfidio, Manufacturers' Golf & Country Club | 79 |
| Ryan McDermott/Michael McDermott, Merion Golf Club | 85 |
| Bob Karas/Sammy Karas, North Hills Country Club | 89 |
| Daniel Rudershausen/Parker Rudershausen, Bidermann Golf Course | 90 |
| Charles Meadows/Hayden Meadows, Whitford Country Club | 92 |
| Drew Garis/Will Garis, North Hills Country Club | 94 |
| Joe Croll/Connor Croll, North Hills Country Club | 99 |
| Jeffrey Vail/Cooper Vail, Stonewall | 104 |
| Aaron Nye/Logan Nye, Whitemarsh Valley Country Club | WD |
| Junior Father/Daughter Division | |
| Name, club | Score |
| John Schaefer/Jewel Schaefer, Lookaway Golf Club/North Hills Country Club | 69 |
| Michael Courtney/Gabrielle Courtney, Sunnybrook Golf Club | 81 |
| Jason Barkley/Emilee Barkley, Moselem Springs Golf Club | 82 |
| Junior-Junior Father/Daughter Division | |
| Name, club | Score |
| Zoey Moua/Chong Moua, St. Davids Golf Club | 65 |
| Junior Mother/Son Division | |
| Name, club | Score |
| Jason Jones/Nancy Jones, Radley Run Country Club | 74 |
| Denise Lynam/Max Riviere, Rolling Green Golf Club | 92 |
| WD – withdrawal | |