Yardley duo snags Senior Four-Ball at Honeybrook
HONEY BROOK, Pa. — Victory prospects appeared as shiny as a new engine for Gregory Buliga and Paul Rogowicz in the 63rd Senior Four-Ball Stroke Play Thursday. Six birdies on the front nine.
| Scoring portal | History | Photo gallery |
Then victory prospects appeared as concerning as a cracked fuselage. Eight pars in the next eight holes. Check engine light on. It shuts off with a birdie on the last hole.
Finally, Buliga and Rogowicz, all smiles in this figurative automobile, crossed the finish line at Honeybrook Golf Club (par 70, 6,068 yards) with victory in hand. The Yardley Country Club members carded a 7-under-par 63 to take the Senior Division title.
"We're good friends. We've played in so many of these GAP events that we said today, 'Let's be competitive. Let's see what we can do.' And we showed it," Rogowicz, 59, of Yardley, Pa.
Sure did.
Buliga opened eyes by firing birdies on two of the team's first three holes: a stuffed wedge to six inches on No. 2 (par 4, 366 yards), a 5-iron to four feet on No. 3 (par 3, 183 yards). Then Rogowicz, tone likely friendly, bellowed at his teammate.
"I yelled at him," he said. "Then it was a competition. Who could make the most birdies?"
"He won. He made a birdie on the last hole," Buliga, 65, of Yardley, Pa., added.
More on the closing clincher later. Before the birdie bonanza continued in earnest, the Buliga and Rogowicz team needed stagehands on No. 4 (par 5, 553 yards). A throbbing momentum nearly disappeared like Houdini. Rogowicz stared at a five-footer for par. He made it. Birdie bonanza sustained.
Rogowicz ensured so by converting a six-footer on No. 6 (par 4, 388 yards) and an 18-footer on No. 7 (par 4, 334 yards). Then Buliga pulled his 5-iron again and mastered No. 8 (par 3, 187 yards) by leaving it five feet from the flagstick for another team birdie. Rogowicz, the 2020 GAP Senior Player of the Year, sunk a 12-footer for birdie from above the No. 9 (par 4, 401 yards) flagstick following a textbook wedge.
"Now we're laughing," he said.
Guffaws gone silent as the Buliga and Rogowicz team slipped into neutral. Golf shots executed. Birdie putts not so much. Other contenders in the Senior Four-Ball field caught the lead car. The smoke billowing from Buliga's cigar matched his team's motor as the laps dwindled.
Then some added horsepower to that previously shiny engine on No. 18 (par 4, 400 yards). Buliga faced a six-footer for birdie. Outright lead on the line.
"I wanted him to putt first, but he didn't do it. So I putted and lipped it out," Buliga said.
But alas, his co-pilot appeared poised to amend. Rogowicz hit a gap wedge 110 yards to three feet for birdie. He made good. It proved the decisive stroke as other cars tailed the Yardley team, only to lose speed. The two eventually cleared a logjam at 6 under.
Buliga and Rogowicz met at Yardley Country Club two decades ago and became fast friends through golf. They compete in individual and better-ball events throughout the Philadelphia region, year in and year out. The stoic swingers get along like Starsky and Hutch. All business in the field, all joviality off it.
Even a potential meeting in Yardley's men's championship can't dent this classic car.
"He's in the semifinals, and I'm in the quarterfinals. We're on opposite sides of the bracket for once," Buliga said. "He usually beats me, so at least he'll beat me in the final."
"If I get there," Rogowicz added.
Super-Senior Division
Former Senior champions (2019, 2013) Joseph Russo and Mark Walker defeated White Manor Country Club's Don Donatoni and Nittany Country Club's Vince Scarpetta, Jr. in a scorecard playoff to win the Super-Senior Division (par 70, 5,697 yards).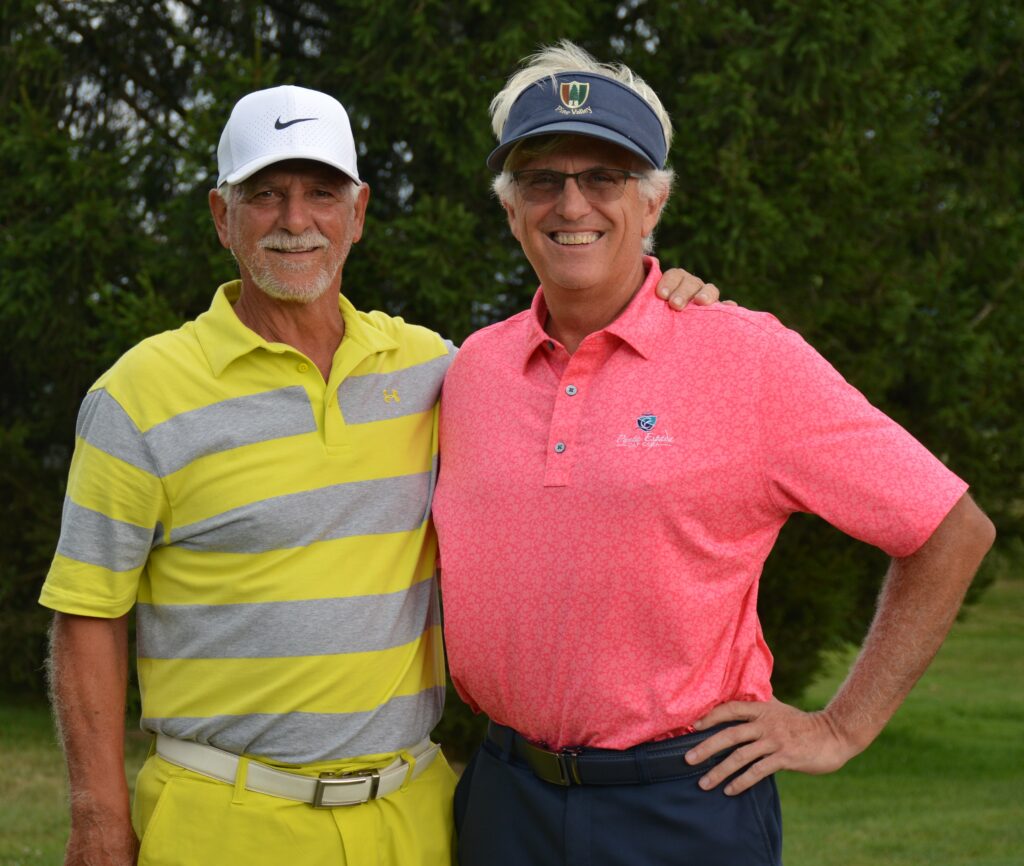 Both teams finished regulation tied at 5-under-par 65. GAP uses the USGA-recommended tiebreaking method, which starts with back-nine totals. The two teams matched scores there. Russo and Walker won the next tiebreaker, which compares the final six holes of the back nine.
Walker, a Laurel Creek Country Club member, proved critical there. He drove No. 14 (par 4, 260 yards) and two putted for birdie. He added another two-putt birdie on the next hole (par 5, 446 yards) after reaching the green in two with a 3-rescue. Walker smacked a wedge to eight feet for birdie on No. 18 (par 4, 355 yards).
"If I was out of the hole, he was in it. If he was out of the hole, I was in it. It was a total team effort," Russo, 65, of Washington Township, N.J., said. "We could've been a couple better than we were. We also could have been a couple worse."
Case in point No. 7 (par 4, 323 yards) regarding the worse notion.
"I hit it left into the trees and had no shot. Mark was dead in the right bunker. I barely got out of the trees. I got it up-and-down [for par] from 86 yards," Russo, a Running Deer Golf Club member, said.
A grinning Walker credited Russo for his composure in such circumstances. The golf partnership between the two continues to flourish, even in a new division.
"He's one of my best friends. I have three best friends in the world, and he's one of them," Walker, 66, of Marlton, N.J., said.
GAP
Celebrating Amateur Golf since 1897, GAP, also known as the Golf Association of Philadelphia, is the oldest regional or state golf association in the United States. It serves as the principal ruling body of amateur golf in its region. The organization's 340 Member Clubs and 100,000 individual members are spread across Pennsylvania, Delaware, New Jersey and Maryland. The GAP's mission is to promote, preserve and protect the game of golf.
| | |
| --- | --- |
| Results | |
| Senior Division | |
| Name, club | Score |
| Gregory Buliga/Paul Rogowicz, Yardley Country Club | 63 |
| Doug Fedoryshyn/T.R. Gatti, Concord Country Club | 64 |
| Steve Walczak/Tom Humphrey, Wilmington Country Club | 64 |
| Chris Fieger, Sr./Craig Kliewer, Heidelberg Country Club/Lebanon Country Club | 64 |
| David West/Tom Finn, Philadelphia Publinks Golf Association/DuPont Country Club | 64 |
| John Barry/Brian Groff, Lancaster Country Club | 65 |
| Christopher Terebesi/Richard Umani, Honeybrook Golf Club/Philadelphia Publinks Golf Association | 65 |
| John Gosselin/Michael Sanfrancesco, Kennett Square Golf & Country Club | 65 |
| Jeff Hudson/David Blichar, Olde Homestead Golf Club | 65 |
| Tom Soares/Fred Greene, Lehigh Country Club | 66 |
| Joe Roeder/Mike Quick, Merion Golf Club/Little Mill Country Club | 66 |
| Todd Anderson/Rich Pruchnik, Wilmington Country Club/Downingtown Country Club | 66 |
| Kevin Kelly/G. Patrick Dougherty, Philadelphia Cricket Club | 66 |
| Joe Arrante/Alan Wagenschnur, Newark Country Club | 66 |
| Bob Buckley/Mark Fine, Lehigh Country Club | 67 |
| John Conway/Brad Jankowski, Little Mill Country Club | 67 |
| Mark Czerniakowski/P. Chet Walsh, LuLu Country Club/Philadelphia Country Club | 68 |
| Oscar Mestre/Ken Phillips, Overbrook Golf Club/Lancaster Country Club | 68 |
| Ken Silverwood/Matthew Hancock, Chester Valley Golf Club | 68 |
| John Sweeney/Rob Campbell, Foxchase Golf Club/Lancaster Country Club | 68 |
| Bill Lydick/Matt Cuddy, Huntsville Golf Club | 69 |
| Jeff Moyher/Gordy Jamieson, Merion Golf Club | 69 |
| Jon Thomas/Jim Hanrahan, White Clay Creek Country Club | 69 |
| Michael Quinn/Robert Amen, Philadelphia Publinks Golf Association | 70 |
| Don Uhrig/David Uhrig, LedgeRock Golf Club | 71 |
| Carlos Ochoa/Ed Kahn, Little Mill Country Club | 71 |
| Joseph Orsulak/James Druss, Olde Homestead Golf Club/Frog Hollow Golf Club | 72 |
| Buddy Aiken/John Puskar, St. Davids Golf Club/Kennett Square Golf & Country Club | 72 |
| John Luca/Rob Niggebrugge, Philadelphia Publinks Golf Association/Frog Hollow Golf Club | 73 |
| Mike Winn/Rick Herman, Bucknell Golf Club/Huntsville Golf Club | 76 |
| John Robinson/Peter Hansen, Radley Run Country Club/USGA/GAP GC | 77 |
| Gary Roberts/Rick Studer, LuLu Country Club/Stone Harbor Golf Club | 77 |
| Bill Woodis/Anthony Reed, Ed Oliver Golf Club | 85 |
| Super-Senior Division | |
| Name, club | Score |
| *Mark Walker/Joseph Russo, Laurel Creek Country Club/Running Deer Golf Club | 65 |
| Vince Scarpetta, Jr./Don Donatoni, Nittany Country Club/White Manor Country Club | 65 |
| Max King/William Henry, Deerfield Golf Club/Frog Hollow Golf Club | 66 |
| Kurt Meyers/William Loucks, RiverCrest GC & Preserve/Fieldstone Golf Club | 66 |
| Mike Farlling/Ed Short, Carlisle Country Club | 66 |
| Tom Hyland/Robert Arthur, Little Mill Country Club/Tavistock Country Club | 67 |
| Gregory Osborne/Mark Leaman, Overlook Golf Course | 67 |
| Michael Nilon/Buck Jones, Philadelphia Country Club/Philadelphia Publinks Golf Association | 67 |
| William Erskine/Mike Dutill, Philadelphia Publinks Golf Association/Walnut Lane Golf Club | 68 |
| Robin McCool/Craig Scott, Saucon Valley Country Club/Glen Brook Golf Club | 68 |
| Rich Thon/Drew Harmer, The Springhaven Club | 68 |
| Tom Walker/Chris Wagner, Reading Country Club | 69 |
| Raymond Pawulich/Howard Press, Little Mill Country Club | 69 |
| Joseph Viscuso/Frank Kovalcheck, Kennett Square Golf & Country Club | 70 |
| Drew Panebianco/Jeffrey Lysek, Five Ponds Golf Club | 70 |
| Jeffrey Amrhein/Gregory Ruark, Briarwood Golf Club | 70 |
| Marty Dorminy/Jim Prendergast, Philadelphia Publinks Golf Association | 70 |
| Peter Torras/Richard Keesling, Kennett Square Golf & Country Club | 71 |
| Ken Beard/Joe Dellose, Ed Oliver Golf Club | 71 |
| Guy McKeone/Bill Reppert, Reading Country Club | 72 |
| Gary Shearman/Carl Everett, Sunnybrook Golf Club | 75 |
| James Wiley/Frank Bruno, LuLu Country Club | 76 |
| Timothy Kiorpes/Wayne Yetter, Lookaway Golf Club | 80 |
| * – won in scorecard playoff | |