Oakley takes second Delaware Open title at Plantation Lakes
MILLSBORO, Del. – Zac Oakley, fresh off his debut appearance in the PGA Championship earlier this season, added to his triumphant story that is the testing-yet-rewarding 2022 season.
| Scorecards | Round One recap | History | Photo gallery |
Oakley, an assistant pro at Bidermann Golf Club who battled through a major foot injury at the beginning of the year, etched another high for this season by winning the 57th DSGA/GAP Open Championship at Plantation Lakes Golf & Country Club (par 71, 6,550 yards). Oakley, who finished at 7-under overall, fired a pair of 3-under 68s on the final day to earn his second Open title.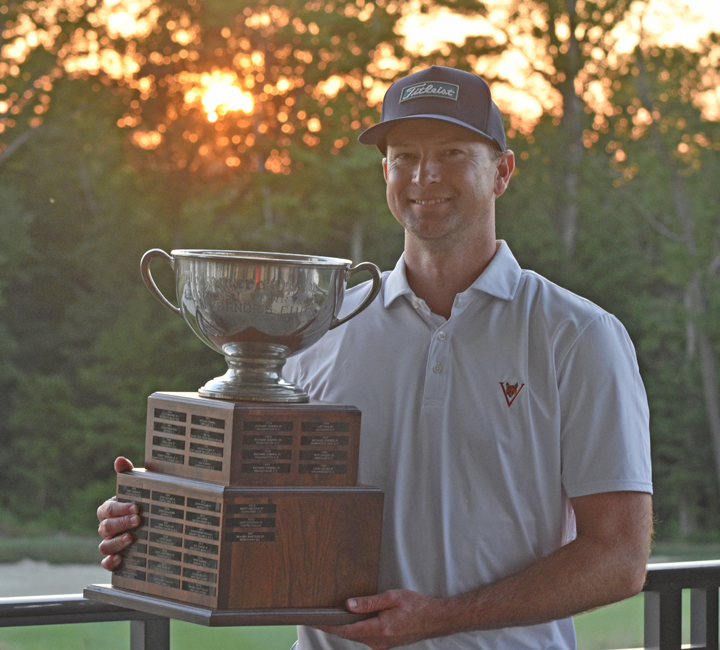 "This is my home state. I'm from Sussex County. I really feel comfortable playing golf down here, and now it feels good to call myself a multiple-time Open winner," said Oakley, 40, of King Prussia, Pa. "It's good to get the second one under my belt."
Merion Golf Club amateur Ford Bennett held the overnight lead at 4-under par after sizzling with six birdies Monday. Four players, including three pros, began at 3-under par: professionals Tom Eisenacher of Frog Hollow Golf Club, Chris Krueger of Kings Creek Country Club and Angier, plus amateur Carlo Pizzano of Five Ponds Golf Club. Oakley, after finishing with a 1-under 70 on Monday, sat three back.
Playing in twosomes, the lead group — Bennett and Eisenacher — began their day at 11 a.m. Their second round did not go as well as the first, with Bennett carding a 5-over 76, while Eisenacher battled to a 2-over 73. Oakley would take advantage. A bogey-free 68 got him in the mix, and fast.
"It was just a really solid round to start the day. I didn't get myself in any trouble, I made a few putts and it was really just stress free," said Oakley.
After the second lap was completed, it was Angier up top at 5-under par after collecting a round of 2-under 69. Angier was joined by amateur Erik Brubaker, an Ocean City Golf Club member, after he fired a 4-under 67 in the morning to gain entrance into the final grouping at 3:45 p.m. In front of them, also at -4, was Oakley and Krueger, golf pro at Kings Creek Country Club.
The champion's first birdie of the final round arrived on the par-5, 525-yard 5th hole. He splashed a 30-yard bunker shot to four feet and rolled in the putt for 4. After making the turn at 1-under par, Oakley's shot of the week (see header) came on No. 10 (par 4, 320 yards). After a fairway finder off the tee, he clipped a wedge from 114 yards out and landed it within inches. He tapped in for birdie for his first share of the solo lead.
"I'm just glad I have two now. I'm making my way."

Zac Oakley
Oakley's first bogey of the day came on the par-3, 180-yard 15th after finding the right greenside bunker. He dug out and placed his second shot to 12 feet, but missed the downhill look for par. That blemish would soon be erased after almost driving the par-4, 320-yard 16th, just leaving his ball on the front fringe. He two putted for birdie to get him back up top. On Plantation Lakes' closer, he knew where he stood yet still decided to play aggressive. A driver off the tee found the middle of the short stuff, followed by an approach iron that landed softly 15 feet off of the green in the left fairway. Oakley chose to roll his third, nestling that up to four feet. A dead-straight birdie putt crept over the front lip and in for the Open win.
"I could have laid up with a wedge there and played it safe. You just can't aim right. So I aimed at the Millsboro water tower in the background and kept it left and it just held it's line," said Oakley, who was named the 2021 Philadelphia PGA Section Player of the Year.
Besides having won the 2015 Delaware Open at Rehoboth Beach Country Club, the Open trophy means a massive amount to the Oakley family. Zac's father, Pete, famously won the hardware six times (1980, 1986-87, 1989, 1995 and 2000).
"I'm just glad I have two now. I'm making my way," said Oakley.
The 40-year-old battled through a torn tendon in his left foot just weeks prior to finishing tied for 6th in the PGA Professional Championship at Omni Barton Creek Resort & Spa and Foothills & Coore Crenshaw Courses in Austin, Texas. In result of that strong finish, Oakley then teed it up at Southern Hills Country Club (Tulsa, Okla.) in the 2022 PGA Championship. It marked his first appearance in a Major championship, which had been a goal for him when turning professional.
"It's been a good… but long… season so far. Obviously, making the PGA Championship was massive for me. It was one of the reasons I became a pro, so I could possibly play in a Major like that," said Oakley. "Being in a cast for seven weeks, it's been a hard year. But now I'm glad I can say I have two Open trophies."
Two down, four more to go to tie Dad, Zac.
NOTE: Low amateur honors went to Galloway National Golf Club's Peter Barron, III. His final round 5-under 66 skyrocketed Barron up the leaderboard, earning him the low honor. Barron won the 2016 Delaware Open at Deerfield Golf Club.
GAP
Celebrating Amateur Golf since 1897, GAP, also known as the Golf Association of Philadelphia, is the oldest regional or state golf association in the United States. It serves as the principal ruling body of amateur golf in its region. The Association's 330 Member Clubs and 90,000 individual members are spread across Pennsylvania, Delaware, New Jersey and Maryland. The GAP's mission is to promote, preserve and protect the game of golf.