Jericho's Deussing edges Saggers in playoff
ORELAND, Pa. — Michael Deussing defeated Benjamin Saggers in a sudden-death playoff to win the 39th Jock MacKenzie Memorial at Sandy Run Country Club (par 72, 6,544 yards) Monday.
| Scoring portal | History | Harry Hammond Award standings |
| Photo gallery |
The Jericho National Golf Club member made a six-footer for birdie on No. 10 (par 3, 135 yards), the second playoff hole, to prevail. Both players finished regulation tied at 3-under-par 69.
"I'm happy to come out on top. I came in here trying to play as well as I can. Even though some of the best GAP [Junior competitors] aren't here, there are a lot of good players in the field," Deussing, 17, of Solebury, Pa., said. "It's pretty cool [to win]."
"I don't think I've broken 81 [in three prior Jock MacKenzie attempts]. To come out and absolutely shatter how I've played here in the past, that's a win in itself," Saggers, 18, of West Chester, Pa., said. "It feels so good to finally come out and play good golf. It feels good to see the results and hopefully push the results lower and lower."
In overtime, Deussing and Saggers essentially halved the first playoff hole (No. 18, par 4, 337 yards) with two-putt pars. Bearing tee honors on No. 10, Deussing, a slight upwind breeze diagnosed, swiftly struck a 9-iron that stopped six feet from the hole location. That same breeze deceived Saggers. He choked down on a 9-iron, only to see it plummet into the right greenside bunker. Saggers splashed out to 25 feet and nearly canned his par try. Deussing then deposited the birdie clincher with conviction.
The win came after a near five-hour wait. Playing in the day's first group, Deussing, a rising senior at The Hun School of Princeton, set the scoring pace. Smartphone scrolling and Chipotle filled the pre-playoff void.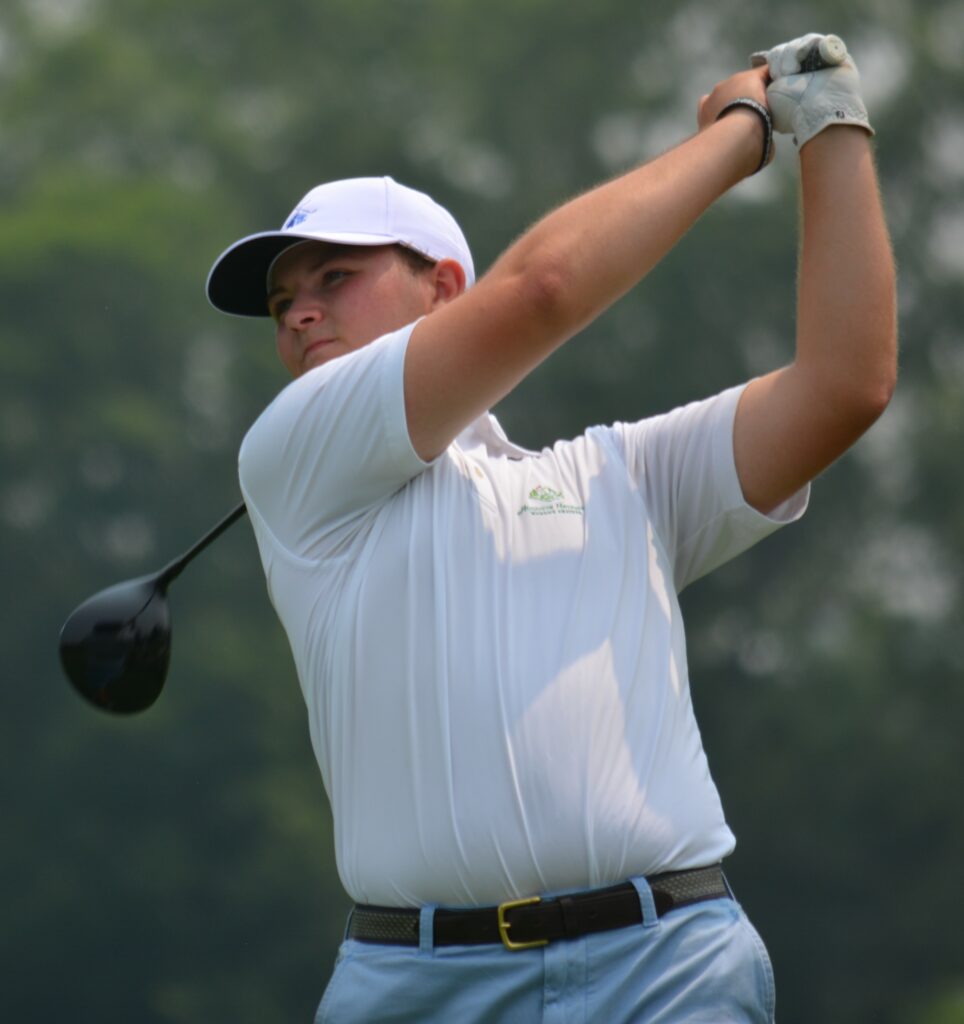 "This is a course where you can score, and that's what I did today. I love being in the first group out because I feel like that's when the course is the most pure," Deussing, a semifinalist in this year's GAP Junior Boys' Championship, said.
Deussing opened his title quest with a birdie on No. 1 (par 4, 357 yards), where he knocked a lob wedge 80 yards to eight feet. Blame wayward drives for a trio of bogeys on Nos. 4 (par 4, 334 yards), 5 (par 4, 418 yards) and 6 (par 4, 386 yards). An eagle is a nice cure. Deussing holed a 50-yard wedge on No. 7 (par 4, 320 yards) following an imposing drive. He maintained momentum with back-to-back birdies on Nos. 8 (par 5, 537 yards) and 9 (par 4, 308 yards): a two-putt from 15 feet following a roped 250-yard 3-wood on the former, a six-footer following a 40-yard pitch on the latter.
Prior to staging Deussing's playoff triumph, the 10th hole at Sandy Run served as a setback. He made bogey after catching the left greenside bunker with a 9-iron. He rebounded with a birdie on No. 11 (par 5, 595 yards), where he hit a wedge 90 yards to eight feet. That yardage again suited Deussing on No. 13 (par 4, 366 yards), this time producing a six-footer for birdie. Add 10 yards and you'll get a Deussing wedge to eight feet for birdie on No. 17 (par 4, 386 yards).
A mistake on No. 18 (par 4, 337 yards) jeopardized Deussing's status. His drive sailed out of bounds. With a friendly lie in the left fairway bunker for his fourth shot, Deussing spun a wedge from 70 yards to 10 feet. He made good on the bogey putt.
"I knew [two-time defending champion] Matt (Homer) was right on my heels, so I was glad I was able to drop it in," Deussing said. "It was my first time playing [Sandy Run]. Luckily, Matt has played here a bunch of times, so I was able to ask him about the course a lot."
Sandy Run's closer nearly toppled Saggers out of contention, too. In regulation, the recent Bishop Shanahan High School graduate tried to hook a pitching wedge from 145 yards. It flew the green, some 25 yards from a front hole location. Saggers expected hot for the ensuing chip. He instead received soft. After deliberation, the Applecross Country Club member lined up a 30-footer for par outside left. Once he stood over the golf ball, Saggers switched to dead center.
"As soon as I hit it, I knew it was in," Saggers, who will attend Temple University in the fall, majoring in risk management, said. "I can't really complain about today. I was 1 over through three holes and got hot. I made a great putt on No. 18 to even get into the playoff. I can't really ask for much more. This was my last Junior tournament. It was good to go out with a bang. I'm very thankful for everything. It's a bittersweet moment. Even though I lost, I'm not too upset because I still played great."
After defeating Saggers in overtime and thanking the necessary parties, Deussing headed to Jericho National to compete in the men's championship final. Yesterday's rain postponed the affair. He and Mac Roedel stood tied through four holes.
"I'm excited. We'll see if I can get it done," Deussing said.
Harry Hammond Award
Wilmington Country Club's Jeff Homer carded a 2-under-par 70 to secure his second Harry Hammond Award (2021). The Harry Hammond Award is comprised of Junior Boys' Championship Qualifying, the Christman Cup and Jock MacKenzie Memorial.
"It's nice to win two of them, that's for sure," Homer, 18, of Wilmington, Del, said. "It's been a good season. I've played some solid golf. It's been a fun few years playing Junior golf in the GAP. I really enjoyed it."
Homer started the final leg deadlocked with Sunnybrook Golf Club's Ian Natale. "Quality shots and a ton of birdie looks" on Sandy Run's back nine allowed the reigning Delaware Junior Boys' Champion to comfortably separate.
Homer is the fourth individual to win the Harry Hammond Award twice since its inception in 2000. He joins Ron Robinson (2016-17), Cole Berman (2012-13) and Billy Stewart (2000-01). A recent Tatnall School graduate, he will attend the University of Delaware in the fall, where he will major in medical diagnostics.
Junior-Junior Division
White Manor Country Club's Max Leung carded a 1-over-par 37 to capture the Junior-Junior Boys' Division (par 36, 2,729 yards). He emphatically deemed it the highlight of his golf summer thus far.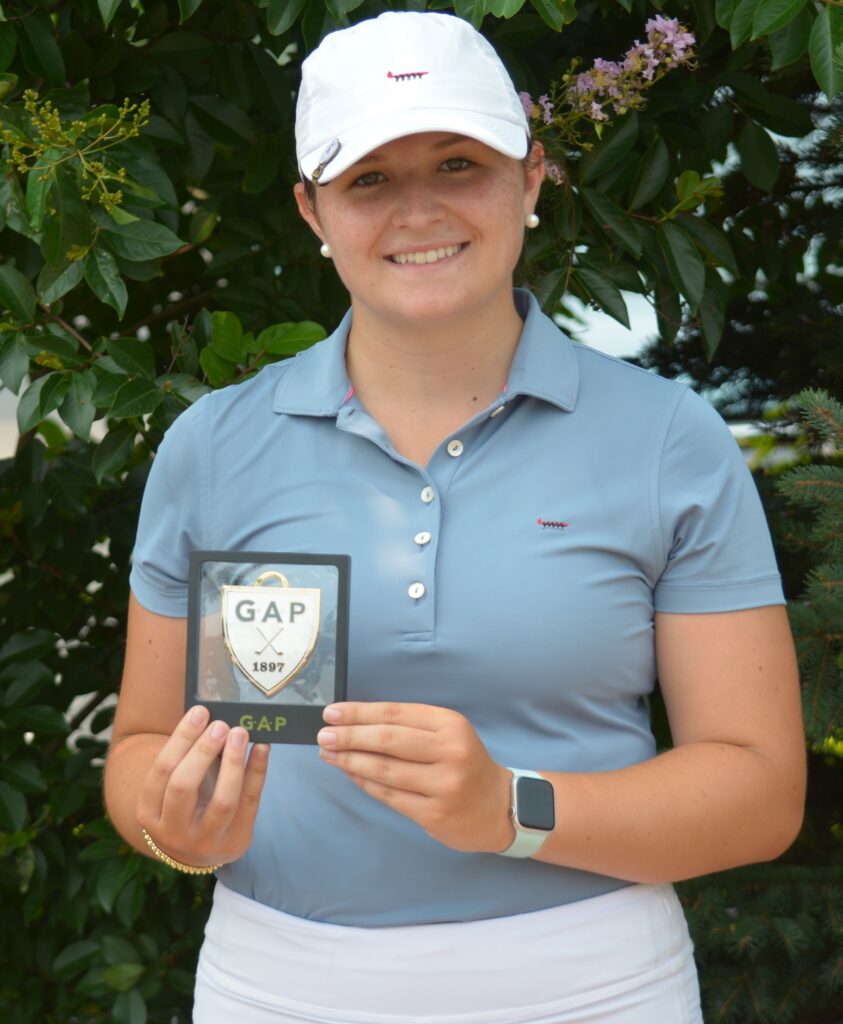 When highlighting his round at Sandy Run, Leung, 13, of Villanova, Pa., recounted his eagle on No. 15 (par 5, 368 yards). To do so, he once again called upon the services of caddie and friend Liam Hempel. The setup eluded Leung's mind. Hempel, true to form, brought to the recollection table a 9-iron from 135 yards to 10 feet.
Leung is a rising eighth-grader at Episcopal Academy.
Girls' Division
Sunnybrook Golf Club's Gabi Courtney carded a 13-over-par to take the event's Junior Girls' Division (par 72, 5,488 yards). Courtney, 17, of Flourtown, Pa., is a recent Mount Saint Joseph Academy graduate. In the fall, she will attend The Catholic University of America, where she will major in accounting.
Jock MacKenzie
Jock MacKenzie served as Sandy Run Country Club's golf professional for three decades (1941-71). He previously worked as an assistant professional under George Lowe at Huntingdon Valley Country Club and Denny Shute at Llanerch Country Club. A Scotland native, MacKenzie started a Junior program at Sandy Run in 1947 that soon generated acclaim within the Philadelphia golf community. "The children don't hit the golf ball for five weeks. They do calisthenics to build up the left wrist and arm. The left arm is key to a good swing," MacKenzie told The Philadelphia Bulletin. MacKenzie taught participants in Sandy Run's Junior program how to hit and chip the golf ball with irons. A mechanical mind, he stressed a slow count for the backswing and downswing. During the program's final week, MacKenzie conducted a golf tournament and awarded prizes to all participants. "MacKenzie readily admits that he doesn't make money, but gets rich on the satisfaction of helping youngsters learn the game he loves," Joe Schwendeman wrote.
Harry Hammond
Harry Hammond, an ardent supporter of Junior golf both locally and nationally, served as the Philadelphia PGA Section's Junior Golf Chairman for 29 years. He is the Director of Golf at Penn Oaks Golf Club and head men's golf coach of West Chester University. A 55-year member of the PGA of America, Hammond received the organization's Bill Strausbaugh Award for leadership and service to the game of golf in 2012.
GAP
Celebrating Amateur Golf since 1897, GAP, also known as the Golf Association of Philadelphia, is the oldest regional or state golf association in the United States. It serves as the principal ruling body of amateur golf in its region. The organization's 340 Member Clubs and 100,000 individual members are spread across Pennsylvania, Delaware, New Jersey and Maryland. The GAP's mission is to promote, preserve and protect the game of golf.
| | |
| --- | --- |
| Results | |
| Junior Boys' Division | |
| Name, club | Score |
| *Michael Deussing, Jericho National Golf Club | 69 |
| Benjamin Saggers, Applecross Country Club | 69 |
| Jeffrey Homer, Wilmington Country Club | 70 |
| Matthew Homer, Wilmington Country Club | 70 |
| Evan Eichenlaub, Saucon Valley Country Club | 71 |
| Declan McLane, North Hills Country Club | 71 |
| Jack Homer, Wilmington Country Club | 72 |
| Chris Vahey, North Hills Country Club | 72 |
| Ian Larsen, Honeybrook Golf Club | 72 |
| Connor Matteo, Blue Ridge Trail Golf Club | 72 |
| Brian Cotter, Legacy Club at Woodcrest | 72 |
| Sean Curran, Merion Golf Club | 73 |
| Tyler Debusschere, The Springhaven Club | 73 |
| Nathan Guertler, Merion Golf Club | 73 |
| Kevin Lafond, Blue Bell Country Club | 73 |
| Adam Fluehr, North Hills Country Club | 73 |
| Matt Rieger, Sunnybrook Golf Club | 73 |
| Nick Waskey, Doylestown Country Club | 73 |
| Harrison Brown, Philadelphia Country Club | 74 |
| Win Thomas, USGA/GAP GC | 75 |
| Ian Natale, Sunnybrook Golf Club | 75 |
| Jackson Fryer, Commonwealth National Golf Club | 77 |
| Shaun Mazzalupi, Philadelphia Cricket Club | 77 |
| Joshua Emel, White Clay Creek Country Club | 77 |
| Jack Brennan, Bellewood Country Club | 77 |
| Nick Linkchorst, Golf Course at Glen Mills | 78 |
| Matthew Normand, Laurel Creek Country Club | 78 |
| J.P. Hoban, The 1912 Club | 78 |
| Peter Lafon, GAP Youth on Course | 78 |
| Nicky Nemo, Merion Golf Club | 78 |
| Ryan Quinn, Commonwealth National Golf Club | 79 |
| Will Dunsmore, Jericho National Golf Club | 79 |
| Jack Crowley, Aronimink Golf Club | 79 |
| Brady Crow, Moorestown Field Club | 79 |
| John Rouse, Aronimink Golf Club | 79 |
| Gavin Marks, GAP Youth on Course | 80 |
| Brad McDermott, Aronimink Golf Club | 80 |
| Liam McFadden, Overbrook Golf Club | 80 |
| Joe Ciconte, Wilmington Country Club | 81 |
| William Forman, Merion Golf Club | 81 |
| Will Walsh, Philadelphia Country Club | 81 |
| Colin Sarnoski, Saucon Valley Country Club | 81 |
| Kristof Kopecky, Wilmington Country Club | 81 |
| Nolan Corcoran, Philadelphia Junior Tour | 82 |
| Parker Zalis, Rolling Green Golf Club | 82 |
| Liam Crowley, Aronimink Golf Club | 82 |
| Brody Bell, Spring Ford Country Club | 82 |
| Brendan Reilly, Commonwealth National Golf Club | 82 |
| Paul Reilly, Galloway National Golf Club | 83 |
| Quin Bongiovanni, Overbrook Golf Club | 83 |
| Alex Nemo, Merion Golf Club | 83 |
| Mac Traynor, Merion Golf Club | 84 |
| Hunter Zalis, Rolling Green Golf Club | 85 |
| Joel Perry, Mulligan's Pointe | 85 |
| P.J. Geib, Sandy Run Country Club | 86 |
| Stephen Rebar, Manufacturers' Golf & Country Club | 86 |
| Jason Jones, Radley Run Country Club | 87 |
| David Nissen, Philadelphia Cricket Club | 87 |
| Zach Moua, St. Davids Golf Club | 87 |
| Trevor Dendler, Yardley Country Club | 87 |
| Beckett Chipman, Wilmington Country Club | 90 |
| Jake Bryson, DuPont Country Club | 91 |
| Devin Carpenter, Walnut Lane Golf Club | 91 |
| John Gavaghan, Sandy Run Country Club | 91 |
| Gregory Kriz, Manufacturers' Golf & Country Club | 93 |
| Stanley Marchlik, USGA/GAP GC | 94 |
| Ian McEwen, North Hills Country Club | 99 |
| Kieran Gillespie, GAP Youth on Course | 100 |
| Brayden Holland, Walnut Lane Golf Club | WD |
| Logan Nye, Whitemarsh Valley Country Club | WD |
| Junior Girls' Division | |
| Name, club | Score |
| Gabi Courtney, Sunnybrook Golf Club | 85 |
| Junior-Junior Boys' Division | |
| Name, club | Score |
| Max Leung, White Manor Country Club | 37 |
| Henry Sokol, Green Valley Country Club | 41 |
| Nicholas Stampone, Sandy Run Country Club | 44 |
| Jack Sokol, Green Valley Country Club | 45 |
| Justin Delfidio, Manufacturers' Golf & Country Club | 46 |
| John Peyton, Union League National Golf Club | 46 |
| William Quartermain, Llanerch Country Club | 46 |
| Aditya Rege, GAP Youth on Course | 46 |
| William Thorkelson, Philadelphia Junior Tour | 49 |
| * – won in playoff | |
| WD – withdrawal | |