Maddaloni, Pabst post 64, take title
SPRINGFIELD, Pa. — A gesture of goodwill turned into a gold medal for Billy Pabst Tuesday.
| Scoring portal | History | Photo gallery |
The Elmhurst Country Club member drove two-plus hours to team with Jake Maddaloni in the 35th Francis X. Hussey Memorial Tuesday at Rolling Green Golf Club (par 71, 6,321 yards). Maddaloni, an Aronimink Golf Club member, needed a partner after Jack Davis, his initial selection, withdrew because of an obligation. He called Pabst.
A bailout worked out. Maddaloni and Pabst carded a 7-under-par 64 to take the Junior Boys' Division.
The Francis X. Hussey Memorial is a better-ball of partners event.
"Dropping putts" became the mantra for the Pabst and Maddaloni team.
And "not caring."
"We were just having fun out there. On No. 17, it really set in that this was a tournament round," Pabst, 17, of Roaring Brook Township, Pa., said.
Rolling Green's 17th hole (par 5, 501 yards), coincidentally, is where the Maddaloni and Pabst team made its move. The latter reached the green in two with a 2-iron from 220 yards. He rolled an ensuing 50-footer for eagle into tap-in birdie territory. Playing partners Jeffrey and Matthew Homer, who tussled with the Maddaloni and Pabst team throughout the day, made par on No. 17 to stay a shot back.
"We saw where [the Homers] were and knew what we had to do," Maddaloni, 18, of Newtown Square, Pa., said.
And they did it. On the par 5, 508-yard 18th hole, Maddaloni ripped a 4-iron from 210 yards to 40 feet below the flagstick. After a brief consultation with Pabst, Maddaloni, a recent graduate of The Haverford School, poured in the eagle putt.
The end juxtaposed the start. Both Maddaloni and Pabst bogeyed No. 1 (par 4, 394 yards). Victims of poor approaches. But both stayed in birdie step on Nos. 4 (par 4, 376 yards) and 5 (par 4, 363 yards) — a pair of six-footers on the former, three-footers on the latter. Both Maddaloni and Pabst birdied No. 7 (par 5, 501 yards): a flip wedge to 12 feet for Maddaloni, a two putt from 25 feet for Pabst.
Three back-nine birdies preceded their fireworks finale. On No. 11 (par 4, 425 yards), Maddaloni knocked a 52-degree wedge 105 yards to two inches. Pabst, a rising senior at North Pocono High School, drove the green on the par 4, 269-yard 12th hole and logged two putts from 12 feet. Staying true to the team's "dropping putts" mantra, Maddaloni buried a 45-footer — with two feet of right-to-left break no less — on the par 3, 123-yard 16th hole following a smooth pitching wedge.
Maddaloni and Pabst met at The Club at Morgan Hill during a Philadelphia Junior Tour event in 2017. The two formed a friendship thereafter. Golf is the foundation.
"I've had him out to play golf at Aronimink. We'll hit balls and practice together," Maddaloni, the reigning Harry Hammond Award winner, said.
But does it start and end with golf? Both Maddaloni and Pabst, the 2019 Junior Sportsperson of the Year, pause. They look at each other and crack a smile. Pabst hastily speculates.
"You're Italian right? You like pizza?" he said.
Maddaloni, who will attend Bucknell University in the fall, laughs.
"We don't talk about much other than golf," he said.
They'll certainly talk about the first time they played golf as a team.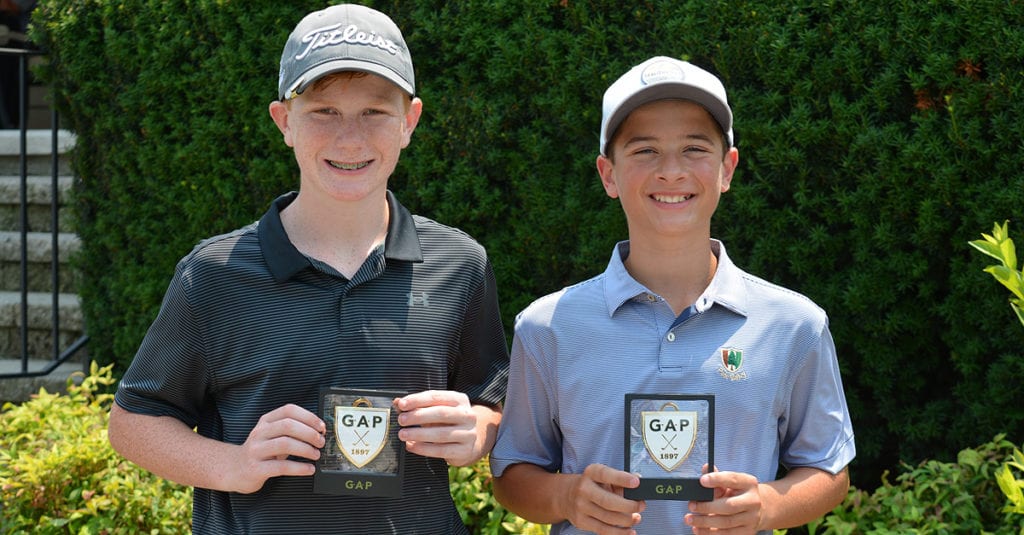 Junior-Junior Division
Like Maddaloni and Pabst, Davis Conaway and Ian Larsen met through the Philadelphia Junior Tour. Like Maddaloni and Pabst, they won Tuesday.
Conaway and Larsen carded a 3-over-par 39 to capture the event's Junior-Junior Division (par 36, 2,926 yards).
"It was fun knowing that even if I made a bad score, I had Davis to back me up. It wasn't like one bad hole was going to kill my whole round," Larsen 12, of Glenmoore, Pa., said.
"I really liked the course. The greens are tough and quick," Conaway, 13, of West Chester, Pa., added.
The Conaway and Larsen cited No. 7 (par 5, 446 yards) as a highlight. The former fired a birdie after reaching the green in two with a 5-hybrid from 180 yards. Conaway is an incoming eight grader at Malvern Prep. Larsen, who hails from Honeybrook Golf Club, is an incoming seventh grader at Downingtown Middle School.
Francis X. Hussey, the tournament's namesake, was a Junior member at Rolling Green. He suffered from congenital heart disease and died in December 1983 while undergoing major heart surgery. He was 13 years old when he died. Francis was a student in the Haverford Township school system, an avid sports fan and an active Junior member at Rolling Green. His courage in the face of his illness was a great inspiration to all who knew him.
GAP
Celebrating Amateur Golf since 1897, GAP, also known as the Golf Association of Philadelphia, is the oldest regional or state golf association in the United States. It serves as the principal ruling body of amateur golf in its region. The Association's 300 Member Clubs and 80,000 individual members are spread across the Eastern half of Pennsylvania and parts of Delaware, Maryland and New Jersey. The GAP's mission is to promote, preserve and protect the game of golf.
| | | |
| --- | --- | --- |
| Results | | |
| Junior Boys' Division | | |
| Name | Club | Score |
| Jake Maddaloni, Billy Pabst | Aronimink Golf Club, Elmhurst Country Club | 64 |
| Anthony Ciconte, Jack Homer | Wilmington Country Club | 65 |
| Matthew Homer, Jeffrey Homer | Wilmington Country Club | 66 |
| Scott Hughes, Christian Matt | Cedarbrook Country Club | 66 |
| Bryce Fazio, Patrick Isztwan | Huntingdon Valley Country Club | 68 |
| Nicklaus Woods, Matthew Pulcinella | Concord Country Club | 69 |
| Kevin Lydon, Charles Feraco | Commonwealth National Golf Club | 70 |
| Colton Yenser, Elijah Ruppert | Golden Oaks Golf Club | 70 |
| Matthew Normand, Nathan Guertler | Laurel Creek Country Club, Merion Golf Club | 71 |
| Matt Tressler, Michael Sewack | Huntsville Golf Club, Glenmaura National Golf Club | 71 |
| Darren Nolan, Luke Corcoran | Cedarbrook Country Club | 72 |
| Jake Micewski, Joshua Murphy | LuLu Country Club, Rolling Green Golf Club | 73 |
| Chase Cristella, Tyler Smith | Laurel Creek Country Club | 73 |
| Ryan McCabe, Jackson Debusschere | The Springhaven Club | 73 |
| Noah Sim, Alex Feraco | Commonwealth National Golf Club | 73 |
| Shane Powelson, Kasim Narinesingh-Smith | Bidermann Golf Club, Radley Run Country Club | 75 |
| Brian Flaherty, Daniel Flaherty | Rolling Green Golf Club | 76 |
| Marshall Kain, Michael Henry | Overbrook Golf Club | 76 |
| Jason DiRita, Christopher DiRita | The Springhaven Club | 77 |
| Charlie Hurchalla, Matthew Hurchalla | The Springhaven Club | 77 |
| Andrew Ranaudo, Jack Pugleise | Chester Valley Golf Club, Applebrook Golf Club | 78 |
| Sam Narducci, Matthew Morris | Tavistock Country Club | 78 |
| Quinn Bookbinder, Jackson Reid | The 1912 Club, Aronimink Golf Club | 79 |
| Joe Ciconte, Tommy Ciconte | Wilmington Country Club, Country Club of Detroit | 80 |
| Joe Kriz, Stephen Rebar | Manufacturers' Golf & Country Club | 80 |
| Joe Scocca, Glenn Foley | Tavistock Country Club, GAP Youth on Course | 82 |
| Emmett Kappesser, Jim Chandler | Foxchase Golf Club | 86 |
| Liam Coll, Finn Coll | Sandy Run Country Club | NS |
| | | |
| Junior-Junior Division | | |
| Name | Club | Score |
| Ian Larsen, Davis Conaway | Honeybrook Golf Club | 39 |
| Paul Reilly, Keller Tannehill | Hidden Creek Golf Club, Atlantic City Country Club | 44 |
| Walker Mannon, Jackson Armstrong | GAP Youth on Course | 47 |
| Luke Herrell, Christopher Sung | Waynesborough Country Club | 48 |
| Christopher Ventura, Kevin Brown | Overbrook Golf Club | 52 |
| Ethan Clouser, Reagan Clouser | Merion Golf Club | 64 |
| | | |
| NS – no show | | |