Chanaud defends, Sadowski and Millichip take Mid-Am divisions
| Scorecards | Mid-Open History | Mid-Amateur history | Photos |
In the last 12 months, if the word "Open" is listed behind any event in Delaware, then there's a chance Michael Chanaud owns it.
Chanaud, a professional out of The Peninsula Golf and Country Club, took the Delaware Open this August at Bear Trap Dunes, where he used to be a member. Last year, he won the GAP/DSGA Mid-Open at Heritage Shores.
Monday at another familiar place, Chanaud completed his Delaware trifecta by claiming his second-consecutive Mid-Open title with a round of 69 in the 34th edition at The Peninsula (par 72, 6,710 yards).
"I was doing the same thing I did at the Delaware Open," Chanaud said. "Hit the driver and go find it. I would rather have a shorter club into the green from the rough than a longer club in from the fairway. I wanted to get wedge in hand as much as possible."
He took the title by four shots over fellow Peninsula professional Jesse Williams and Ed Oliver Golf Club professional Tommy Ellison. Both carded rounds of 73.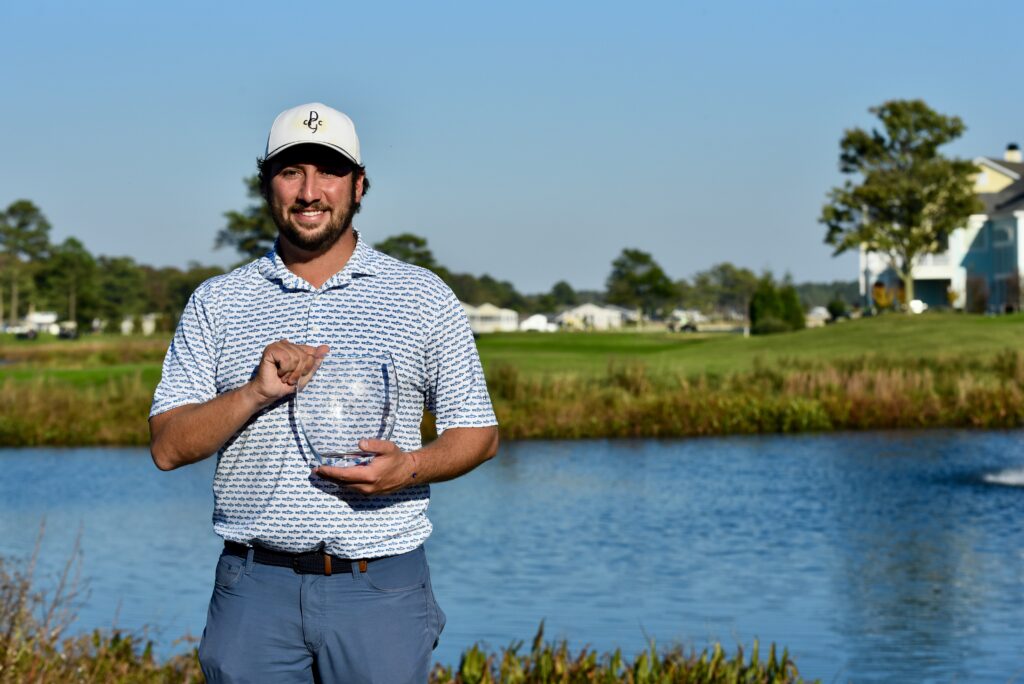 Chanaud's start wasn't great by any means. He was 2 over through five and if it weren't for a chip-in for bogey on No. 5 (par 3, 170 yards), his round very well could have gone another way.
From that point on, Chanaud found his groove and played the remaining 12 holes in 5 under. A testament to committing to his game plan and executing.
"Playing in conditions like this, you want to be making aggressive swings," Chanaud, 29, of Ocean View, Del., said. "My driver is the best club in my bag so I feel like I can succeed on any golf course. It just so happens that I have had a couple home games this year."
He fought back to even after the front nine and then found red figures for the first time with a birdie on No. 13 (par 3, 165 yards) after crisping an 8-iron to five feet.
A 15-footer for birdie on the next (par 4, 425 yards) got him to 2 under. But a casual joke about not having a chance to win subsided with a splendid birdie on the last (par 5, 535 yards). A saucy pitch from greenside to tap-in distance sealed the deal on what has been a banner year for Chanaud.
"It has been a good summer," Chanaud said. "It helped having local knowledge of the courses I won at. Since I stopped trying to be a playing professional I have seen my game improve and there isn't as much pressure. Helps to have the situation that I have knowing I can have fun and play loose."
The victory celebration won't last long when a trip to pick up his son Weston takes priority.
Chanaud is focused on becoming a PGA Professional and is planning on getting started on his bookwork in the near future. All a testament he says to the places in Delaware that have had his back during his chase.
"To be able to win these two events at Bear Trap and The Peninsula, places that feel like home, means the world," Chanaud, a former Bear Trap Dunes member, said. "The Peninsula has done a lot for me and has set me up to succeed. It is a great place."
Mid-Amateur Division
Greg Sadowski's life has taken many paths.
But for close to 34 years, one of the paths didn't include golf.
"I was an avid motocross racer as a kid," Sadowski, 40, of Baltimore, Md., said. "As you can imagine I have had a lot of injuries and a lot of metal in my body. I also was big into fitness as well and ended up winning Mr. Maryland in 2008. My life has been crazy. I have tried all kinds of stuff.
"I got hooked with golf after my divorce. In a sense, golf saved me. I never have had a formal lesson. I just kept swinging. I wanted to find it in the dirt. I wish I would have picked it up earlier in life because maybe I would be further along. I love the game."
Sadowski muscled himself to his first GAP/DSGA title by taking the Mid-Am division of the GAP/DSGA Mid-Open at The Peninsula with a round of 2-under-par 70.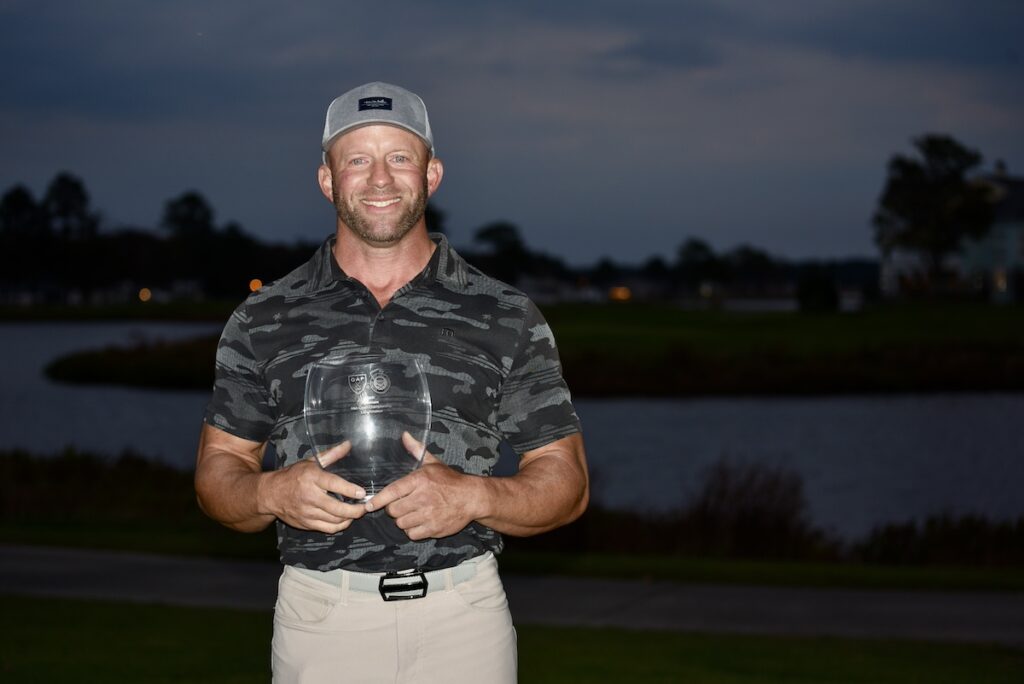 "This course doesn't set up for me at all," Sadowski, of Philadelphia Publinks Golf Association, said. "Since it is a Jack Nicklaus design he wants you to hit a fade off the tee a lot and I like to hit a draw. I had to work my way around the golf course today. I have always trusted my game but since I am immature with golf, the mental game has been tough."
He won by four shots over fellow Philadelphia Publinks member Ryan Richardson.
His mental fortitude remained strong in blustery and fast conditions.
"My game has been somewhat steady," Sadowski said. "I'll play good one day and then struggle the next. I have been working hard on practicing. My game has always been there. My problem is I lose focus on a couple of holes."
Sadowski made a total of three birdies on the day highlighted by a 25-footer on No. 17 (par 4, 386 yards). His lone blemish was a loss of focus on a 2-footer for par on No. 13 (par 3, 170 yards).
But this isn't Sadowski's first foray into the winner's circle in golf. He's won the York Amateur and the University of Maryland Amateur.
Sadowski's many sports and paths he took helped his creativity. He sees golf in ways that many others don't. The fruits of his efforts are starting to show.
"Getting an understanding of how my hands work in certain golf shots has helped me a lot," Sadowski said. "I am pleased with how I was able to remain in it today and stay focused out there. I am really happy to win."
Women's Division
Honeybrook Golf Club's Barbora Millichip continues to add the crystal hardware to her mantle.
After winning the Women's Mid-Amateur division of the GAP Women's Championship at Riverton Country Club in June, Millichip found some confidence.
Monday at The Peninsula (par 72, 5,509 yards), Millichip claimed the GAP/DSGA Women's Mid-Amateur by two shots after a round of 81.
Wilmington Country Club's Nicoll Keeney finished second with an 83.
"It has been a great season even though my score wasn't the best today," Millichip, 45, of West Caln, Pa., said. "I was fighting the field and a tough golf course. I am pretty happy about it."
Millichip's highlight of the round was a birdie on No. 6 (par 4, 287 yards). After hitting a gap wedge from 112 yards to 15 feet she rolled in the putt.
Just a couple days ago, Milichip put on a ball-striking clinic at Honeybrook. She hit all 18 greens in regulation but struggled on the greens. But her newfound mental attitude has helped her reach the potential she knows she has.
"What this year has taught me is to accept the errors and mistakes that come with golf," Millichip said. "I have a tendency to overthink and dwell on bad mistakes. I try to focus on staying in the moment."
GAP
Celebrating Amateur Golf since 1897, GAP, also known as the Golf Association of Philadelphia, is the oldest regional or state golf association in the United States. It serves as the principal ruling body of amateur golf in its region. The Association's 340 Member Clubs and 100,000 individual members are spread across Pennsylvania, Delaware, New Jersey and Maryland. The GAP's mission is to promote, preserve and protect the game of golf.
| | |
| --- | --- |
| Results | |
| Mid-Open Division | |
| Name, club | Score |
| Michael Chanaud, The Peninsula Golf & Country Club | 69 |
| Jesse Williams, The Peninsula Golf & Country Club | 73 |
| Tommy Ellison, Ed Oliver Golf Club | 73 |
| Eric Onesi, USGA/GAP GC | 74 |
| Greyson Rossi, Heritage Shores | 74 |
| Chris Gray, Rehoboth Beach Country Club | 75 |
| Brian Bryson, DuPont Country Club | 78 |
| Tyler Spielberger, Wild Quail Golf & Country Club | 78 |
| Will Scarborough, The Peninsula Golf & Country Club | 78 |
| Wayne Defrancesco, The Peninsula Golf & Country Club | 83 |
| Brooks Massey, Heritage Shores | 83 |
| Michael Rushin, Bear Trap Dunes Golf Club | 83 |
| Tom Eisenacher, Frog Hollow Golf Club | 84 |
| Josh Covey, Heritage Shores | 84 |
| George Horner, Jr., St. Anne's Golf Links | 85 |
| Andrew Hewitt, Cripple Creek Golf & Country Club | 88 |
| Eric Willey, Kings Creek Country Club | NC |
| Mid-Amateur Division | Score |
| (a) Greg Sadowski, Philadelphia Publinks Golf Association | 70 |
| (a) Ryan Richardson, Philadelphia Publinks Golf Association | 74 |
| (a) Josh Anderson, LedgeRock Golf Club | 76 |
| (a) Chris Esbenshade, Bent Creek Country Club | 77 |
| (a) Ryan Gracey, Hartefeld National | 78 |
| (a) Nicholas Vecellio, USGA/GAP GC | 78 |
| (a) William Howard, Applebrook Golf Club | 78 |
| (a) Joe Garner, DuPont Country Club | 79 |
| (a) Greg Wolfe, St. Anne's Golf Links | 79 |
| (a) Mark Wachter, DuPont Country Club | 79 |
| (a) Rij Patel, Country Club of York | 79 |
| (a) Zachary Falone, Running Deer Golf Club | 80 |
| (a) Michael Polise, The Peninsula Golf & Country Club | 82 |
| (a) Jason Henzes, DuPont Country Club | 82 |
| (a) Jeffrey Melvin, Maple Dale Country Club | 82 |
| (a) Timothy Yoder, Hooper's Landing Golf Course | 83 |
| (a) Andrew MacLean, Bayside Resort Golf Club | 83 |
| (a) Justin Howe, Applecross Country Club | 83 |
| (a) Bobby Proietto, LedgeRock Golf Club | 83 |
| (a) Wayne Weaver, Frog Hollow Golf Club | 84 |
| (a) Ken Merritt, DuPont Country Club | 84 |
| (a) Don Uhrig, LedgeRock Golf Club | 84 |
| (a) Andrew Hess, Odessa National Golf Club | 85 |
| (a) Len Gratteri, Frog Hollow Golf Club | 85 |
| (a) Travis Ralph, Heritage Shores | 85 |
| (a) Jerry Newell, Fieldstone Golf Club | 85 |
| (a) James Hunt, DuPont Country Club | 86 |
| (a) Christian Stiles, DuPont Country Club | 86 |
| (a) Brian Sokolowski, Mercer Oaks Golf Course | 86 |
| (a) Jason Hurlock, Frog Hollow Golf Club | 86 |
| (a) Franklin Pyle, Hartefeld National | 86 |
| (a) Scott Cahayla, DuPont Country Club | 87 |
| (a) Damion Peters, Frog Hollow Golf Club | 87 |
| (a) Joe Arrante, Newark Country Club | 89 |
| (a) Jon Thomas, White Clay Creek Country Club | 89 |
| (a) Ed Aikin, USGA/GAP GC | 89 |
| (a) John Edmiston, DuPont Country Club | 90 |
| (a) Patrick O'Brien, North Hills Country Club | 90 |
| (a) Mark Meighan, Penn Oaks Golf Club | 90 |
| (a) Ken Delaney, Deerfield Golf Club | 90 |
| (a) Alan Wagenschnur, Newark Country Club | 90 |
| (a) Dario Priolo, Talamore Country Club | 91 |
| (a) Israel Eleazar, Frog Hollow Golf Club | 92 |
| (a) Eric Shenyo, White Clay Creek Country Club | 92 |
| (a) Eric Pinchak, Makefield Highlands Golf Club | 92 |
| (a) Ryan DeAscanis, Deerfield Golf Club | 93 |
| (a) Kevin Byrne, USGA/GAP GC | 93 |
| (a) Mark Yoder, Heritage Shores | 93 |
| (a) Fran Migliocco, DuPont Country Club | 93 |
| (a) Chris Lowe, Heritage Shores | 93 |
| (a) Ryan Dill, Newark Country Club | 94 |
| (a) Nicholas Lysik, USGA/GAP GC | 94 |
| (a) Andrew Howard, Cripple Creek Golf & Country Club | 95 |
| (a) Jeffrey Amrhein, Briarwood Golf Club | 95 |
| (a) Jeffry Schott, Rock Manor Golf Club | 95 |
| (a) Andy Lopatin, USGA/GAP GC | 95 |
| (a) Joseph Spitaleri, Ed Oliver Golf Club | 95 |
| (a) Michael Poczynek, Odessa National Golf Club | 96 |
| (a) Karl Baptiste, USGA/GAP GC | 96 |
| (a) Thomas Strusowski, Ed Oliver Golf Club | 96 |
| (a) Joseph Russo, Odessa National Golf Club | 96 |
| (a) Dylan Chessher, Wild Quail Golf & Country Club | 96 |
| (a) Peter Lefebvre, Odessa National Golf Club | 97 |
| (a) Ken Beard, Ed Oliver Golf Club | 98 |
| (a) Thomas Gray, Frog Hollow Golf Club | 99 |
| (a) Kevin Fetters, DuPont Country Club | 100 |
| (a) Rob Ferguson, DuPont Country Club | 100 |
| (a) Zachary Dilworth, Ed Oliver Golf Club | 100 |
| (a) Tyler Joachimowski, DuPont Country Club | 101 |
| (a) Tyler Dennis, DuPont Country Club | 102 |
| (a) Phillip Yang, USGA/GAP GC | 104 |
| (a) Palmer Hossler, Delcastle Golf Club | 107 |
| (a) Ken Jeanes, Odessa National Golf Club | 109 |
| (a) Pete Duricek, Ed Oliver Golf Club | 113 |
| (a) Brian Hughey, Cripple Creek Golf & Country Club | 119 |
| (a) Brian Distefano, Deerfield Golf Club | NC |
| (a) Andrew Dennis, Frog Hollow Golf Club | DQ |
| (a) Christopher Towers, Frog Hollow Golf Club | DQ |
| (a) Ric Johnson, Hartefeld National | DQ |
| (a) Mark Doughty, Fieldstone Golf Club | NS |
| (a) Ben Cutler, Philadelphia Cricket Club | NS |
| Women's Mid-Amateur Division | Score |
| (a) Barbora Millichip, Honeybrook Golf Club | 81 |
| (a) Nicoll Keeney, Wilmington Country Club | 83 |
| (a) Jung Kim, Talamore Country Club | 88 |
| (a) Danielle Greene, Foxchase Golf Club | 93 |
| (a) Alexandra Miller, Plantation Lakes Golf & Country Club | 100 |
| (a) Muffy McCabe, French Creek Golf Club | 100 |
| (a) Amy Shenyo, White Clay Creek Country Club | 114 |
| (a) Jenny Lee, Talamore Country Club | DQ |
| (a) Sukiy Orchinik, Talamore Country Club | DQ |
| (a) – denotes amateur | |
| NC – no card | |
| NS – no show | |
| DQ – disqualified | |