Olde Homestead's Hudson wins in Senior debut
YARDLEY, Pa. — A rookie season on the Senior circuit awaited an anxious Jeff Hudson once the calendar flipped to 2020.
| Scoring portal | History | Photo gallery |
"This was my year," he thought.
Then the COVID-19 pandemic hit. Hudson lost his job at Skee-ball, where he worked for 30-plus years. He lost competitive golf opportunities when the sport shutdown in early spring.
But Hudson didn't lose his enthusiasm for the game, or his ability to compete, for that matter. The Olde Homestead Golf Club member carded a 3-under-par 69 to win the 15th Frank H. Chapman Memorial Cup (Gross) at Yardley Country Club (par 72, 6,264 yards) Wednesday.
Little Mill Country Club's Adam Armagost finished second with a score of 70.
"I'm 55 years old. You're in that limbo before then," Hudson, of Center Valley, Pa., said. "This is a new lease on competitive golf. I'm not long enough to play with the kids, even at the mid-amateur level. But I was looking forward to turning 55 so that I could come up to a golf course that I could handle. This one really played to my advantage."
Yardley indeed catered to his golfing prowess. Hudson, a Houston, Texas native, "hit the ball straight" and registered 17 greens in regulation. Three birdies, zero bogeys.
On No. 8 (par 4, 352 yards), Hudson hit a 54-degree wedge 95 yards to three feet. He carded back-to-back birdies on Nos. 10 (par 5, 550 yards) and 11 (par 4, 385 yards): a wedge 120 yards to four feet on the first, another wedge, this time from 127 yards, to a foot on the latter.
Hudson stood a shot clear of clubhouse leader Armagost when lightning in the area suspended play at 1:05 p.m. He, along with the remaining Chapman competitors, returned to the course at 3 p.m.
Upon reentry, Hudson faced the 15th hole (par 3, 146 yards). He proceeded to pull an 8-iron into the back bunker. Things didn't get easier once his extrication attempt settled 10 feet from the flagstick. He converted the testy par putt to remain a stroke clear.
Another knee-knocker on No. 18 (par 4, 308 yards) threatened Hudson's hopes. His gap wedge from 104 yards nearly spun off the green entirely. Hudson's ensuing birdie attempt stopped a good six feet short of its intended destination. The golf ball tumbled into the cup on its last revolution for a critical 4.
"Everybody is struggling. This year has been really hard on me and my family. It's exciting to shoot that type of number today."

Jeff Hudson
A minor fist pump, a lengthy exhale and a hearty congratulations from playing partner and clubmate David Blichar followed.
"This golf course fits my game," Hudson, who was inducted into the Lehigh Valley Golf Hall of Fame last year, said. "You have to place the ball off the tee. It's not always a driver. You have to keep the ball below the hole. And I did that. I was able to control my shots into the green really well. I really didn't have any stressful putts until the last one because it meant so much."
Hudson played collegiate golf at Stephen F. Austin State University. He moved to the area in 1992 and established success within the Golf Association of the Lehigh Valley. Hudson is a former Lehigh Valley Amateur (2004) and Mid-Amateur (2014) champion, to name a couple credits.
Hudson, who began a new career as general manager of Wedgewood Golf Course this year, looks forward to joining the GAP Senior fray. A victory in his debut is a great first impression.
"It's been a crazy year for everybody. Everybody is struggling," Hudson said. "This year has been really hard on me and my family. It's exciting to shoot that type of number today, to play a bogey-free round. It feels good."
Armagost, the only other player to finish in red figures, nearly matched Hudson's bogey-free effort. A 9-iron that spun off No. 10 green caused his lone miscue.
"Staying patient [was key] because I was very frustrated out there early on. I felt like I should have been at 4 under," Armagost, 57, of National Park, N.J., said. "The greens look easy, but they're not. I think a lot of guys just get frustrated out here. I played here in a Patterson Cup Qualifier [two years ago]. I remembered that I liked the place."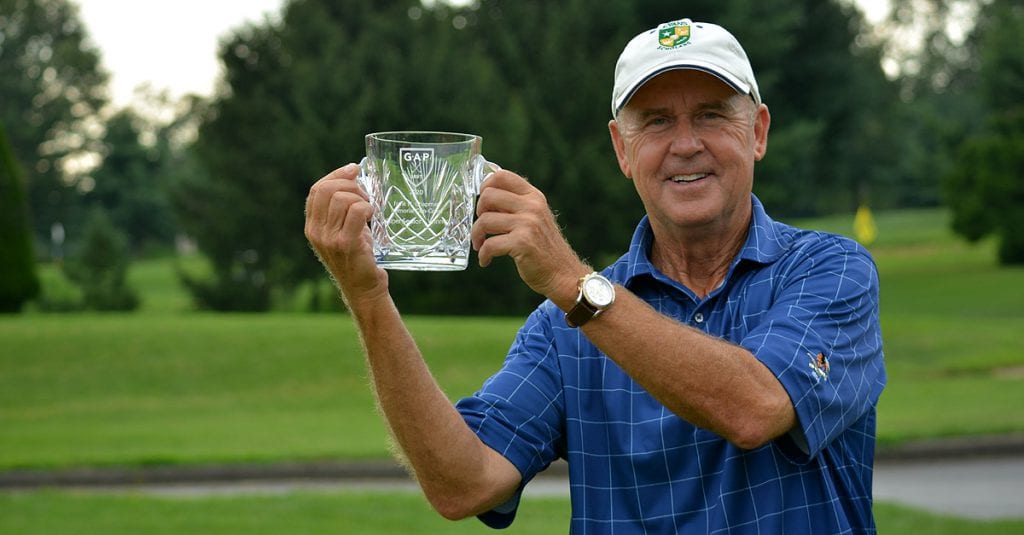 Whitemarsh Valley's Polizzi takes Super-Senior title in playoff
Whitemarsh Valley Country Club's Frank Polizzi and Honeybrook Golf Club's Rick Umani finished tied atop the Super-Senior Division (par 72, 6,024 yards) at 2-over-par 74.
In a match of cards, Polizzi prevailed by a stroke. GAP used the USGA-recommended tiebreaking method, which begins with back-nine total. Polizzi carded a 38, Umani 39.
"It's a thrill to win any GAP event."

Frank Polizzi
"I putted well and was in position to birdie quite a few holes," Polizzi, 74, of Plymouth Meeting, Pa., said. "I've been playing a lot of golf. My game has come around a little bit lately, so I'm very pleased. GAP is such a great organization. It's a thrill to win any GAP event."
Polizzi, who captured the Super-Senior crown in the 2015 Senior Amateur Championship, made the turn atop the leaderboard at even par. Then back-to-back bogeys — a "from tee to tree" experience on No. 10 (par 5, 509 yards), and a three-putt on No. 11 (par 4, 370 yards) — brought his name into congestion.
The 17th hole (par 3, 180 yards), which nearly played a full stroke over par on this day, ultimately decided the Super-Senior outcome. Umani walked away with a bogey after missing the green right with a rescue. Polizzi, conversely, made a par that "felt almost magical." His 3-wood landed 12 feet above the hole location — 24 paces to the upper shelf.
"I hit [the birdie putt] exactly where I wanted to, and it didn't break. It was a misread," Polizzi, a two-time Brewer Cup runner-up (2012, 2016), said. "I just felt that very few people are going to par No. 17. It's such a hard hole. I think that was the key to winning the tournament."
Turned out it was.
"I was surprised. I haven't played here in 15, 20 years. I didn't remember the course at all," Polizzi said. "I thought the golf course was in wonderful condition. Complements to the staff, the superintendent and everybody involved."
Umani echoed praise for Yardley. He first frequented the course as a member of the William Tennant High School golf team. Wednesday rekindled fond memories and left a lasting impression.
"The golf course is in fantastic shape. The greens were spectacular. It's the best I've ever seen them, and I've probably played here 50-70 times," Umani, 67, of Glen Mills, Pa., said. "Do not get above the hole because they are scary. I managed to do a very good job of staying underneath the hole or level with the hole."
Frank H. Chapman, a Whitemarsh Valley Country Club member, served as the Association's secretary-treasurer for 23 years. He died on June 7, 1955 at the age of 88. The Gross tournament is held in his honor.
GAP
Celebrating Amateur Golf since 1897, GAP, also known as the Golf Association of Philadelphia, is the oldest regional or state golf association in the United States. It serves as the principal ruling body of amateur golf in its region. The Association's 288 Member Clubs and 75,000 individual members are spread across the Eastern half of Pennsylvania and parts of New Jersey and Delaware. The GAP's mission is to promote, preserve and protect the game of golf.
| | |
| --- | --- |
| Senior Division | |
| Name, club | Score |
| Jeff Hudson, Olde Homestead Golf Club | 69 |
| Adam Armagost, Little Mill Country Club | 70 |
| Joseph Russo, Running Deer Golf Club | 72 |
| Jeffrey Allen, Loch Nairn Golf Club | 73 |
| Christopher Clauson, LuLu Country Club | 73 |
| James Gavaghan, Commonwealth National Golf Club | 73 |
| Michael Vassil, Country Club of Scranton | 73 |
| David Blichar, Olde Homestead Golf Club | 74 |
| Glenn Smeraglio, LuLu Country Club | 74 |
| Joe Coulson, Wedgewood Golf Course | 75 |
| Gregory Day, Old York Road Country Club | 75 |
| Joe Roeder, Little Mill Country Club | 75 |
| Ken Bolcavage, Elkview Country Club | 76 |
| Edward Erickson, Makefield Highlands Golf Club | 76 |
| Stephen Hill, Hershey Country Club | 76 |
| Oscar Mestre, Overbrook Golf Club | 76 |
| Tom Soares, Lehigh Country Club | 76 |
| Bill Charpek, Merion Golf Club | 77 |
| Bob Gill, Fox Hill Country Club | 77 |
| Scott Carney, Commonwealth National Golf Club | 78 |
| Brian Corbett, Country Club of Scranton | 78 |
| Mark Cubberley, Mercer Oaks Golf Course | 78 |
| Tom Hyland, Little Mill Country Club | 78 |
| Michael Lewers, Aronimink Golf Club | 78 |
| Randy Mitchell, Wilmington Country Club | 78 |
| Michael Quinn, Philadelphia Publinks Golf Association | 78 |
| Paul Rogowicz, Yardley Country Club | 78 |
| Gary Smith, Pine Valley Golf Club | 78 |
| Michael Tash, The Shore Club | 78 |
| Byron Whitman, Berkshire Country Club | 78 |
| Bob Beck, Lehigh Country Club | 79 |
| John Conway, Little Mill Country Club | 79 |
| Douglas Jones, Little Mill Country Club | 79 |
| Patrick O'Brien, North Hills Country Club | 79 |
| Chet Walsh, Philadelphia Country Club | 79 |
| Gregory Buliga, Yardley Country Club | 80 |
| John Gosselin, Aronimink Golf Club | 80 |
| Mark Kosko, Greate Bay Country Club | 80 |
| John Nottage, Commonwealth National Golf Club | 80 |
| Carlos Ochoa, Little Mill Country Club | 80 |
| Tom Finn, DuPont Country Club | 81 |
| Edward Kelly, Old York Road Country Club | 81 |
| Matthew Kohn, White Clay Creek Country Club | 81 |
| Brian Rothaus, Philmont Country Club | 81 |
| Ken Silverwood, Chester Valley Golf Club | 81 |
| Greg Blackburn, Honeybrook Golf Club | 82 |
| Frank Corrado, LuLu Country Club | 82 |
| Doug Fedoryshyn, Concord Country Club | 82 |
| Brian Dorey, Metedeconk National Golf Club | 83 |
| Ed Kahn, Little Mill Country Club | 83 |
| Eric Meyer, Whitford Country Club | 83 |
| Don Uhrig, LedgeRock Golf Club | 85 |
| Steve Walczak, Wilmington Country Club | 85 |
| David West, Wyncote Golf Club | 85 |
| Jim Dalzell, Galloway National Golf Club | 87 |
| Denis Darragh, Olde Homestead Golf Club | 88 |
| Super-Senior Division | |
| Name, club | Score |
| *Frank Polizzi, Whitemarsh Valley Country Club | 74 |
| Rick Umani, Honeybrook Golf Club | 74 |
| Tom Bartolacci, LuLu Country Club | 76 |
| Tom DiCinti, Philadelphia Publinks Golf Association | 76 |
| Don Donatoni, White Manor Country Club | 76 |
| Buck Jones, Philadelphia Publinks Golf Association | 76 |
| Wayne Bartolacci, LuLu Country Club | 77 |
| Dan Burton, Lancaster Country Club | 77 |
| Robin McCool, Saucon Valley Country Club | 77 |
| John Vergari, Tavistock Country Club | 77 |
| Bob Billings, Rolling Green Golf Club | 78 |
| Tom Borsello, Hartefeld National | 78 |
| Vince Scarpetta, Jr., Nittany Country Club | 78 |
| John Gonsior, The Bucks Club | 79 |
| Mike Owsik, Cobbs Creek Golf Club | 80 |
| Bob Majczan, Lookaway Golf Club | 81 |
| Robert Dietrich, Loch Nairn Golf Club | 82 |
| David Jacobson, Medford Village Country Club | 82 |
| Steve Meyer, Rolling Green Golf Club | 82 |
| Chuck Dowds, Applebrook Golf Club | 84 |
| Mike Moser, Kennett Square Golf & Country Club | 84 |
| Joe Cordaro, Saucon Valley Country Club | 86 |
| Jim Prendergast, Philadelphia Publinks Golf Association | 92 |
| * — won in scorecard playoff | |