Senior, Super-Senior semifinals set at Blue Bell
BLUE BELL, Pa. — A rematch six years in the making on one half. A Senior Division rookie meets an upriser conquering Brewer Cup kings on the other.
| Scoring portal | History | Day One recap | Photo gallery |
Yum. The 15th Brewer Cup semifinals at Blue Bell Country Club (par 71, 6,442 yards) taste as juicy as the burgers served at Arnie's (the host's restaurant).
Lehigh Country Club's Bob Beck and Lancaster Country Club's Ken Phillips (pictured above), who clashed in the Brewer semifinals in 2016 at Overbrook Golf Club, posted two victories apiece Tuesday to secure a renewal. LuLu Country Club's Mike Moffat, making his Brewer Cup debut, dispatched two-time Senior Player of the Year Oscar Mestre (2019, 2021) of Overbrook in the Round of 16 before defeating Concord Country Club's Doug Fedoryshyn in the quarterfinals, 6&5.
Then there's Joe Roeder, a humble man who left Blue Bell yesterday deeming a match play berth as farfetched as a date with Kim Kardashian. Roeder shocked the Brewer spectrum by ousting two-time defending champion Jeff Frazier of Carlisle Country Club, 1-up, in the Round of 16. The heroics didn't end there. Roeder then edged Fieldstone Golf Club's Rand Mendez, the Brewer runner-up in 2019, by the same 1-up margin in the quarterfinals.
Beck and Phillips: Part II begins at 7:30 a.m. tomorrow. The Moffat/Roeder match will follow at 7:37 a.m.
"He got me pretty good the last time, and then he won [the Brewer Cup]," Phillips said of Beck. "We're good friends. We've played a lot of golf together. He's got a 30-minute drive from here. I've got an hour-and-a-half drive."
"It felt like four years ago," a reserved Beck added. "It's unexpected. I put a lot of work into my game the last three years, trying to make changes. It's been hard to take it to the golf course. I played alright in the morning. I played much better in the afternoon. It feels good to compete. That's been my goal."
Beck, who fell to Lancaster's John Barry in the Brewer semifinals a year ago, works with Paul Viola, an instructor based at Bethlehem Golf Club. The two continue to shape Beck's swing mechanics. The labors continue to bear fruit at Blue Bell.
"He works with me around the clock. We're friends," Beck, 62, of Allentown, Pa., said. "What he's done to try and help me and my wife Jackie is mind-boggling."
In his quarterfinal victory over LuLu's Mark Czerniakowski, Beck rattled off pars and hole victories like clockwork. Feeling in control throughout the duration, he moved to 3-up with a birdie on No. 12 (par 3, 151 yards), where he hit an 8-iron to 18 feet. A routine par on the next hole (par 4, 380 yards) represented the proverbial writing on the wall.
"Anybody can beat anybody in match play," Beck, who also gained match play in the Brewer Cup in 2018-19, said. "It keeps getting tougher and tougher. The bar keeps going up. "
The Brewer Cup bar appeared to suppress Phillips in his duel with Dougherty. After taking the match's first two holes, he lost the next five. Phillips, like an American Ninja Warrior contestant, scaled the ominous warped wall with birdies on Nos. 17 (par 5, 487 yards) and 18 (par 4, 391 yards). On the former, his 4-wood from 232 yards caught the front-right bunker. He splashed out to four feet. On No. 18, Phillips knocked a 9-iron from 147 yards to 27 feet. He conceded Dougherty's 4 after the latter's chip from a mound burnt the left edge. Phillips then extended his Brewer life.
"I made a stupid putt. I knew I had to make it. It's just dumb luck," Phillips, 63, of Lancaster, Pa., said. "I had a really good read, and I thought I had the pace halfway there. These greens are so good and so difficult. I had no idea what it would do. it could've snapped at the hole, but it went in."
Phillips, who serves as GAP Vice President, assured a Beck rematch with a two-putt par on No. 1 (par 4, 332 yards), the first extra hole. Dougherty's lob wedge landed in the middle of the green, but released into the back rough. He failed to get up-and-down. That juxtaposition, turns out, frames the day Phillips experienced. Down against Dougherty. Now up for rematch against Beck.
"I'll hit first every shot. I'll watch him bomb it," Phillips, who also reached the Brewer semis in 2018, said. "Hopefully we'll have a good match. It will be nice if one of us gets to the Final. I'm very fortunate."
On the other side of the bracket, Moffat is the last rookie standing.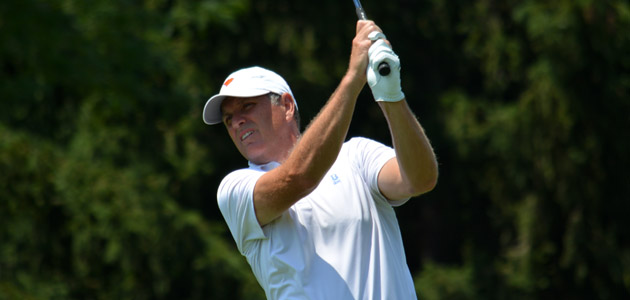 "It's really cool because I grew up caddying at Huntingdon Valley (Country Club), and I caddied a lot for [tournament namesake] Gordon Brewer as a kid. Obviously, I have the utmost respect for him, his playing record and the way he conducted himself. I feel a little bit tied in," Moffat, 55, of Horsham, Pa. "This is a great tournament. The course is in great shape. I think it's a great match play course."
And one that's clearly fit for Moffat's fiery play. He moved to 3-up against Fedoryshyn after a conceded 2 on No. 10 (par 3, 172 yards), where he floated a 7-iron to 15 feet above the hole location. Fedoryshyn gave the nod once his par attempt ran four feet past the cup. Moffat walked off No. 11 (par 4, 444 yards) with a bogey to Fedoryshyn's double bogey. He made a 30-footer for birdie on No. 12 after a crisp 9-iron.
Moffat isn't a GAP newcomer. His name populated Major tee sheets throughout the 1990s and 2000s. Of note, Moffat earned medalist honors in the 1996 Amateur Championship. He knows the circuit. Now he's forging a presence in another portion of it.
"I practiced pretty hard over the winter. I was trying to get ready. I had nothing to show at the beginning of the year for all of the hard work," Moffat said. "Just because you didn't play well in one or two events, there's more down the line. Keep doing what you're doing. It was there. It just wasn't showing up.
"It's always good to be back anywhere in a GAP event. They're great. They're well run. Everybody respects them. It's good competition. I'm very happy to be here, but I'm not done yet. There's a lot of golf left."
Roeder is squeezing every ounce of golf out of Blue Bell. First, he turned back Frazier with a birdie on No. 18, where he lifted an 8-iron from 147 yards to six feet. In the quarterfinals against Mendez, he again needed late magic. He squared matters with a birdie on No. 17. A sand wedge 50 yards to five feet sealed the deal there.
Next came Roeder's "worst drive of the day." It left the Merion Golf Club member with a tedious lie in the rough — 193 yards from the hole location.
"I just punched down on a 5-iron. Tom Hyland taught me that," Roeder, 61, of Marlton, N.J., said. "It must have landed 50 yards short of the green and just kept running. There's no way I could've hit that high with the lie I had in the rough. I knew if I hit it well, then I could make it on the green. I didn't expect it to be three feet away. That was a bonus. I was trying to get it on the green because Rand was in great shape in the fairway. I kind of just got lucky that it ran out the way it did."
Roeder made his three-footer. Cue an exhale and a handshake.
"I'm excited. I'm kind of in shock because I've been playing so bad. I've had moments. It's starting to come around," Roeder said. "[The match status] is always going through my mind. Trust me, I'm grinding."
The lengthy linksman put little faith in his Brewer prospects 24 hours ago. He and Beck, coincidentally, played in the day's first group. Roeder carded a 4-over-par 75 to make the cut by a stroke.
"When I left, I thought I wasn't even going to make the bracket. There are so many good players here," Roeder said. "Then I went home and started to see the scores. Then as it got closer to everybody being done, it looked like I could be in a playoff, so I came back."
Now he's the comeback kid. And he'll come back for seconds at Arnie's tomorrow.
Round of 16
Down goes Frazier.
"I deserved to lose. I played very poorly," Frazier, 57, of Mechanicsburg, Pa., said. "I'm just worn out. I played in [the Charles Stringfellow Four-Ball Tournament] Friday, Saturday and Sunday. I almost threw up after the 12th hole. My insides are just raw. It would've been a struggle playing another round."
Frazier stood 2-down before burying birdies on Blue Bell's back-nine par 5s. On No. 14 (517 yards), his hybrid, a "gamble" off a downslope in the rough, came up 10 yards short of the putting surface. He chipped to four feet and cleaned up the birdie putt. After missing the 17th (487 yards) green with a hybrid, Frazier pitched to 18 feet and converted the ensuing putt. Both he and Roeder split the 18th fairway. Roeder hit an 8-iron 147 yards to six feet. In between wedges, Frazier choose an abbreviated pitching wedge from 126 yards. It stopped 25 feet from the hole location. Frazier missed. Roeder didn't.
"He made a nice birdie on No. 18. He deserved to win," Frazier, who won the Frank H. Chapman Memorial Cup a month ago, said. "It was not my best. I don't think it was his best, but his bad was better than my bad."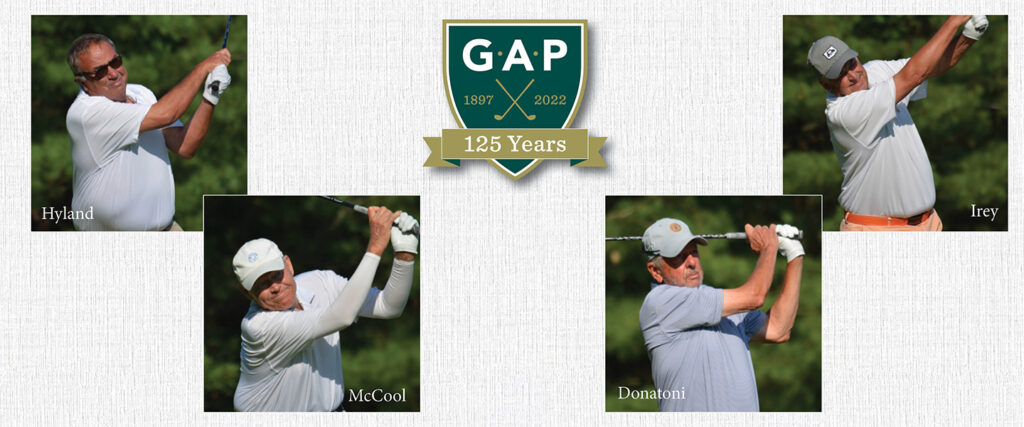 Though the 15th Brewer Cup's Super-Senior semifinals at Blue Bell Country Club (par 71, 5,991 yards) will not feature old and young, they will host players familiar and unfamiliar to the tournament's past champions list.
Tomorrow's Super Senior-Semifinalists will feature Don Donatoni of White Manor Country Club, who will face off against Little Mill Country Club's Tom Hyland at 7:45 a.m.. Roc Irey of LuLu Country Club will oppose Robin McCool, a Saucon Valley Country Club member at 7:52 a.m..
Both Donatoni and McCool have extensive resumes in this event. Combined, they hold nine Brewer Cup titles. Hyland and Irey are less familiar with the Brewer Cup winners' circle. In 2009 Irey was runner-up to champion Michael Dougherty. For Hyland, this is his rookie year in the Super Senior flight of the event.
"I have been fortunate enough to win the Brewer Cup five times," Donatoni, who won in 2013-15, 2017-18, said. "I know what it takes to win these. It's extremely difficult considering the caliber of talent that we have in the Golf Association [of Philadelphia]."
"[To win] would be wonderful, I always admire Gordon Brewer," said Hyland. "It would be nice to win something with his name on it, but there's a long way to go and I'm going to have to step up my game quite a bit and hope to get lucky."
In the quarterfinals Tuesday, Irey defeated Jeffrey Allen of Wild Quail Golf & Country Club, 2&1. McCool beat Country Club of Scranton's Michael Vassil, 3&2. Donatoni bested Carlisle Country Club's Mike Farlling, 6&4. Hyland advanced past Robert Dietrich of Philadelphia Publinks Golf Association in 21 holes.
Donatoni dominated his opponent the entire match. Burying a downhill left-to-right slider for par on No. 4 (par 4, 415 yards) gave Donatoni the momentum to keep his foot on the gas for the remainder of the match. In the entirety of the match, Donatoni conceded one hole.
"My driving was particularly sound," said Donatoni 74, of West Chester, Pa.. "I don't think I missed a fairway all day. Whether I hit driver, or 3-wood, or 5-wood off the tee, I was always in good shape coming into greens. It's not like I had to hack it out of the rough or anything, so I think that was the strongest part of my game."
Hyland's match was a little different.
While Hyland was able to hold the lead for most of the match, Dietrich didn't give up and battled back during the final holes in regulation. Finding the water on holes Nos. 14 (par 5, 490 yards) and 16 (par 3, 166 yards) caused Hyland's lead to slip away. To extend the match into extra holes, Dietrich bested Hyland with pars on holes 15 (par 4, 393 yards) and 16 (par 3, 166 yards). A two-putt par for Hyland on the first playoff hole (No. 1, par 4, 323 yards) was matched by Dietrich's up-and-down from behind the green. The two shared bogeys on No. 2 (par 4, 385 yards) to send the match into a third deciding hole. On No. 3 (par 3, 157 yards), Dietrich found the water on his tee shot, forcing a visit to the drop area. Hyland found the green in regulation while Dietrich's third shot found the sloped rough to the right of the green. From there, Dietrich conceded and fell to Hyland in 21 holes.
"It was a good match, [Dietrich's] a real gentleman [and] a tough competitor," said the 65-year-old Marlton, N.J. resident. "He definitely missed a lot of shots, but he was very good around the greens. He really made some nice up and downs."
Donatoni and Hyland coincidentally played alongside one another in Monday's Stroke Play Qualifying. The two will now share a cart for a spot in the championship match.
"I just played with [Donatoni] yesterday, he's a nice guy and a legendary player," said Hyland. "You know it will be fun, I just hope to play well and give him a good match."
"[Hyland's] a great ball striker," said Donatoni. "If I have to face him, it is going to be a very difficult match."
Will Donatoni add to his already impressive trophy case, or will underdog, Hyland prevail?
The Brewer Cup is named in honor of O. Gordon Brewer, Jr., the former president of Pine Valley Golf Club. He is a two-time U.S. Senior Amateur Champion and veteran of 42 USGA Championships. He's captured two Golf Association of Philadelphia Amateur Championship titles (1967, 1976), a GAP Senior Amateur Championship crown (1997) and a Senior Player of the Year (1997) as well as countless invitational titles. He is a recipient of the USGA's Bob Jones Award and a member of the GAP Hall of Fame.
GAP
Celebrating Amateur Golf since 1897, GAP, also known as the Golf Association of Philadelphia, is the oldest regional or state golf association in the United States. It serves as the principal ruling body of amateur golf in its region. The Association's 330 Member Clubs and 90,000 individual members are spread across Pennsylvania, Delaware, New Jersey and Maryland. The GAP's mission is to promote, preserve and protect the game of golf.
Senior Division
Quarterfinals
8. Ken Phillips, Lancaster CC d. 1. G. Patrick Dougherty, Philadelphia Cricket Club, 19 holes
4. Bob Beck, Lehigh CC d. 12. Mark Czerniakowski, LuLu CC, 5&3
7. Mike Moffat, LuLu CC d. 15. Doug Fedoryshyn, Concord CC, 6&5
14. Joe Roeder, Merion GC d. 6. Rand Mendez, Fieldstone GC, 1-up
Round of 16
1. G. Patrick Dougherty, Philadelphia Cricket Club d. 16. Michael Quinn, Philadelphia Publinks GA, 7&6
8. Ken Phillips, Lancaster CC d. 9. Fred Greene, Lehigh CC, 6&5
4. Bob Beck, Lehigh CC d. 13. John Alterman, Commonwealth National GC, 2&1
12. Mark Czerniakowski, LuLu CC d. 5. Mark Walkush, Sunnybrook GC, 5&4'
15. Doug Fedoryshyn, Concord CC d. 2. Dan Brown, Manada GC, 1-up
7. Mike Moffat, LuLu CC d. 10. Oscar Mestre, Overbrook GC, 3&2
14. Joe Roeder, Merion GC d. 3. Jeff Frazier, Carlisle CC, 1-up
6. Rand Mendez, Fieldstone GC d. 11. Ron Weaver, Bent Creek CC, 5&3
Super-Senior Division
Quarterfinals
1. Roc Irey, LuLu CC d. 8. Jeffrey Allen, Wild Quail G&CC, 2&1
4. Robin McCool, Saucon Valley CC d. 5. Michael Vassil, CC of Scranton, 3&2
2. Don Donatoni, White Manor CC d. 7. Mike Farling, Carlisle CC, 6&4
6. Tom Hyland, Little Mill CC d. 3. Robert Dietrich, Philadelphia Publinks GA, 21 holes