Brewer Cup Senior Semis ready for final HVCC test
| Scoring portal | Stroke-Play Qualifying recap |
HUNTINGDON VALLEY, Pa. – It was a transformative Tuesday in the 14th Brewer Cup presented by Callaway Golf Stroke-Play Qualifying.
Four Seniors played their way into the Brewer's Semifinals at Huntingdon Valley Country Club (par 70, 6,410 yards) thanks to impressive showings on the steamy summer day featuring a hazy layer stemming from western wildfires.
In the morning Round-of-16 portion, which teed off at 8 a.m., a multitude of upsets came to fruition. In all, five double-digit seeds advanced. The No. 16 seed Rand Mendez of Fieldstone Golf Club accrued the biggest of them all, defeating top-seeded Gary Smith of Pine Valley Golf Club in a 19-hole thriller. Elsewhere, the No. 14 seed John Quirk of The 1912 Club took down No. 3 seed Adam Armagost of Little Mill Country Club, 1 up, to wrap up the morning action.
A quick lunch hiatus for the players led to the afternoon's Quarterfinal stage. Taking down Huntingdon Valley's own Mike Gregor, the No. 12 seed, was the 13th-seeded John Barry of Lancaster Country Club. Barry's 2-under 33 on the front side propelled him to a 2-up lead at the turn before giving those back to Gregor on Nos. 10 (par 4, 377 yards) and 11 (par 4, 310 yards). Barry immediately bounced back in a big way, taking two of three on Nos. 12 (par 4, 363 yards) and 14 (par 4, 434 yards). Gregor decided he wasn't done quite yet and had another charge left in him, winning No. 16 (par 4, 365 yards) with a birdie and No. 17 (par 3, 200 yards) with a par. The match was tied heading to HVCC's famous closer before a missed Gregor par putt from three feet gave Barry the win after he converted for 4.
"Playing against Mike, there were some chips that he really knew what he was doing. There were some unique shots," said Barry. "I made three birdies there on the front and that helped me to start. But then Mike made a little run on the back there. I'm happy to have closed it out because I've been playing pretty clean."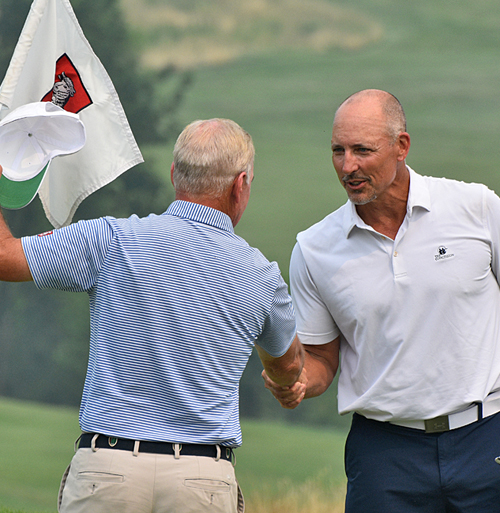 Barry, a newcomer to the GAP Senior circuit, is hoping to introduce himself to the rest of the field with a trophy in hand. Barry squares off Wednesday versus Lehigh Country Club's Bob Beck, winner of the 2016 Brewer Cup Senior title. Beck advanced after a strong 3&2 win versus Fieldstone Golf Club's Rand Mendez in the Quarters.
"I just recently turned 55, so I only know some of these guys. It's nice getting to know the others. Everyone seems to be very competitive, but also loose," said Barry, 55, of Lancaster, Pa. "Tomorrow, I'm just hoping to play my own ball as much as possible. In match play, you sometimes had to do things a little different. I just need to give myself a good amount of [birdie] looks."
A friendly showdown between a pair of Overbrook friends was hosted during the afternoon matches. Mestre, the Association's President, squared off with childhood friend Quirk in the Quarters. Mestre defeated Quirk, 3&2, but not without a few laughs along the way. The match made the turn tied up, but wins on Nos. 10, 11 and 16 sealed the deal for the smooth-swinging Mestre.
"My ball-striking today was very solid. John is a tough opponent. I know his game and him so well, and that made it hard to play against," said Mestre, the 2019 Senior Player of the Year. "John is someone I grew up with [at Overbrook]. I recruited him to play for the University of Delaware golf team. His father recruited me into the insurance business. I know the whole family. So that makes it difficult to play against someone like that, but also fun at the same time."
Mestre, having never won a Brewer title, says lifting the trophy, especially in this rendition at Huntingdon Valley, would be incredibly meaningful.
"This is a big one. You know, you always want to check off all the winning boxes. The Brewer is one of those," said Mestre, 61, of Berwyn, Pa. "To possibly win one at Huntingdon Valley, the home of [Gordon Brewer], that would be a great thing to do. And I'd love to do it."
Mestre matches up with defending Senior champion Jeff Frazer of Carlisle Country Club on Wednesday. Frazier, who took last year's trophy at LedgeRock Golf Club, took down Radley Run Country Club's Barry Cahill, 2 up, to advance.
The Senior Semifinal matches begin Wednesday at 8 a.m., followed soon after by the Final match.
Sensational Super-Senior Semis set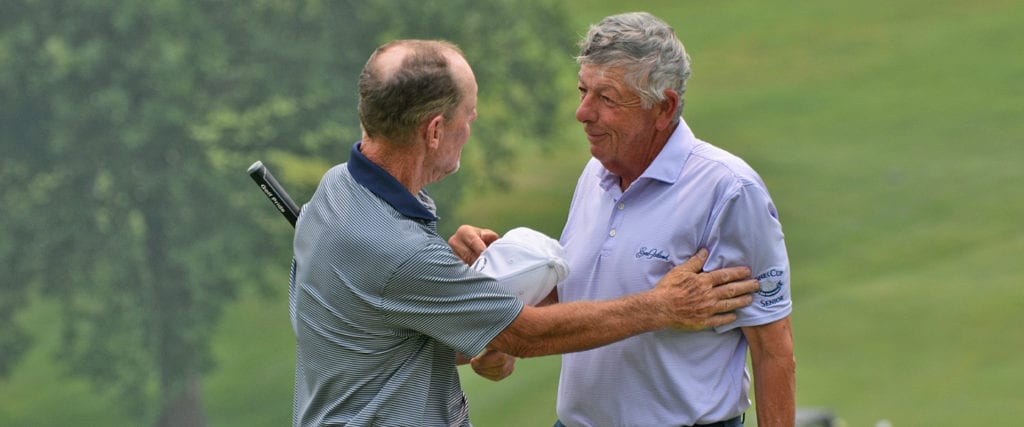 Tuesday's Super-Senior action was jam-packed with championship-caliber competition at Huntingdon Valley Country Club (par 70, 6,079 yards).
Overbrook Golf Club's Chris Lange, Monday's medalist, recorded the largest margin of victory on the day, defeating reigning Brewer Cup Super-Senior champion Chuck Dowds of Applebrook Golf Club, 6&4.
The top-seeded Lange carded a birdie on No. 1 (par 4, 370 yards) and never looked back as the match ended on No. 14 (par 4, 420 yards) with Lange's par outlasting Dowds' bogey. The Overbrook product will continue the quest of winning his first Brewer Cup Super-Senior title, an accomplishment he's been striving for.
In the second Super-Senior match, Buck Hill Falls Golf Club's Thomas White took on the former president of Pine Valley Golf Club and honorary namesake of the tournament, Gordon Brewer. The No. 5-seeded White defeated No. 4-seed Brewer, 3&2, to move on.
White started off early with a birdie on No. 2 (par 4, 402 yards), as his 5-iron approach from the middle of the fairway, 175 yards out, was placed to 7 feet. He would go on to sink the putt for 3 as Brewer missed his putt for par. Then, on No. 7 (par 5, 550 yards), White's 56-degree wedge set him up for an easy birdie putt from four feet. Later on, White's most critical birdie of the day arrived on No. 15 (par 5, 503 yards) after hitting a 60-degree wedge from 32 yards to seven feet.
"It was a pleasure to compete against a legend like Gordon Brewer, he's a real gentleman and a great golfer," White, 69, of Buck Hill Falls, Pa., said. "But in match play, you have to be locked in on the golf course and not focused on your opponent. I didn't get ahead of myself and came out on the winning side."
Elsewhere, a showdown between Philmont Country Club's Brian Rothaus and Wilmington Country Club's Tom Humphrey took place in the Super-Senior Quarterfinals. Rothaus' back-to-back birdies on Nos. 6 (par 4, 384 yards) and 7 (par 5, 550 yards) gave him the early advantage over Humphrey. However, Rothaus' momentum didn't end as he came up clutch carding birdies on three of the last four holes on Nos. 15 (par 5, 503 yards), 16 (par 4, 355 yards), and 18 (par 4, 376 yards), giving him the win over Humphrey, 2 up. Semifinals ticket punched.
In the final of four Quarterfinal matches, Don Donatoni of White Manor Country Club, a five-time Brewer Cup Super-Senior champion (2013-15, 2017-18), got things done against Hershey's Mill Golf Club's Mike Owsik, 2 up.
After never being down throughout the match, Donatoni's birdie on No. 7 (par 5, 550 yards) was an igniter. After a poured 58-degree wedge from 50 yards, his ball skipped up to three feet.
"The score was even going into that hole, and anytime you get to make birdie, it gives you a big confidence boost for the rest of the round," Donatoni, 73, of West Chester, Pa., said. "It was a very tough match. Mike played extremely well, and I was fortunate enough to come out on top."
Last year, Donatoni finished as the runner-up in the Brewer Cup Super-Senior Final against Dowds, 2&1, at LedgeRock Golf Club. However, this year Donatoni is looking to get his revenge and take on the challenge of seeking a sixth Brewer Super-Senior title.
"It's always a thrill to be on the green alongside Gordon Brewer when he's there to hand you the trophy, and I've been fortunate enough to have that opportunity more than once," Donatoni said. "When I look at the current bracket, there is not an easy out amongst these guys, and I'm going to have to take advantage of every opportunity given to me."
The Super-Senior Semifinal matches tee off Wednesday at 8:15 a.m.
The Brewer Cup is named in honor of O. Gordon Brewer, Jr., the former president of Pine Valley Golf Club. He is a two-time U.S. Senior Amateur Champion and veteran of 42 USGA Championships. He's captured two Golf Association of Philadelphia Amateur Championship titles (1967, 1976), a GAP Senior Amateur Championship crown (1997) and a Senior Player of the Year (1997) as well as countless invitational titles. Seven years ago he was recognized for his contributions to the game with the USGA's Bob Jones Award.
GAP
Celebrating Amateur Golf since 1897, GAP, also known as the Golf Association of Philadelphia, is the oldest regional or state golf association in the United States. It serves as the principal ruling body of amateur golf in its region. The Association's 300 Member Clubs and 80,000 individual members are spread across the Eastern half of Pennsylvania and parts of Delaware, Maryland and New Jersey. The GAP's mission is to promote, preserve and protect the game of golf.
Senior Division
Quarterfinals
8. Bob Beck, Lehigh, d. 16. Rand Mendez, Fieldstone, 3&2.
13. John Barry, Lancaster, d. 12. Mike Gregor, Huntingdon Valley, 1-up.
2. Jeff Frazier, Carlisle, d. 10. Barry Cahill, Radley Run, 2-up.
6. Oscar Mestre, Overbrook, d. 14. John Quirk, 1912 Club, 3&2.
Round of 16
16. Rand Mendez, Fieldstone, d. 1. Gary Smith, Pine Valley, 19 holes.
8. Bob Beck, Lehigh, d. 9. Joe Roeder, Merion, 3&2.
13. John Barry, Lancaster, d. 4. Tom Soares, Lehigh, 4&2.
12. Mike Gregor, Huntingdon Valley, d. 5. Matthew Mingione, 1912 Club, 7&6.
2. Jeff Frazier, Carlisle, d. 15. Jeffrey Allen, Loch Nairn, 4&3.
10. Barry Cahill, Radley Run, d. 7. Tom Finn, DuPont, 20 holes.
14. John Quirk, 1912 Club, d. 3. Adam Armagost, Little Mill, 1-up.
6. Oscar Mestre, Overbrook, d. 11. Michael Tash, Stone Harbor, 5&4.
Super-Senior Division
Quarterfinals
1. Chris Lange, Overbrook, d. 8. Chuck Dowds, Applebrook, 6&4.
5. Thomas White, Buck Hill Falls, d. 4. Gordon Brewer, Pine Valley, 3&2.
2. Brian Rothaus, Philmont, d. 7. Tom Humphrey, Wilmington, 2-up.
3. Don Donatoni, White Manor, d. 6. Mike Owsik, Hershey's Mill, 2-up.