Grounds crew conquers Hurricane Isaias
PLYMOUTH MEETING, Pa. — On the eve of hosting a GAP Major, The 1912 Club, at the mercy of Hurricane Isaias, absorbed 7.5 inches of rainwater.
| Scoring portal | Recap | History | Photo gallery |
That isn't a misprint. Nearly eight inches of rain, folks.
"We just knew if it stopped early enough in the afternoon, then we'd be fine. Everything falls and goes right off the course," Gene Stricker, the club's superintendent of three years, said. "I was texting (The 1912 Club owner) Brian (Quinn) and (Head Professional) Chris (Hanson). By about 10:30 in the morning, we had about 5.25 inches of rain, and I'm like, 'We're going to go over seven.' By 11:45 a.m., I texted them back: 'We're over seven.' It was the most rain I've ever seen."
"It was the most rain I've ever seen here."

Superintendent Gene Stricker
Hurricane Isaias cleared the area for good at approximately 2 p.m. Stricker and a staff of five returned to The 1912 Club two hours later, after the floodwaters receded a bit, and handled the herculean task at hand.
"Every bunker you could swim in. [Draining the bunkers] was the main thing for us," Stricker, 34, of Lansdale, Pa., said. "We basically got the first 13 holes set up with bunker preparation and all of the debris blown off the greens. This morning it was a lot easier."
After arriving at The 1912 Club at 4:30 a.m. Wednesday, Stricker and his team finished Patterson Cup preparations. GAP delayed tee times an hour, affording a much-needed window for greens to be cut and rolled accordingly, the remaining bunkers to be drained.
"With the rain falling so quick during the day, a lot of it just ran off. We got lucky," Stricker said. "If it would've stopped at 8 o'clock last night, then it would have been a totally different story."
Persevering through Hurricane Isaias to host a GAP Major allowed The 1912 Club to tell its story.
"Gene and his staff did an unbelievable job. We had a group chat going yesterday, and midday we thought we wouldn't even be out here today," Gary McCabe, a The 1912 Club member who competed Wednesday, said. "I know Gene has a great staff, but with all of the rain, I didn't expect the course to be as playable and awesome as it was."
"Gene did an amazing job. Every time we talk about what we're doing on the golf course, he says, 'Absolutely. No problem,'" Quinn, 52, of Wynnewood, Pa., added. "He was very excited to have the Patterson Cup here, to showcase his work. He's the biggest reason why the golf course is getting to where it is right now."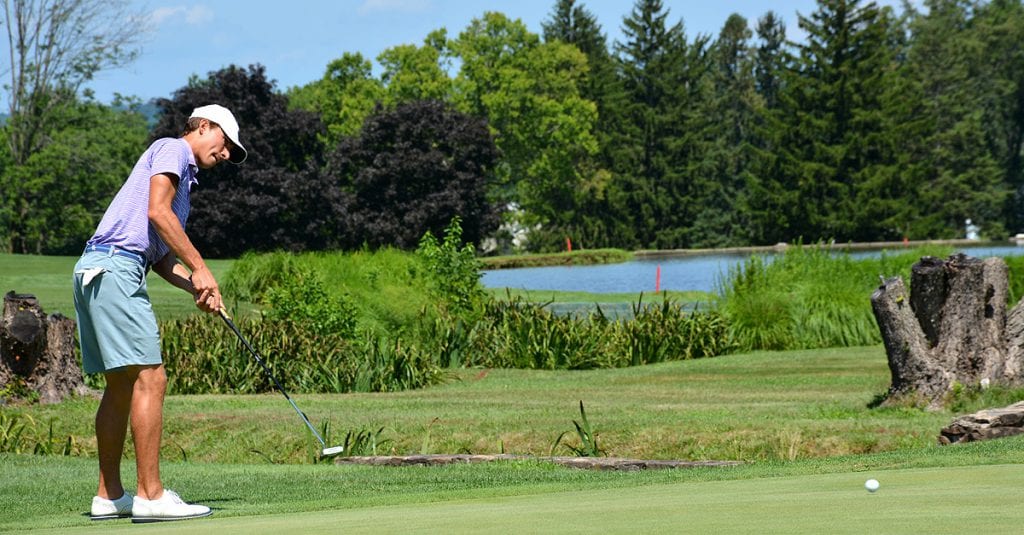 Radley Run's Wine bottles best GAP finish
Glance at the 118th Joseph H. Patterson Cup leaderboard.
Three BMW Philadelphia Amateur Champions, followed by Parker Wine.
The Radley Run Country Club member turned in his best performance on the GAP circuit Wednesday. He carded a 2-under-par 68 to finish a shot back at The 1912 Club (par 70, 6,710 yards).
"It was fun to finally make some putts. The past few weeks, I've been hitting it really well but just haven't been making anything," Wine, 22, of West Chester, Pa., said. "My short game was good all day. I just didn't really have the mid-irons, which is why I made some bogeys in there. That was my main flaw. Shots from 100 yards and in, along with my tee balls, are kind of what carried me."
Based on pairing alone, Wine warranted attention early. He teed off alongside Five Ponds Golf Club's Jalen Griffin, who shared the Silver Cross Award lead entering the day. Back-to-back bogeys to start blurred Wine in the background.
The cameras, however, soon shifted focus.
Wine nearly carded an albatross on the par 5, 517-yard No. 3. His 5-iron from 210 yards hit the flagstick and stopped at five feet. Wine cleaned up the eagle putt. He also eagled No. 6 (par 5, 495 yards) thanks to a chip-in from the left fringe. Club: 58-degree wedge. Outcome: one hop, stop and drop. A birdie on No. 9 (par 4, 390 yards), where Wine hit a wedge 85 yards to three feet, certified the rising junior at La Salle University as a contender.
"It's different. I haven't been making those putts. When they all started falling in on the front nine, and you realize you have a chance, that's exciting," Wine, who is majoring in business finance at La Salle, said.
A three-putt bogey on No. 10 (par 4, 460 yards) temporarily spoiled the party. But the powerful lefty rebounded with back-to-back birdies on Nos. 12 (par 5, 546 yards) and 13 (par 4, 293 yards). On the first, Wine pushed a 4-iron from 230 yards into the left greenside bunker. He splashed out to four feet and sunk the ensuing birdie putt. Aggression pulsating, Wine ripped a 3-wood right of the 13th green (par 4, 293 yards). He then executed a flop shot to eight feet for 3.
Those pesky mid-irons ultimately prevented Wine's participation in a four-hole aggregate playoff for the Patterson title. On No. 14 (par 3, 191 yards), he missed the green left with a leaky 6-iron and missed a five-footer to save par.
Nevertheless, the putts, for the most part, fell for Wine on this day (He estimates a total in the low 20s.). Partial credit goes to new equipment. Wine added an Odyssey Stroke Lab putter to the bag a week ago. He's practiced with it as much as possible since, building trust, confidence and commitment in his golf game.
"It feels great to be up [near the top of the leaderboard]. I know that practice pays off at some point," Wine said.
Joseph H. Patterson Cup
The second oldest Championship in the Golf Association of Philadelphia, the Joseph H. Patterson Cup memorializes a man who fostered the game in its infancy. Joseph Henry Patterson, a Philadelphia Cricket Club member, competed in the first out-of-town match played by a team of Philadelphians. Friends of Patterson donated the Cup, designed by J.E. Caldwell & Co., to the Association in 1900.
GAP
Celebrating Amateur Golf since 1897, GAP, also known as the Golf Association of Philadelphia, is the oldest regional or state golf association in the United States. It serves as the principal ruling body of amateur golf in its region. The Association's 288 Member Clubs and 75,000 individual members are spread across the Eastern half of Pennsylvania and parts of New Jersey and Delaware. The GAP's mission is to promote, preserve and protect the game of golf.