Hinckley takes 117th #GAPOpen
YORK, Pa. –Eat. Sleep. Golf. Repeat. That's been Blake Hinckley's daily schedule since turning professional in April 2019. A necessary monotony for those looking to someday find the bright lights of the PGA TOUR. Wednesday at the Country Club of York (par 70, 6,610 yards), that preparation resulted in the biggest – and only – win of Hinckley's career. The Philadelphia PGA Section member playing out of Wilmington Country Club outlasted a throng of challengers to capture the 117th Open Championship.
| Scoring portal | History | York flyover | Round Two Notebook | Round Two video |
Hinckley finished the 36 holes at 5-under par, a shot clear of amateur Ron Robinson of LuLu Country Club. His victory earned him the low professional top prize of $6,000. There was a four-way tie for third place at 3 under. Defending Open Champion Michael Little, Lookaway Golf Club's pro, tied for 30th at 5 over.
"I've played in a lot of these events. I've been around GAP since I started playing golf and haven't made any noise," said Hinckley, who failed to qualify for any GAP Major since he started trying nine years ago before this Open. "The fact I could win one of the biggest tournaments, and my name is going to be on the [John J. McDermott Open Trophy] means a lot to me."
Hinckley, 24, of Greenville, Del., advanced into the Championship proper from the Trenton Country Club Qualifying site. He posted a 77 to qualify on the cut line.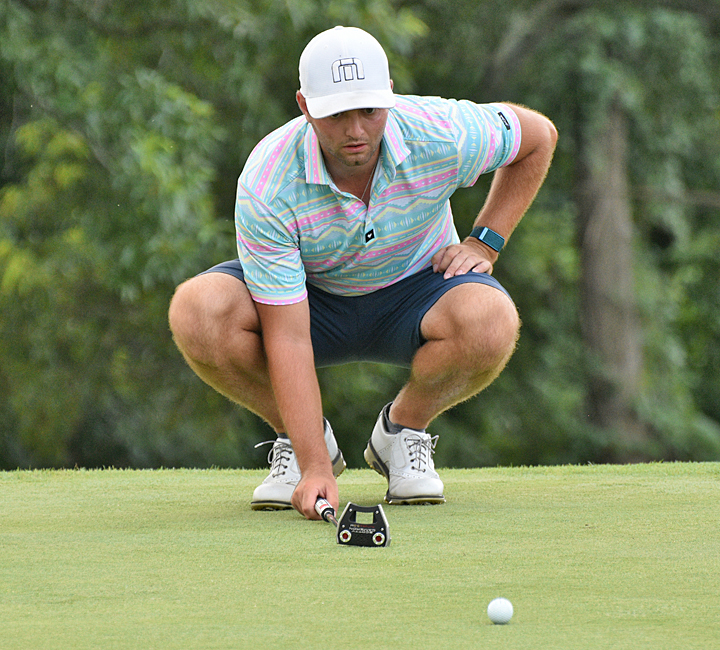 At York, with all players halfway home, Hinckley trailed leader Troy Vannucci of Little Mill Country Club by two strokes.
That was until a quick burst of red numbers vaulted him into the lead. On No. 11 (par 4, 426 yards), Hinckley holed a sand wedge from 87 yards for an eagle 2. A par on No. 12 (par 3, 198 yards) followed before Hinckley went birdie-birdie. On No. 13 (par 4, 308 yards), he converted a 20-foot left-to-right breaker for a 3 and then followed up on No. 14 (par 5, 525 yards) with a two-putt birdie from 40 feet after reaching the green in two shots.
"It was almost like I could relax knowing that I was back in the mix," said Hinckley of the hole-out. "I don't like forcing things if I don't have to. I like to hit the shot I envision. If I make birdie I make birdie. When I'm playing from behind it's tough to think that way."
Hinckley finished with three pars and a "smart" bogey on No. 18 (par 4, 382 yards) after missing the fairway right and in the treeline. He held a two-shot lead on Robinson at that point.
Robinson, who bogeyed 18 to fall back to 4 under, moved into contention with a birdie-birdie run of his own on Nos. 13 and 14. He also made a pair of great up-and-down par saves, one on the inviting and delectable No. 16 (par 4, 394 yards), sinking a 15-footer for par after missing the green short, and then again on No. 17 (par 3, 170 yards) by jarring a 10-footer.
"Obviously it stinks not winning but it's definitely an honor being the low amateur," said Robinson, 22, of Hatfield, Pa. "I know my game was in really good form coming in. The Country Club of York is pretty hard, and I feel like I hit every shot in the 36 holes this week. I putted phenomenal. If you told me I was going to shoot 67 before the day, I would have taken it. The course wasn't playing easy."
Hinckley's top professional finish before this win came in the Delaware State Golf Association's 2020 Open Championship, where he tied for seventh.
"I usually think I have a chance coming in," said Hinckley. "Coming out strong yesterday helped a lot in terms of confidence and being comfortable out there."
Although York has never played host to a GAP Major thus far, championships have been in its pedigree since opening in 1899. The club has a multitude of Pennsylvania Golf Association events to its name, including last year's R. Jay Sigel Match Play Championship, while also playing host to the 1999 U.S. Junior Amateur Championship, the highlight of the club's centennial season.
GAP
Celebrating Amateur Golf since 1897, GAP, also known as the Golf Association of Philadelphia, is the oldest regional or state golf association in the United States. It serves as the principal ruling body of amateur golf in its region. The Association's 300 Member Clubs and 80,000 individual members are spread across the Eastern half of Pennsylvania and parts of Delaware, Maryland and New Jersey. The GAP's mission is to promote, preserve and protect the game of golf.
| | |
| --- | --- |
| Name, club | R1-R2–Total |
| Blake Hinckley, Wilmington Country Club | 66-69–135 |
| (a) Ron Robinson, LuLu Country Club | 69-67–136 |
| (a) Joshua Ryan, The 1912 Club | 70-67–137 |
| (a) Patrick Sheehan, Talamore Country Club | 69-68–137 |
| Billy Stewart, Union League Liberty Hill | 66-71–137 |
| (a) Troy Vannucci, Little Mill Country Club | 67-70–137 |
| Chris Krueger, Kings Creek Country Club | 70-68–138 |
| (a) Mark Miller, Philadelphia Cricket Club | 69-69–138 |
| (a) Jalen Griffin, Five Ponds Golf Club | 70-69–139 |
| David Quinn, Laurel Creek Country Club | 70-69–139 |
| John Pillar, Sr., Woodloch Springs | 68-71–139 |
| (a) Brandon Knaub, Country Club of York | 72-68–140 |
| Trevor Bensel, Overbrook Golf Club | 73-67–140 |
| (a) Peter Bradbeer, Merion Golf Club | 71-69–140 |
| Braden Shattuck, Bidermann Golf Club | 69-71–140 |
| Dave McNabb, Applebrook Golf Club | 72-69–141 |
| (a) Morgan Lofland, Phoenixville Country Club | 71-70–141 |
| (a) Gregor Orlando, Philadelphia Cricket Club | 71-70–141 |
| Rich Steinmetz, Spring Ford Country Club | 73-69–142 |
| (a) Alex Butler, Overbrook Golf Club | 70-72–142 |
| Brian Bergstol, Shawnee Country Club | 74-68–142 |
| (a) Matthew Mattare, Saucon Valley Country Club | 70-72–142 |
| (a) Michael O'Brien, LuLu Country Club | 68-74–142 |
| Michael Tobiason, Deerfield Golf Club | 73-70–143 |
| Rusty Harbold, Philadelphia Cricket Club | 70-73–143 |
| (a) Dougie Ergood, Tavistock Country Club | 75-68–143 |
| Zac Oakley, Bidermann Golf Club | 72-72–144 |
| (a) Angelo Giantsopoulos, LuLu Country Club | 75-69–144 |
| (a) Hayden Moffat, Philadelphia Publinks Golf Association | 68-76–144 |
| Eddie Perrino, Eagle Rock Golf & Resort | 73-72–145 |
| David Powers, Woodloch Springs | 72-73–145 |
| (a) Jarred Texter, Conestoga Country Club | 74-71–145 |
| (a) Caleb Ryan, The 1912 Club | 71-74–145 |
| Michael Little, Lookaway Golf Club | 71-74–145 |
| (a) Michael R. Brown, Jr., LuLu Country Club | 71-74–145 |
| (a) Andrew Kotler, Cherry Valley Country Club | 71-74–145 |
| (a) Nicholas Vecellio, Moselem Springs Golf Club | 71-74–145 |
| Alexander Knoll, Glen Brook Golf Club | 75-70–145 |
| (a) Peter Barron, III, Galloway National Golf Club | 73-73–146 |
| (a) Brian Gillespie, St. Davids Golf Club | 75-71–146 |
| Terry Hertzog, Merion Golf Club | 72-75–147 |
| George Forster, Radnor Valley Country Club | 74-73–147 |
| (a) Liam Hart, Spring Mill Country Club | 74-73–147 |
| (a) Brian Isztwan, Huntingdon Valley Country Club | 75-72–147 |
| Brian Kelly, Bucknell Golf Club | 74-74–148 |
| Mike Furey, Saucon Valley Country Club | 71-77–148 |
| Hugo Mazzalupi, Philadelphia Cricket Club | 74-74–148 |
| (a) Conor McGrath, Huntingdon Valley Country Club | 74-74–148 |
| (a) Michael Carr, Philadelphia Cricket Club | 74-75–149 |
| (a) Marc Mandel, Philadelphia Cricket Club | 74-75–149 |
| David Pagett, Whitemarsh Valley Country Club | 74-75–149 |
| (a) Oscar Mestre, Overbrook Golf Club | 75-74–149 |
| (a) Matthew Homer, Wilmington Country Club | 74-76–150 |
| (a) Blaine Lafferty, Little Mill Country Club | 74-76–150 |
| (a) Thomas Weir, Honeybrook Golf Club | 75-75–150 |
| Matthew Finger, DuPont Country Club | 74-77–151 |
| (a) Andrew Keeling, Kennett Square Golf & Country Club | 73-79–152 |
| John Cooper, Green Valley Country Club | 72-80–152 |
| Andrew Turner, Berkshire Country Club | 72-80–152 |
| (a) John Buliga, Yardley Country Club | 74-78–152 |
| (a) Gary Schoeman, Gulph Mills Golf Club | 75-77–152 |
| (a) Zachary Falone, Little Mill Country Club | 75-77–152 |
| Dustin Wallis, Honey Run Golf Club | 74-79–153 |
| (a) Chris Waldmann, French Creek Golf Club | 75-78–153 |
| Nathaniel Short, Country Club of York | 75-78–153 |
| Travis Deibert, Doylestown Country Club | 75-79–154 |
| (a) Tucker Sandercock, Steel Club | 73-83–156 |
| (a) Christopher Dorey, Metedeconk National Golf Club | 73-83–156 |
| (a) Brendan McNamara, Sandy Run Country Club | 75-82–157 |
| (a) Evan Barbin, Loch Nairn Golf Club | 75-NS–NS |
| | |
| Failed to qualify | |
| Parks Price, Country Club of York | 76 |
| Jason Przystup, Crossgates Golf Club | 76 |
| (a) Paul Rogowicz, Yardley Country Club | 76 |
| (a) Jamie Slonis, Tavistock Country Club | 76 |
| (a) Ryan Tall, LuLu Country Club | 76 |
| (a) Jack Tarzy, Medford Lakes Country Club | 76 |
| Ross Brown, Fox Hill Country Club | 76 |
| (a) Ryan Cass, Hidden Creek Golf Club | 76 |
| (a) Benjamin Feld, Green Valley Country Club | 76 |
| (a) Joey Morganti, Llanerch Country Club | 76 |
| (a) Chris Orlando, Paxon Hollow Country Club | 77 |
| (a) Geoffrey Cooper, North Hills Country Club | 77 |
| Ashley Grier, Overbrook Golf Club | 77 |
| (a) Buddy Hansen, Blue Bell Country Club | 77 |
| (a) Richie Kline, Kennett Square Golf & Country Club | 77 |
| (a) Matt Lafond, Blue Bell Country Club | 77 |
| (a) Andrew Mason, Huntingdon Valley Country Club | 77 |
| Mark Sheftic, Lookaway Golf Club | 77 |
| (a) Jeffrey Victor, Makefield Highlands Golf Club | 77 |
| (a) P. Chet Walsh, Philadelphia Country Club | 77 |
| (a) Christopher Cerminaro, Glenmaura National Golf Club | 78 |
| (a) Matt Dolinsky, Honeybrook Golf Club | 78 |
| Joseph Kogelman, GOLFTEC-Moorestown | 78 |
| (a) John McClure, Country Club of York | 78 |
| (a) Brian Noonan, The Links at Gettysburg | 78 |
| (a) Dawson Anders, Indian Valley Country Club | 78 |
| (a) Jack Hamilton, Merion Golf Club | 78 |
| (a) Ross Pilliod, LedgeRock Golf Club | 78 |
| (a) Zach Dilcher, Hartefeld National | 79 |
| (a) Ron Weaver, Bent Creek Country Club | 79 |
| (a) Corey Betham, St. Davids Golf Club | 79 |
| (a) Jake Cutler, Union League Liberty Hill | 79 |
| (a) Scott Lawson, Cedarbrook Country Club | 79 |
| Andy Watters, Talamore Country Club | 79 |
| (a) Todd Baron, Philadelphia Publinks Golf Association | 80 |
| (a) Joe Kerrigan, Llanerch Country Club | 80 |
| (a) Matthew Krass, Radley Run Country Club | 80 |
| (a) Brad McFadden, Overbrook Golf Club | 80 |
| (a) John Samaha, Old York Road Country Club | 80 |
| (a) Logan Snyder, Briarwood Golf Club | 80 |
| (a) Cal Buonocore, Philadelphia Cricket Club | 80 |
| (a) Corey Haydu, Spring Mill Country Club | 80 |
| (a) Brian Lasky, Woodcrest Country Club | 80 |
| (a) Christopher Warner, Makefield Highlands Golf Club | 80 |
| (a) Jason Wilson, Olde Homestead Golf Club | 80 |
| (a) Peter D'Angelo, Burlington Country Club | 81 |
| (a) Jackson Debusschere, The Springhaven Club | 82 |
| (a) Brett McGrath, Huntingdon Valley Country Club | 83 |
| (a) Justin Schorr, Talamore Country Club | 84 |
| (a) Sean Ebert, Doylestown Country Club | 85 |
| Kevin Bales, Country Club of York | 86 |
| Anthony Shields, Union League Liberty Hill | 86 |
| (a) Ben Keyser, Woodcrest Country Club | WD |
| Bill Walker, Riverton Country Club | WD |
| (a) Jack Wallace, Riverton Country Club | NC |
| | |
| (a)-denotes amateur | |
| NC-no card; NS-no show; WD-withdrawal | |