Donatonis find victory at Hershey's Mill
WEST CHESTER, Pa. — Don and A.J. Donatoni know what team success on a grand stage feels like. They captured the Pennsylvania Golf Association's Father-Son Championship in 2014 and 2018.
| Scoring portal | History | Photo gallery |
But a GAP Father & Son title always eluded the Donatoni team. Until Thursday.
The Donatoni team carded a 1-under-par 70 to win the 111th Parent/Child Older (formerly Father & Son (Older)) at Hershey's Mill Golf Club (par 71, 6,184 yards).
The event's format is greensomes (selective drive/alternate shot).
"First of all, it's tremendous to play golf with your son in an event like this. I got lucky today because I got to play with two of my sons," Don, who teamed with his son Michael in the morning, said. "I wasn't quite sure if I'd have enough energy to play another 18 holes. A.J. played terrific and drove the ball extremely well. I hit some good wedge shots. It's exciting to come out on top."
"This is one I knew I always wanted to win with my dad. I'm glad we were able to do it today," A.J., 34, of Wilkes-Barre, Pa., added. "We both played really well. It's just a thrill to come out on top against a great field."
Starting on the back nine, the Donatoni team fired back-to-back birdies to enter a groove. On No. 14 (par 3, 176 yards), A.J. painted the flagstick with a 6-iron that landed 10 feet below the hole. Don buried the straight putt. A.J., a Fox Hill Country Club member, nearly holed out for eagle on No. 15 (par 4, 362 yards). His wedge from 55 yards flirted with a 2.
"It just released toward the hole. We were certain it was going in, and it just kind of ticked off the flagstick and ended up two inches from the hole," Don, 74, of West Chester, Pa., said. "That was big for us. I knew the ties were going to be broken by the back nine. To shoot 2 under on the back nine, I thought we were in pretty good shape."
That shape slightly altered on No. 2 (par 5, 470 yards) when Don's 5-wood hid under a fur tree. In escape mode from a perilous spot, A.J. failed to reach the green on the team's third shot. Don, a White Manor Country Club member, then tried to jam a chip for 4, and A.J. missed a comebacker for 5. The Donatoni team, playing in the day's last group, also made bogey on No. 6 (par 4, 420 yards) from the right greenside bunker.
Now a shot clear with three holes to play, the eventual winners shifted into championship shape. On No. 8 (par 4, 354 yards), Don hit a wedge 80 yards to four feet. A.J. cleaned up the birdie putt.
"We haven't played a whole lot this summer, but the rounds that we have played together, I could tell that my dad is still at a very high level," A.J. said. "When I have played this year, I have played well. I've been confident with my game. I knew coming into this that as long as we kept the ball in play, we were going to give ourself as good a chance as any to have a winning score."
"Playing with your sons is even more important than winning an individual tournament," Don, who won the GAP Super-Senior Championship a month ago, added. "It's all the more special. This was another one of those extra special days. Not only did I get to play with two of my sons, one of us were fortunate enough to come out on top."
A.J. didn't plan on driving two-plus hours home Thursday. Instead, he elected to celebrate with dad, who moved to the Hershey's Mill community in December 2021.
A victory walk home for father and son.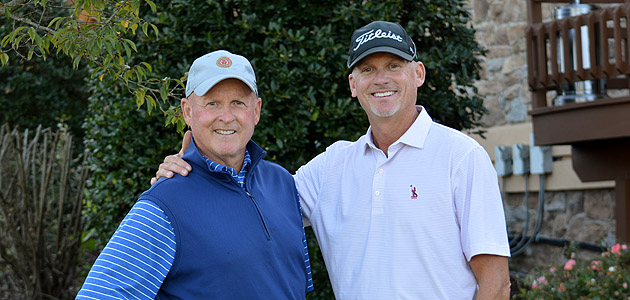 Super-Senior Division
Bob and Robert Billings won their fourth Parent/Child title Thursday. The team carded a 1-over-par 72 to claim the event's Super-Senior Division (par 71, 5,884 yards).
The Billings previously captured the Super-Senior Division in 2019. They won consecutive Father & Son titles in 2012-13.
"Obviously, as we get older, it gets more special. The GAP, as I've said, always does a great job," Bob, 72, of Media, Pa., said. "This is our highlight of the year. I'm lucky enough to still be playing well at my age."
"We go out of our way to make sure we play in these events," Robert, 52, of Cherry Hill, N.J., added. "We always ask to be paired [with Peter and Peter Dilullos]. They play in the Father & Son at Rolling Green. We play at Applebrook's Father & Son. We've made this a really special tradition."
The Billings pointed to the turn as the round's critical juncture. A pair of gap wedges courtesy of Robert, a Philadelphia Publinks GA member, set up birdie putts of six and four feet, respectively, on Nos. 10 (par 4, 336 yards) and 11 (par 3, 109 yards).
"That got us settled down. We made four birdies but had a double bogey and three bogeys. We needed to settle down, and that got us settled down," Bob, a Rolling Green Golf Club member, said.
"He gave me a little pep talk in the cart. That kind of really got us going," Robert added.
The Billings intend to keep their father-and-son tradition going; the Dilullos will continue to oblige.
"As long as I can still get the club back, and as long as [Robert] can get out for the day, we'll be back," Bob said. "You cherish the moments you get."
Formerly known as the Father & Son (Older), GAP renamed the event Parent/Child Older to reflect today's modern family.
GAP
Celebrating Amateur Golf since 1897, GAP, also known as the Golf Association of Philadelphia, is the oldest regional or state golf association in the United States. It serves as the principal ruling body of amateur golf in its region. The Association's 330 Member Clubs and 90,000 individual members are spread across Pennsylvania, Delaware, New Jersey and Maryland. The GAP's mission is to promote, preserve and protect the game of golf.
| | |
| --- | --- |
| Gross results | |
| Championship Division | |
| Name, club | Score |
| Don Donatoni/A.J. Donatoni, White Manor Country Club/Fox Hill Country Club | 70 |
| Jimmy Muller/Max Muller, Manufacturers' Golf & Country Club | 72 |
| Rick Alessi, Jr./Vinny Alessi, Llanerch Country Club/McCall Golf Club | 72 |
| Dan Brown/Mike Brown, Llanerch Country Club | 72 |
| Mike Owsik/Mike Owsik, Hershey's Mill Golf Club/Philadelphia Publinks Golf Association | 76 |
| Dennis Wysocki/Ben Wysocki, Makefield Highlands Golf Club | 76 |
| Sean Semenetz/Gregg Semenetz, Philadelphia Cricket Club | 77 |
| Bill Holt/Will Holt, Kennett Square Golf & Country Club | 78 |
| Brad Cornforth/Doug Cornforth, Radley Run Country Club/Ed Oliver Golf Club | 78 |
| Dwight Dudas/Matt Dudas, Indian Valley Country Club | 79 |
| Don Donatoni/Michael Donatoni, White Manor Country Club/The 1912 Club | 79 |
| Joe Owsik/Andrew Owsik, Hershey's Mill Golf Club | 79 |
| Gerard Brnich/Jake Brnich, LuLu Country Club | 80 |
| Robert Brusco/Robert Brusco, Jr., Medford Village Country Club | 81 |
| Dennis Wysocki/Chris Wysocki, Makefield Highlands Golf Club | 82 |
| Joseph Templin/Drew Templin, LedgeRock Golf Club | 82 |
| Matt Milligan/Mike Milligan, Bluestone Country Club/Lederach Golf Club | 83 |
| Brian Sexton/Sean Sexton, Greate Bay Country Club/Five Ponds Golf Club | 85 |
| Terry Bray/Christopher Bray, Cedarbrook Country Club | 85 |
| Steven Mastrocola/Steven Mastrocola, Jr., Gilbertsville Golf Club/Frosty Valley | 93 |
| Louis Newett/Stephen Newett, Indian Valley Country Club | 94 |
| Matthew Alfeche/Paul Alfeche, USGA/GAP GC | 95 |
| Nicholas Matteo/Domenic Matteo, LuLu Country Club | 105 |
| Craig Kliewer/Alan Kliewer, Lebanon Country Club | WD |
| Super-Senior Division | |
| Name, club | Score |
| Bob Billings/Robert Billings, Rolling Green Golf Club/Philadelphia Publinks Golf Association | 72 |
| Jack Seese/Sean Seese, Huntingdon Valley Country Club | 75 |
| Gene Carroll/Ryan Carroll, Chester Valley Golf Club/Bidermann Golf Club | 76 |
| Fran Doyle/Fran Doyle, Sr., Makefield Highlands Golf Club/Sandy Run Country Club | 76 |
| Alan Wagenschnur/Jeffrey Wagenschnur, Newark Country Club | 76 |
| Joe Dulka/Joseph Dulka, DuPont Country Club/Bellewood Country Club | 76 |
| Michael R. Brown, Jr./Michael Brown, LuLu Country Club | 76 |
| George Marshalek/Patrick Marshalek, Coatesville Country Club/Whitford Country Club | 77 |
| Dave Owsik/Rich Owsik, Rolling Green Golf Club | 77 |
| Tom Craig/Brendan Craig, Whitemarsh Valley Country Club | 77 |
| Mike Todd/Mike Todd, Coatesville Country Club | 77 |
| Mike Civitello/Mike Civitello, Chester Valley Golf Club | 78 |
| Brian Dancer/Quentin Dancer, Skippack Golf Club | 78 |
| Bryan McClaskey/Charlie McClaskey, Merchantville Country Club/Chesapeake Bay Golf Club | 79 |
| Peter Dilullo/Peter Dilullo, Applebrook Golf Club/Waynesborough Country Club | 79 |
| Mike Dancer/Thomas Dancer, Skippack Golf Club/Cedarbrook Country Club | 79 |
| Thomas Brennan/Thomas Brennan, Moselem Springs Golf Club/Jeffersonville Golf Club | 80 |
| Jeffrey Amrhein/Austin Amrhein, Briarwood Golf Club/Pilgrim's Oak Golf Course | 81 |
| Lee Oxman/Nathaniel Oxman, Moselem Springs Golf Club/Talamore Country Club | 82 |
| Rich Thon/Jesse Thon, The Springhaven Club | 82 |
| John Howson/Greg Howson, St. Davids Golf Club | 82 |
| Kevin Turner/Thomas Turner, Llanerch Country Club/Philadelphia Publinks Golf Association | 82 |
| Nick Wanck/John Wanck, Talamore Country Club/Gilbertsville Golf Club | 84 |
| Scott Lumbatis/Ralph Lumbatis, Hershey Country Club | 84 |
| Joe Montgomery/Patrick Montgomery, Riverton Country Club | 85 |
| Travis Lock/Cory Lock, RiverWinds Golf & Tennis Club | 85 |
| James Gurski/Nicholas Gurski, Green Pond Country Club | 85 |
| Scott Bracken/Jim Bracken, Medford Village Country Club/McCall Golf Club | 86 |
| Phil Over, Jr./Philip Over, Penn Oaks Golf Club/Foxchase Golf Club | 86 |
| Timothy Casale/Anthony Casale, Moorestown Field Club | 86 |
| Don Hoegel/David Hoegel, Little Mill Country Club | 87 |
| Dante Frederico/Joe Frederico, Running Deer Golf Club | 87 |
| Justin Smith/James Smith, French Creek Golf Club | 88 |
| Frank Lucard/Graham Lucard, LuLu Country Club/Philadelphia Cricket Club | 88 |
| John VanDame, Jr./Barrett VanDame, Talamore Country Club/Linfield National Golf Club | 89 |
| Adam Jenkins/Bob Jenkins, Reading Country Club/Spring Ford Country Club | 90 |
| Jack McCormick/Jack McCormick, Stone Harbor Golf Club/McCall Golf Club | 90 |
| Matthew Montgomery /Mike Montgomery, USGA/GAP GC/Hershey's Mill Golf Club | 96 |
| Timmy Harmon/Benjamin Harmon, Eagle Creek Golf Club | 99 |
| Bill Dwyer/Brian Dwyer, Applecross Country Club | 101 |
| Net results | |
| Championship Division | |
| Name, club | Score |
| Dan Brown/Mike Brown, Llanerch Country Club | 68 |
| Dennis Wysocki/Ben Wysocki, Makefield Highlands Golf Club | 69 |
| Don Donatoni/A.J. Donatoni, White Manor Country Club/Fox Hill Country Club | 70 |
| Rick Alessi, Jr./Vinny Alessi, Llanerch Country Club/McCall Golf Club | 71 |
| Dennis Wysocki/Chris Wysocki, Makefield Highlands Golf Club | 73 |
| Jimmy Muller/Max Muller, Manufacturers' Golf & Country Club | 73 |
| Brad Cornforth/Doug Cornforth, Radley Run Country Club/Ed Oliver Golf Club | 75 |
| Mike Owsik/Mike Owsik, Hershey's Mill Golf Club/Philadelphia Publinks Golf Association | 75 |
| Don Donatoni/Michael Donatoni, White Manor Country Club/The 1912 Club | 75 |
| Gerard Brnich/Jake Brnich, LuLu Country Club | 76 |
| Bill Holt/Will Holt, Kennett Square Golf & Country Club | 76 |
| Joseph Templin/Drew Templin, LedgeRock Golf Club | 77 |
| Terry Bray/Christopher Bray, Cedarbrook Country Club | 77 |
| Joe Owsik/Andrew Owsik, Hershey's Mill Golf Club | 77 |
| Dwight Dudas/Matt Dudas, Indian Valley Country Club | 78 |
| Steven Mastrocola/Steven Mastrocola, Jr., Gilbertsville Golf Club/Frosty Valley | 78 |
| Robert Brusco/Robert Brusco, Jr., Medford Village Country Club | 78 |
| Sean Semenetz/Gregg Semenetz, Philadelphia Cricket Club | 78 |
| Matt Milligan/Mike Milligan, Bluestone Country Club/Lederach Golf Club | 79 |
| Brian Sexton/Sean Sexton, Greate Bay Country Club/Five Ponds Golf Club | 82 |
| Nicholas Matteo/Domenic Matteo, LuLu Country Club | 85 |
| Louis Newett/Stephen Newett, Indian Valley Country Club | 88 |
| Matthew Alfeche/Paul Alfeche, USGA/GAP GC | 89 |
| Craig Kliewer/Alan Kliewer, Lebanon Country Club | WD |
| Super-Senior Division | |
| Name, club | Score |
| Fran Doyle/Fran Doyle, Sr., Makefield Highlands Golf Club/Sandy Run Country Club | 70 |
| Brian Dancer/Quentin Dancer, Skippack Golf Club | 70 |
| Bob Billings/Robert Billings, Rolling Green Golf Club/Philadelphia Publinks Golf Association | 71 |
| Mike Dancer/Thomas Dancer, Skippack Golf Club/Cedarbrook Country Club | 71 |
| Gene Carroll/Ryan Carroll, Chester Valley Golf Club/Bidermann Golf Club | 72 |
| Mike Civitello/Mike Civitello, Chester Valley Golf Club | 73 |
| Thomas Brennan/Thomas Brennan, Moselem Springs Golf Club/Jeffersonville Golf Club | 73 |
| George Marshalek/Patrick Marshalek, Coatesville Country Club/Whitford Country Club | 73 |
| Jack Seese/Sean Seese, Huntingdon Valley Country Club | 73 |
| Tom Craig/Brendan Craig, Whitemarsh Valley Country Club | 73 |
| Joe Dulka/Joseph Dulka, DuPont Country Club/Bellewood Country Club | 73 |
| Timothy Casale/Anthony Casale, Moorestown Field Club | 74 |
| Peter Dilullo/Peter Dilullo, Applebrook Golf Club/Waynesborough Country Club | 74 |
| Mike Todd/Mike Todd, Coatesville Country Club | 74 |
| James Gurski/Nicholas Gurski, Green Pond Country Club | 74 |
| Alan Wagenschnur/Jeffrey Wagenschnur, Newark Country Club | 74 |
| Kevin Turner/Thomas Turner, Llanerch Country Club/Philadelphia Publinks Golf Association | 74 |
| Joe Montgomery/Patrick Montgomery, Riverton Country Club | 75 |
| Lee Oxman/Nathaniel Oxman, Moselem Springs Golf Club/Talamore Country Club | 75 |
| Bryan McClaskey/Charlie McClaskey, Merchantville Country Club/Chesapeake Bay Golf Club | 75 |
| Adam Jenkins/Bob Jenkins, Reading Country Club/Spring Ford Country Club | 75 |
| Dave Owsik/Rich Owsik, Rolling Green Golf Club | 76 |
| Phil Over, Jr./Philip Over, Penn Oaks Golf Club/Foxchase Golf Club | 76 |
| Jeffrey Amrhein/Austin Amrhein, Briarwood Golf Club/Pilgrim's Oak Golf Course | 76 |
| Dante Frederico/Joe Frederico, Running Deer Golf Club | 76 |
| Scott Bracken/Jim Bracken, Medford Village Country Club/McCall Golf Club | 77 |
| Frank Lucard/Graham Lucard, LuLu Country Club/Philadelphia Cricket Club | 77 |
| Jack McCormick/Jack McCormick, Stone Harbor Golf Club/McCall Golf Club | 77 |
| Travis Lock/Cory Lock, RiverWinds Golf & Tennis Club | 78 |
| John Howson/Greg Howson, St. Davids Golf Club | 78 |
| Michael R. Brown, Jr./Michael Brown, LuLu Country Club | 78 |
| Justin Smith/James Smith, French Creek Golf Club | 79 |
| Scott Lumbatis/Ralph Lumbatis, Hershey Country Club | 79 |
| John VanDame, Jr./Barrett VanDame, Talamore Country Club/Linfield National Golf Club | 80 |
| Nick Wanck/John Wanck, Talamore Country Club/Gilbertsville Golf Club | 80 |
| Don Hoegel/David Hoegel, Little Mill Country Club | 80 |
| Rich Thon/Jesse Thon, The Springhaven Club | 81 |
| Bill Dwyer/Brian Dwyer, Applecross Country Club | 84 |
| Matthew Montgomery /Mike Montgomery, USGA/GAP GC/Hershey's Mill Golf Club | 87 |
| Timmy Harmon/Benjamin Harmon, Eagle Creek Golf Club | 87 |
| WD – withdrawal | |