Talamore tandem takes Father & Son (Older)
KENNETT SQUARE, Pa. — As he walked off the first green Tuesday, Steven Cucinotti, with a bellowing giggle, offered a piece of advice to the gallery.
| Scoring portal | History | Photo gallery |
"You don't want to follow this group," he said.
Turns out they did. Cucinotti and his son Sal carded a 1-under-par 70 (par 71, 6,130 yards) to capture the 109th Father & Son (Older) at a crisp Kennett Square Golf & Country Club.
The event's format is greensomes (selective drive, alternate shot).
"We rolled a lot of putts right off the hole. Every hole, we had a look at birdie," Steven, 63, of Philadelphia, Pa., said. "And we hit some really good putts that edged out. We could've been 5 or 6 under."
"The key for us is when we can have somebody in play off the tee with a reasonable chance at the green, between the two of us, we're usually going to get on the green," Sal, 33, of Yardley, Pa., added. "That's what happened today, which was nice."
"It's not one zinger. It's death by a thousand cuts, all round long."

Sal Cucinotti
The Talamore Country Club members registered 16 greens in regulation. Steven sunk a pair of downhill sliders for birdie. On No. 9 (par 5, 453 yards), he made a left-to-right-breaking 12-footer following Sal's flop shot. On No. 11 (par 3, 135 yards), Sal's pitching wedge stopped 18 feet from the flagstick. Steven again drained a left-to-right breaker.
Only one misstep spoiled an otherwise flawless effort. Steven missed No. 14 (par 4, 352 yards) green right with a pitching wedge from 146 yards. His 18-footer to save par lipped out. Pars thereafter allowed the Cucinotti team to secure a three-stroke victory.
Steven, who took a 12-year hiatus from golf (2001-13), traversed Kennett Square 25 years ago when he held membership at nearby Concord Country Club. Sal saw the property for the first time Thursday. Together, they handled Kennett's contours as proficiently as seasoned club rats.
"It has some character holes to it," Sal said. "It's in great condition. The greens rolled really well."
An ability to roll with the punches is a must when paired with the Cucinottis, who both work in construction. The two trade jabs and inject humor into each golf shot.
"We break each other's chops. It's constant," Steven, the 2016 Tee It Forward — Fall Net Champion, said. "There are people who actually get mad at each other. We just laugh about it."
"It's not one zinger. It's death by a thousand cuts, all round long," Sal added.
Case in point: the 2018 Pennsylvania Golf Association Father-Son Championship at Chester Valley Golf Club.
"The guys with us were dying," Steven said. "He would hit a chip shot, and I would say, 'That's the garbage you're going to leave me? I have to make a 15-footer?' Then I roll it in. Boom."
"Of course, he's telling you about the stories where he makes it," Sal added.
What about putts at Kennett Square?
"Did you make one today?" Steven asked.
"No. You know why? I was too busy trying to hit it on the green," Sal added.
The Cucinotti jokes and jabs will continue Sept. 20 when the two compete in Talamore's Better-Ball Championship Final.
"We have a bunch of people who want to follow us because we're entertaining at best," Steven said.
"You either hate us, or we're entertaining," Sal added.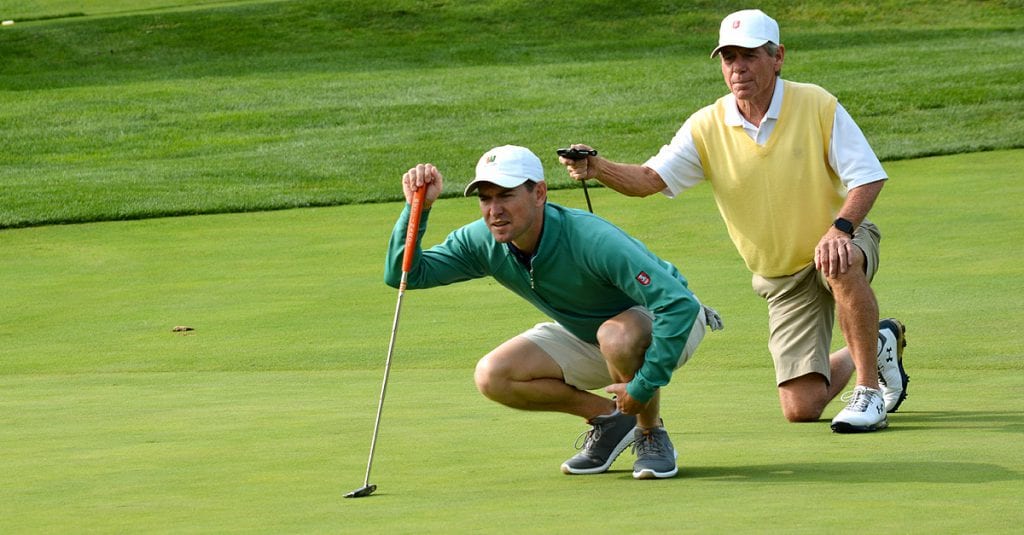 Super-Senior Division
Jack and Sean Seese last won a GAP Father & Son event in 2003.
"We haven't even been in contention since," Sean said.
"We haven't broken 80," Jack added.
Once the laughs — in good fun of course — subsided, the Seeses absorbed the weight of their achievement Thursday and smiled. The Huntingdon Valley Country Club members carded a 4-under-par 67 to win the event's Super-Senior Division (par 71, 5,773 yards).
"All in all, it was pretty stress free," Sean, 37, of Rydal, Pa., said.
"When you hit 18 greens, there's not a lot of stress," Jack, 67, of Meadowbrook, Pa., added.
Such efficiency translated into four birdies on the scorecard. Jack started by knocking a 6-iron to six feet on No. 5 (par 3, 159 yards). Sean cleaned up the birdie putt. He made an eight-footer on the next hole (par 4, 323 yards) following Jack's 40-yard wedge shot. On No. 11 (par 3, 117 yards), Jack hit a 9-iron to 30 feet below the flagstick. Sean buried the uphill birdie putt.
"That's when I felt like we were maybe in contention," he said.
In the driver's seat is more like it. A powerful drive from Sean on No. 15 (par 4, 350 yards) put another wedge in Jack's hands. He sent it 60 yards to nine feet for another birdie. The Seese team punctuated its performance with red on Kennett Square's closer (par 5, 447 yards). Sean cleared the adjacent driving range and successfully cut the corner. However, Jack needed to account for a nearby root, which forced 5-iron chaser from 125 yards. He ran it into a neck of rough above the right greenside bunker. Sean's delicate chip stopped four feet from the jar.
A collaborative 4 under and a second Father & Son title. Quite a catch for two golfers seeing Kennett Square for the first time.
"I thought the greens were incredible. I thought the course was in phenomenal shape," Sean said. "I wasn't sure if the practice putting green was real or not. it was real. the greens were firm and fast. It was a treat to play out here."
GAP
Celebrating Amateur Golf since 1897, GAP, also known as the Golf Association of Philadelphia, is the oldest regional or state golf association in the United States. It serves as the principal ruling body of amateur golf in its region. The Association's 288 Member Clubs and 75,000 individual members are spread across the Eastern half of Pennsylvania and parts of New Jersey and Delaware. The GAP's mission is to promote, preserve and protect the game of golf.
| | | |
| --- | --- | --- |
| Gross results | | |
| Championship Division | | |
| Name | Club | Score |
| Steven Cucinotti/Sal Cucinotti | Talamore Country Club | 70 |
| Phillip Villari/Phil Villari | Riverton Country Club | 73 |
| Brian Trymbiski/Brian Trymbiski | Doylestown Country Club | 73 |
| Jimmy Muller/Max Muller | Manufacturers' Golf & Country Club | 73 |
| Adam Mowery/Theodore Mowery | DuPont Country Club/West Shore Country Club | 77 |
| Brad Cornforth/Doug Cornforth | Radley Run Country Club/Loch Nairn Golf Club | 77 |
| Brian Rothaus/Zachary Rothaus | Philmont Country Club/Five Ponds Golf Club | 77 |
| Michael Furman/Edward Furman | The 1912 Club | 77 |
| Bill Holt/Will Holt | Kennett Square Golf & Country Club | 78 |
| Lincoln Allan/Chris Allan | Philadelphia Publinks Golf Association | 78 |
| Dwight Dudas/Matt Dudas | Indian Valley Country Club | 78 |
| Michael Angelos/Mike Angelos | RiverCrest GC & Preserve | 79 |
| Michael Grimes/Gary Grimes | Chester Valley Golf Club | 79 |
| Lee Duda/Mike Duda | Manufacturers' Golf & Country Club/Wyoming Valley Country Club | 80 |
| Chris Casperson/Eric Casperson | Indian Valley Country Club | 80 |
| Mike Todd/Mike Todd | Coatesville Country Club | 80 |
| Nate Zipay/Daniel Zipay | The 1912 Club/Raven's Claw Golf Club | 80 |
| Bobby Harrell/Bob Harrell | Little Mill Country Club | 81 |
| Scott Lawson/Ted Lawson | Talamore Country Club/Paxon Hollow Country Club | 82 |
| Joe Fox/Kevin Fox | Cedarbrook Country Club | 82 |
| Greg Bender/Gary Bender | Honeybrook Golf Club/Applecross Country Club | 85 |
| Greg Walsh/Matt Walsh, Sr. | Philadelphia Country Club | 85 |
| J.T. Clarke/Charlie Clarke | Running Deer Golf Club | 86 |
| Scott Bracken/Jim Bracken | Medford Village Country Club/McCall Golf Club | 90 |
| Ed Hospodar/Ted Hospodar | Overbrook Golf Club | 91 |
| Rick Craft/Richard Craft, Jr. | Aronimink Golf Club/Saddlebrook Resort | 91 |
| Vinny Salatino/Pete Salatino | Sandy Run Country Club/Jeffersonville Golf Club | 91 |
| Travis Lock/Cory Lock | RiverWinds Golf & Tennis Club | 93 |
| | | |
| --- | --- | --- |
| Super-Senior Division | | |
| Name | Club | Score |
| Jack Seese/Sean Seese | Huntingdon Valley Country Club | 67 |
| Ryan O'Leary/Robert O'Leary | Makefield Highlands Golf Club/Lookaway Golf Club | 70 |
| Vince Scarpetta, Jr./Stephen Scarpetta | Nittany Country Club/Glenmaura National Golf Club | 71 |
| Larry Borowsky/Alan Borowsky | White Manor Country Club | 71 |
| Rich Thon/Jesse Thon | The Springhaven Club | 72 |
| Chris Yard/Scott Yard | Whitford Country Club/Applecross Country Club | 72 |
| Brian Herman/Jim Herman | Merchantville Country Club | 76 |
| Joe Dulka/Joe Dulka | DuPont Country Club/Bellewood Country Club | 76 |
| Marty Klagholz/Jeff Klagholz | Aronimink Golf Club/Applebrook Golf Club | 76 |
| Gene Carroll/Ryan Carroll | Chester Valley Golf Club/Avalon Golf Club | 77 |
| Phil Petroll/Pete Petroll | Penn Oaks Golf Club | 77 |
| Dennis Campbell/Jamie Campbell | Schuylkill Country Club | 78 |
| Bob Billings/Rob Billings | Rolling Green Golf Club/Philadelphia Publinks Golf Association | 78 |
| Mike Civitello/Mike Civitello, Jr. | Chester Valley Golf Club | 78 |
| Philip Over/Philip Over, Jr. | Honeybrook Golf Club/Penn Oaks Golf Club | 79 |
| Stephen Brown/Victor Brown | Philadelphia Cricket Club/Chester Valley Golf Club | 79 |
| Warren Deakins/Jay Deakins | Philadelphia Country Club/St. Davids Golf Club | 79 |
| Dave Owsik/David Owsik, Jr. | Rolling Green Golf Club/Philadelphia Publinks Golf Association | 79 |
| Bryan McClaskey/Charlie McClaskey | Merchantville Country Club/Philadelphia Publinks Golf Association | 79 |
| Jay Howson, Jr./Greg Howson | St. Davids Golf Club | 79 |
| Don Hoegel/David Hoegel | Little Mill Country Club | 82 |
| Gary Daniels/Jesse Daniels | Applebrook Golf Club/Aronimink Golf Club | 82 |
| Francis Doyle/Francis Doyle | Bensalem Township Country Club/Sandy Run Country Club | 82 |
| Timothy Casale/Anthony Casale | Moorestown Field Club | 83 |
| Frank Skilton/Matt Skilton | Manufacturers' Golf & Country Club | 83 |
| Timothy O'Donovan/Jay O'Donovan | Overbrook Golf Club | 84 |
| Jim Schulz/Jim Schulz | LuLu Country Club | 85 |
| Tom Polinski/Drew Polinski | Downingtown Country Club/Linfield National Golf Club | 87 |
| Jack McCormick/Jack McCormick | Stone Harbor Golf Club/McCall Golf Club | 88 |
| John VanDame, Jr./Barrett VanDame | Talamore Country Club/Linfield National Golf Club | 89 |
| Timothy O'Reilly/Sean O'Reilly | Applebrook Golf Club/Aronimink Golf Club | 90 |
| Ned Moore/Ned Moore, Jr. | Manufacturers' Golf & Country Club/Stonewall | 90 |
| Bill Dwyer/Brian Dwyer | Applecross Country Club | 94 |
| | | |
| --- | --- | --- |
| Net results | | |
| Championship Division | | |
| Name | Club | Score |
| Phillip Villari/Phil Villari | Riverton Country Club | 66 |
| Steven Cucinotti/Sal Cucinotti | Talamore Country Club | 67 |
| Brian Trymbiski/Brian Trymbiski | Doylestown Country Club | 69 |
| Nate Zipay/Daniel Zipay | The 1912 Club/Raven's Claw Golf Club | 70 |
| Bobby Harrell/Bob Harrell | Little Mill Country Club | 71 |
| Lee Duda/Mike Duda | Manufacturers' Golf & Country Club/Wyoming Valley Country Club | 72 |
| Brad Cornforth/Doug Cornforth | Radley Run Country Club/Loch Nairn Golf Club | 72 |
| Michael Angelos/Mike Angelos | RiverCrest GC & Preserve | 73 |
| Michael Grimes/Gary Grimes | Chester Valley Golf Club | 73 |
| Lincoln Allan/Chris Allan | Philadelphia Publinks Golf Association | 73 |
| Jimmy Muller/Max Muller | Manufacturers' Golf & Country Club | 73 |
| Joe Fox/Kevin Fox | Cedarbrook Country Club | 73 |
| Ed Hospodar/Ted Hospodar | Overbrook Golf Club | 74 |
| Brian Rothaus/Zachary Rothaus | Philmont Country Club/Five Ponds Golf Club | 74 |
| Bill Holt/Will Holt | Kennett Square Golf & Country Club | 75 |
| Adam Mowery/Theodore Mowery | DuPont Country Club/West Shore Country Club | 75 |
| Scott Lawson/Ted Lawson | Talamore Country Club/Paxon Hollow Country Club | 75 |
| Mike Todd/Mike Todd | Coatesville Country Club | 75 |
| Greg Walsh/Matt Walsh, Sr. | Philadelphia Country Club | 76 |
| Greg Bender/Gary Bender | Honeybrook Golf Club/Applecross Country Club | 77 |
| Rick Craft/Richard Craft,Jr. | Aronimink Golf Club/Saddlebrook Resort | 77 |
| Vinny Salatino/Pete Salatino | Sandy Run Country Club/Jeffersonville Golf Club | 77 |
| Dwight Dudas/Matt Dudas | Indian Valley Country Club | 77 |
| Scott Bracken/Jim Bracken | Medford Village Country Club/McCall Golf Club | 78 |
| Travis Lock/Cory Lock | Riverwinds Golf & Tennis Club | 84 |
| | | |
| --- | --- | --- |
| Super-Senior Division | | |
| Name | Club | Score |
| Ryan O'Leary/Robert O'Leary | Makefield Highlands Golf Club/Lookaway Golf Club | 62 |
| Brian Herman/Jim Herman | Merchantville Country Club | 65 |
| Jack Seese/Sean Seese | Huntingdon Valley Country Club | 66 |
| Chris Yard/Scott Yard | Whitford Country Club/Applecross Country Club | 68 |
| Larry Borowsky/Alan Borowsky | White Manor Country Club | 70 |
| Phil Petroll/Pete Petroll | Penn Oaks Golf Club | 70 |
| Jim Schulz/Jim Schulz | LuLu Country Club | 71 |
| Matt Genesio/Anthony Genesio | Waynesborough Country Club/Spring Mill Country Club | 71 |
| Philip Over/Philip Over, Jr. | Honeybrook Golf Club/Penn Oaks Golf Club | 71 |
| Stephen Brown/Victor Brown | Philadelphia Cricket Club/Chester Valley Golf Club | 71 |
| Dave Owsik/David Owsik, Jr. | Rolling Green Golf Club/Philadelphia Publinks Golf Association | 71 |
| Gene Carroll/Ryan Carroll | Chester Valley Golf Club/Avalon Golf Club | 72 |
| Jack McCormick/Jack McCormick | Stone Harbor Golf Club/McCall Golf Club | 72 |
| Timothy Casale/Anthony Casale | Moorestown Field Club | 72 |
| Joe Dulka/Joe Dulka | DuPont Country Club/Bellewood Country Club | 72 |
| Timothy O'Donovan/Jay O'Donovan | Overbrook Golf Club | 73 |
| Francis Doyle/Francis Doyle | Bensalem Township Country Club/Sandy Run Country Club | 73 |
| Marty Klagholz/Jeff Klagholz | Aronimink Golf Club/Applebrook Golf Club | 73 |
| Mike Civitello/Mike Civitello, Jr. | Chester Valley Golf Club | 74 |
| Warren Deakins/Jay Deakins | Philadelphia Country Club/St. Davids Golf Club | 74 |
| Don Hoegel/David Hoegel | Little Mill Country Club | 75 |
| Bryan McClaskey/Charlie McClaskey | Merchantville Country Club/Philadelphia Publinks Golf Association | 75 |
| Gary Daniels/Jesse Daniels | Applebrook Golf Club/Aronimink Golf Club | 76 |
| Jay Howson, Jr./Greg Howson | St. Davids Golf Club | 76 |
| Frank Skilton/Matt Skilton | Manufacturers' Golf & Country Club | 77 |
| Bill Dwyer/Brian Dwyer | Applecross Country Club | 77 |
| John VanDame, Jr./Barrett VanDame | Talamore Country Club/Linfield National Golf Club | 78 |
| Tom Polinski/Drew Polinski | Downingtown Country Club/Linfield National Golf Club | 78 |
| Bob Billings/Rob Billings | Rolling Green Golf Club/Philadelphia Publinks Golf Association | 78 |
| Timothy O'Reilly/Sean O'Reilly | Applebrook Golf Club/Aronimink Golf Club | 81 |
| Ned Moore/Ned Moore, Jr. | Manufacturers' Golf & Country Club/Stonewall | 83 |