Trio finds golf growth at Cedarbrook
VILLANOVA, Pa. — Switching club memberships is never easy, but for Scott Hughes, Christian Matt, and Darren Nolan going from Talamore Country Club to Cedarbrook Country Club was the right decision.
| Day One recap | Scoring portal | History |
"When we moved to Cedarbrook, all of the people were great there," Hughes, 16, of Ambler, Pa., a rising sophomore at La Salle College High School, said. "The way they run things at Cedarbrook was more convenient."
"We all moved to Cedarbrook because there were more times to play there and more Junior players to compete with," Matt, 17, of Spring House, Pa., a rising senior at Wissahickon High School, added. "Everyone at the Junior program has welcomed us there. It has overall been a great experience."
The three Cedarbrook members took their talents to Overbrook Golf Club (par 70, 6,299 yards) for the 107th Junior Boys' Championship Monday. Matt gained a spot in the Championship Flight thanks to a 2-over-par 72. Hughes drained a four-footer for birdie on No. 18 (par 4, 389 yards) to emerge from an 8-for-6 playoff at 3-over-par 73. Nolan missed the cut with a 10-over-par 80.
Cedarbrook is a week removed from hosting the 121st BMW Philadelphia Amateur Championship, highlighting a monumental moment for the club.
"It means a lot, and the course is in unbelievable shape right now," Hughes said. "I just played nine holes there last night, and it's great to have our club host a GAP Major like that."
"It was awesome watching [eventual champion and Temple University senior] Conor McGrath compete in the last six holes," Nolan, 17, of Glenside, Pa., a rising senior at La Salle College High School., added. "Being able to hang out with the Temple men's golf crew was a great experience, and I look forward to spending more time with them." Nolan is verbally committed to Temple.
Since Hughes, Matt, and Nolan joined Cedarbrook, they have spent a lot of time together.
"Our friendship has grown tremendously," Hughes said. "I love playing golf with them because they always challenge me and bring the best out of me."
"We usually play every day together at Cedarbrook when our schedules allow it," Nolan said. "It's also nice being teammates with Scott at La Salle because we know each other's game so well and help each other out through our rounds."
Irons (not that one) makes #GAPJunior debut
The Irons family name continues to splash onto GAP tee sheets.
Aidan Irons, cousin of recent BMW Philadelphia Amateur Championship runner-up Jack Irons, competed in the 107th Junior Boys' Championship at Overbrook Golf Club (par 70, 6,299 yards) Monday. He missed the match play cut with a 17-over-par 87. Two days ago, Jack, a Little Mill Country Club member, lost to Huntingdon Valley Country Club's Conor McGrath, 3&2, in the 121st BMW Philadelphia Amateur Championship Final at Cedarbrook Country Club.
"Unfortunately, I wasn't able to see him play, but it's great seeing him doing as well as he is right now," Aidan, 16, of Yardley, Pa., a rising junior at Holy Ghost Preparatory School, said. "He's going to have a lot more finishes like that in future events."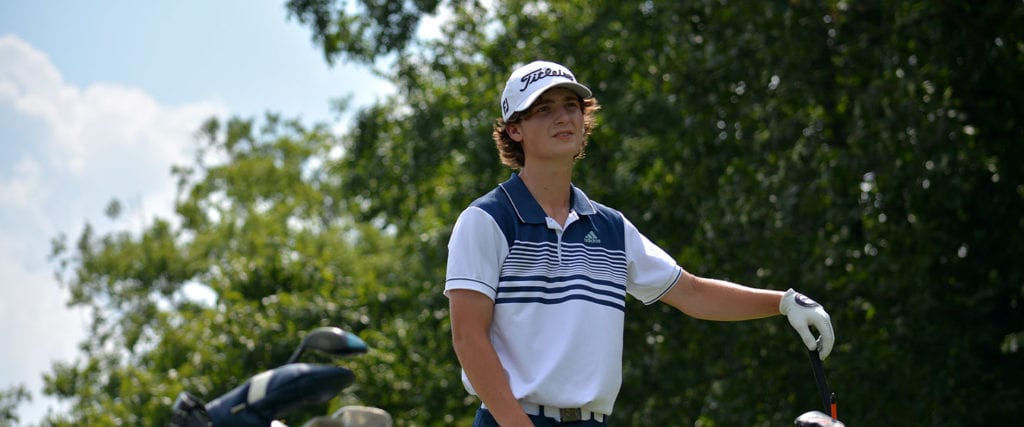 Aidan holds a dual membership at Yardley Country Club and Medford Lakes Country Club. He started playing golf in May 2020. Rounds alongside Jack last summer helped Aidan develop his game.
"It's awesome getting to play golf with Jack because we've always been close for as long as I can remember," Aidan said. "It was the right time to start playing golf because my whole family is into it, and it's something that I want to be a part of. I've always known that Jack has been a great golfer, and at this point, I'm just trying to catch up to him. He's had some tough breaks in his golf career, but I believe that it will benefit him later on because he's one of the best players I've ever seen play."
Despite missing the match play cut, Aidan hopes to build upon his Junior Boys' Championship debut. It doesn't hurt to have a BMW Philadelphia Amateur finalist in the family.
"I look forward to improving my game and competing in more events this summer," he said. "I know continuing to be around Jack will help me tremendously."