Net 57 & 59 win Women's Spring Scramble top prizes
ELVERSON, Pa. – It took three tries, but the Women's Spring Scramble finally teed off in its rightful spring slot. And for two talented teams, it was a victorious day they won't soon forget.
The event's first edition in 2019 was forced to the fall due to weather, while the COVID-19 pandemic pushed back the Scramble last season. This go around, fabulous French Creek Golf Club (par 70, 4,910 yards) hosted 12 teams vying for the top spots.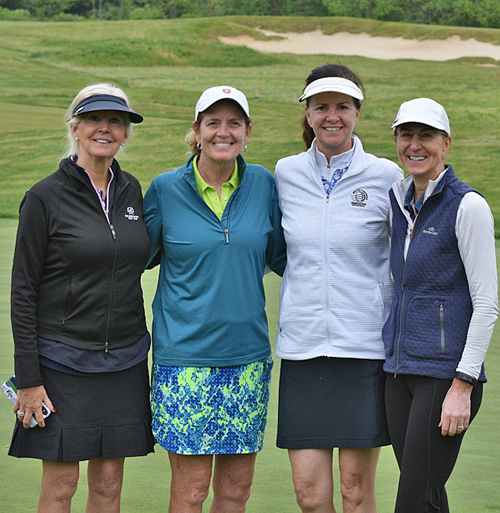 A match of cards at 11-under 59 decided the First Flight champions, as it was RiverCrest Golf Club & Preserve's Diane Bartunek, Brenda Johnson and Tammy Virnig paired with Whitford Country Club's Diane Herring who claimed the top spot. The foursome's back-nine net score (6-under 29) bettered Wyoming Valley Country Club's Natalie Sokoloski, Melissa Define and Karen Kempinski, plus Fox Hill Country Club's Wendy Cimoch, who finished with a back-nine net of 4-under 31.
Two net eagles and seven net birdies were the scoring numbers for the winners. In all, it was a total team effort that got the job done.
"We always like to compete. Instead of going out and just hacking it around, we like something to play for," said Bartunek, 61, of Collegeville, Pa. "French Creek is a great venue. And it's worth the drive for anyone."
The scramble format caught the teams eye when seeking out tournaments this season. Add in the fact that today's victory also hosted a reunion of sorts, and the win gets even more special.
"I was so excited today because I'm not currently at RiverCrest where I had been, so just to be able to see my friends on such a fun day where we could both play golf, but also not have the pressure along with it, it was wonderful," said Herring, 67, of Devon, Pa. "Everyone contributed today, so that made it very fun."
The Second Flight went to the Spring Ford Country Club squad of Lisa Calle, Karen Hilliard, Lauren Studebaker and Kathy Wolfgang. They combined to file a scorecard of 13-under 57 for the win.
"As a team, we were really good today. If three of us hit a poor shot, the last player would pull through," said Calle, 52, of Pottstown, Pa.
Calle was one of those players who did, in fact, pull through. No bigger moment can be found on the card than Calle's chip-in birdie on No. 5, a 115-yard par 3.
"We all were kind of in bad spots off the tee. We all had terrible shots," said Calle. "I just chipped it, and it's going… going… going… and it went in. And then we screamed."
After competing in the Women's Golf Association of Philadelphia Team Matches, the foursome decided they wanted more chances to compete. Today was that opportunity.
"We decided right after Team Matches that we we're going to try and sign up together," said Wolfgang, 64, of Spring City, Pa. "I have a second-club membership here at French Creek, so I was kind of able to help out with course knowledge today. But we're really happy to help bring this win back to Spring Ford."
"We had a really great time as a team. I'd really encourage everyone to get out and try it out next year."

RiverCrest's Tammy Virnig
The winners, plus the 10 other foursomes competing Monday, gave rave reviews of the event and its fun format. While competition was high, so was the camaraderie.
"This was my first GAP competition ever. I'm new to the game and it's nerve-wracking to be in a competition, but to come out and do a scramble, you know it's going to be awesome because these other ladies are so awesome," said Virnig, 59, of Phoenixville, Pa. "Today was so well run and everyone was great out here. We had a really great time as a team. I'd really encourage everyone to get out and try it out next year."
"Thanks to the GAP, because today was really well run," said Studebaker, 59, of Plymouth Meeting, Pa. "We'll definitely be back with two teams next year."
GAP
Celebrating Amateur Golf since 1897, GAP, also known as the Golf Association of Philadelphia, is the oldest regional or state golf association in the United States. It serves as the principal ruling body of amateur golf in its region. The Association's 300 Member Clubs and 80,000 individual members are spread across the Eastern half of Pennsylvania and parts of Delaware, Maryland and New Jersey. The GAP's mission is to promote, preserve and protect the game of golf.
First Flight
Names
Club(s) 
Net score
*Diane Bartunek/Diane Herring/Brenda Johnson/Tammy Virnig
RiverCrest GC & Preserve, Whitford Country Club
59
*Natalie Sokoloski/Melissa Define/Wendy Cimoch/Karen Kempinski
Wyoming Valley Country Club, Fox Hill Country Club
59
Krista Mayes/Sandy Cooper/Jennie Speelman/Dana King
The 1912 Club, Blue Bell Country Club
61
Wynn Harris/Teresa Hillegass/Linda Kennedy/Kasey Lucard
Commonwealth National Golf Club, Waynesborough Country Club, LuLu Country Club
61
Wendy Rudofker/Stacey Ackerman/Marji Goldman/Wendy Weber
Philadelphia Cricket Club
62
Jackie Beck/Patty Cox/Amy Scalici/Lynn Codrea
Lehigh Country Club
62
Muffy McCabe/Teresa Thatcher/Patricia Duffy/Patty Davis
 French Creek Golf Club
 62
Second Flight
Club(s)
Net score
Lisa Calle/Lauren Studebaker/Karen Hilliard/Kathy Wolfgang
Spring Ford Country Club
57
Tracey MacGown/Pam Kennedy/Kimberly Watts/Sam Morrow
Saucon Valley Country Club
60
Karen Hartranft/Liz Egner/Gayle Sakacs/Corky Mock
Willow Hollow Golf Course
62
Ellen Morrow/Mary Conway/Judy Uhrich/Kim Niles
Honeybrook Golf Club, French Creek Golf Club
62
Jan Dunner/Joanne Keenan/Deb Archut/Mary Cujdik
Eagle Rock Golf & Resort
63
* – decided in match of cards, back-nine net total