Mehra, Ogura and Spotleson split medal at Lehigh
India's Smriti Mehra, Japan's Yuko Ogura, and RiverCrest Golf Club & Preserve's Suzi Spotleson shared medalist honors in U.S. Senior Women's Open Qualifying administered by GAP at Lehigh Country Club (par 70, 5,686 yards) Tuesday.
Mehra, Ogura, and Spotleson all fired 4-over 74s to lead the field of 21 championship hopefuls.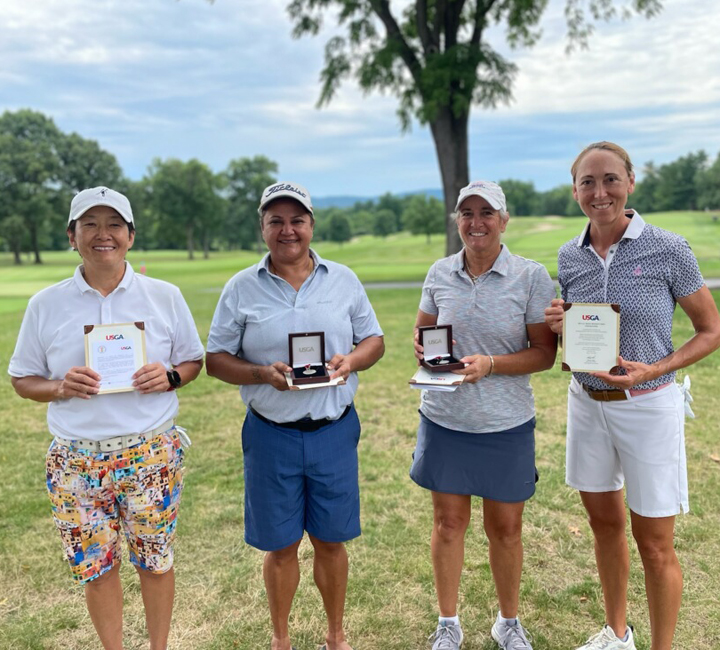 Before carding an even-par score on the back nine, Mehra, the first Indian woman on the LPGA TOUR, made red numbers on Nos. 2 (par 4, 311 yards) and 4 (par 4, 279 yards). Steady golf for Ogura allowed her to grab a piece of the medal. Spotleson's birdies on Nos. 2 (par 4, 311 yards) and 15 (par 4, 330 yards) allowed her to do the same.
Joining the medalists in the championship proper is amateur Stephenie Harris, a Lookaway Golf Club member.
The 4th U.S. Senior Women's Open will be contested Aug. 25-28 at NCR Country Club (South Course) located in Kettering, Ohio. The field is open to 120 females of either amateur or professional status who have qualified for the championship proper at one of 16 qualifying sites, are 50-years-old on or before Aug. 25 and whose handicap is no greater than 7.4.
GAP
Celebrating Amateur Golf since 1897, GAP, also known as the Golf Association of Philadelphia, is the oldest regional or state golf association in the United States. It serves as the principal ruling body of amateur golf in its region. The Association's 330 Member Clubs and 90,000 individual members are spread across Pennsylvania, Delaware, New Jersey and Maryland. The GAP's mission is to promote, preserve and protect the game of golf.
| | |
| --- | --- |
| Qualifiers | |
| Name, city, state | Score |
| Smriti Mehra, India | 74 |
| Yuko Ogura, Japan | 74 |
| (a)Suzi Spotleson, Canton, Ohio | 74 |
| (a)Stephenie Harris, Furlong, Pa. | 76 |
| Alternates (in order) | |
| (a)Noreen Mohler, Bethlehem, Pa. | 77 |
| (a)Karen Siegel, Maple Glen, Pa. | 78 |
| Failed to qualify | |
| (a)Kimbra Benson, Leonardtown, Md. | 79 |
| (a)Mercedese Large, West Hartford, Conn. | 79 |
| (a)Angie Whitley Coleman, Wilmington, Del. | 80 |
| (a)Allison Long, Coatesville, Pa. | 81 |
| Kathleen Ricci, Howell, N.J. | 83 |
| (a)Judy Dwyer, Center Valley, Pa. | 85 |
| (a)Megan Grosky Mcgowan, Blue Bell, Pa. | 85 |
| (a)Maureen Koerwer, Huntingdon Valley, Pa. | 86 |
| (a)Lora Fioretti, Finksburg, Md. | 89 |
| (a)Janice Pa.rk, Philadelpphia, Pa. | 91 |
| Deborah Bosdosh, Clarksburg, Md. | 94 |
| Sharon Barley, Lancaster, Pa. | 95 |
| Diane Rama, Harleysville, Pa. | NS |
| Jennifer Cully, St. Petersburg, Fla. | WD |
| (a)Kimberley Simmons, Malvern, Pa. | WD |
| NS – no show; WD – withdrawal | |
| (a) – denotes amateur | |