Roeder, Smeraglio share #USSeniorAmateur Qual. medal at Radnor
VILLANOVA, Pa. – On a day the Keystone State was awarded a multitude of future USGA championships, a few Senior amateurs made the headlines in Pennsylvania, too.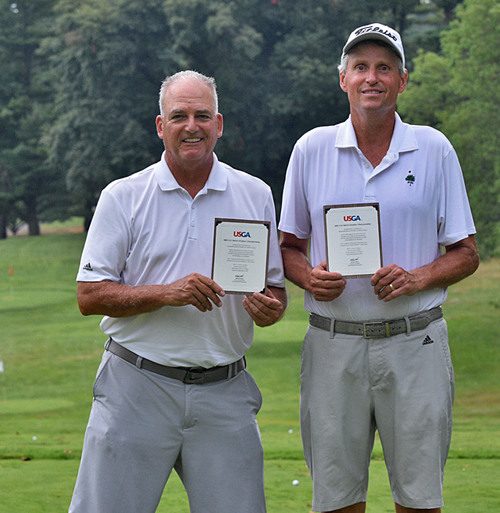 The USGA announced future championships for the likes of Merion Golf Club and Oakmont Country Club on Wednesday. Meanwhile, at Radnor Valley Country Club (par 80, 6,475 yards), double Qualifying events were being administered by the Golf Association of Philadelphia for upcoming national championships — the 66th U.S. Senior Amateur and 59th U.S. Senior Women's Amateur.
In the afternoon, beginning at 12:30 p.m., a field of 75 hopefuls flocked to Radnor for a chance at one of the four U.S. Senior Amateur tickets available. Earning a share of the top spot and co-medalist honors was Merion's own Joe Roeder and LuLu Country Club's Glenn Smeraglio who both fired 1-under 69s.
Also gaining entry into the championship proper was Chris Fieger of Philadelphia Publinks GA at even-par 70 and Philadelphia Cricket Club's Patrick Dougherty, who advanced on the fourth hole of a 2-for-1 playoff. The first alternate position went to Olde Homestead Golf Club's David Blichar via the playoff loss, while the second was taken by Overbrook Golf Club's Oscar Mestre.
The U.S. Senior Amateur will take place at the Country Club of Detroit (Grosse Pointe Farms, Mich.) on Aug. 28-Sept. 2.
Steamy conditions made way for difficult scoring on the day. However, the medalists would find a way to persevere through the temperatures via hydration and a handful of red numbers.
For Smeraglio, who got in the clubhouse first, it was a mix of four birdies paired with three bogeys. His red digits on No. 2 (par 3, 170 yards), No. 5 (par 4, 341 yards), No. 10 (par 5, 520 yards) and 18 (par 4, 398 yards) propelled him to the invitation — his seventh overall from the USGA.
"It was a really good ball striking day for me, which hasn't been the case this year. I hit a ton of fairways and greens, and that was the difference for me," said Smeraglio, 61, of Newtown, Pa.
Roeder's day featured back-to-back birdies on Nos. 6 (par 4, 379 yards) and 7 (par 5, 527 yards), plus one on the par-3, 156-yard 16th hole.
"All day, I made a lot of up-and-downs. I made a lot of five footers. So it was really a solid scoring day," said Roeder, 60, of Marlton, N.J. "The greens were running well, so you could give your putts a good look and run at [birdies]."
Now, both Smeraglio and Roeder will look to make runs in the Senior Amateur format. This will be Roeder's first appearance in a USGA national championship.
"It's going to be a dream come true for me to be participating in something like that. I can't put it into words. I don't really know what to expect, but obviously you always hear great things," said Roeder.
Smeraglio will head to Detroit with some needed confidence after having an up-and-down season. The medal honor has him headed in the right direction before he hits the national stage.
"I've been dealing with some personal stuff, so the concentration [on my game] hasn't been there. But events like these, that is what we come out here and play for," said Smeraglio. "You always think that you'll gear up [for USGA events], but it doesn't always work like that. So I'm glad I had a good ball striking day. It's exciting."
Frazier takes U.S. Senior Women's Amateur Qualifying medal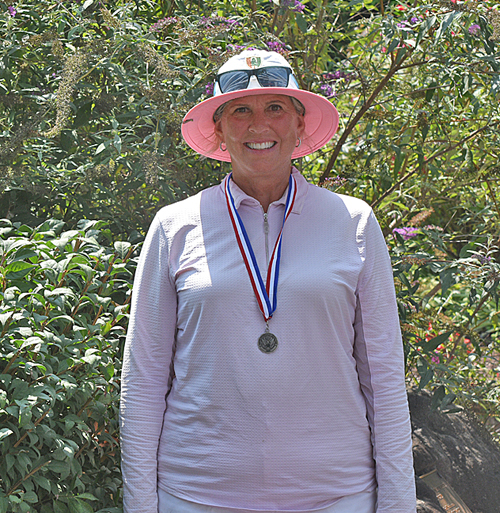 With a field of 17 national championship hopefuls teeing off at 7:40 a.m. Wednesday, there were four #USSrWomensAm spots up for grabs. Also on the line was the ever-important Qualifying medal honor.
Finishing with that piece of hardware in hand was Gulph Mills Golf Club's Alexandra Frazier, who carded a 7-over 77 for the top spot.
Securing the next two available spots at 8-over 78 was Lisa McGill of Sunnybrook Golf Club and Angie Whitley Coleman of Wilmington, Del.
A 2-for-1 playoff decided the final spot on the day. In overtime, it was Stephenie Harris of Lookaway Golf Club defeating Loraine Jones of Merion Golf Club for the final of four spots. Both Harris and Jones finished at 9-over 79 in regulation. The first alternate spot went to Jones, while the second was claimed by Meg Sorber of North Hills Country Club.
The U.S. Senior Women's Amateur will take place at The Lakewood Club (Point Clear, Ala.) on Sept. 10-15.
Frazier's day began with a birdie on Radnor's opener (par 4, 274 yards). It was there where her 8-iron from 110 yards landed 20 feet away from the cup, but the medalist jarred the winding putt for 3. Her second birdie of the day arrived on No. 13 (par 4, 295 yards). After a perfect drive there, Frazier lifted a wedge from 100 yards out, found the green and converted the birdie 3.
She didn't know it at the time, but her two-putt par from 10 feet on No. 18 (par 4,) closed out the medal race.
"It was definitely unexpected to walk away with a medal today. I didn't know where I stood there, but I hit a good hybrid shot coming in," said Frazier, 63, of North Palm Beach, Fla. "It's great to have the medal and [the invitation.]"
Frazier is no stranger to the U.S. Senior Women's Amateur. She was a Finalist in the 2010 edition, where she fell in the championship match, 2&1, to Mina Hardin.
"I've played in a bunch of these. I'm excited to get back," said Frazier. "Now, I need to start making plans to get to Alabama. It's probably going to be even hotter down there than it was today."
GAP
Celebrating Amateur Golf since 1897, GAP, also known as the Golf Association of Philadelphia, is the oldest regional or state golf association in the United States. It serves as the principal ruling body of amateur golf in its region. The Association's 300 Member Clubs and 80,000 individual members are spread across the Eastern half of Pennsylvania and parts of Delaware, Maryland and New Jersey. The GAP's mission is to promote, preserve and protect the game of golf.
| | |
| --- | --- |
| U.S. Senior Amateur Qualifying | |
| Qualifiers | |
| Name, city, state | Score |
| Joe Roeder, Marlton, N.J. | 69 |
| Glenn Smeraglio, Newtown, Pa.. | 69 |
| Chris Fieger, Sr., Denver, Pa.. | 70 |
| *Patrick Dougherty, North Wales, Pa. | 71 |
| Alternates (in order) | |
| *David Blichar, Allentown, Pa. | 71 |
| *Oscar Mestre, Berwyn, Pa. | 72 |
| Failed to qualify | |
| Tom DiCinti, Voorhees, N.J. | 72 |
| Mike Owsik, Bryn Mawr, Pa. | 72 |
| John Alterman, New Hope, Pa. | 73 |
| Joseph Russo, Sewell, N.J. | 73 |
| Ronald Weaver, Lancaster, Pa. | 73 |
| Jeffrey Allen, Dover, Del. | 74 |
| Don Donatoni, West Chester, Pa. | 74 |
| Jorge Luis Herrera Ariza, Columbia | 74 |
| Adam Kugler, Closter, N.J. | 74 |
| Edward Armagost, Jupiter, Fla. | 75 |
| Christopher Clauson, Philadelphia, Pa. | 75 |
| Gary Daniels, Berwyn, Pa. | 75 |
| Thomas Humphrey, Wilmington, Del. | 75 |
| Bill McGuinness, Haddonfield, N.J. | 75 |
| George Steinmetz, Radnor, Pa. | 75 |
| Byron Whitman, Reading, Pa. | 75 |
| David Brown, Canonsburg, Pa. | 76 |
| Greg Buliga, Langhorne, Pa. | 76 |
| Drew Forrester, Parkville, Md. | 76 |
| Jim Gavaghan, Newtown, Pa. | 76 |
| Rick James, Doylestown, Pa. | 76 |
| Brad Jankowski, Shamong, N.J. | 76 |
| Edward Kelly, Fernandina Beach, Fla. | 76 |
| Drew Panebianco, Gwynedd Valley, Pa. | 76 |
| Paul Rogowicz, Yardley, Pa. | 76 |
| Rufino Rosal, Smyrna, Del. | 76 |
| Michael Tash, Thorofare, N.J. | 76 |
| David West, Downingtown, Pa. | 76 |
| Marlin Detweiler, Akron, Pa. | 77 |
| John Gosselin, Landenberg, Pa. | 77 |
| Robin McCool, Center Valley, Pa. | 77 |
| John Nottage, Warminster, Pa. | 77 |
| Greg Osborne, Lititz, Pa. | 77 |
| Robert Savarese, Scottsdale, Ariz. | 77 |
| Vincent Scarpetta, Jr., Moosic, Pa. | 77 |
| Tim Vigotsky, Palm City, Fla. | 77 |
| Bob Beck, Philadelphia, Pa. | 78 |
| Carlos Ochoa, Marlton, N.J. | 78 |
| James Prendergast, Limerick, Pa. | 78 |
| Michael Quinn, Coatesville, Pa. | 78 |
| P. Chet Walsh, Wayne, Pa. | 78 |
| James Boburka, Bethlehem, Pa. | 79 |
| Jeff Johnston, Agoura Hills, Calif. | 79 |
| John Robinson, North Wales, Pa. | 79 |
| Kevin Sartell, Marydel, Md. | 79 |
| Andrew Sterge, Wayne, Pa. | 79 |
| John Walsh, Naples, Fla. | 79 |
| Thomas Borsello, Newark, Del. | 80 |
| Glenn Cocchiola, Bethlehem, Pa. | 80 |
| Brett Coddington, Pottstown, Pa. | 80 |
| Ed Kahn, Mount Laurel, N.J. | 80 |
| Michael Anderson, Horsham, Pa. | 81 |
| Brian Corbett, Clarks Summit, Pa. | 81 |
| Robert Falls, West Chester, Pa. | 81 |
| Joseph Morganti, Havertown, Pa. | 81 |
| Joe Hopkins, Newark, Del. | 82 |
| Robert Schubach, Center Valley, Pa. | 82 |
| Vince Yost, Harleysville, Pa. | 82 |
| Matthew Manfred, Horsham, Pa. | 83 |
| Rich Thon, Swarthmore, Pa. | 83 |
| Bill Davis, Newtown Square, Pa. | 84 |
| Charles McDowell, Wilmington, Del. | 85 |
| Robert Dietrich, Oxford, Pa. | 87 |
| John Luca, Wilmington, Del. | 87 |
| Denis Darragh, Orefield, Pa. | 89 |
| Michael Heller, Oregon City, Ore. | DQ |
| John Manfredi, Atlantic City, N.J. | DQ |
| Robert Spellman, Riegelsville, Pa. | NC |
| Arthur Kania, Haverford, Pa. | WD |
| * – decided in playoff | |
| DQ – disqualification; NC – no card; WD – withdrawal | |
U.S. Senior Women's Amateur Qualifying
| | |
| --- | --- |
| Qualifiers | |
| Name, city, state | Score |
| Alexandra Frazier, North Palm Beach, Fla. | 77 |
| Lisa McGill, Philadelphia, Pa. | 78 |
| Angie Whitley Coleman, Wilmington, Del. | 78 |
| *Stephenie Harris, Furlong, Pa. | 79 |
| | |
| Alternates (in order) | Score |
| *Loraine Jones, Newtown Square, Pa. | 79 |
| *Meg Sorber, Horsham, Pa. | 80 |
| | |
| Failed to qualify | Score |
| *Eileen Ramasamy, Moorestown, N.J. | 80 |
| Lindsay Wortham, Richmond, Va. | 81 |
| Janice Park, Philadelphia, Pa. | 81 |
| Allison Long, Coatesville, Pa. | 81 |
| Karen Siegel, Maple Glen, Pa. | 82 |
| Barbara Pagana, Selinsgrove, Pa. | 84 |
| Diane Cardano-Casacio, Flourtown, Pa. | 86 |
| Elizabeth Haines, Gladwyne, Pa. | 86 |
| Sarah Braendel, Malvern, Pa. | 86 |
| Megan Grosky McGowan, Blue Bell, Pa. | 87 |
| Clair Stewart, King of Prussia, Pa. | 87 |
| | |
| * – decided in playoff | |