Sebastianelli medals (again) in #USOpen Local Qualifying at Glen Oak
CLARKS SUMMIT, Pa. – Make that two years in a row Anthony Sebastianelli has snagged U.S. Open Local Qualifying medals.
| Scoring portal |
First it was the medal at Elmhurst Country Club in 2021, and now this season at Glen Oak Country Club. Coincidentally, both of those golf institutions have played a significant role in his golf journey — both as a junior golfer, and now as a professional.
Sebastianelli, who this year was named Director of Instruction at Elmhurst Country Club, took home Monday's U.S. Open Local Qualifying administered by GAP at Glen Oak (par 71, 6708 yards) with a savvy 4-under 67 under stormy skies.
The day's cut line stopped at even-par 71.
At noon, a powerful cell came through and knocked play off the course. Hail and winds followed the heavy rains, delaying play until 1:15 p.m. After 15 minutes of resumption, the skies again threatened with electricity, bringing players back into the clubhouse until 3 p.m. Players were able to dodge storm clouds after that, just like Sebastianelli dodged the rest of the 49-player field.
The medalist's round began in the morning with a tap-in birdie on the par-5, 543-yard opener. Sebastianelli got another one to slip in on No. 5 (par 4, 407 yards) where a choked-down gap wedge landed within eight foot, and he rolled it in to achieve 2-under par. Eventually he'd find himself back at level par through 11 holes, which the big swinger wasn't pleased with. He responded quickly with back-to-back birdies on Nos. 12 (par 4, 370 yards) and 13 (par 4, 326 yards).
"That kind of upset me, getting back to even par. I was playing well. I knew I needed to get back into the zone. And I did," said the medalist.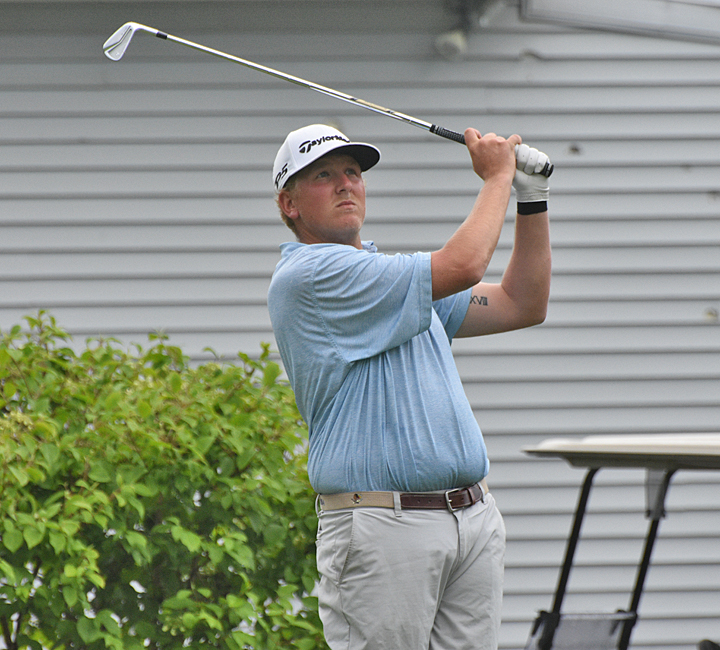 Sebastianelli's childhood golf was hosted at Glen Oak where he started playing "mostly to drive the golf cart." Soon, he was playing competitively throughout the region as a junior golfer and points to Glen Oak as where it all began.
"I grew up [at Glen Oak] playing golf, and it's a course I know really well. I have great memories here — the best probably being winning the Member-Guest [in 2018] with my Dad," said Sebastianelli, 27, of Clarks Summit, Pa. "The course overall was playing tough today. No conditions were the same because of all the rain, the wind, everything. I'm definitely happy with the round after all of that."
He'll compete in U.S. Open Final Qualifying June 6 at Century and Old Oaks Country Club in Purchase, N.Y — a popular destination for the region's advancing players. This will mark his third time (2019, 2021) there for Final Qualifying, seeking to gain his first #USOpen invite.
"I feel like my game is really in a good spot right now. I'm extremely happy with my new job at Elmhurst. I just signed with TaylorMade, and I have equipment that really fits me now," said Sebastianelli. "Hopefully everything is clicking at once when I get there. I'm excited."
David Mecca, a 29-year-old Scranton, Pa. resident who joined Glen Oak this year, got in the house early at 1-under 70. It would eventually hold on after the multitude of delays and playing the waiting game. This marks the first time Mecca has advanced to Final Qualifying, as he'll also tee it up at Century and Old Oaks Country Club on June 6.
"With Glen Oak being my home course, I knew where I could take advantage and play smart. I knew the birdie holes out here. That was big," said Mecca. "I think I've tried three or four times to qualify. Now that I did, I guess I'll have to figure out some more days I need to take off from work."
Chris Crawford, a three-time U.S. Open competitor, got through Local Qualifying with an even-par 71. Despite the massive experience advantage he held over today's Qualifying field, he still felt the first-tee butterflies. Ultimately, they helped him fly into familiar territory.
"Of course I still get nervous playing in Qualifying events. It's not like it's super comfortable. There are some very good players here, and you need to play good golf in order to advance," said Crawford, 28, of Bensalem, Pa. "To qualify alone is an accomplishment."
As a PGA TOUR Latinoamerica player, his schedule over the next three weeks is booked with the final stretch of the TOUR season. Instead of his usual Northeast Final Qualifying appearance, he'll tee it up May 23 at Lakewood Country Club and Royal Oaks Country Club in Dallas, Texas.
"It will be different [trying to qualify in Dallas], but I feel like I'm in a good place. I've had a good stretch here of golf," said Crawford, a former Joseph H. Patterson Cup Champion (2015) and Drexel University standout.
Gaining the first alternate position after a playoff was Billy Pabst (Roaring Brook Township, Pa.) followed by Luke Fayocavitz (Clarks Summit, Pa.) in the second alternate position.
The 122nd U.S. Open will take place June 16-19 at The Country Club in Brookline, Mass.
GAP
Celebrating Amateur Golf since 1897, GAP, also known as the Golf Association of Philadelphia, is the oldest regional or state golf association in the United States. It serves as the principal ruling body of amateur golf in its region. The Association's 330 Member Clubs and 90,000 individual members are spread across Pennsylvania, Delaware, New Jersey and Maryland. The GAP's mission is to promote, preserve and protect the game of golf.
| | |
| --- | --- |
| Qualifiers | Score |
| Sebastianelli, Anthony/Clarks Summit, Pa. | 67 |
| Mecca, David (a)/Scranton, Pa. | 70 |
| Crawford, Christopher/Bensalem, Pa. | 71 |
| Alternates (in order) | |
| Pabst, Billy (a)/Roaring Brook Township, Pa. | 73 |
| Fayocavitz, Luke (a)/Clarks Summit, Pa. | 73 |
| Failed to qualify | |
| Powers, David/Glen Spey, N.Y. | 73 |
| Barker, J.T./Bethlehem, Pa. | 73 |
| McGowan, Michael/Southern Pines, N.C. | 73 |
| Eck, Jordan/Williamsport, Pa. | 74 |
| Erb, Brady (a)/Lancaster, Pa. | 74 |
| Ross, Patrick/Dunmore, Pa. | 74 |
| Pritchard, Kyle (a)/Whitehall, Pa. | 74 |
| Wagner, Brett/Cresco, Pa. | 75 |
| Cox, Cody (a)/Milford, Pa. | 76 |
| Egan, Jamie (a)/Clarks Summit, Pa. | 76 |
| Jeffery, Adam/Bloomsburg, Pa. | 76 |
| Sheehan, Connor (a)/Lancaster, Pa. | 76 |
| Maslanka, Michael (a)/Taylor, Pa. | 76 |
| Rossi, Kevin (a)/Scranton, Pa. | 76 |
| Larkin, Mike/Towson, Md. | 76 |
| Thomas, Michael (a)/Scott Township, Pa. | 77 |
| Williams, Kyle (a)/Clarks Summit, Pa. | 77 |
| Fazio, Jake (a)/Huntingdon Valley, Pa. | 78 |
| Burns, Mitch (a)/Landisville, Pa. | 79 |
| Medico, Mariano/Pa.lm Beach Gardens, Fla. | 79 |
| Lane, Justin/Woodstock, N.Y. | 80 |
| Rucinski, Ryan/Wilmington, Del. | 80 |
| Romanov, Nikita (a)/Wilmington, Del. | 81 |
| Reilly, Peter (a)/Merrimack, N.H. | 82 |
| Kalamar, Scott (a)/Hellertown, Pa. | 82 |
| King, Samuel (a)/Ponte Vedra, Fla. | 84 |
| Keim, Matthew/Philadelphia, Pa. | 86 |
| Agarwal, Jai (a)/Lorton, Va. | 87 |
| Bosdosh, Stephen/Clarksburg, Md. | WD |
| Joo, Yong/Chantilly, Va. | DNF |
| Alunni, Justin/Eynon, Pa. | DNF |
| Thompson, Jaden (a)/Pickerington, Ohio | DNF |
| Molino, Michael/Dallas, Pa. | DNF |
| Roche, John/Moosic, Pa. | DNF |
| Kearney, Brandon/Archbald, Pa. | DNF |
| Tragesser, Chuck (a)/Murrysville, Pa. | DNF |
| Wilson, Nicolas (a)/Charlestown, W.V. | DNF |
| Steiger, Gus (a)/Milford, Pa. | DNF |
| Dingledine, Quint (a)/Richmond, Va. | DNF |
| Howe, T.J./Osceola, Pa. | DNF |
| Mirams, William (a)/Stroudsburg, Pa. | DNF |
| Lenartowicz, Michael (a)/Canton, Ohio | DNF |
| Magee, Francis/Lakeland, Fla. | DNF |
| Biondi, Nicholas/Moosic, Pa. | DQ |
| (a) – denotes amateur | |
| WD – withdrawal | |
| DNF – did not finish | |
| DQ – disqualification | |