Five secure invites in #USMidAm Qualifying at St. Davids
WAYNE, Pa. – The return to amateur status is shaping up to be a fun one for Merion Golf Club's Cole Willcox.
Willcox, who regained that status last summer, wowed with a 4-under 66 to lead U.S. Mid-Amateur Qualifying Monday at St. Davids Golf Club (par 70, 6,608 yards).
With five spots up for grabs, also gaining invites were Patrick Knott, another Merion member, and Philadelphia Cricket Club's Gregor Orlando who both finished at 3-under-par 67.
Accumulating rain over the weekend — close to two inches — due to Hurricane Henri's passing showers led to a two-hour delay to begin Monday. The first tee time, which Willcox was a part of, teed off at 9:30 a.m. Later in the afternoon, a weather delay kicked in at 4:42 p.m. and lasted one hour. Despite getting back on the golf course, play was not finished before darkness set in. Officials made the call to resume play Tuesday morning at 9 a.m.
A 4-for-2 playoff came after play concluded for four players who finished at 1-under 69. Those last two spots were claimed by two birdie bombs on the first playoff hole, the par-3, 177-yard 10th. First, Mike Moffat of LuLu Country Club jarred a 25 footer to claim an invite, followed by Jason Rossetti (Charlotte, N.C.) and his 20-foot make for the last available spot.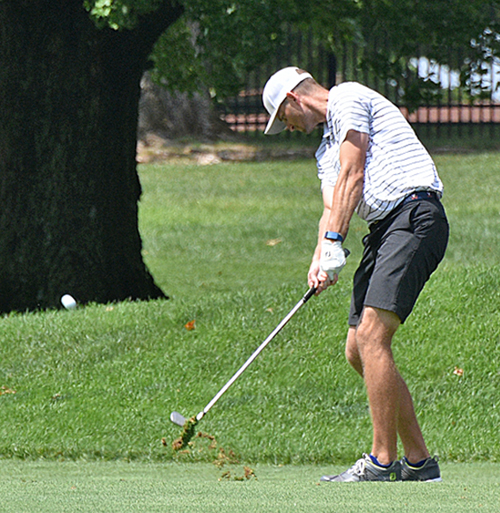 The first alternate position went to Little Mill Country Club's Zach Falone, who made par in the playoff, while the second was secured by White Manor Country Club's Tyler Stahle and his bogey.
For Willcox, it was an impressive showing in Monday's morning wave as the only player in red figures. His first birdie arrived as the beginning of back-to-back red numbers, first on No. 4 (par 4, 372 yards) followed by No. 5 (par par 4, 428 yards). On both holes, Willcox blasted driver and was left with wedges from 70 yards in. On the 4th hole it was a two footer, while a 15 footer fell on the 5th. A tap-in birdie from a foot came on No. 8 (par 5, 490 yards) after a perfected chip up. Making the turn at 3 under, Willcox was thrilled at where his scorecard stood.
Until he wasn't. Double-bogey trouble arrived soon after on the 10th hole.
"I just hooked an 8-iron off the tee there, found the bunker, and then three putted from 25 feet," said Willcox. "Honestly, it didn't phase me. I knew I was swinging and putting it well, so I just tried to keep it going."
A birdie answer righted the ship on No. 11 (par 5, 545 yards). A 5-iron approach from 230 yards found the middle of the green there and a two-putt was converted for 4. Back-to-back birds showed up beginning on No. 13 (par 4, 420 yards), where Willcox's 9-iron from 150 yards held up against the wind and landed to six feet, which he jarred. Next, on No. 14 (par 3, 165 yards), his 8-iron tee shot landed within two feet and Willcox dropped the birdie look. Four pars coming in gained him the Qualifying medal at 4 under.
"It was a really solid day. I wasn't looking at the scores, but I knew that if I could keep it at 4 under, that would get me in," said Willcox, the 2008 BMW Philadelphia Amateur Championship runner-up.
Willcox graduated in 2011 from the University of Virginia where he enjoyed a successful playing career for the Cavaliers. He then put in a three-year shift on the mini-tour circuit, including appearances on the PGA TOUR Latinoamerica. Willcox eventually decided it was time to regain his amateur status so he could rejoin the GAP region's ranks, which he did last summer.
"After I turned pro, I had a couple of years in between there where I wasn't able to play in much," said Willcox, 33, of Malvern, Pa. "This will be my first U.S. Mid-Amateur because I hadn't been 25 years old as a amateur previously. I'm just excited to get back to that big stage."
Getting back to a national stage gives Willcox the opportunity to continue his lofty aspirations. Just because he isn't a pro anymore, he says, Willcox is still looking to make a name for his galvanizing golf game.
"I still have high expectations for myself. I still have major goals. It's going to be a part of my life forever," said Willcox. "Hopefully this is a big step in achieving [those goals.]"
For Knott, it was a Tuesday finish that earned him the invite. Resuming on No. 16 (par 5, 504 yards) green, Knott made three-straight pars to get in the house at 3 under. He called it a definite sight of relief, having worried about those three finishing holes overnight.
"I didn't sleep well last night, so it was a little tough," said Knott, 35, of Bryn Mawr, Pa. "I knew what I needed to do, so that helped. I had some testers for par [Tuesday] to finish, but I'm just glad I got in [at 3 under]."
Next up for Knott, alongside Willcox, who is his frequent playing partner at Merion, will be a third appearance in the U.S. Mid-Amateur.
"You know, I've never made match play in the previous two tries, so that's my goal. Coming in today, I wasn't sure where my game was, but I've been playing a lot and it paid off," said Knott.
The 40th U.S. Mid-Amateur will be conducted at Sankaty Head Golf Club (Siasconset, Mass.), Sept. 25-30.
GAP
Celebrating Amateur Golf since 1897, GAP, also known as the Golf Association of Philadelphia, is the oldest regional or state golf association in the United States. It serves as the principal ruling body of amateur golf in its region. The Association's 300 Member Clubs and 80,000 individual members are spread across the Eastern half of Pennsylvania and parts of Delaware, Maryland and New Jersey. The GAP's mission is to promote, preserve and protect the game of golf.
| | |
| --- | --- |
| Qualifiers | |
| Name, city, state | Score |
| Cole Willcox, Malvern, Pa. | 66 |
| Patrick Knott, Bryn Mawr, Pa. | 67 |
| Gregor Orlando, Haverford, Pa. | 67 |
| *Mike Moffat, Warrington, Pa. | 69 |
| *Jason Rossetti, Charlotte, N.C. | 69 |
| Alternates (in order) | |
| *Zachary Falone, Mickleton, N.J. | 69 |
| *Tyler Stahle, Philadelphia, Pa. | 69 |
| Failed to qualify | |
| Cole Berman, Bryn Mawr, Pa. | 70 |
| John Eades, Charlotte, N.C. | 70 |
| Brock Kovach, Wyomissing, Pa. | 70 |
| John Lalley, Havertown, Pa. | 70 |
| Kevin O'Brien, Philadelphia, Pa. | 70 |
| Regan Papariello, Chesterbrook, Pa. | 70 |
| David Pompey, Clarks Summit, Pa. | 70 |
| Robert Robertson, Villanova, Pa. | 70 |
| Daniel Rudershausen, Kennett Square, Pa. | 70 |
| Eric Williams, Honesdale, Pa. | 70 |
| Dan Arison, King Of Prussia, Pa. | 71 |
| Joseph Dulka, West Chester, Pa. | 71 |
| John Murphy, Cape May Court House, N.J. | 71 |
| Stephen Seiden, Newtown Square, Pa. | 71 |
| Jack Wallace, Cinnaminson, N.J. | 71 |
| Zach Arsenault, Merchantville, N.J. | 72 |
| Andrew Bowers, Moorestown, N.J. | 72 |
| Matthew Depalma, San Clemente, Calif. | 72 |
| Tripp Durham, Wayne, Pa. | 72 |
| Ryan Gelrod, Flourtown, Pa. | 72 |
| Matthew Mattare, Jersey City, N.J. | 72 |
| Brad McFadden, Bryn Mawr, Pa. | 72 |
| Rich Owsik, Bryn Mawr, Pa. | 72 |
| Jamie Slonis, Sewell, N.J. | 72 |
| Tyler Sokolis, Doylestown, Pa. | 72 |
| Matthew Bastian, Jr., Philadelphia, Pa. | 73 |
| Nick Biesecker, Staunton, Va. | 73 |
| Andy Butler, Philadelphia, Pa. | 73 |
| Chris Conklin, Columbia, Md. | 73 |
| Brian Gillespie, Newtown Square, Pa. | 73 |
| Trevor Loeb, Nashville, Tenn. | 73 |
| Mike O'Neil, Baltimore, Md. | 73 |
| Brandon Raihl, Wernersville, Pa. | 73 |
| Cory Siegfried, Strafford, Pa. | 73 |
| Erik Brubaker, Delmar, Del. | 74 |
| Michael Carr, East Norriton, Pa. | 74 |
| Conner Charlebois, Philadelphia, Pa. | 74 |
| Geoffrey Cooper, Erdenheim, Pa. | 74 |
| Zach Dilcher, Avondale, Pa. | 74 |
| Jim Donnelly, Devon, Pa. | 74 |
| Thomas Lindberg, philadelphia, Pa. | 74 |
| Grey Miller, N.Y., N.Y. | 74 |
| Jeffrey Osberg, Bryn Mawr, Pa. | 74 |
| Scott Storck, Blue Bell, Pa. | 74 |
| Dave Fardon, Center Valley, Pa. | 75 |
| Thomas Frawley, Berwyn, Pa. | 75 |
| Robert Good, Bryn Mawr, Pa. | 75 |
| Bill Hyder, Charlotte, N.C. | 75 |
| Dave Liotta, King of Prussia, Pa. | 75 |
| Scott McLaughlin, Ambler, Pa. | 75 |
| Andrew Osofsky, N.Y., N.Y. | 75 |
| Sean Semenetz, Ambler, Pa. | 75 |
| Jim Sullivan, Glenside, Pa. | 75 |
| P. Chet Walsh, Wayne, Pa. | 75 |
| Tobin Whitman, Bedford, N.Y. | 75 |
| Joe April, Pa, Pa. | 76 |
| David Elliott, Wayne, Pa. | 76 |
| Jason Kowalski, Downingtown, Pa. | 76 |
| Connor Mcnicholas, Ambler, Pa. | 76 |
| Tucker Sandercock, Bethlehem, Pa. | 76 |
| Ryan Schneiter, Wayne, Pa. | 76 |
| Jeffrey St. Amour, Philadelphia, Pa. | 76 |
| Ryan Arnold, Newtown Square, Pa. | 77 |
| Billy Johns, Philadelphia, Pa. | 77 |
| Shawn Lavin, Drexel Hill, Pa. | 77 |
| Taylor Mottern, Sewanee, Tenn. | 77 |
| Josh Notes, Laurel, Md. | 77 |
| Eric Slawter, San Francisco, Calif. | 77 |
| Kevin Watford, Franklin, Tenn. | 77 |
| Matt Crilley, Allentown, Pa. | 78 |
| Scott Forrester, Cheltenham, Pa. | 78 |
| Chris Meares, Sewell, N.J. | 78 |
| Chris Orlando, Broomall, Pa. | 78 |
| Daniel Pinciotti, Jr., Ivyland, Pa. | 78 |
| Justin Spaeth, Plymouth Meeting, Pa. | 78 |
| Daniel Tennekoon, Bryn Mawr, Pa. | 78 |
| Nicholas Verrecchio, Philadelphia, Pa. | 78 |
| Kevin Cahill, Wayne, Pa. | 79 |
| Billy Reube, Yardley, Pa. | 79 |
| Jimmy Finnerty, West Chester, Pa. | 80 |
| Matthew Loeslein, Wilmington, Del. | 80 |
| Patrick Serfass, Wayne, Pa. | 80 |
| Dimitri Devieux, Mountainside, N.J. | 81 |
| Jesse Hunsicker, N.Y., N.Y. | 81 |
| Brendan Seaver, N.Y., N.Y. | 81 |
| Carlo Fitti, Drexel Hill, Pa. | 82 |
| Robert McGowan, Exton, Pa. | 82 |
| John Baio, Egg Harbor Township, N.J. | 83 |
| Ryan McDevitt, Newtown Square, Pa. | 83 |
| Sean Pass, Ithaca, N.Y. | 83 |
| Trip Long, Wichita Falls, Texas | 84 |
| Christopher Kawczynski, Cherry Hill, N.J. | 85 |
| Alexander Penza, King of Prussia, Pa. | 85 |
| David West, Downingtown, Pa. | 85 |
| Thomas Stewart, Philadelphia, Pa. | 86 |
| Michael Burke, Philadelphia, Pa. | 87 |
| Jeff Adams, Scottsdale, Ariz. | 93 |
| Ciriaco Andriole, Charlotte, N.C. | WD |
| Dan Bernard, Philadelphia, Pa. | WD |
| Stuart Carrihill, Leola, Pa. | WD |
| Sean Ebert, Furlong, Pa. | WD |
| Beau Guarino, Mount Laurel, N.J. | WD |
| Clark Holle, South Orange, N.J. | WD |
| Josh Isler, West Chester, Pa. | WD |
| Matthew Kocent, Bala Cynwyd, Pa. | WD |
| Andrew Lawson, West Chester, Pa. | WD |
| Stephen Levchenco, Philadelphia, Pa. | WD |
| Paul Liebezeit, Berwyn, Pa. | WD |
| Michael McComb, Egg Harbor Township, N.J. | WD |
| Patrick Shanahan, Devon, Pa. | WD |
| Michael Zupi, Conshohocken, Pa. | WD |
| Adam Benza, Hellertown, Pa. | NS |
| Tyler Canfield, West Chester, Pa. | DQ |
| DQ – disqualification; NS – no show; WD – withdrawal | |
| * – decided in 4-for-2 playoff | |