Kim medals in #USMidAm Qual. at Blue Bell
BLUE BELL, Pa. – Alex Kim grew up on the 9th hole at Blue Bell Country Club. On the exact grounds he learned how to hit a golf ball, Kim closed out U.S. Mid-Amateur Qualifying medalist honors with a homecoming birdie on the par 5 — his final hole of the day.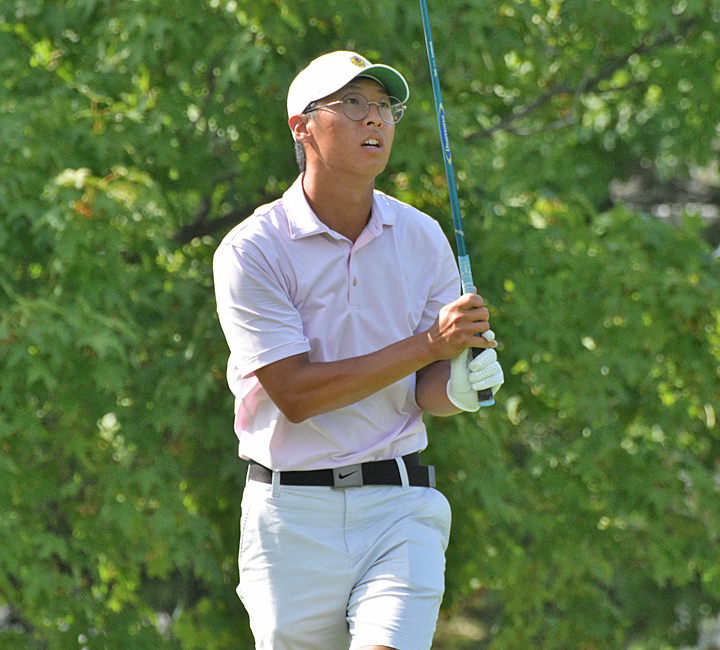 Tuesday at Blue Bell (par 70, 6,719 yards), the recent Philadelphia Cricket Club addition fired a 3-under 67 for the low honor.
With five spots up for grabs, also gaining invites were Glenmaura National Golf Club's John Barone at 2-under 68 and three at 1-under 69: Jeff Osberg of Pine Valley Golf Club, P.J. Acierno of LuLu Country Club and Geoffrey Cooper of North Hills Country Club.
The 41st U.S. Mid-Amateur will be conducted Sept. 10-15 at Erin Hills (Erin, Wis.). Blue Mound Golf & Country Club (Wauwatosa, Wis.) will serve as the second stroke-play qualifying site.
Kim, who began playing junior golf at Blue Bell as a 13 year old, was more than happy to return to his old stomping — and living — grounds. He started on the second nine, but it actually wasn't a warm welcome back to begin. Kim doubled the par-3,174-yard 10th hole after finding the hazard off the tee. He would answer right away after sticking a 148-yard 9-iron to 10 feet on No. 11 (par 4, 468 yards) and making the birdie look. The roller-coaster first nine continued after a three putt on No. 12 (par 3, 175 yards), followed by a 15-foot birdie make on 13 (par 4, 387 yards). On the par-4, 461-yard 15th, Kim skipped a 6-iron up to 25 feet, and drained the sliding birdie attempt for 3. An up-and-down birdie on the 17th (par 5, 488 yards) led to a 1-under score at the turn.
"It was a wild nine to start, especially beginning with the double on 10. But I was able to keep focused. I never got ahead of myself," said Kim, 26, of Conshohocken, Pa.
Kim's second nine was much less of an adventure. After birdies on Nos. 3 (par 3, 195 yards), 5 (par 4, 374 yards) paired with a bogey blemish on No. 7 (par 4, 471 yards), he sat 2 under and tied with Barone's clubhouse lead. That was until he returned home to No. 9.
"I lived on that hole for 15 years. So I kind of was like, alright, if the home hole was ever going to be nice to me, it should be nice to me now," said Kim.
Kim stepped up and nailed a cut drive around the right trees and landed it dead center, 240 yards out. Instead of playing the approach conservatively, he chose to send a 3-hybrid downwind. It was the perfect choice. After finding the back of the green, Kim nestled up the eagle attempt from 25 feet and tapped in for birdie and the medal.
"It's a surreal feeling. I never played college golf. I always felt like I was behind growing up, having started at 13 years old," said Kim, who went to undergrad at University of Pittsburgh and is currently in an online graduate program with Georgia Tech. "But today, everything worked out for me. I had no idea what I was going to shoot. But if I [was ever going to qualify], it was going to be here at Blue Bell. It's unreal."
Welcome home, Alex.
For Barone, today's runner-up at -2, it'll be the third USGA national championship — second Mid-Amateur appearance — in two years. His USGA debuts came last year in the U.S. Amateur at Oakmont Country Club (Oakmont, Pa.), followed by the U.S. Mid-Amateur at Sankaty Head Golf Club (Siasconset, Mass.).
Now, the former Temple University standout is packing his bags once again. This time, he heads to Erin Hills with some valuable experience in those suitcases.
"Last year was an incredible experience for me. It was very rewarding. I take vacation days just to play in these events, so to get through and qualify means a lot," said Barone, 26, of Dunmore, Pa. "I try not to take all of this too seriously, but this is obviously a very nice way to end the summer."
GAP
Celebrating Amateur Golf since 1897, GAP, also known as the Golf Association of Philadelphia, is the oldest regional or state golf association in the United States. It serves as the principal ruling body of amateur golf in its region. The Association's 330 Member Clubs and 90,000 individual members are spread across Pennsylvania, Delaware, New Jersey and Maryland. The GAP's mission is to promote, preserve and protect the game of golf.
| | |
| --- | --- |
| Qualifiers | |
| Name, city, state | Score |
| Kim, Alexander, Conshohocken, Pa. | 67 |
| Barone, John, Dunmore, Pa. | 68 |
| Cooper, Geoffrey, Erdenheim, Pa. | 69 |
| Acierno, P.J., Flourtown, Pa. | 69 |
| Osberg, Jeffrey, Bryn Mawr, Pa. | 69 |
| Alternates in order | |
| Schoenberger, Thomas, Pinehurst, N.C. | 70 |
| Stahle, Tyler, Andover, Mass. | 71 |
| Failed to qualify | |
| Feld, Benjamin, Philadelphia, Pa. | 71 |
| Pitts, Christopher, West Deptford, N.J. | 72 |
| Capone, Brandon, Columbus, N.J. | 72 |
| Ehrlich, Scott, Berwyn, Pa. | 72 |
| Plisko, Eric, Hanover Township, Pa. | 72 |
| Lalley, John, Philadelphia, Pa. | 72 |
| McLaughlin, Scott, Ambler, Pa. | 73 |
| Moffat, Mike, Horsham, Pa. | 73 |
| Barron, III, Peter, Mays Landing, N.J. | 73 |
| Gillespie, Brian, Newtown Square, Pa. | 74 |
| Keenan, Daniel, Hammonton, N.J. | 74 |
| Raihl, Brandon, Philadelphia, Pa. | 74 |
| SPa.no, Tom, Bryn Mawr, Pa. | 74 |
| Fisher, Henry, Houston, Texas | 74 |
| Delprete, Johnny, Jupiter, Fla. | 75 |
| Richardson, Ryan, Bel Air, Md. | 75 |
| Crawford, Matthew, Bensalem, Pa. | 75 |
| Cooper, Jordan, Philadelphia, Pa. | 75 |
| Field, Carter, Fort Washington, Pa. | 75 |
| Barry, Stephen, Mullica Hill, N.J. | 76 |
| Maguire, Robert, Pottstown, Pa. | 76 |
| Lindberg, Thomas, Philadelphia, Pa. | 76 |
| Bechtold, Robert, Avondale, Pa. | 76 |
| Taillie, Darren, Cinnaminson, N.J. | 76 |
| Formica, Phil, Yardley, Pa. | 76 |
| McGarry, Tyler, Pittston, Pa. | 76 |
| Czerniakowski, Mark, Montgomeryville, Pa. | 77 |
| Ginty, Kyle, Ambler, Pa. | 77 |
| Lipps, Brian, Haddonfield, N.J. | 77 |
| Wambold, Kyle, Allentown, Pa. | 77 |
| Orcutt, Ryan, Bethlehem, Pa. | 77 |
| Dunphy, Jr., Michael, Philadelphia, Pa. | 78 |
| Pa.squariello, Pa.trick, Philadelphia, Pa. | 78 |
| Knott, Patrick, Bryn Mawr, Pa. | 78 |
| Kilduff, Brian, Summit, N.J. | 78 |
| Butler, Andy, Philadelphia, Pa. | 78 |
| Varano, Sam, Schwenksville, Pa. | 78 |
| Rudisill, Jon, Wyomissing, Pa. | 78 |
| Galbreath, Evan, Huntingdon Valley, Pa. | 78 |
| Nattle, Frank, Phoenixville, Pa. | 79 |
| Seiden, Stephen, Newtown Square, Pa. | 79 |
| Wu, Daniel, Lansdale, Pa. | 79 |
| Worrall, Matthew, Wilmington, Del. | 79 |
| Scheffres, Joe, North Potomac, Md. | 79 |
| Benevento, Mark, Ocean City, N.J. | 79 |
| Warner, Adam, Haddon Township, N.J. | 79 |
| Seese, Sean, Rydal, Pa. | 79 |
| Kalamar, Scott, Bethlehem, Pa. | 79 |
| Betham, Corey, Norristown, Pa. | 79 |
| Gelrod, Ryan, Flourtown, Pa. | 79 |
| Ott, Bryan, Allentown, Pa. | 80 |
| Reube, Billy, Yardley, Pa. | 80 |
| Mandel, Marc, Plymouth Meeting, Pa. | 80 |
| Kawczynski, Christopher, Cherry Hill, N.J. | 80 |
| Divis, Ryan, East Norriton, Pa. | 81 |
| Oh, Daniel, Dallas, Texas | 81 |
| Pepi, Rob, Huntington, N.Y. | 81 |
| Charlebois, Conner, Canada | 82 |
| Murahwa, Gwinyai, Zimbabwe | 82 |
| Notes, Josh, Columbia, Md. | 82 |
| Gordon, Doug, Philadelphia, Pa. | 83 |
| Jaskel, Andrew, Philadelphia, Pa. | 83 |
| Pritchard, Kyle, Whitehall, Pa. | 83 |
| Mangum, Ben, New York, N.Y. | 84 |
| Newill, Max, Somerville, N.J. | 85 |
| McNicholas, Connor, Ambler, Pa. | 85 |
| Findlay, Scott, Basking Ridge, N.J. | 85 |
| Bastian, Jr., Matthew, Philadelphia, Pa. | 86 |
| Longen, Timothy, Newtown Square, Pa. | 86 |
| Sexton, Sean, Narberth, Pa. | 87 |
| McGowan, Robert, Exton, Pa. | 88 |
| Lawson, Scott, Blue Bell, Pa. | 89 |
| Conway, Edward, Horsham, Pa. | 90 |
| Frederick, Scott, Beaufort, S.C. | 91 |
| Wahl, Tom, Chatham, N.J. | 92 |
| Haldeman, Christian, Center Valley, Pa. | WD |
| Carr, Michael, Philadelphia, Pa. | WD |
| Poniatowski, Brian, Wall, N.J. | WD |
| Owsik, Rich, Bryn Mawr, Pa. | WD |
| Cunningham, Robert, Ocean City, N.J. | WD |
| Walsh, Brian, Wayne, Pa. | DNF |
| Whitby, Jay, Wyoming, Del. | DNF |
| Meitner, Coleman, Tuxedo, N.Y. | DNF |
| Bauman, Alexander, Princeton, N.J. | DNF |
| Lea, Shane, Milford, N.J. | DNF |
| Haag, Kevin, Hummelstown, Pa. | DNF |
| Hilton, Kevin, Ambler, Pa. | DNF |
| Torpey, Sean, Doylestown, Pa. | DNF |
| Lane, Andrew, New York, NY | DNF |
| Flood, Ira, Tewksbury, N.J. | DNF |
| Bassler, Matthew, Severna Park, Md. | DNF |
| Brown, Ed, Rehoboth, Del. | DNF |
| Gracey, Ryan, Hockessin, Del. | DNF |
| Canfield, Tyler, West Chester, Pa. | DNF |
| Rogers, Michael, Wayne, Pa. | DNF |
| Tarulli, Steve, Rockville Centre, N.Y. | DNF |
| Verrecchio, Nicholas, Philadelphia, Pa. | DNF |
| Rendell, Austin, Chicago, Ill. | NS |
| Weiss, Zach, Ambler, Pa. | NS |
| Roizman, Noam, Blue Bell, Pa. | NS |
| Siwak, Jacob, St. Louis, MO | NS |
| DNF – did not finish | |
| NS – no show | |
| WD – withdrawal | |