Congressional's Unikel caps #USMidAm Qualifier
| Scorecards | Photo gallery |
CARLISLE, Pa. — Keith Unikel hasn't exceeded a score of 70 in his last 20 rounds. That impressive streak continued Monday and fetched a national championship invitation as a byproduct.
Unikel, a Congressional Country Club member, carded a 5-under-par 66 to earn medalist honors in a U.S. Mid-Amateur Qualifier administered by GAP at Carlisle Country Club (par 71, 6,400 yards). He and fellow Maryland resident Ben Lukehart gained qualifying berths in regulation. Tyler Gulliksen of Alexandria, Va. emerged from a 3-for-1 playoff at even-par 71 to grab the final spot.
The U.S. Mid-Amateur will take place Sept. 14-19 at Colorado Golf Club in Parker, Colo.
Back to Monday's medalist and his penchant for the 60s of late.
"Now some of that is client golf and hit-and-giggle," Unikel, 40, of Bethesda, Md., said. "But it's different when you play tournaments. You just want to prove to yourself that when it matters, you can post a number."
A number unmatched at Carlisle Monday. Unikel, the reigning men's club champion at Congressional, registered 16 greens in regulation en route to six birdies against a bogey.
"If you get the ball in play off the tee and your wedge game is solid, then you can play great here. I put it in play. I hit it close a lot," Unikel, an investment advisor with Merrill Lynch, said.
A trio of front-nine birdies suggest so. Unikel hit a lob wedge 75 yards to six feet on No. 2 (par 4, 251 yards) and a pitching wedge 130 yards to four feet on No. 7 (par 4, 431 yards). A tap-in birdie on No. 9 (par 5, 501 yards) overshadowed the day's lone miscue, which occurred on the previous hole (par 3, 214 yards). Blame a missed green there.
As he made the turn, Unikel's lob wedge continued to deliver optimal positions on Carlisle's complicated complexes. He knocked it 60 and 83 yards, respectively, on Nos. 10 (par 4, 367 yards) and 12 (par 4, 399 yards) to set up a pair of 15-footers for birdie. Resolute in demeanor, Unikel emphatically stamped his subpar performance by dropping a testy four-footer for birdie on No. 18 (par 5, 541 yards).
"I tapped that one. I didn't want to three-putt," Unikel said.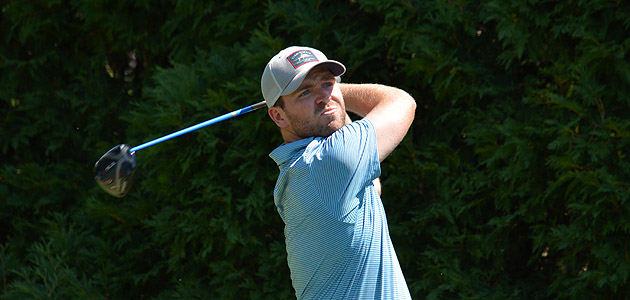 Unikel is an accomplished player on the Maryland State Golf Association circuit. He won the Maryland Open in 1998 and finished as runner-up in 2010, a distinction Unikel also earned in the Amateur that year. Competitive golf, however, is "non-existent" this year, he said, with two young children at home (ages 6 and 3).
Low volume yet high-level play. Unikel will compete in his third U.S. Mid-Amateur (2013, 2015). Expectations remain tempered, not sub-70.
"I don't get too caught up in anything else. I just like to execute good shots and move on," Unikel said. "I like to compete. Hopefully, I'll do well."
Like Unikel, Lukehart entered Carlisle with momentum. He tied for third in the Maryland State Golf Association Mid-Amateur Championship last week at Eagle's Nest Country Club. Familiarity, too, factored into a 1-under-par 70 for the Piney Branch Golf Club member Monday.
"I played here last year for the first time when I was eligible for the U.S. Mid-Amateur. I knew it was important to find fairways, hit greens and be in the correct spots," Lukehart, 26, of Towson, Md., said. "The course's biggest defense is the greens. You just want to make sure your approaches are coming in from the fairway, not the rough. I felt like I was able to commit to my shots and do what I needed to do at the specific moment. It was a good day overall."
Lukehart, who started on the back nine, birdied his final two holes to advance sans playoff. He dripped in a 15-footer for birdie on No. 8 after attacking a back-right hole location with a 4-iron. After a safe pitchout to a "good number" (115 yards) on No. 9 (par 5, 501 yards), Lukehart landed a gap wedge 10 feet below the flagstick and poured in the uphill putt.
"I showed some fight for sure," Lukehart said. "After three bogeys in a four-hole stretch, it was good to close birdie-birdie."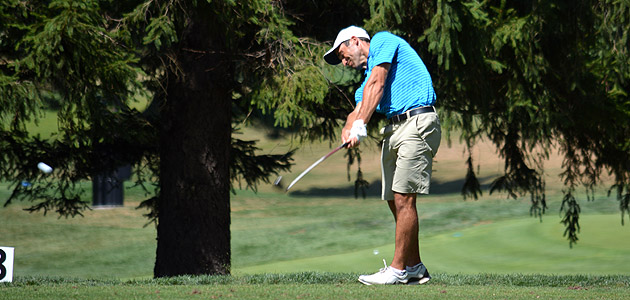 The aforementioned No. 8 polarized Monday's qualifiers. It served as Unikel's Achilles heel yet opened doors for Lukehart and Gulliksen. The latter hit a cut 3-hybrid to 10 feet and two-putted for par on No. 8, the second playoff hole, to advance over William Carter of Laurinburg, N.C.
"I went to a Chris Stapleton concert [in Columbia, Md.] with my wife last night, got home at midnight, woke up at 5 a.m. and drove up here to play, seeing the course blind," Gulliksen, 32, of Alexandria, Va., said. "This one means a lot."
GAP
Celebrating Amateur Golf since 1897, GAP, also known as the Golf Association of Philadelphia, is the oldest regional or state golf association in the United States. It serves as the principal ruling body of amateur golf in its region. The Association's 274 Full Member Clubs and 75,000 individual members are spread across the Eastern half of Pennsylvania and parts of New Jersey and Delaware. The GAP's mission is to promote, preserve and protect the game of golf.
Qualifiers
Name, city, score
Keith Unikel, Bethesda, Md.
66
Ben Lukehart, Towson, Md.
70
*Tyler Gulliksen, Alexandria, Va.
71
Alternates (in order)
*William Carter, Laurinburg, N.C.
71
*Chris Holland, Fayetteville, N.C.
71
Failed to qualify
Ben Feld, Gladwyne, Pa.
72
Bart Mease, Gaithersburg, Md.
72
Chuck Nettles, McMurray, Pa.
72
Matthew Plummer, Camp Hill, Pa.
72
Ryan Barnett, Bryn Mawr, Pa.
73
Keith Matt, Lower Gwynedd, Pa.
73
Steve Skurla, West Chester, Pa.
73
Mark Wachter, Wilmington, Del.
73
Christopher Davidson, Sykesville, Md.
74
Vincent Scarpetta, III, Moosic, Pa.
75
Greg Burkavage, Timonium, Md.
76
Patrick Dougherty, North Wales, Pa.
76
Zachary Henry, Front Royal, Va.
76
Jesse Mochoruk, Strasburg, Va.
76
Eric Plisko, Hanover Township, Pa.
76
Adam Scuilli, Pittsburgh, Pa.
76
Stuart Augustine, Fayetteville, N.C.
77
Clay Davidson, Mechanicsburg, Pa.
77
Drew Forrester, Parkville, Md.
77
Brandon Knaub, Seven Valleys, Pa.
77
Todd Vonderheid, Lewisburg, Pa.
77
Gary Awalt, Lutherville, Md.
78
Rand Mendez, Wilmington, Del.
78
Kevin Rossi, Scranton, Pa.
78
Daniel Hurley, Washington, D.C.
79
Chris Lawler, Philadelphia, Pa.
79
Albert Montalbo, Harrisburg, Pa.
79
Josh Notes, Laurel, Md.
79
Jordan Claffey, Long Island City, N.Y.
80
Brett Cybulski, Medford, N.J.
80
Joshua Krumholz, Reading, Pa.
80
Joshua Mearkle, Ashburn, Va.
80
Vincenzo Salina-Amorini, Washington, D.C.
80
Tim Anderson, Wilkes Barre, Pa.
81
Alex Hosier, Baltimore, Md.
81
Jarred Texter, Lancaster, Pa.
81
Alex Urrea, Presto, Pa.
81
Owen Brown, Coatesville, Pa.
82
Tom Coyne, Devon, Pa.
82
Pete Moran, Chester Springs, Pa.
82
Joseph Solenski, West Palm Beach, Fla.
82
Thomas Sutterfield, Bryans Road, Md.
82
Michael Korcuba, Sicklerville, N.J.
83
Joshua Michael, Winchester, Va.
83
Justin Schorr, Elkins Park, Pa.
83
Jack St. John, Washington, D.C.
84
Tim Campbell, Pittsburgh, Pa.
85
Michael Portonova, Sugarloaf, Pa.
85
Cody Dinger, State College, Pa.
86
Patrick Rutter, Wyomissing, Pa.
87
Mark Tulli, Gainesville, Fla.
87
Sean Covich, Morgantown, W Va.
88
Zachary Meyers, Potomac, Md.
102
Michael Disante, Lancaster, Pa.
NS
Scott Falatach, Annapolis, Md.
WD
David Glabicki, Cary, N.C.
WD
Charlie Niland, Warrenton, Va.
WD
Chad Schulze, Lebanon, Pa.
WD
* — determined in playoff
NS — no show; WD — withdrawal