4-for-2 playoff decides #USGirlsJunior Qual. spots at Steel Club
HELLERTOWN, Pa. — It all came down to a playoff at Steel Club (par 72, 6,242 yards).
Wednesday's U.S. Girls' Junior Championship Qualifying event featured a fascinating 4-for-2 playoff to decide the two national championship invites. In the end, Rylie Heflin of Hartefeld National and Jade Gu of Yardley Country Club prevailed, punching tickets to the #USGirlsJunior and earning a share of the day's medalist honors.
Falling in the playoff was Natasha Kiel of Jericho National Golf Club, who secured the first alternate position, and Lauren Jones of Merion Golf Club, deemed the second alternate.
The blue-skied day featured a field of 18 #USGirlsJunior hopefuls. The championship proper will be contested July 12-17 at Columbia Country Club (Chevy Chase, Md.).
After all four players finished at 4-over 76, the playoff teed off at 1:15 p.m. On the first playoff hole, the par-5, 468-yard 15th, it was Heflin who made the first move. After laying up before the creek, Heflin placed her wedge approach to 10 feet. The Duke University commit stepped up and drilled the birdie look to advance.
"I stepped up and just trusted [the putt]," said Heflin, 18, of Avondale, Pa. "I saw that putt earlier today and I had a good idea of what it was going to do. I just wanted to give it a chance and it looked good."
After Jones was eliminated on the par-3, 177-yard 16th, Gu and Kiel continued play. On No. 17 (par 4, 374 yards), Kiel faced a tough chip that she failed to get up-and-down, while Gu tapped in for par from two feet. A huge sigh of relief followed.
"I really, really wasn't expecting to advance," said Gu, 17, of Yardley, Pa. "I was shocked after that final putt went in. During my round, those [playoff] holes were the ones I didn't play well on, so I was nervous. But I went par-par-par in the playoff, which was good enough."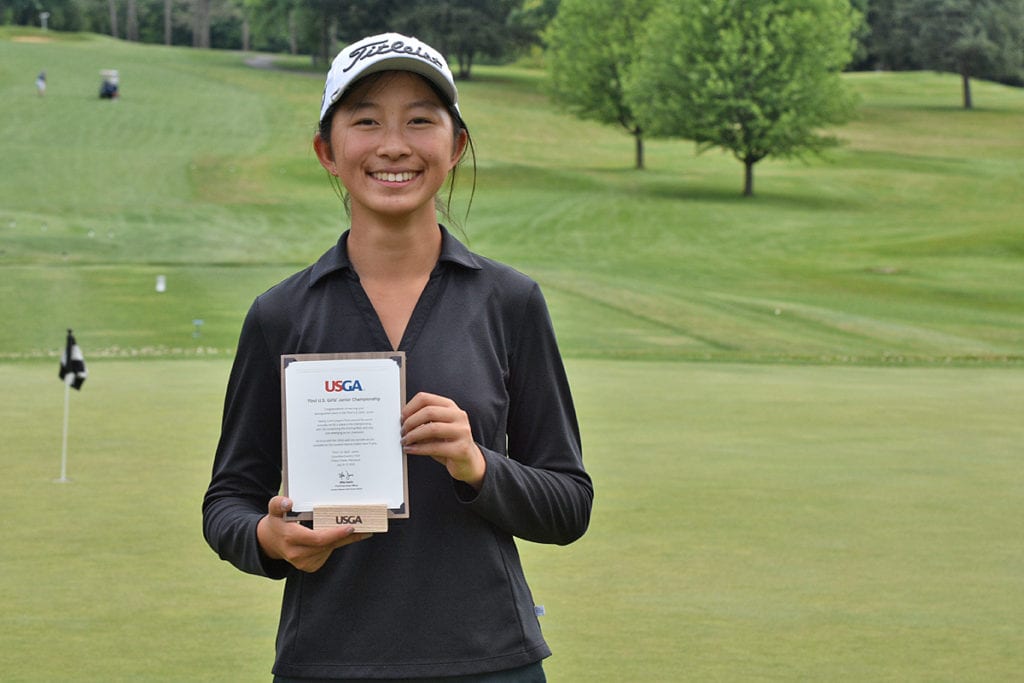 Heflin, who heads to Duke this fall, will be making her second #USGirlsJunior appearance after Qualifying via Steel Club in 2019.
"Two years ago, I proved to myself that I belonged in the field, and I did that again today," said Heflin. "The first time in 2019, it was a great experience even though I didn't play well. It was so much fun. I'm excited to get down there and play in it again now."
Gu, who recently graduated from Pennsbury High School, will be making her first USGA appearance — something she's been dreaming of for awhile.
"It feels amazing, knowing that I'm going to play in a [USGA] championship now. Those events look so fun every time I see people playing in them, so it's great. I'm really excited," said Gu, who is currently uncommitted to a collegiate program.
Today's event marks the fifth #USGirlsJunior hosted by Steel Club in the previous six seasons. Last year's championship proper, and its Qualifying slate, was canceled due to the COVID-19 pandemic.
GAP
Celebrating Amateur Golf since 1897, GAP, also known as the Golf Association of Philadelphia, is the oldest regional or state golf association in the United States. It serves as the principal ruling body of amateur golf in its region. The Association's 300 Member Clubs and 80,000 individual members are spread across the Eastern half of Pennsylvania and parts of Delaware, Maryland and New Jersey. The GAP's mission is to promote, preserve and protect the game of golf.
Qualifiers
Name, city, state
Score
*Jade Gu, Yardley, Pa.
76
*Rylie Heflin, Avondale, Pa.
76
Alternates (in order)
*Natasha Kiel, New Hope, Pa.
76
*Lauren Jones, Newtown Square, Pa.
76
Failed to qualify
Michelle Cox, Allentown, Pa.
78
Kavya Ajjarapu, Lutz, Fla.
79
Paige Richter, Camp Hill, Pa.
79
Tiya Chowdary, Belle Mead, N.J.
80
Brooke Oberparleiter, Laurel Springs, N.J.
80
Sarah Scarpill, Warrington, Pa.
85
Hannah Basler, Highlands Ranch, Colo.
86
Kayla Maletto, Sinking Spring, Pa.
88
Serena Bagga, Blue Bell, Pa.
90
Molly Gregor, North Wales, Pa.
90
Emma Shelby, Hellertown, Pa.
90
Caroline Gola, North Wales, Pa.
94
Elizabeth Beek, Blue Bell, Pennsylvania
WD
Sarah Shao, Green Brook, N.J.
WD
WD – withdrawal
* – decided in 4-for-2 playoff