Little Millers take Qualifying medal, punch tickets to #USFourBall
LAFAYETTE HILL, Pa. – Troy Vannucci has played, and excelled in, the U.S. Amateur Four-Ball's biggest stage. And now he's bringing Little Mill Country Club clubmate Jack Irons along for another Four-Ball conquest.
Vannucci and Irons went low with a 8-under 63 Tuesday at Whitemarsh Valley Country Club (par 71, 6,888 yards), taking medalist honors in a Qualifying event administered by GAP (Golf Association of Philadelphia).
Joining the medalists at the #USFourBall will be the team of Michael Johnson and Kevin Davis, whose 6-under 65 got them into the invitee party.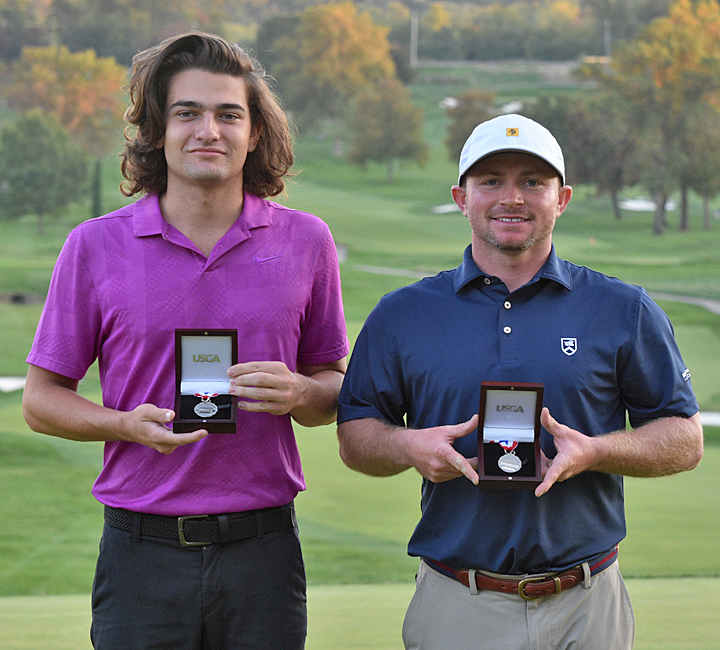 Taking the first alternate spot was the LuLu Country Club team of Aaron Fricke and Scott Forrester (5-under 66), followed by Dave Liotta and Justin Williams as the second alternates.
The Kiawah Island Club (Johns Island, S.C.) will host the 9th U.S. Amateur Four-Ball Championship May 20-24, 2023.
Vannucci, who gained the 2019 #USFourBall Semifinals alongside then-partner Vince Kwon, paired with Irons, a 2021 BMW Philadelphia Amateur Championship Finalist, to jot down nine birdies on today's card. It was a total team effort, and one that earned championship proper tickets for the pair.
Starting on Whitemarsh's second side, Vannucci revved the medalists' engine with a 30-foot birdie bomb on No. 11 (par 5, 516 yards). Another on No. 13 (par 4, 370 yards), Irons placed a wedge to eight feet and drained the look for 3. A "bonus" birdie surfaced on No. 14 (par 4, 378 yards) after Vannucci rolled in a 45 footer. On the par-3, 161-yard 16th, Vannucci dropped one from four feet. He'd toss a 9-iron on the par-4, 363-yard 17th to 12 feet, and made the putt. Irons made a clutch nine-foot par save on Whitemarsh's closer, keeping the team at 5-under par overall at the turn.
While sitting nicely near the top of the leaderboard, they had a number in mind they needed to get to. That number was met — and then some.
"A couple of days ago, I was texting Troy and we were thinking the number would be around 7 or 8-under. I was thinking like 65 or 66," said Irons, 20, of Naples, Fla. "But we clipped that."
"You always want to keep it going. There's no cruise control out here. You always want to get some cushion, because everyone's got their pedal to the metal," said Vannucci, 30, of Marlton, N.J.
Two pars to start on their second nine steadied the squad, but they would continue their birdie fest on No. 3 (par 5, 570 yards) with an up-and-down birdie from Irons there. The next arrived on No. 5 (par 5, 507 yards) after Irons was short sighted in the greenside bunker, but got up-and-down from 13 feet for bird. A "sloppy" bogey on No. 6 set the team back, but Vannucci picked things back up on No. 7 (par 4, 438 yards) with a 9-iron dart from 150 yards, trickling in a 20-foot putt. Both players were within four feet on the par-3, 126-yard 9th, tapping in for birdies to end.
"We played really well. Well enough that when we did mess up, it didn't matter, because we had played so well on the other holes," said Irons.
"It was a total team effort," said Vannucci.
So how exactly did this power duo form? Well, as two of Little Mill's finest players, and with Vannucci without a partner, Irons made a move on the "free agent".
"I knew Troy didn't have a partner, so I hit him up. This is the first time we've played together in this. I told him, 'Yo, let's go. We're the two best players at the club. Let's go represent'," said Irons.
"He's an incredible player, and I was really excited to hear from him. It's great that we could play together," said Vannucci, who took home this year's GAP Middle-Amateur Championship crown at Jericho National Golf Club.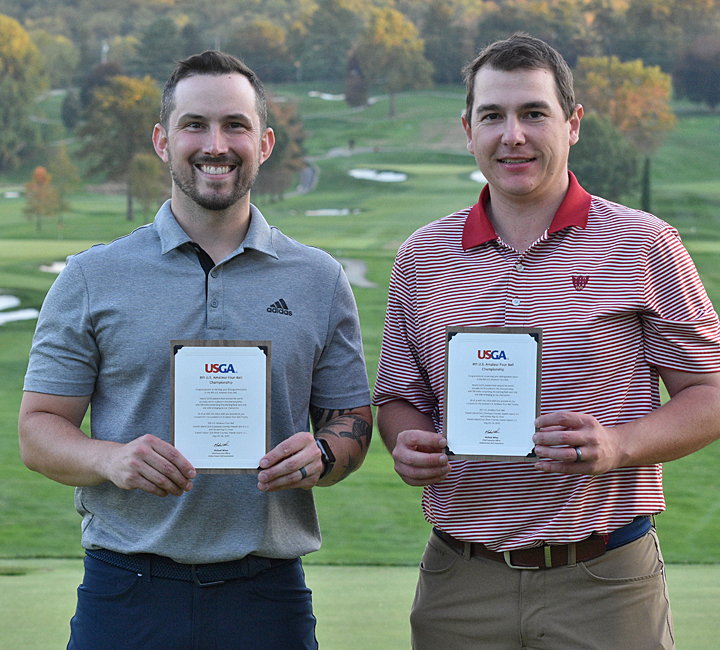 Joining the Little Millers at Kiawah will be a pair of former high school teammates in Johnson and Davis, whose 6-under 65 got them the second available spot. Six birdies combined with 12 pars equaled the national championship berth.
"It was a team game. We don't get to play a lot of team golf together, so it was fun out there. There's a lot less pressure — or more, depending on what situation you're in," said Johnson, a LuLu member.
"Mike hit the ball well. I just tried to help out when I could," said Davis, 30, of Lansdale, Pa.
The Hatboro-Horsham High School friends go way back, having played on the golf team together. In terms of competition, Johnson previously played in the 2012 U.S. Amateur. That was his last USGA championship experience. Davis' lone USGA experience was as Johnson's caddie that week.
"Last time, it was awesome to have Kevin on the bag, but now it's going to be great playing next to him," said Johnson, 30, of Dublin, Pa.
"Score won't even matter," said Davis. "We're just excited to get down there and have some fun."
GAP
Celebrating Amateur Golf since 1897, GAP, also known as the Golf Association of Philadelphia, is the oldest regional or state golf association in the United States. It serves as the principal ruling body of amateur golf in its region. The Association's 330 Member Clubs and 90,000 individual members are spread across Pennsylvania, Delaware, New Jersey and Maryland. The GAP's mission is to promote, preserve and protect the game of golf.