CHAMBERSBURG, Pa. – Two birdies. Two fist pumps. Two #USFourBall berths.
The standard 18 holes wasn't enough to determine who would take national championship invitations Monday at Chambersburg Country Club (par 73, 6,720 yards). Jarred birdies on the first playoff hole ultimately decided the berth earners in a U.S. Amateur Four-Ball Championship Qualifier administered by GAP.
Christopher Zeng dropped a six-foot birdie to advance alongside teammate Grayson Wotnosky, while Adam Hofmann did the same from 12 feet, earning the day's other qualifying spot with partner Malcolm Spatz. The medalists each carded remarkable rounds of 8-under 65 in regulation.
Securing the day's first alternate position was Nicholas Barrett and Connor Flach of Ellicott City, Md., who fell in the 3-for-2 playoff with a par, followed by Bryce Johnson (Oakton, Va.) and Jeffrey Long (Ashburn, Va.) with the second alternate spot.
The U.S. Amateur Four-Ball will take place May 23-27, 2020 at Philadelphia Cricket.
Barrett and Flach were the day's first duo in at 8 under. Next came Hofmann and Spatz, followed soon after by Wotnosky and Zhang. After an hour-plus wait for the rest of the field to finish, the three teams, who spent most of the wait time on the range, were ready for extra holes.
Beginning on No. 1 (par 4, 392 yards), the playoff teed off in coordination with the day's heavy raindrops. Driver was the club of choice for all but Hofmann, who pulled a wood into the left fairway bunker. His approach, however, was the gamechanger. From 140 yards out, his 9-iron was clipped and landed within 12 feet. He'd go on to make the putt, followed by a well-earned fist pump, putting pressure on the other two groups.
"I hit that [9-iron] absolutely perfect. It was one where I just knew right off the club it was going to be good," said Hofmann, 30, of Jacksonville, Fla. "It felt great to get that one to fall. I'm glad I could help contribute to the team."
Next to play was Flach, who had placed his approach to eight feet from the left fairway side. The birdie attempt fell off to the right, and was no good. The stage was set for Zhang and his six-foot look after a soft pitching wedge from 130 yards landed nicely. His putt rolled over the front lip and in. Another ferocious fist pump followed. Game, set, match.
In the Four-Ball format, clear chemistry and teamwork was on full display for both teams at the top. Both squads formed their relationships during their Junior golf days.
Hofmann and Spatz, who made eight birdies before the ninth arrived in the playoff, grew up at Oakmont Country Club together. Due to their steady games, the medalists knew today's format fit their eye. Now, they'll head to Philadelphia Cricket Club with a chance at the top prize.
"You need to have steady games for this kind of championship," said Hofmann. "At the beginning of the day, we told ourselves that 8 under was the number. Turned out it was."
"I'm excited to play [Cricket]," said Spatz. "Adam has played there before. I haven't seen it, but this is the ideal way I want to see it."
Playing in USGA championships has been a goal for both throughout their amateur careers. While Hofmann, the 2007 Pennsylvania Amateur Champion. has appeared in USGA championships before, Spatz will get his first taste of the national stage.
"These [USGA championships] are just so hard to get into. We're going up against kids who are going to [Division 1 colleges] and we're just trying to grind it out, and I know Malcolm felt the same way," said Hofmann.
"I've played in Qualifiers, off and on, for the past 20 years or so. I've had some close calls. Now, it just feels so good knowing that I will finally be in one," said Spatz, 38, of Pittsburgh, Pa.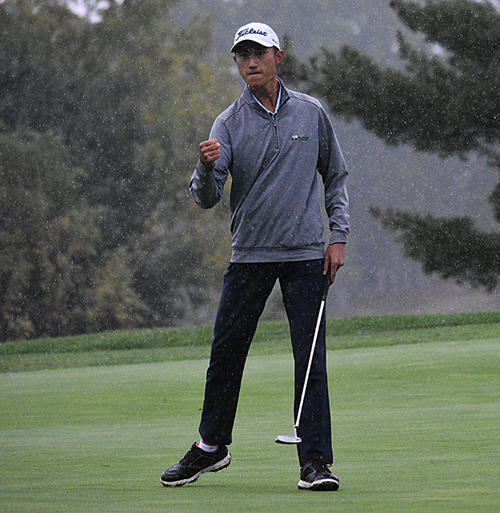 With zero bogeys in regulation, Wotnosky and Zhang collected eight birdies in regulation. A 60-foot birdie bomb from Wotnosky on No. 7 (par 3, 159 yards) was the highlight.
"It was just really solid all around today for us," said Wotnosky, 18, of Wake Forest, N.C. "That one [on No. 7] was a really far one, and we needed it."
Even that 60-footer couldn't upscale Zhang's clinching birdie in the playoff, though.
As childhood friends, and also friendly "rivals", Wotnosky and Zhang competed consistently against one another in regional and national Junior championships. When picturing a Four-Ball companion, he knew Zhang would make the perfect pairing partner.
"My [former] partner was busy, so I thought about calling [Christopher] because he's a really good player. I thought it would be a good match," said Wotnosky, heading to the University of Virginia next year. "We grew up playing against each other. We were rivals, but playing against other top competition always makes you better. At the beginning of today's round, we were just kind of feeling each others game out, and then it clicked for us on the back nine."
"This will be my first USGA championship. I'm very excited, and to play with [Grayson]. It will be a lot of fun," said Zhang, bound for Northwestern University next year.
If today's low scores and roaring celebrations were any indicator, both medalist teams are ready to take on the nation's best come May 23.
GAP
Celebrating Amateur Golf since 1897, GAP, also known as the Golf Association of Philadelphia, is the oldest regional or state golf association in the United States. It serves as the principal ruling body of amateur golf in its region. The Association's 274 Full Member Clubs and 75,000 individual members are spread across the Eastern half of Pennsylvania and parts of New Jersey and Delaware. The GAP's mission is to promote, preserve and protect the game of golf.
Qualifiers
Name, city, state
Score
*Adam Hofmann, Malcolm Spatz/Jacksonville, Fla., Pittsburgh, Pa.
65
*Grayson Wotnosky, Christopher Zhang/Wake Forest, N.C., Blacksburg, Va.
65
Alternates (in order)
*Nicholas Barrett, Connor Flach/Ellicott City, Md.
65
Bryce Johnson, Jeffrey Long/Oakton, Va., Ashburn, Va.
66
Failed to qualify
Andrew Hoge, Scott Kegerreis/Oakmont, Pa., Chambersburg, Pa.
66
Buck Brittain, Tyler Gulliksen/Tazewell, Va., Alexandria, Va.
67
Peter Bradbeer, Christopher Tanabe/Rosemont, Pa., Sewickley, Pa.
67
Gary Barton, Tim Pemberton/Alexandria, Va., Williamsburg, Va.
67
Patrick Serfass, Scott Cruff/Crofton, Md., Wayne, Pa.
68
Jeff Daniels, Scott Micklewright/Harrisburg, Pa.
68
Edward Coffren, David Stanford/Owings, Md., Vienna, Va.
68
Jim Hughes, William Smith/Carlisle, Pa., Newville, Pa.
68
Tim Elliott, Billy Wingerd/Glen Arm, Md., Nottingham, Md.
68
Jason Loehrs, Scott McNeil/Havertown, Pa., Philadelphia, Pa.
68
David Lang, Geoff Lang/Canada
68
Andy Butler, Will Byrne/Yardley, Pa., McLean, Va.
68
Christopher Davidson, Adam Folco/Sykesville, Md., Canada
69
Brendan Mahoney, Andrew Patterson/Ambler, Pa., Hershey, Pa.
69
Alejandro Fierro, Sebastian Gamboa/Mexico
69
James Gardas, Eric Williams/Hawley, Pa., Honesdale, Pa.
69
Kyle Quagliero, Christopher Warner/Headwater, N.J., Headwater, Pa.
70
Joey Rice, Charles Winegardner/Frederick, Md., Lothian, Md.
70
Anthony Hoffman, Rocco Sgrillo/Philadelphia, Pa.
70
Anthony Degol, Artie Fink, Jr./Hollidaysburg, Pa., Altoona, Pa.
70
Jason Burton, Jon Ross/Annapolis, Md., Jersey City, N.J.
71
Anthony Campanile, Brian Hart/Farmingdale, N.J., Ocean, N.J.
71
Zack Amole, Samuel Varano/Downingtown, Pa., Schwenksville, Pa.
71
Kyle Bailey, Harold Dill/Charlottesville, Va., Roanoke, Va.
71
Sean Coyle, Tom Spano/Wayne, Pa., Bryn Mawr, Pa.
72
Brandon Lesniak, Devon Lesniak/Finksburg, Md., Chambersburg, Md.
72
Ryan Crabtree, Zach Weber/Williamsport, Md.
72
Joseph Markmann, Justin Schorr/Doylestown, Pa., Elkins Park, Pa.
72
Michael Wah, Vance Welch/Potomac, Md., Fulton, Md.
72
Harry Proietto, Tom Rowinski/Norristown, Pa., Jeffersonville, Pa.
72
Scott Clark, Todd Manning/Williamstown, N.J., Pontiac, Ill.
72
Billy Gussler, Echo Wu/Ashland, KY, Canada
73
David Guertler, David Hirschhorn/Florence, N.J., Freehold, N.J.
73
Andrew Kay, Michael Schwert/Pittsford, N.Y., Philadelphia, Pa.
74
Sean Conway, David Mecca/South Abington Township, Pa., Scranton, Pa.
74
Peter Grove, Daniel Whiteley/York, Pa.
74
Jaxon Eck, Garrett Engle/Harrisburg, Pa.
75
Greg Guyer, Robert Wurtz/Flourtown, Pa., Lafayette Hill, Pa.
76
Adam Bracy, Rob Good/Edgewater Park, N.J., Bryn Mawr, Pa.
76
Ryan Orcutt, Kevin Rossi/Bethlehem, Pa., Scranton, Pa.
76
Will Riva, Greg Welsh/Lancaster, Pa., Ambler, Pa.
77
Brandon Shirk, Matthew Weaver/Palmyra, Pa., York, Pa.
78
* – decided in playoff