Feld fights for first USGA invite in #USAmateur Qualifying
SPRINGFIELD, Pa. — Ben Feld, Drexel University's Head Golf Coach, has been waiting his entire amateur golf career to play in a United States Golf Association national championship. He's been an alternate multiple times. He's caddied in three U.S. Opens and two U.S. Amateurs. He's been ready.
And now, he'll get his chance.
Feld, a Green Valley Country Clubber, medaled in U.S. Amateur Qualifying administered by GAP at remarkable Rolling Green Golf Club (par 70, 6,867 yards) Wednesday with a 5-under 135 total. His second-round 6-under 64 included seven birdies — yes, seven — en route to the day's top honor.
"Honestly, it was starting to become a little bit of a thing. I started thinking, 'Am I ever going to make one of these?'," said Feld, 31, of Philadelphia, Pa. "I've been knocking on the door. I've been on the grounds for 12 or so [USGA championships]. So, this one today… it feels a little extra special."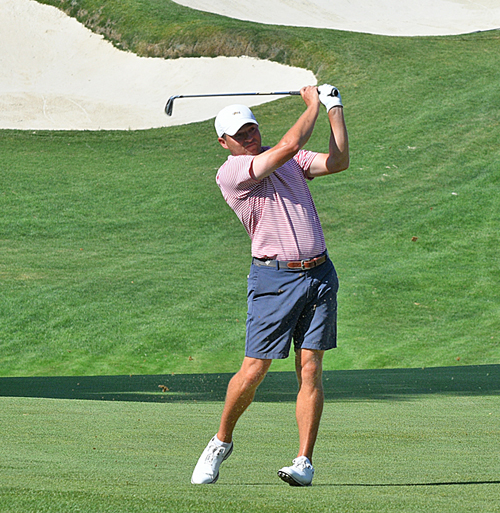 Joining Feld with invitations to the #USAmateur are two GAP Major Champions. Huntingdon Valley Country Club's Conor McGrath, the 2021 BMW Philadelphia Amateur Champion, and Saucon Valley Country Club's Matt Mattare, the 2016 GAP Middle-Amateur Champ and 2017 GAP Open winner, both punched tickets to the big stage.
The 122nd U.S. Amateur Championship, scheduled for Aug. 15-21, will be played at The Ridgewood Country Club, in Paramus, N.J.
Today's 36-hole event started at 7 a.m. under serene summer conditions. A mere few hours later, those weather pleasantries turned into qualifying pressure. In the morning wave, Llanerch Country Club's John Lalley was the low man, as he wowed with a 5-under 65. Riccardo Fantinelli, a product of Rome, Italy, fired a 3-under 67 in the morning to get in the mix. McGrath also carded a 67 to begin the day.
The afternoon flipped the leaderboard into a frenzy.
Feld, who finished at 1-over 71 in the morning, began his second lap around Rolling Green with a birdie out of the gate. He made a 20-foot slider on No. 1 (par 4, 432 yards) to get things revved up. Back-to-back birds fell on Nos. 4 (par 4, 400 yards) and 5 (par 4, 425 yards), both from five feet. He'd give one back on No. 6 (par 3, 190 yards) after failing to get up-and-down from over the left bunker, but a red number salvaged things on the par-5, 501-yard 7th after narrowly missing a 12-foot eagle attempt. Sticking a 129-yard pitching wedge to a foot on No. 9 (par 5, 616 yards) rounded out the front nine at 4-under par.
"In the morning, I just wasn't super comfortable on the greens. I was just kind of hanging in," said Feld. "But then I got pulls rolling early on in the second round. I knew it was going to get a little bit crusty out there this afternoon, so I got myself in some good spots, and I was able to roll some looks in."
Feld's final nine was his cleanest of the day, featuring two birdies and zero bogeys. After must-have, mid-range par putts on Nos. 12, 13 and 14, Feld trickled a 10-foot birdie attempt in on the par-4, 383-yard 15th. But the exclamation point — and shot of Feld's season thus far — came on Rolling Green's finisher, the par-4, 485-yard 18th. After blocking his drive just into the right trees, his ball took a fortunate bounce down and into a safe lie in the rough. He then pulled 7-iron from the bag, flied it 175 yards and hoped for the right bounce. Feld got that bounce, all the way up to five feet, and let out a sight of relief as the birdie putt found the bottom of the cup.
"I wanted that one, standing over the putt. I've looked at Andrew Mason's 64 scorecard [from the 2012 Pennsylvania Amateur Championship] hanging in the locker room too many times, and I wanted to tie that," said Feld, the 2017 GAP Middle-Amateur winner.
He's been trying for years, but Feld, despite finding more than his fair share of GAP success, hasn't graced a USGA tee sheet yet. But having caddied for former Drexel star Chris Crawford in the U.S. Open and U.S. Amateur, he's no stranger to the high-level setting. This time around, however, he'll be playing.
Also getting a chance will be McGrath, after his 3-under 137 total was fueled by rounds of 67-70, including going 3 under over his final three holes. On his final side, an eagle on No. 7 and birdie to finish on No. 9 propelled McGrath into the invitation-earning trio.
"We were even with [four holes to play] and needed to make something happen," said McGrath, 22, of Huntingdon Valley, Pa. "It was a dog fight all afternoon. I was trying not to scoreboard watch, but we needed birdie to finish, and we got it done."
This will mark the Temple University fifth-year senior's second-straight U.S. Amateur appearance.
"Last year at Oakmont, it was an amazing experience. Obviously, I had to grind it out [at Oakmont], but today, all we were talking about was getting it and getting another chance at it," said McGrath.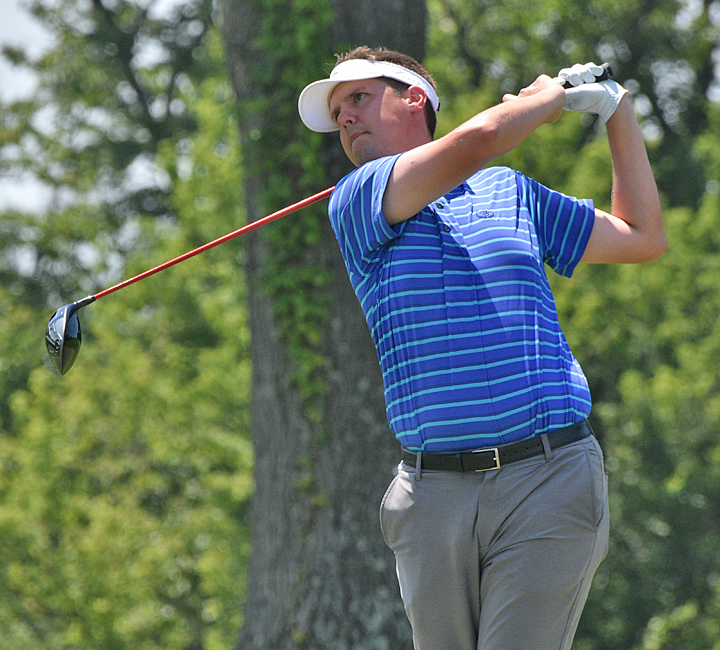 After a 1-over 71 in the morning, Mattare came back with a 3-under 67 to finish the day. He played the waiting game after posting his 2-under 138 total score, but ultimately, the third and final invite was his.
"There was nothing spectacular going on in the morning, but I had hit enough good shots that I felt good where I was at," said Mattare. "All I had in my mind for the afternoon was to get to 2 under. If I could shoot 67 and get in the house, I know I'd be in good shape."
Mattare, with six U.S. Mid-Amateur berths to his name, is now set to make his first U.S. Amateur appearance. Last year, during a U.S.. Amateur Qualifying event administered by the Metropolitation Golf Association at Manhattan Woods Golf Club, Mattare was disqualified after leading early on. His local caddie had been using slope on his rangefinder, and Mattare's quest for his first Amateur appearance was squashed.
"What can you do? It's just a lesson learned. I chose to let it motivate me even more, and I certainly have been motivated as hell this year," said Mattare, 36, of Jersey City, N.J. "This is a nice redemption tour from last year. The U.S. Amateur is right in my backyard. Every USGA event is special, but the one's you can sleep in your own bed are even more special."
GAP
Celebrating Amateur Golf since 1897, GAP, also known as the Golf Association of Philadelphia, is the oldest regional or state golf association in the United States. It serves as the principal ruling body of amateur golf in its region. The Association's 330 Member Clubs and 90,000 individual members are spread across Pennsylvania, Delaware, New Jersey and Maryland. The GAP's mission is to promote, preserve and protect the game of golf.
| | |
| --- | --- |
| Qualifiers | |
| Name, city, state | R1-R2-Total |
| Benjamin Feld, Philadelphia, Pa. | 71-64–135 |
| Conor McGrath, Huntingdon Valley, Pa. | 67-70–137 |
| Matthew Mattare, Jersey City, N.J. | 71-67–138 |
| Alternates (in order) | |
| David Mecca, Scranton, Pa. | 70-70–140 |
| Joseph Morganti, Philadelphia, Pa. | 68-72–140 |
| Failed to qualify | |
| Austin Barbin, Elkton, Md. | 73-68–141 |
| Angelo Giantsopoulos, Canada | 71-71–142 |
| John Lalley, Philadelphia, Pa. | 65-77–142 |
| Bo Andrews, Raleigh, N.C. | 70-73–143 |
| Riccardo Fantinelli, Italy | 67-76–143 |
| Christian Castillo, Plano, Texas | 74-71–145 |
| Jeffrey Cunningham, West Palm Beach, Fla. | 75-71–146 |
| Ross Pilliod, Reading, Pa. | 74-72–146 |
| Jake Avery, Avon, Conn. | 71-77–148 |
| Geoffrey Cooper, Erdenheim, Pa. | 70-78–148 |
| Christopher Dalglish, Fort Washington, Pa. | 73-75–148 |
| Tyler McGarry, Pittston, Pa. | 76-72–148 |
| Jay Whitby, Wyoming, Del. | 74-74–148 |
| Christopher Ault, Yardley, Pa. | 78-71–149 |
| Andrew Kolarik, Baltimore, Md. | 78-71–149 |
| Bank Apinyawuttikul, Thailand | 74-76–150 |
| Christopher Warner, Yardley, Pa. | 74-76–150 |
| Michael Davis, King of Prussia, Pa. | 79-72–151 |
| Rich Owsik, Bryn Mawr, Pa. | 79-72–151 |
| Dawson Anders, Telford, Pa. | 77-75–152 |
| Brandon Capone, Columbus, N.J. | 77-75–152 |
| Jack Cooley, West Chester, Pa. | 76-76–152 |
| Jake Fazio, Huntingdon Valley, Pa. | 77-75–152 |
| Jack Melville, Maple Glen, Pa. | 75-77–152 |
| Matthew Bastian Jr., Philadelphia, Pa. | 77-76–153 |
| David Pompey, Clarks Summit, Pa. | 77-76–153 |
| Andrew Curran, Media, Pa. | 77-77–154 |
| Jackson Debusschere, Wallingford, Pa. | 78-76–154 |
| Pa.trick Isztwan, Huntingdon Valley, Pa. | 76-78–154 |
| Cole Kempinski, Dallas, Texas | 75-79–154 |
| Coleman Meitner, Tuxedo, N.Y. | 73-81–154 |
| Darren Nolan, Glenside, Pa. | 78-76–154 |
| Connor Sheehan, Lancaster, Pa. | 78-76–154 |
| Joshua Madarang, Gaithersburg, Md. | 77-78–155 |
| Henry Stone, Austin, Texas | 72-83–155 |
| Rick van der Nat, Netherlands | 75-80–155 |
| Corey Betham, Norristown, Pa. | 79-77–156 |
| Ryan Kelly, Annapolis, Md. | 79-77–156 |
| Sean Seese, Rydal, Pa. | 78-78–156 |
| Nicholas Verrecchio, Philadelphia, Pa. | 79-77–156 |
| Brendan Harrington, West Chester, Pa. | 80-77–157 |
| Benjamin Pochet, Royersford, Pa. | 80-78–158 |
| Vince Scarpetta, III, Crystal Lake, Pa. | 81-77–158 |
| Ryan Tracy, Breinigsville, Pa. | 77-81–158 |
| Conrad Von Borsig, Fort Washington, Pa. | 78-80–158 |
| Greg Hanna, Phoenixville, Pa. | 79-80–159 |
| Joey Russo, Sewell, N.J. | 79-80–159 |
| Tyler Debusschere, Wallingford, Pa. | 78-82–160 |
| Carter Field, Fort Washington, Pa. | 75-85–160 |
| Adam Mowery, Chadds Ford, Pa. | 83-77–160 |
| Drew Petri, New Hope, Pa. | 83-77–160 |
| Justin Spaeth, Plymouth Meeting, Pa. | 83-77–160 |
| Mark Hill, Media, Pa. | 83-78–161 |
| Corey Haydu, Doylestown, Pa. | 80-82–162 |
| Bryan Ott, Allentown, Pa. | 84-78–162 |
| Michael Zupi, Conshohocken, Pa. | 76-87–163 |
| Brett McGrath, Huntingdon Valley, Pa. | 86-78–164 |
| James Bresnahan, Philadelphia, Pa. | 79-86–165 |
| Robert McGowan, Exton, Pa. | 87-79–166 |
| Matt Shevlin, Philadelphia, Pa. | 81-85–166 |
| Drew Scibetta, Pittsburgh, Pa. | 85-83–168 |
| Jonathan Kruse, Drexel Hill, Pa. | 86-84–170 |
| Matthew Normand, Lumberton, N.J. | 83-88–171 |
| Thomas Frawley, Berwyn, Pa. | 90-84–174 |
| Alan Hampton, Donalsonville, Ga. | 89-85–174 |
| Brad Ebersole, New Hope, Pa. | 84-92–176 |
| Jack Dixon, Camden, Del. | 100-100–200 |
| Ed Brown, Rehoboth Beach, Del. | 79-WD–WD |
| Michael Dunphy, Jr., Philadelphia, Pa. | 84-NS–NS |
| Daniel Galbreath, Huntingdon Valley, Pa. | 82-WD–WD |
| Shawn Lavin, Drexel Hill, Pa. | WD-WD–WD |
| Tyler Lee, Franklin Lakes, N.J. | 75-WD–WD |
| Christian Matt, Springhouse, Pa. | 78-WD–WD |
| Jacob Sokalsky, Garnet Valley, Pa. | 81-WD–WD |
| WD – withdrawal; NS – no show | |