Overbrook's Mestre medals in #USSeniorAm Qualifier
| Scorecards | Photo gallery |
GLENSIDE, Pa. — Oscar Mestre added the next chapter to his storybook golf season Monday.
The Overbrook Golf Club veteran carded a 3-under-par 68 to earn medalist honors in a U.S. Senior Amateur Qualifier administered by GAP at Lu Lu Country Club (par 71, 6,471 yards). In doing so, he attained one of three qualifying positions available. Foxchase Golf Club's Chris Fieger and John Robinson of the host club also advanced with respective 2-under-par 69s.
The U.S. Senior Amateur will take place Aug. 24-29 at Old Chatham Golf Club in Durham, N.C.
"I've been playing well, so I was hoping the run wouldn't end too soon, to be quite honest," Mestre, who currently leads the GAP Senior Player of the Year race, said. "My only blip on the radar this year was the GAP Open Championship, where I really got heat fatigue at Huntingdon Valley (Country Club). Other than that, I've been in control of my game. I was hopeful."
In control of Monday's qualifying bar, too.
Playing in the day's first group, Mestre, who started on No. 11 (par 4, 315 yards) for logistical purposes, moved behind the proverbial 8-ball thanks to a three-putt bogey on No. 12 (par 3, 169 yards) and a nearly unnerving par save on No. 14 (par 4, 358 yards).
"My mood might have changed dramatically [if I made bogey on No. 14]," Mestre, 59, of Berwyn, Pa., said. "I just hung in there. I didn't start out hitting the ball very well. I fed off of [playing partner Joe Russo] a little bit until I found something that was working for me. I kind of fought the rest of the way until I made a birdie on No. 16."
That birdie on the aforementioned par 4, 366-yard 16th hole came after Mestre knocked a wedge 98 yards to 15 feet. His scorecard submerged into red following an eagle on No. 1 (par 5, 475 yards), where Mestre buried a 15-footer following a 5-iron from 198 yards.
"I went from almost being 2 over after four holes to 2 under after nine. That absolutely refocused me," he said.
Mestre did relinquish a stroke on No. 5 (par 4, 443 yards) after his drive settled on the fairway bunker's upslope. He attempted to excavate a difficult lie with a 5-iron, only to watch it knuckleball its way forward. Two putts from a tricky spot for bogey, and another two putts from another unsovereign place on the next hole (par 3, 180 yards), minimized damage. Crisp wedges set up birdies on two of Mestre's final three holes: from 119 yards to seven feet on No. 8 (par 5, 475 yards), from 107 yards to 20 feet on No. 10 (par 5, 525 yards).
In May, Mestre, who serves as GAP Vice President, captured the Francis B. Warner Cup (Gross) at Burlington Country Club. He then finished as runner-up in the Frank H. Chapman Memorial Cup (Gross) at Moselem Springs Golf Club and as a semifinalist in the Brewer Cup presented by Callaway Golf at Fieldstone Golf Club.
Mestre, who competed in the 1999 U.S. Amateur and 2000 U.S. Mid-Amateur, muses that he'd "like to figure it out and bottle it up" when asked why 2019 continues to be a successful campaign. He then takes a breath and expands upon that reflection.
"Honestly, I think I am being more patient with myself. I'm managing my expectations," Mestre said.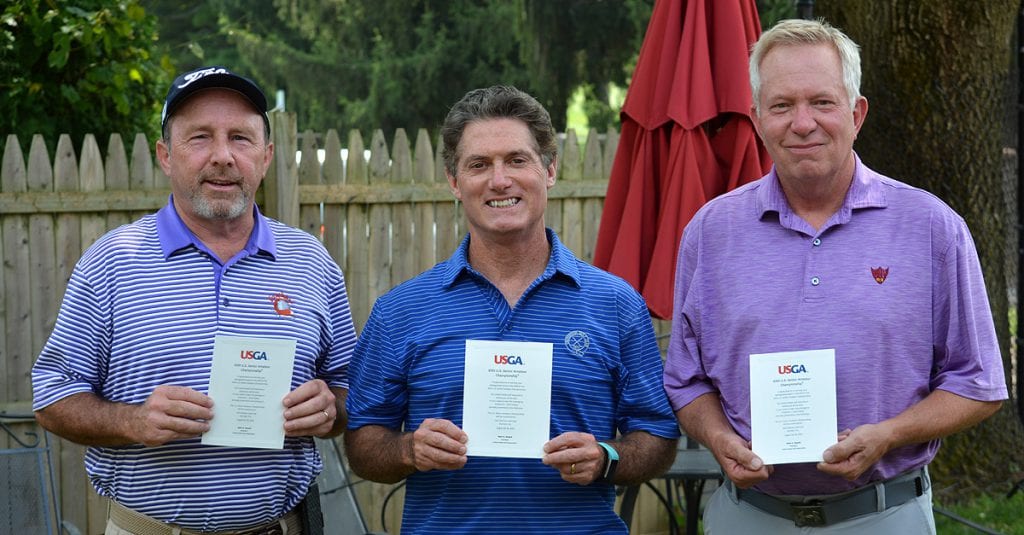 Unlike Mestre, tournament success seemed like a lost art for Robinson, the 2002 Philadelphia Amateur runner-up, over the years. A competition on familiar turf, accentuated by a national championship berth, refreshed the 2005 Marston Cup champion.
"I haven't performed well in a tournament for a long time," Robinson, 61, of North Wales, Pa., said. "I've gotten used to playing Lu Lu. I've become comfortable out here with some of the sight lines. When I'm playing well, I can shoot a number.
"[To qualify for a USGA event] has been a lifelong dream. I've been very close for the U.S. Amateur and U.S. Mid-Amateur a few times. I knew I could do it; I didn't know I was going to do it."
A slight posture adjustment, in addition to a new set of Ping i210 irons, enhanced Robinson's inherent confidence coming in. He carded six birdies against four bogeys on the day.
"They're going to last I could tell right away when I hit them that they were going to be OK," Robinson, a Lu Lu member since 2015, said of his new irons.
A 7-iron to 12 feet for birdie on No. 12, Robinson's second hole of the day, reassured his purchase. That same 7-iron, however, also served a prelude to his longest red-figure conversion. He pulled it some 50 feet left of the flagstick on No. 3 (par 4, 415 yards).
"I analyzed the lie, took my 60-degree wedge and semi-flopped it over a lot of the downslope. It came out perfect, rolled perfect and went right in the middle. That was good after [a bogey on No. 2] to get me back on track," Robinson said.
Like Robinson, Fieger, 56, of Denver, Pa., finally arrived on the right side of the USGA tracks Monday. He, however, hasn't auditioned for a national championship since his teens.
"Probably the U.S. Junior Amateur was the last one I tried to qualify for," Fieger, who finished as runner-up in the GAP Senior Amateur a year ago, said. "I wasn't playing much tournament golf when I had young kids. As my kids got older, I started playing a little more."
Fieger played his way into contention at Lu Lu by carding a trio of birdies during his inward nine. He executed an up-and-in on No. 1 after nearly reaching the green with a 6-iron. A pitching wedge to eight feet on the par 3, 125-yard No. 4 meant a 2 on the scorecard. On No. 8, Fieger hit a gap wedge 121 yards to six feet.
GAP
Celebrating Amateur Golf since 1897, GAP, also known as the Golf Association of Philadelphia, is the oldest regional or state golf association in the United States. It serves as the principal ruling body of amateur golf in its region. The Association's 274 Full Member Clubs and 75,000 individual members are spread across the Eastern half of Pennsylvania and parts of New Jersey and Delaware. The GAP's mission is to promote, preserve and protect the game of golf.
Qualifiers
Name, city, score
Oscar Mestre, Berwyn, Pa.
68
Chris Fieger, Denver, Pa.
69
John Robinson, North Wales, Pa.
69
Alternates (in order)
David West, Oxford, Pa.
71
Gary Daniels, Berwyn, Pa.
72
Failed to qualify
Dennis Konczyk, Philadelphia, Pa.
73
John Nottage, Warminster, Pa.
73
Michael Vassil, Dalton, Pa.
73
David Blichar, Allentown, Pa.
74
Randy Mitchell, Wilmington, Del.
74
Greg Osborne, Lititz, Pa.
74
Bill Apple, Leesburg, Va.
75
Bob Beck, Allentown, Pa.
75
Thomas Dicinti, Voorhees, N.J.
75
Bill McGuinness, Haddonfield, N.J.
75
Rand Mendez, Wilmington, Del.
75
Drew Panebianco, Gwynedd Valley, Pa.
75
Joseph Russo, Sewell, N.J.
75
Bob Arthur, Marlton, N.J.
76
Thomas Borsello, Newark, Del.
76
Robert Gill, Shavertown, Pa.
76
Thomas Humphrey, Chadds Ford, Pa.
76
Mark Kosko, Egg Harbor Twp, N.J.
76
Robin McCool, Center Valley, Pa.
76
Joseph Roeder, Marlton, N.J.
76
Hee Yoo, Blue Bell, Pa.
76
Mike Fitzpatrick, Fairfield, Conn.
77
Larry Storck, Baltimore, Md.
77
Christopher Clauson, Philadelphia, Pa.
78
Joseph Coulson, Coopersburg, Pa.
78
James Dunne, New York, N.Y.
78
Jim Gavaghan, Newtown, Pa.
78
Raymond Pyontek, Hamilton, N.J.
78
Gerry Baldachino, Millstone Twp., N.J.
79
Bill Davis, Newtown Square, Pa.
79
Robert Dietrich, Oxford, Pa.
79
Roc Irey, Furlong, Pa.
79
Robert Schubach, Center Valley, Pa.
79
Glenn Smeraglio, Newtown, Pa.
79
Gary Smith, Huntingdon Valley, Pa.
79
Vince Yost, Harleysville, Pa.
79
John Alterman, New Hope, Pa.
80
Scott Carney, Hatboro, Pa.
81
Larry Martone, Washington, D.C.
81
Charles McDowell, Wilmington, Del.
81
Carlos Ochoa, Marlton, N.J.
81
Andrew Sterge, Wayne, Pa.
81
Rick Boucher, Nazareth, Pa.
82
Anthony Kondracki, Kingston, Pa.
82
Michael Quinn, Coatesville, Pa.
82
Steve Walczak, Greenville, Del.
82
Denis Darragh, Orefield, Pa.
83
Bennett Meyer, Philadelphia, Pa.
83
Matthew Bellis, Plymouth Meeting, Pa.
84
Paul Berg, Springfield, Pa.
84
Robert Falls, West Chester, Pa.
84
Steven Harris, Exton, Pa.
84
Joseph Herner, Phoenixville, Pa.
84
Glen Schreiner, Elkton, Md.
84
Rich Thon, Swarthmore, Pa.
84
Gregory Day, Fort Washington, Pa.
86
Michael Mrugal, Oak Ridge, N.J.
86
Gregory Buliga, Langhorne, Pa.
WD
Gary Cicatiello, Providence Forge, Va.
WD
Marlin Detweiler, Akron, Pa.
WD
Arthur Kania, Haverford, Pa.
WD
Byron Whitman, Reading, Pa.
WD
WD — withdrawal