Grady medals, Valentine and Mulieri also advance
CARLISLE, Pa. – Carlisle Country Club has become Kevin Grady's home away from home.
| Scoring Portal | Photos |
It's a golf course he loves and a place he performs well at. It suits him.
"If you drive it well here you will have a ton of opportunities with wedges," Grady, 35, of Catonsville, Md., said. "I am a good wedge player and you don't have to draw it off the tee much which I like. I have been able to leave myself in good spots here. It's hard to scramble if you are out of position."
Grady, aided by positive experiences and course knowledge, claimed medalist honors in U.S. Mid-Amateur qualifying administered by GAP Monday at Carlisle (par 70, 6,400 yards).
His round of 67 was good for medalist honors by two shots over Abbie Valentine of Naples, Fla. They were the only two players under par.
The cutline stopped at 70 with Michael Mulieri of Lutherville, Md. advancing from a 4-for-1 playoff with birdie on the first playoff hole, No. 1 (par 4, 425 yards).
The 42nd U.S. Mid-Amateur will take place Sept. 9-14 at Sleepy Hollow Country Club in Scarborough, N.Y.
Grady has earned a spot in the U.S. Mid-Amateur the last two years at this site. If it isn't broke, don't fix it.
"If the qualifier is at Carlisle every year you'll see me on the tee sheet," Grady said. "I feel like I can qualify at this one. I would love to qualify for the U.S. Amateur one day but for me this is something I look forward to each year. It's the workingman's open. I don't need to get my butt kicked by a bunch of college kids."
Starting on the back nine, Grady went out in 3 under, highlighted by consecutive red figures on Nos. 17 (par 3, 170 yards) and 18 (par 5, 541 yards). A speared 8-iron to six feet on 17 and a tap-in birdie on 18 had him off and running.
Two birdies and a double bogey on his closing nine, the front nine, got him in the Championship proper with ease. But things haven't always been easy for the University of South Carolina Aiken graduate.
"I played professionally for two years," Grady said. "What a waste of time and money that was. I got my amateur status back in 2015. I made it basically 18 months, tried Q-School twice and realized it was time to get a job."
Grady is no stranger to championship golf. He's won the Maryland State Golf Association's Mid-Amateur four times (2018-19, 2021-2022) and won the Maryland Amateur for the first time this year. He's trending to a strong performance at Sleepy Hollow this fall.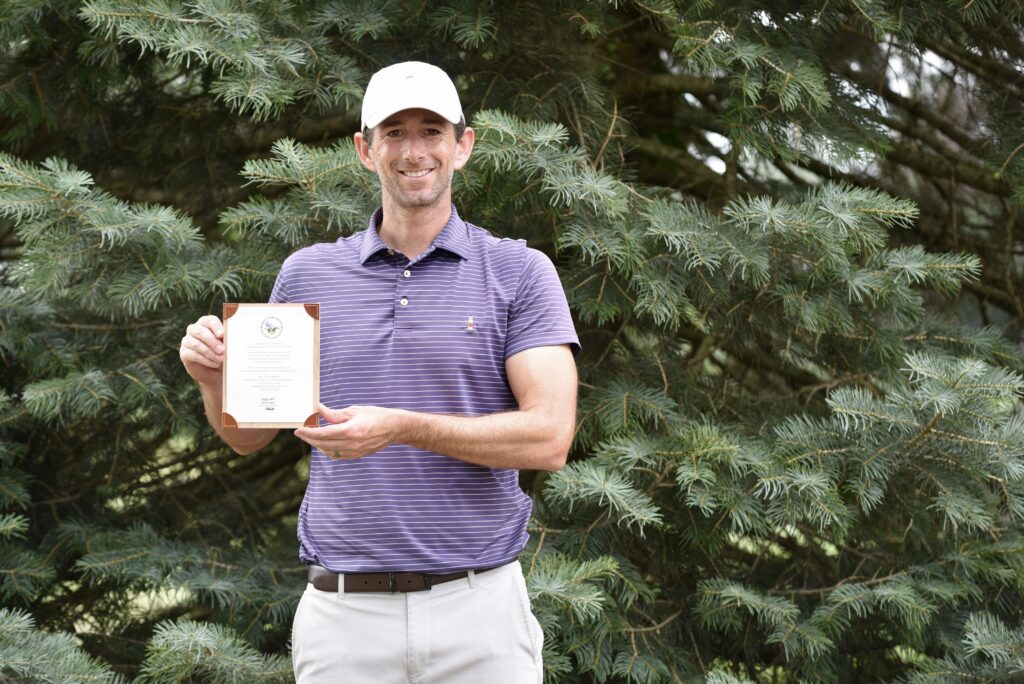 "I have played in three USGA events the last two years and they by far are the best events," Grady said. "They are such a treat. Once you play in one you just want to keep coming back to them. It's always a goal to try and play in as many as possible each year. It's been a good year so far."
Valentine's trip to Carlisle was a result of entries filling up too quickly in the sunshine state.
Like Grady, he's a former mini-tour pro who regained his amateur status. He didn't play for a number of years but is happy to be back competing. It's the second time he's qualified for the U.S. Mid-Amateur. He qualified in 2021 and competed at Sankaty Head Golf Club.
"I was forced to put the clubs down for six years because of a nerve injury in my shoulder," Valentine, 41, said. "For some time it was a mystery but once they figured it out and I had surgery, golf has been fun again. There aren't many sports where you can be my age and still have goals."
His round started with 17 consecutive pars, topped with a birdie on No. 18 after rolling in a knee-knocking 4-footer. A wait ensued and then relief.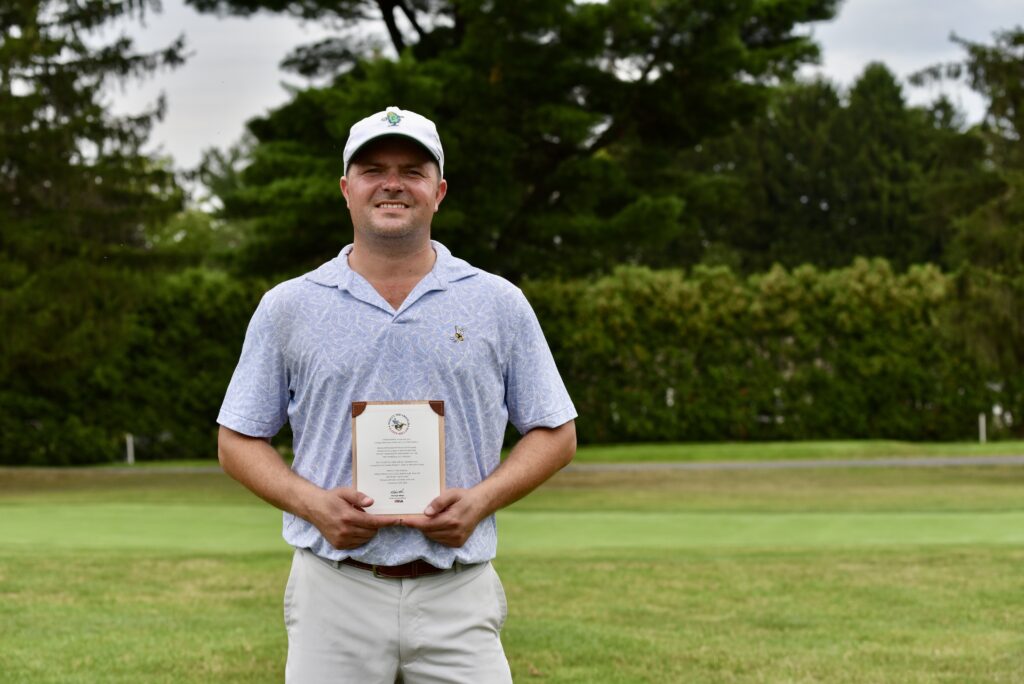 He'll drive two hours back to Philadelphia to catch a late-night flight to Florida tonight. All for a spot in a USGA championship.
"I played Sleepy Hollow back in 2011 for the Met Open and being from Long Island, it means a lot to me." Valentine said. "If it wasn't at Sleepy Hollow I wouldn't have booked a flight and hotel to come up here. It was absolutely worth it. I can't wait."
Mulieri wasted no time punching his ticket to his sixth USGA event. He hit a sand wedge from 115 yards to 15 feet on the first playoff hole to secure his spot.
"It feels great to get back to a USGA championship," Mulieri, 37, said. "I have had a rough golf year so making a USGA event makes all the struggles worth it. I got a great read from one of my playing competitors and I knew exactly what it did. It felt nice to roll that one in."
GAP
Celebrating Amateur Golf since 1897, GAP, also known as the Golf Association of Philadelphia, is the oldest regional or state golf association in the United States. It serves as the principal ruling body of amateur golf in its region. The organization's 340 Member Clubs and 100,000 individual members are spread across Pennsylvania, Delaware, New Jersey and Maryland. The GAP's mission is to promote, preserve and protect the game of golf.
| | |
| --- | --- |
| Qualifiers | |
| Name, city, state | Score |
| Kevin Grady, Catonsville, Md. | 67 |
| Abbie Valentine, Naples, Fla. | 69 |
| *Michael Mulieri, Lutherville, Md. | 70 |
| Alternates (in order) | |
| *Andrew Sovero, Cantonsville, Md. | 70 |
| *Craig Hornberger, Lancaster, Pa. | 70 |
| Failed to qualify | |
| *Patrick Mitchell, Moscow, Pa. | 70 |
| Gary Dunne, Republic of Ireland | 71 |
| Brock Kovach, Wyomissing, Pa. | 71 |
| Christopher Watson, Newtown, Conn. | 71 |
| David Herbst, Hummelstown, Pa. | 71 |
| Grant Skyllas, Wyomissing, Pa. | 71 |
| John Bearrie, Marana, Ariz. | 72 |
| Dan Falls, Goshen, Md. | 72 |
| Ryan Mccarty, West Palm Beach, Fla. | 72 |
| Scott Kegerreis, Chambersburg, Pa. | 72 |
| Andrew Frank, Allentown, Pa. | 72 |
| Connor Lyon, Canada | 73 |
| Patrick Schweitz, Clayton, N.C. | 73 |
| Duane Bean, Lovettsville, Va. | 73 |
| Joshua Krumholz, Reading, Pa. | 74 |
| Jeff Lim-sharpe, Frederick, Md. | 74 |
| Ben Lukehart, Bel Air, Md. | 74 |
| Zach Zinn, Dillsburg, Pa. | 74 |
| Sean Knapp, Oakmont, Pa. | 74 |
| Jeff Daniels, Harrisburg, Pa. | 74 |
| Marshall Barnes, Hartford, Conn. | 75 |
| Sean Buenger, Littlestown, Pa. | 75 |
| Mason Carmel, Great Falls, Va. | 75 |
| Kevin O'brien, Philadelphia, Pa. | 75 |
| Ryan Cass, Lawnside, N.J. | 76 |
| Peter Tyree, Los Angeles, Calif. | 76 |
| Andrew Fiore, Phoenixville, Pa. | 76 |
| Jesse Hazam, Mechanicsburg, Pa. | 76 |
| Jack St. John, Cullman, Ala. | 77 |
| Ryan Barnett, Bryn Mawr, Pa. | 77 |
| Sam Martini, Pen Argyl, Pa. | 77 |
| Geoffrey Piper, Liverpool, N.Y. | 77 |
| Franklin Pyle, Avondale, Pa. | 78 |
| Ryan Coccagna, Chambersburg, Pa. | 78 |
| Larry Martone, District of Columbia | 78 |
| Cj Wagner, Arlington, Va. | 78 |
| Marc Oliveri, Lititz, Pa. | 78 |
| Lawrence Lessing, Cold Spring Harbor, N.Y. | 78 |
| Chris Holland, Fayetteville, N.C. | 79 |
| Dan Arison, King of Prussia, Pa. | 79 |
| Trenton Reid, Fayetteville, N.C. | 79 |
| Dan Ireland, Wynantskill, N.Y. | 80 |
| Rye Stinson, Columbia, Md. | 80 |
| Jason Miller, Harrisburg, Pa. | 81 |
| Bryan Covar, Lexington, S.C. | 81 |
| Sang Choi, New York, N.Y. | 81 |
| Stuart Augustine, Fayetteville, N.C. | 82 |
| Zane Tallant, Halethorpe, Md. | 82 |
| Cole Vissicchio, Port Washington, N.Y. | 83 |
| John Delaney, Pittsgrove, N.J. | 83 |
| Lynn Kilduff, Dallas, Pa. | 87 |
| Mark Miller, Philadelphia, Pa. | WD |
| Leland Williams, Camp Hill, Pa. | NC |
| Dan Walker, University Park, Md. | DQ |
| Vikram Bodas, Brooklyn, N.Y. | NS |
| Matthew Ion Young, Canada | NS |
| Mason Grower, Pittsford, N.Y. | NS |
| Bryan Ott, Allentown, Pa. | NS |
| Matt Hottman, Baltimore, Md. | NS |
| Dan Walters, Winston-Salem, N.C. | NS |
| * – determined in playoff | |
| WD – withdraw | |
| NC – no card | |
| DQ – disqualified | |
| NS – no show | |