Shao grabs medal at U.S. Girls' Junior Qualifying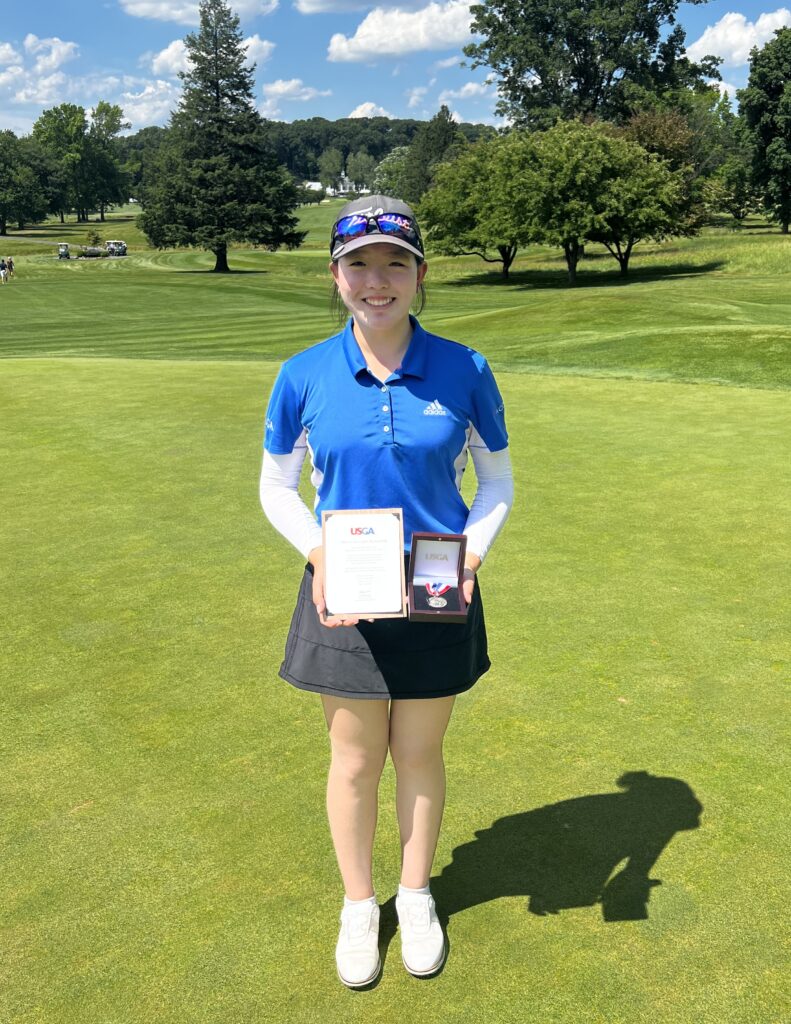 Sarah Shao took medalist honors at the U.S. Girls' Junior Qualifying administered by GAP at Steel Club (par 72, 6,242 yards) Wednesday.
| Scoring portal |
To best the field of 33 players by one shot, the Green Brook, N.J. resident carded a 1-over-par 73. She made birdies on Nos. 7 (par 4, 335 yards), 9 (par 5, 519 yards), and 16 (par 3, 177 yards).
Fellow qualifiers for the Championship proper are Sophia Li of New York, N.Y. and Hsin Tai Lin of Chinese Taipei. Both competitors tied for second at 2-over-par 74, which is where the day's cut line stopped.
The U.S. Girls' Junior will be contested at The Club at Olde Stone in Bowling Green, Ky. on July 18-23. It will host a field of 156 competitors.
GAP
Celebrating Amateur Golf since 1897, GAP, also known as the Golf Association of Philadelphia, is the oldest regional or state golf association in the United States. It serves as the principal ruling body of amateur golf in its region. The Association's 330 Member Clubs and 90,000 individual members are spread across Pennsylvania, Delaware, New Jersey and Maryland. The GAP's mission is to promote, preserve and protect the game of golf.
| | |
| --- | --- |
| Qualifiers | |
| Name, city, state | Score |
| Sarah Shao, Green Brook, N.J. | 73 |
| *Sophia Li, New York, N.Y. | 74 |
| *Hsin Tai Lin, Chinese Taipei | 74 |
| Alternates (in order) | |
| *Sawyer Brockstedt, Rehoboth Beach, Del. | 74 |
| *Kavya Ajjarapu, Lebanon, N.J. | 75 |
| Failed to qualify | |
| *Victoria Kim, West Chester, Pa. | 75 |
| Avery McCrery, Wilmington, Del. | 76 |
| Emma Shen, Demarest, N.J. | 76 |
| Elizabeth Beek, Blue Bell, Pa. | 77 |
| Kanchana Duangsam, Haymarket, Va. | 77 |
| Ryleigh Knaub, Debary, Fla. | 77 |
| Vania Simont, Mexico | 77 |
| Anushka Sawant, Monmouth Junction, N.J. | 78 |
| Natalie Spiska, Jersey City, N.J. | 78 |
| Helen Yeung, Clarksville, Maryland | 78 |
| Kate Roberts, Phoenixville, Pa. | 79 |
| Brooke Oberparleiter, Jupiter, Fla. | 80 |
| Kayley Roberts, Phoenixville, Pa. | 80 |
| Rhianna Gooneratne, Plymouth Meeting, Pa. | 81 |
| Joelle Kim, Los Altos, Calif. | 81 |
| Taylor Burch, Elgin, S.C. | 82 |
| Renna Chang, Jericho, N.Y. | 82 |
| Addison Surber, Montgomery, Texas | 82 |
| Danielle Higbee, Mickleton, N.J. | 84 |
| Elle Overly, Lititz, Pa. | 84 |
| Kayla Maletto, Sinking Spring, Pa. | 85 |
| Sofia Robinson, Weston, Mass. | 85 |
| Serena Bagga, Blue Bell, Pa. | 86 |
| Emma Shelby, Hellertown, Pa. | 86 |
| Makensy Knaub, York, Pa. | 87 |
| Katya Tibbetts, Montgomery, Texas | 88 |
| * – determined in playoff | |