His enthusiasm and joy for golf was infectious. His passion to help others left no bounds.
| Obituary |
Chris Anderson, a two-time BMW Philadelphia Amateur Champion (1983-84), died April 29. He was 61.
Anderson was born and raised in Delaware. He grew up in Wilmington and played golf at Wilmington Country Club. He attended Wilmington Friends School and Alexis I. du Pont High School.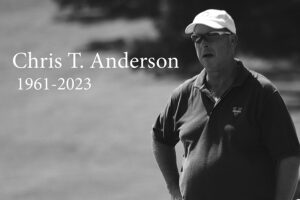 "From the first time I met Chris, I thought he was a great guy," Blaise Giroso, a long-time competitor and friend, said. "Over time I knew that to be true. He was a great friend. The kind of friend that you knew would pick up the phone if you called. It is a huge loss."
Anderson first made waves in the GAP (Golf Association of Philadelphia) realm in 1982 with a victory in the Philadelphia Amateur at the age of 20. He defeated GAP Hall of Fame member David Brookreson, 4&3.
With the win, Anderson became the first member of a Delaware club to hoist the trophy. The next year, it was another first. In matching up with fellow Delaware legend Giroso at Wilmington, it was the first time two players from Delaware clubs reached the Final. With Anderson playing out of Wilmington and Giroso out of Brandywine Country Club, Anderson outlasted Giroso, 2&1.
At the time, he was the eighth player in the history of the event to repeat as champion.
"I'll never forget walking onto the course dressed in orange pants and a white shirt and seeing Chris in the exact same outfit," Giroso, 64, of Rockland, Del., said. "We both felt like one of us should change, but we didn't have any other clothes to change in. Getting beat was no fun, but it was a great match. It's hard to forget the shots and moments from that."
Anderson was a towering figure in Delaware golf. He was a seven-time Delaware Open champion (1983, 1985, 1988, 1990, 1992, 2003-04), a Delaware Amateur Champion (2005), a Delaware Mid-Open and Mid-Amateur champion (2003) and the 1977 Delaware Junior Champion.
"Chris was ready for the Delaware Open each year like I was for the Delaware Amateur," Giroso said. "He was ready to win it. His golf career other than Delaware was also good. He came back to play in the Delaware Open at Rehoboth Beach after turning professional, and I watched him play a couple holes. His game transformed. His short game was spectacular, and he had a good mind for golf."
"When I played in the Delaware Open, anyone would show up and play," Rob Mancill, who worked with Anderson when he was a club professional at Bidermann Golf Club in the early 1990s, said. "You would look around on the putting green and say, 'Who do I need to beat?' Chris was the guy to beat, and that wasn't in question."
Anderson played for the University of Virginia collegiately and was the team captain his senior year. Shortly after graduating in 1983, he turned professional and was a member of the Hogan/Nike Tour, the South African PGA and Canadian PGA TOUR. He qualified for five PGA TOUR events, including the 1996 PGA Championship at Valhalla Golf Club in Louisville, Ky.
"He had another gear with his driver," Mancill, 57, of Wilmington, Del., and a close friend, said. "You would see him hit a drive on a 400-yard par 4 and then one on a par 5 that didn't look any faster or different. It just happened to go 70 yards farther. No one hit it that far and that straight. He was never afraid to take a risk."
In 2001, Anderson gave up competitive golf and returned to the Amateur ranks after some time away from the game. He won the Delaware Amateur as a reinstated amateur in 2005. After retiring from professional golf, he worked as a Risk Management Advisor at Lyons Companies.
Anderson's last GAP Major came in 2017 when the Joseph H. Patterson Cup visited his home club. He said how important being a father was to him and that he needed to put golf on the backburner.
But Anderson's impact in Delaware went well beyond his contributions on the golf course. He was a board member of the First Tee – Delaware since 2019.
"He was humble and didn't brag about any of his golf accomplishments," Bob Norris, Executive Director of the First Tee – Delaware, said. "He came to the First Tee with the attitude of wanting to grow the game, develop the game and to make sure the game continues. That belief lined up with our mission perfectly."
Anderson was also on the First Tee's donor and fundraising committee. His connections to those in Delaware helped elevate programming for the organization and helped connect the organization to golf courses and golf professionals in the state.
"Since Chris joined our board, we would talk a couple times a week," Norris said. "He was always full of ideas to help the kids and how to move forward. We are in the third year of a caddie program at Wilmington Country Club that Chris helped champion and was heavily involved in. We were teaching underserved and underrepresented kids about caddying. Chris would always want to help in different ways. He always had to be asked to help. That was the humbleness of Chris. The kids would light up when they saw him."
Anderson was a supporter of the Special Olympics in Delaware and numerous other organizations.
He will be inducted into the Delaware Sports Hall of Fame on May 18, celebrating his grand accomplishment and contribution to Delaware sports.
"Chris was fun-loving and selfless," Norris said. "He was always looking to give back and pay it forward. To me that defines who he was. Looking to help others before he helped himself."
Anderson is survived by his mother Gail, his son Harry, his daughter Lily and their mother Dina; his brother Todd (Beth), and their children Ellie, Brett and Bo.