Five earn trophies in Tournament of Champions – East at Medford
MEDFORD, N.J. – Fall golf, and all of the leaves that fall along with it, has hit its peak season. Five club champions joined that peak with trophy-winning performances Monday.
Under pristine autumn conditions, the expanded Tournament of Champions circuit continued at Medford Village Country Club (par 72, 6,364 yards). The TOC – East event crowned five individuals in the following divisions: Amateur, Women's Amateur, Senior, Women's Senior and Super-Senior.
Due to the growing landscape of the Association's map, the Tournament of Champions slate was expanded in order to offer up more playing opportunities for more players. Club champions received a "golden ticket" to one of four events. In addition to today's TOC – East event, two of the four TOC events were played Oct. 6 at Country Club of Harris (Central) and Huntsville Golf Club (North). The fourth and final TOC event was scheduled to take place tomorrow, Oct. 26, at White Manor Country Club but was postponed until Nov. 9 due to incoming inclement weather.
A 3-for-1 playoff decided the Tournament of Champions – East's Amateur Division. After all finishing at 1-under 71, Little Mill Country Club's Jack Irons, Moorestown Field Club's Kevin Kramarski and Medford Lakes Country Club's Jack Ross headed to the first tee (par 4, 390 yards) to decide the trophy's fate.
In the playoff, Kramarski hit driving iron off the tee to the right edge of the fairway. His 9-iron approach from 145 yards out landed on the front right of the green. Irons played next and placed his approach shot to 10 feet above the cup. Ross was in a difficult spot after finding the right trees off the tree, punching over the green and running a greenside chip past the hole. Ross would go on to make bogey 5. Kramarski's lag putt from 30 feet left him just a foot away, which was followed up by a missed birdie look from Irons. Next, Irons stepped up for the two-foot par putt, hit it with speed and rimmed out. Kramarski's tap-in 4 gave him the playoff victory.
Kramarski canned five birdies — plus an eagle on No. 5 (par 5, 456 yards) — before advancing to overtime. His eye-opening first side of 3-under 33 was the key to victory.
"This is my first time playing here, which is kind of hard to believe. The tee shots are tight. I was feeling pretty good making the turn [at 3 under], especially after a few bogeys to start," said Kramarski. "The eagle was obviously a big one for me. But it was challenging from where some of the tees were."
Kramarski previously played his club golf at Riverton Country Club where he made noise on the GAP Junior circuit before heading to play collegiately at Iona University, followed by Arkansas State University. Kramarski collected four men's club championships while at Riverton. Now a member of Moorestown, he took home their men's title in August for the first time.
"I was able to play a decent amount this summer after work a few times a week. I'm really just trying to get back into the groove of it," said Kramarski, 25, of Cinnaminson, N.J. "I'm really trying to play in more GAP events next season."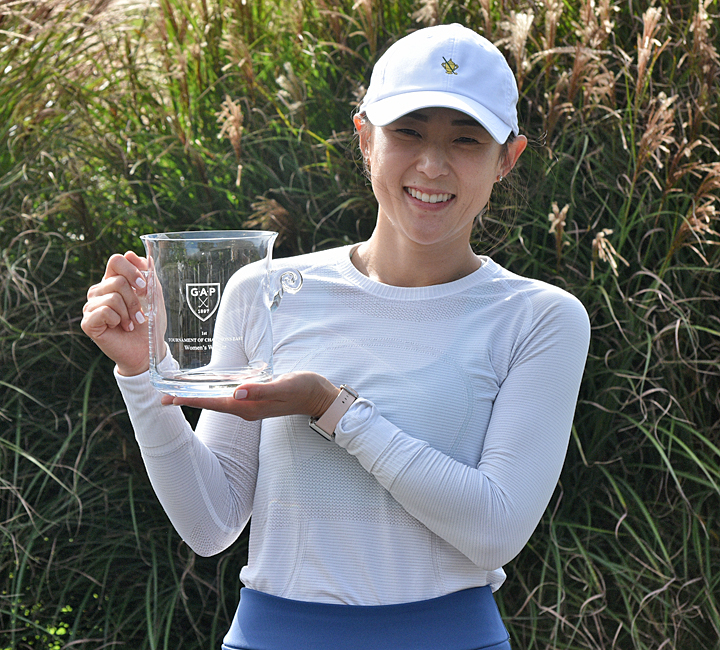 In the Women's Division, the victor was Riverton Country Club's Louise Yi with a card of 8-over 80. Yi jarred three birdies on the day, leading to the trophy versus a talented field, which she bettered by six shots.
"Making those birdies was nice to combat some of the bogeys I made today. I was able to find my short game and that helped me in keeping my score [out of] double digits," said Yi, 31, of Cinnaminson, N.J.
In her first year eligible for Riverton's women's club championship, the former University of Nevada golfer secured her first Riverton trophy this August.
"Today, I feel like I didn't play great but it's nice to know that even when I don't play well it's still somewhat decent and that I'm still in contention," said Yi. "It's been a fun year. This is also the first year I'm playing in GAP tournaments, so I hope to play in more next year."
Trophies were claimed by three others on the day.
Steve Owens of Stone Harbor Golf Club completed a 3-over 75 round for the Senior Division win. The Women's Senior Division was taken by Wilmington Country Club's Nicoll Keeney at 6-over 78. David Swiderski of Merchantville Country Club filed a 4-over par 76 to win the Super-Senior Division (par 72, 5,710 yards).
GAP
Celebrating Amateur Golf since 1897, GAP, also known as the Golf Association of Philadelphia, is the oldest regional or state golf association in the United States. It serves as the principal ruling body of amateur golf in its region. The Association's 300 Member Clubs and 80,000 individual members are spread across the Eastern half of Pennsylvania and parts of Delaware, Maryland and New Jersey. The GAP's mission is to promote, preserve and protect the game of golf.
| | |
| --- | --- |
| Name, club, score | |
| Men's Amateur | Score |
| *Kevin Kramarski, Moorestown Field Club | 71 |
| *Jack Irons, Little Mill Country Club | 71 |
| *Jack Ross, Medford Lakes Country Club | 71 |
| John Perrine, Medford Village Country Club | 72 |
| Brian Herman, Merchantville Country Club | 72 |
| Anthony Bianco, Pennsauken Country Club | 75 |
| Stephen Barry, Running Deer Golf Club | 76 |
| Brandon Capone, Mercer Oaks Golf Course | 76 |
| Johnny Murphy, The Shore Club | 77 |
| John Moore, Greate Bay Country Club | 78 |
| Kevin McGahey, Valleybrook Country Club | 81 |
| Adam Bracy, Tavistock Country Club | 86 |
| Randy Fox, Linwood Country Club | 91 |
| Chris Meares, Sakima Country Club | WD |
| | |
| Men's Senior | |
| Steve Owens, Stone Harbor Golf Club | 75 |
| John Ward, Atlantic City Country Club | 76 |
| Tom DiCinti, Philadelphia Publinks Golf Association | 80 |
| John Willadsen, Sakima Country Club | 81 |
| Richard Bannar, Merchantville Country Club | 83 |
| Patrick Fowler, Moorestown Field Club | 86 |
| Greg Smith, Bidermann Golf Club | 92 |
| Joseph Russo, Running Deer Golf Club | WD |
| Men's Super-Senior | |
| David Swiderski, Merchantville Country Club | 76 |
| Buck Purdy, The Shore Club | 77 |
| Jon Mabry, Moorestown Field Club | 78 |
| Fredrick Wass, Mercer Oaks Golf Course | 80 |
| Jim Landgraf, Riverton Country Club | 86 |
| John O'Rourke, Trump National Golf Club – Philadelphia | 87 |
| David Fraytak, Linwood Country Club | 92 |
| Women's Amateur | |
| Louise Yi, Riverton Country Club | 80 |
| Katherine Sahm, The Shore Club | 86 |
| Rose Gallagher, Running Deer Golf Club | 94 |
| Annette Scarperia, Deerwood Country Club | 97 |
| Women's Senior | |
| Nicoll Keeney, Wilmington Country Club | 78 |
| WD – withdrawal | |
| * decided in 3-for-1 playoff | |