CC of Harrisburg members claim four titles in TOC – Central
Five divisions, five (central) titles up for grabs.
And four for the home club.
The first-ever regionalized Tournament of Champions teed off Wednesday at Country Club of Harrisburg (par 71, 6,383yards). The 63rd playing of the event crowned five champions in the following divisions: Amateur, Women's Amateur, Senior, Women's Senior and Super-Senior.
Due to the growing landscape of the Association's map, the Tournament of Champions slate was expanded in order to offer up more playing opportunities for more players. Club champions received a "golden ticket" to one of four events. In addition to today's TOC – Central event in Harrisburg, also on the schedule are events at Huntsville Golf Club (North), Medford Village Country Club (East) and White Manor Country Club (Philadelphia). The TOC – North event also took place on Wednesday.
The home club's Andrew Porsch got the hardware collection going after filing a 1-under 70 round, taking the Amateur Division crown along the way. As a three-time men's club champion at Harrisburg, Porsch's four birdies — three on pars 5s — came in result of local knowledge and a steady game.
On No. 8 (par 5, 498 yards), Porsch hit his tee shot left into another fairway, but his approach landed just right in front of a greenside bunker. He chipped up to 10 feet and jarred the birdie 4. Next, on No. 11 (par 5, 563 yards), Porsch bombed a drive, placed a 7-iron to 70 yards out and landed a 60-degree wedge to two feet, leading to the tap-in. On No. 14 (par 5, 531 yards), he found fairway off the tee, landed his approach shot short and putted it up the slope to about three feet, resulting in the converted birdie putt. The shot of the day for Porsch arrived on the par-3, 160-yard 16th where his 8-iron came to rest a foot from the bottom of the cup.
"I had a quite a distinct advantage today playing on my home course. Our course is up-and-down and there are some blinds shots and without seeing or playing it, it can be difficult," said Porsch, 40, of Linglestown, Pa., a Harrisburg member since 2008.
Harrisburg's four titles today were a sense of pride for Porsch and his fellow clubmates. His father, Thomas Porsch, fired a 4-over 75 (par 71, 6,074 yards) for the Senior Division win. Taking the Women's Amateur crown was Harrisburg's Allison Wix who carded a 1-under 70 for the victory. The Women's Super-Senior Division was taken by the home club's Sharon Wilkes and her 18-over 89.
"It's great to see for our club. It's always great when you have both the ladies and men playing well and taking pictures all holding trophies. That was really cool," said Porsch.
Wix, a two-time Women's club champion at Harrisburg, fired a 1-under 70 for her trophy. She jarred three birdies on the day.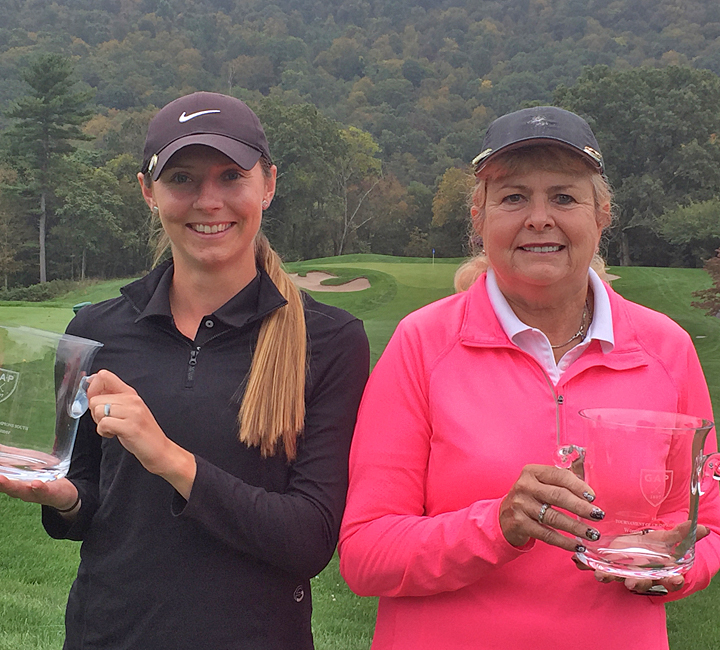 On No. 4 (par 4, 274 yards), a good drive down the right side of the fairway led to a gap wedge that landed to eight feet. Wix made the putt to get things going. Her next one came just before the turn on No. 9 (par 4, 258 yards) after her wedge shot form 55 yards came to rest four feet from the hole. Her third and final red number showed up on No. 14 (par 5, 427 yards) after a driver, 4-hybrid combination led to an up-and-down birdie 4.
"I definitely left a few shots out there but overall I payed pretty consistent. The rough was really long and kind of wet from the rain so it was playing tough. But otherwise the course conditions were awesome," said Wix, 25, of Harrisburg, Pa.
It's been a good season for the Women's winner. In addition to today's win, she took the overall Mixed Foursomes Championship title at Whitford Country Club alongside her brother, Timothy Cooper, in August. Wix says the GAP Women's events have offered up unique networking and playing opportunities for her.
"I would highly recommend coming out to events like today's. It was such a fun time to meet new ladies and a new group. We were all cheering each other on out there, so there was no pressure. Just a lot of fun," said Wix.
Tanglewood Manor Golf Club's Louis Denome carded a 6-over par 77 to win the Super-Senior Division (par 71, 6,761 yards). Denome, the lone champion not from CC of Harrisburg, defeated Saucon Valley Country Club's Robin McCool on the second playoff hole for the victory.
GAP
Celebrating Amateur Golf since 1897, GAP, also known as the Golf Association of Philadelphia, is the oldest regional or state golf association in the United States. It serves as the principal ruling body of amateur golf in its region. The Association's 300 Member Clubs and 80,000 individual members are spread across the Eastern half of Pennsylvania and parts of Delaware, Maryland and New Jersey. The GAP's mission is to promote, preserve and protect the game of golf.
| | |
| --- | --- |
| Amateur Division | |
| Name, club | Score |
| Andrew Porsch, Country Club of Harrisburg | 70 |
| Mark Coassolo, Brookside CC of Allentown | 73 |
| Byron Whitman, Berkshire Country Club | 78 |
| Senior Division | |
| Thomas Porsch, Country Club of Harrisburg | 75 |
| Fred Greene, Lehigh Country Club | 77 |
| Peter Guillette, Hershey Country Club | 80 |
| Jim Howell, Jr., Tanglewood Manor Golf Club | 83 |
| Super-Senior Division | |
| *Louis Denome, Tanglewood Manor Golf Club | 77 |
| *Robin McCool, Saucon Valley Country Club | 77 |
| David Kearney, Lehigh Country Club | 82 |
| Matthew Smith, Regents' Glen Country Club | 86 |
| Richard Leitzel, Country Club of Harrisburg | 89 |
| James Parsons, Carlisle Country Club | 94 |
| Women's Amateur | |
| Allison Wix, Country Club of Harrisburg | 70 |
| Pattie Parsons, Carlisle Country Club | 88 |
| Kathleen Gallagher, Penn National Golf Club | 92 |
| Women's Senior | |
| Sharon Wilkes, Country Club of Harrisburg | 89 |
| | |
| * – decided in two-hole playoff | |