| Scoring portal | History |
Jeff Kavanagh brought up the idea to John Hansel of playing in the 18th The Deeg Sezna. After all, it was Hansel's last year of eligibility, and the coach-player pair had been talking about it for years.
"I said let's go for it," said Hansel. "And now I'm glad we did."
Hansel and Kavanagh, whose relationship stems from the Plymouth Whitemarsh High School golf team, combined to fire a 2-under 70, winning the Junior Boys' Division in The Deeg Sezna, part of the GAP Junior Series presented by Citadel, Monday at Cedarbrook Country Club (par 72, 6,497 yards). The Sandy Run Country Club squad sifted through a field of 16 teams, finishing with the event's overall low round.
With five red digits on the card, the champs were feeling it from the get go with a birdie on No. 3 (par 4, 377 yards). Hansel's boom stick left them just 88 yards out, and was followed by a gap wedge approach by Kavanagh that landed to six feet. Hansel drained the look, getting the duo below par early. The front side's other birdie arrived on No. 8 (par 4, 400 yards). Hansel's drive in the right rough was chosen, and another gap wedge beauty from Kavanagh landed to six feet, resulting in an identical jarred Hansel make. The team made the turn at 1 under.
On the tight par-5, 502-yard 10th, Hansel's drive was selected after being pulled left, but a superb second shot by Kavanagh left them just off the front-right green area. Hansel's chip crawled up to three feet before Kavanagh stepped up and dropped in the birdie putt. Back-to-back birds fell on Nos. 12 (par 5, 497 yards) and 13 (par 3, 175 yards) with a tap-in birdie on the former, followed by an eight-foot make by Kavanagh on the latter.
While bogey blemishes surfaced on Nos. 14 (par 4, 419 yards) and 17 (par 4, 395 yards) due to missed second shots, the 2-under round resulted in the win.
"We were just out there playing, not even looking at the scoreboard," said Kavanagh, the varsity golf coach at Plymouth Whitemarsh, now in his 11th season with the program. "We were just out there to have fun and happened to play some good golf together."
Hansel, a 2016 graduate of Plymouth Whitemarsh, played under Kavanagh beginning when he was 14. While the coach-player relationship was fruitful for both parties, getting to share a trophy as partners is a whole different experience.
"For me, I just love promoting junior golf. I love playing in events like this. To promote the game and have fun at the same time is a great experience," said Kavanagh, 34, of Hatboro, Pa.
"I've never seen anyone do more for Junior golf than him," said Hansel, 21, of Lafayette Hill, Pa., pointing to his partner. "I'm glad we came out today."
Both players were more than familiar with Cedarbrook's front nine due to high school matches. The back side, however, was untraveled territory. It will now be remembered as their title-clinching side.
"From coaching, I knew the front very well. But once we got to the back, I knew very little," said Kavanagh. "We felt very confident on the front side but we even got it going on the back."
"We didn't lose a ball all day," said Hansel. "And for us, that's unlikely, to say the least."
Junior Girls' Division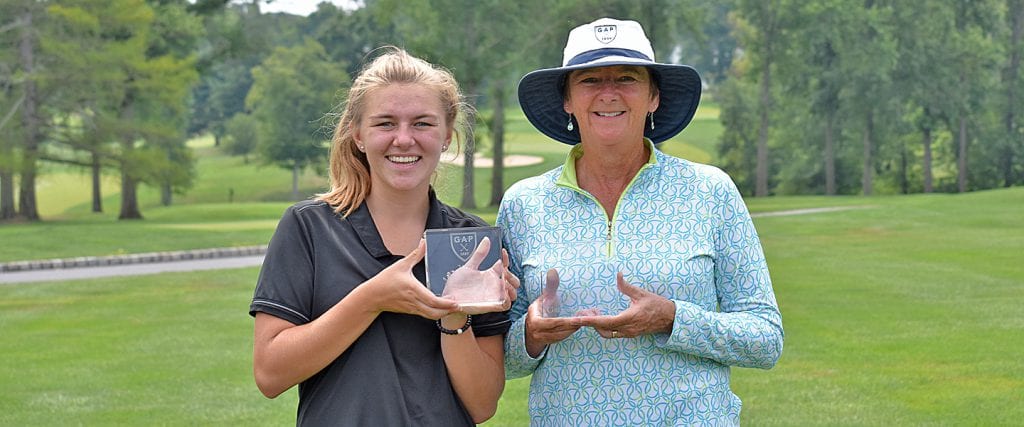 After winning last year's Junior Girls' Deeg Sezna title alongside RiverCrest Golf Club & Preserve's Grace Simenson, Noreen Mohler had to hit the recruiting trail once again. With Simenson now at the University of Texas, Mohler sought out the state's best while at the Pennsylvania Golf Association Junior Championship, held June 24-25 at Hershey Country Club.
Bala Golf Club's Callie Jean Burns was the find. She gained a champion's hardware and a new friendship along the way.
Burns, Bala's Women's Club Champion and Mohler, a Northampton Country Club member and recent
#USSrWomensAm Qualifier medalist, combined to fire a 5-over 77, taking home the Junior Girls' title over a field of three talented teams.

"It was overall just really consistent golf. We were never really in trouble," said Mohler, a GAP Executive Committee Member.
"We putted like it was nobody's business," said Burns, 17, of Wynnewood, Pa "We had so many tap ins."
A single birdie helped the duo climb the leaderboard. On No. 7 (par 4, 280 yards), both players hit ideal tee shots, but Burns' balled 100 yards out was picked because her partner "had been practicing that shot". Mohler's sand wedge approach skipped up to five feet. Burns followed it up with a made birdie putt.
Upon meeting Burns and enjoying her "attitude and spunk" at the Pennsylvania Junior, Mohler extended today's invite.
"She came the second day and said, 'Hi Noreen!' and that was great that she remembered me. It was then when I knew I would ask her to play with me," Mohler, 65, of Bethlehem, Pa., said. "I knew what her game was like, but she had no idea what mine was like."
"I was so excited to get invited to play today," said Burns, who hopes to play collegiate golf in Colorado next year. "[Noreen] stood out to me because she loves the sport and its future. I just started playing this summer competitively, so being able to win a team event with someone who I got to form a new relationship with is awesome."
The Junior-Junior Boys' Division crown was claimed by Radley Run Country Club's Greg Smith and Kasim Narinesingh-Smith with a 5-over 77, topping a field of five teams.
In the Mixed category, Spring Ford's Dave and Riley Thomas took the title title with a 3-over 75, bettering two other pairs.

The Deeg Sezna celebrates the mentorship of the older generation for its younger counterparts. It is named in honor of Davis "Deeg" Sezna, Jr. of Hartefeld National, who lost his life on Sept. 11, 2001 in the attack on the World Trade Center in New York City.
Deeg, an avid golfer long a mentor to his younger brothers Teddy and Willy, and a recent graduate of Vanderbilt University with a degree in economics, was in his sixth day of work on the 104th floor of the South Tower when the terrorists struck.
To memorialize his name, the Golf Association of Philadelphia and his father, Davis Sezna, Sr., established the Deeg Sezna, pairing a junior player and an older amateur in a better ball competition, with a minimum age difference of 10 years and the stipulation that the younger player be 21 or younger. The goal is to give experienced golfers quality time with the next generation, and vice versa.
GAP
Celebrating Amateur Golf since 1897, GAP, also known as the Golf Association of Philadelphia, is the oldest regional or state golf association in the United States. It serves as the principal ruling body of amateur golf in its region. The Association's 274 Full Member Clubs and 75,000 individual members are spread across the Eastern half of Pennsylvania and parts of New Jersey and Delaware. The GAP's mission is to promote, preserve and protect the game of golf.
Gross
Name, Club
Score
John Hansel/Jeff Kavanagh, Sandy Run Country Club
70
Kevin Kelly/Luke Marvin, Philadelphia Cricket Club/Commonwealth National Golf Club
71
Cal Buonocore/Mark Fuessinger, Philadelphia Cricket Club/Llanerch Country Club
71
Nathan Guertler/Adam Warner, Tavistock Country Club
74
Mark Wachter/Bobby Beck, DuPont Country Club/Lehigh Country Club
75
David Guertler/Matthew Normand, Tavistock Country Club/Riverton Country Club
75
Noah Sim/Mike Valentine, Commonwealth National Golf Club
76
Rick Studer/T.J. Roberts, Lu Lu Country Club
76
William Rolli/J.T. Spina, Philadelphia Publinks GA/Spring Ford Country Club
76
Jim Gallagher/Edward Gallagher, Running Deer Golf Club
79
Bryan Marvin/Jack Marvin, Old York Road Country Club/Commonwealth National Golf Club
80
Alan Borowsky/Liam Hempel, White Manor Country Club
80
Michael Minter/Kevin Roberts, Makefield Highlands Golf Course/Lu Lu Country Club
81
Brian Ceribelli/Daniel Ceribelli, Kennett Square Golf & Country Club
81
Frank Corace/Sean Connor, North Hills Country Club
90
Max Mallon/Sean Mallon, Golf Course at Glen Mills
106
Andrew Curran/Ed Robinson, Philadelphia Cricket Club
WD
Junior Girls' Division
Noreen Mohler/Callie Jean Burns, Northampton Country Club/Bala Golf Club
77
Kerry Rutan/Emma Schotsch, Philadelphia Cricket Club
79
Taylor Hollander/Mary Dunigan, Kennett Square Golf & Country Club
80
Junior-Junior Boys' Division
Greg Smith/Kasim Narinesingh-Smith, Radley Run Country Club
77
Frank Boensch/Frank Boensch, III, Steel Club
78
Travis Robertson/Jeffrey Jones, Sunnybrook Golf Club/Manufacturers' Golf & Country Club
79
Shane Powelson/Nick Ryder, Bidermann Golf Club/Aronimink Golf Club
79
Reid Walker/William Walker, Riverton Country Club/Middletown Country Club
92
Mixed Division
Dave Thomas/Riley Thomas, Spring Ford Country Club
75
Josh Sanborn/Grace Sanborn, Northampton Country Club
77
Bruce Cowgill/Ava O'Sullivan, Whitford Country Club
77
Net
Name, Club
Net
Kevin Kelly/Luke Marvin, Philadelphia Cricket Club/Commonwealth National Golf Club
68
John Hansel/Jeff Kavanagh, Sandy Run Country Club
68
Cal Buonocore/Mark Fuessinger, Philadelphia Cricket Club/Llanerch Country Club
69
Nathan Guertler/Adam Warner, Tavistock Country Club
71
Rick Studer/T.J. Roberts, Lu Lu Country Club
72
Mark Wachter/Bobby Beck, DuPont Country Club/Lehigh Country Club
73
Michael Minter/Kevin Roberts, Makefield Highlands Golf Course/Lu Lu Country Club
73
David Guertler/Matthew Normand, Tavistock Country Club/Riverton Country Club
73
Alan Borowsky/Liam Hempel, White Manor Country Club
74
William Rolli/J.T. Spina, Philadelphia Publinks GA/Spring Ford Country Club
75
Bryan Marvin/Jack Marvin, Old York Road Country Club/Commonwealth National Golf Club
76
Noah Sim/Mike Valentine, Commonwealth National Golf Club
76
Jim Gallagher/Edward Gallagher, Running Deer Golf Club
76
Andrew Curran/Ed Robinson, Philadelphia Cricket Club
WD
Junior Girls' Division
Taylor Hollander/Mary Dunigan, Kennett Square Golf & Country Club
72
Noreen Mohler/Callie Jean Burns, Northampton Country Club/Bala Golf Club
72
Kerry Rutan/Emma Schotsch, Philadelphia Cricket Club
75
Junior-Junior Boys' Division
Frank Boensch/Frank Boensch, III, Steel Club
64
Greg Smith/Kasim Narinesingh-Smith, Radley Run Country Club
65
Reid Walker/William Walker, Riverton Country Club/Middletown Country Club
76
Mixed Division
Josh Sanborn/Grace Sanborn, Northampton Country Club
64
Dave Thomas/Riley Thomas, Spring Ford Country Club
64
Bruce Cowgill/Ava O'Sullivan, Whitford Country Club
72
WD – withdrawal